Crater Lake is a prominent national park in southern Oregon known for its unique visual appeal and spectacular vistas. There are some very unique spots to see, such as Crater Lake, the deepest lake in the United States. The lake is well-known for its distinctive color: a deep, bright blue.
When visiting Crater Lake National Park, you must be aware of the laws. Pets, for example, are not permitted on park paths. Smoking is also prohibited, primarily because it might result in various natural hazards you want to avoid.
The best time to visit Crater Lake really depends on when you have the opportunity to visit. Most of the time, the weather is pleasant, but there are times when you may have to contend with inclement weather.
If you want the most pleasing possible outcome and experience, you must take the necessary safeguards. It is incredibly beneficial, and the experience can be advantageous in the long run.
Visiting Crater Lake National Park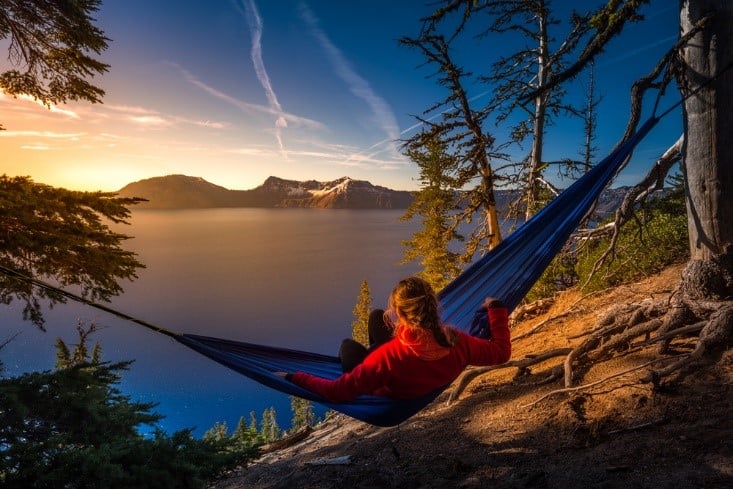 1. Summer (July, August, and September)
Let's start with summer, the most popular season for visitors. When all of the roads, facilities, and trails are fully operational, summer is the only time of year, and you can almost always count on beautiful weather and clear lake vistas.
Crater Lake has over 90 miles of hiking. Summer and fall are pretty much the only times they're open, so include a hike in your itinerary if you're traveling during this period!
Biking, boat excursions of the lake, Wizard Island, Crater Lake trolley tours, photography, picnicking, and trekking to the Crater's waterfalls, Plaikni and Vidae, are some great summertime activities to enjoy at Crater Lake.
2. Fall (End of September and October)
So, here's the sad fact: Crater Lake's fall season is brief! Autumn is technically only October because snow begins to fall in November. But the most excellent part about October at Crater Lake is that you can do almost everything you can do in the summer with far fewer people. That's why fall is the most fantastic time to visit Crater Lake!
3. Winter (November to May)
Winter in Crater Lake is long (seven months, give or take), and unless you enjoy winter activities and have a 4X4, you should avoid it. Sure, the lake is beautiful, but the north entrance and Rim Drive will be closed during the winter, leaving only the south and west Rim Drive entrances available.
Suppose you're a winter adventure aficionado, you can ski down Rim Drive, which is blocked to traffic during the winter, backcountry camp, snowshoe, downhill ski (you have to hike as there are no chairlifts), sled, snowboard, or simply bring the kids and play in the snow.
Although views of the lake are typically covered throughout the winter, if you enjoy the snow, consider visiting Crater Lake this winter to avoid the majority of the visitors.
4. Spring (May and June)
At Crater Lake, winter is LONG, implying spring is SHORT and can be highly unpredictable. Crater Lake's average snow is still 20 inches in May, but only 4 inches in June. Hiking trails are primarily buried in deep snow in May and June, so you will be disappointed if you plan on visiting a hiking trail. Rim Drive and the North Entrance frequently remain blocked throughout the spring, making activities extremely limited.
Although you can see the lake from Rim Village and potentially snowshoe, spring is the least favorite time of year to visit Crater Lake because of the few activities available.
Best Time to Visit Crater Lake
1. July and August
Summer is, without a doubt, the best time to visit Crater Lake. The reason for this is simple: It is less dangerous than in the winter, and most of the amenities, trails, and roads are open as well. The idea is that you will never have to be concerned about this. It's easier to take things to the next level if you visit Crater Lake in the summer because you won't be as cold, and the weather will be ideal for trekking.
Furthermore, you will have many more activities to choose from throughout the hot summer months. So, use that to your advantage, and the result may be well worth the effort.
2. May and June
Summer months are by far the best, and you should consider that this time of the year is the park's transition months. Winter is gradually dissipating, and summer is ushering in progressively warmer temperatures. You may notice that some park areas will be closed due to the remaining snow during this time. Of course, some attractions will remain open, so the results you obtain visiting this time of year will be more than satisfactory.
This, however, may not be the best time to go to Crater Lake. It's still a viable alternative, but it's not without drawbacks. Throughout these two months, you can visit Rim Village, a difficult task in the previous months of the year. If you do so and take your time, it will prove to be a memorable excursion.
3. September and October
This is when things start to get interesting. September is an ideal month because the weather is still pleasant, and there are no significant climate issues to contend with. The goal now is to figure out what works for you and what doesn't. On the other hand, October is not always the best time to visit Crater Lake.
First, this is one of the snowiest inhabited areas in the United States, and snow will fall early in the year. Secondly, most roads are only open until October because that's when the snow starts to fall.
4. November to March
While the winter months can be enjoyable, the reality is that there are numerous dangers to be aware of. The mountains are not ideal for skiing or other outdoor activities, and trekking is tricky. The goal is to figure out what strategy and alternatives you have. When you apply that to the overall experience, the results can be incredible. However, you should be aware that visiting Crater Lake during this time is extremely difficult.
Therefore, if you want to be safe, take advantage of the best months mentioned above. Let's face it, images of Crater Lake will appear great, but your tour could be a huge disappointment. There isn't much to see in the winter, and many of the sites are closed, so try to fit it into your itinerary but don't waste too much time there.
What Can I Do While at Crater Lake?
1. Snowshoe in Winter
When you visit Crater Lake in the summer, you'll find yourself rubbing shoulders with visitors from all over the world. However, if you go in the winter, you might have the place to yourself.
Throughout November and April, tour guides lead snowshoe treks. They're beneficial favorites used to provide info on avalanche conditions, help you select routes suitable to your abilities, and make suggestions on what to look out for.
2. Hiking in Crater Lake
Make time to hike many of Crater Lake's famed trails if you're visiting in the summer. Learn more about the best Crater Lake hikes. Here are a handful of tourists' favorites:
Watchman Peak Trail —The Watchman Peak Trail is a hiking trail that promises unobstructed views of Wizard Island from a birds-eye perspective.
Hikers can climb Mount Scott to the park's highest peak, which provides panoramic views of the lake and Klamath Basin.
Cleetwood Cove—Cleetwood Cove ascends to the lake's edge, from which all boat cruises depart. If you don't want to take a tour, jump off the cliffs and plunge into the icy ocean.
Wizard Island, the popular island that starts from the lake, can be accessed by ferry and offers 360-degree views from its summit. Hikers who are brave enough can peek into the summit crater (Witches Cauldron) 90 feet deep.
Pinnacle Valley provides an open view of needle-shaped rock shapes that predate Mount Mazama's eruption.
3. Crater Lake Boat Tour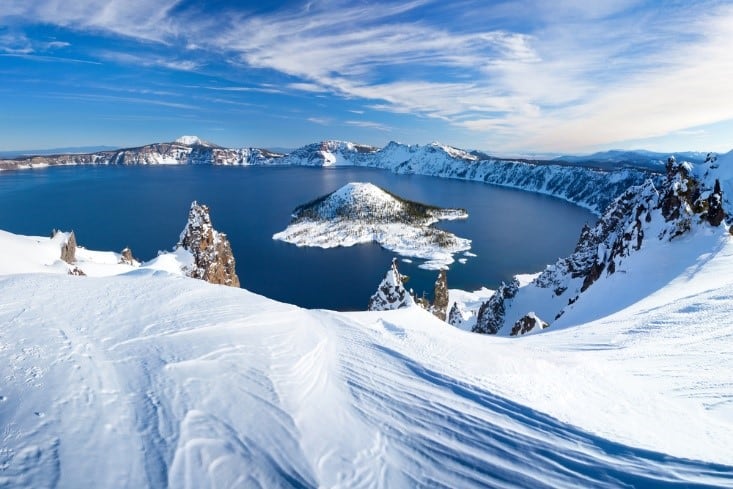 A volcano boat ride seems to be the only way to get to the water at Crater Lake National Park. You miss out on tremendous history or even better sights by not taking a tour.
Choose one of three possibilities. The Standard Lake Cruise is a two-hour intro to Crater Lake that includes open views of the island's geological features, facts on the lake's significance to American Indians, and other lake-related stories.
The Wizard Island trip includes a Standard Lake Cruise with a three-hour break at Wizard Island, where you may jump from the pier, go fishing, or climb to the summit.
The Wizard Island Shuttle skips the lake tour but provides passengers with over two hours to explore the area. Regardless of which trip you pick, you must travel the 1.1-mile trail to Cleetwood Cove, which climbs 700 feet on the way back.
4. Watch the Sunset on the Rim
The blue color of Crater Lake is well-known, but when the sun sets outside its western coast, the lake is bathed in blazing shades of orange, red, purple, and pink. Hike to Watchman Peak in the summer; park rangers give sunset tours up the path for a few of the best sunset views in the park. Crater Lake is a stargazer's paradise with little light pollution, slight haze, and no significant impediments.
After you've extinguished the campfire, bundle up, hike to the Rim, and find an unobstructed viewpoint—ideally, a few miles away from the light projected by Crater Lake Lodge—to watch the natural spectacle develop.
5. Crater Lake Camping
The Crater Lake National Park is located in the southern Oregon Cascade Range. The park has a variety of campsites available for all types of campers including RV, Tent, and Group Camping. The park also has many activities that are available for visitors to partake in such as hiking, biking, fishing, boating, horseback riding, and more. Crater Lake is a very popular camping spot in Oregon.
Learn more about Crater Lake camping. It's a great place to camp because it's close to many other attractions in the area, has plenty of hiking trails and scenic views, and has some really nice campsites. There are several campgrounds in the area that allow you to stay for up to 14 days at a time. Crater Lake National Park camping and campsites can be reserved on Recreation.gov.
The Crater Lake National Park is located in the southern Oregon Cascade Range.
When Is the Best Time to Visit Crater Lake National Park

The warm months of July and August are ideal for visiting Crater Lake National Park. You can explore the park by boat, bike, or foot during this brief window of opportunity. Cross-country skiing and snowshoeing are still available in the higher elevations well into July.
Warmer weather means brighter days, which increases your chances of viewing the lake in all of its blue-sky grandeur. Thanks to the abundance of options, it's easy to fill your trip with activities like boat excursions, ranger-led walks, and restaurants such as the Annie Creek restaurant and gift shop in Mazama Village.
Zion National Park Camping
Best Time to Visit Zion National Park
Glacier National Park Camping
Best Time to Visit Glacier National Park
Best Time to Visit the Grand Canyon National Park
Things to Do in Rocky Mountain National Park
Yellowstone Hiking Trails
Best Time to Visit Yellowstone
Yosemite Hiking Trails
Best Time to Visit Yosemite
Best Time to Visit Grand Teton National Park
Best Death Valley Hikes and Tips for Hiking Death Valley
Things to Do at Mammoth Cave
Best Time to Visit Sequoia National Park
Grand Teton Hikes
Best Hikes in Bryce Canyon
Best Time to Visit Death Valley
Best Time to Visit Acadia National Park
Alaska Cruise ~ Guide to Princess Cruise to Alaska
Best Time to Visit Seattle
Alaska Shore Excursions Guide for Deciding What to Do While in Port
North Cascades Camping
Best Hikes in North Cascades National Park
11 Things To Do In North Cascades National Park