Best Time to Visit Glacier National Park is one of many fantastic National Park destinations in the USA. Situated on the Canada-USA border in northwestern Montana (there's a Canadian Glacier National Park, too), this article will focus on everything to do and see on the United States side. Let's start by examining the best time to visit the park.
Best Time to Visit Glacier National Park
Glacier National Park has a lot to offer. It also features vastly different temperatures year-round, which lend themselves to several activities. Therefore, the best time to visit depends on what you want to see and do while there. That said, there is a very distinct high and low season for tourists to Glacier, which we examine next.
Glacier National Park Tourist Season
As its name implies, Glacier National Park can get quite cold. Due to this, the real seasons define the park's tourist seasons. Tourist high season centers around the warmer summer months while low season centers around the colder winter months. That said, spring and fall are also attractive times to visit the park as temperatures are cooler, and lodging is more affordable.
And although it's the low season, the park still attracts its share of visitors in the winter. Tourists head to the region not only for winter sights but also for winter activities. Cross country skiing is a popular activity within the park, and you'll still find a good share of hikers on the trails. There are also several downhill skiing resorts in the area surrounding the park.
All things considered, we recommend summer as the best time to visit Glacier. Although lodging is slightly more expensive, it makes up for this with much better weather, and you won't experience any seasonal closures of park amenities and services.
Glacier National Park Climate
Glacier National Park features hot summers and cold winters. Also, note that the temperature is subject to change depending on where you are in the park. The park features a variety of elevations that get colder the higher you go.
Summers in Glacier have highs that hover around 82F and lows around 47F. Spring and fall have highs around 55-60F and lows around 30-38F. Winters are quite frigid and often go well below freezing, with daily highs around 30F and daily lows around 17F.
Getting To Glacier National Park
Glacier National Park is massive, covering over one million acres. It is accessible from multiple areas, but most travelers arrive from the east of the park because it is home to several developed towns. You'll most likely fly into Glacier Park International Airport (FCA) near the city of Kalispell and about 25 miles south of Glacier.
Once you arrive, you'll have different options for getting around the park itself, including:
Shuttle – There are paid and free shuttle services running throughout Glacier National Park that take you past many main features and attractions. The shuttles depart from various points inside and outside the park. Some shuttle services also only run during peak season (summer). For a detailed breakdown of different routes and services, learn about Glacier National Park shuttles.
Car – A car is the best way to experience Glacier if you want to set your schedule. You can rent a car from the airport or various rent-a-car locations in surrounding cities and towns. Since Glacier is so big, many tourists prefer to drive to see it all. But do note that driving is particularly hazardous during winter, and higher elevations also see snow and ice during fall, Spring, and even summer! Snow and ice build-up are also the cause of many road closures during colder months. Parking throughout the Park is scarce, and many parking lot spaces fill up early in the day during peak season.
Red Bus Tours – Red Bus Tours are a fleet of vintage tour buses that operate during peak season. Each Red Bus Tour features a classic aesthetic and seating for up to 17 people. Tours depart from both the east and west entrance, but you might need to book well ahead of time during peak season and summer months.
Where to Stay at Glacier National Park
There are numerous places to stay in and around Glacier National Park. Here are the top options to consider:
Lodging: The Park features several classic lodges located throughout the park near many popular features and landmarks. They range from grand structures to quaint inns. These lodges, meaning they lack many modern amenities (TVs, elevators, etc.). For many, this is part of the charm. Also, note that many of these lodges are quite competitive for booking during peak season, so be sure to book well ahead of time.
Glacier National Park Campgrounds: Learn about Glacier National Park camping. The park features several campgrounds for either tent-camping or mobile homes. There are 13 campgrounds with over 1,000 sites to choose from. Most can accommodate RVs and campers, but not all, so be sure to check the above link beforehand. Additionally, many popular sites fill up fast, so you'll want to book well ahead of time to lock down your favorite spot.
Towns: If you're looking for more modern amenities, consider lodging in one of the cities or towns surrounding the park. The vast majority of towns and cities are located on the west side of the park, which is also home to the main airport (FCA).
The most populous towns surrounding Glacier are Whitefish, Columbia Falls, and Kalispell, all of which are within a short drive to the park. We recommend Whitefish, a quaint resort town where you can soak up mountain culture and also home to plenty of summer and winter activities. Each town offers a good deal of hotels, motels, AirBnBs, and more.
What to Do in Glacier National Park
At over one million acres, there's a lot to do and see in Glacier National Park. The park is packed with mountains, lakes, rivers, valleys, forests, and everything in between. We can't possibly cover everything to do and see in this article, so we'll give you a list of our favorites:
Best time to visit Going-To-The-Sun Road
Going-To-The-Sun Road is a highway that cuts right through the heart of Glacier National Park. If you want a quick overview of many of this Park's most magnificent sites, a drive along Going-To-The-Sun Road is the way to do it. It's routinely ranked among the top scenic drives in America.
The Road divides the park into its East and West regions. The road cuts and winds, passing through almost every type of environment on offer in the park (lakes, waterfalls, forests, mountains, glaciers, etc.). There are numerous places to stop and soak it all in. But do note that this road contains many steep elevations and hairpin turns. It's not for inexperienced drivers, and certainly not in the winter (when it is often closed anyway).
The entirety of the road is roughly 50 miles.
Best time to visit Trail of the Cedars/Avalanche Lake
Trail of the Cedars is one of the most accessible, laid-back, and breathtaking hikes in all of Glacier National Park. You can access the trail right from Going-To-The-Sun Road. It's a roughly one-mile walk along a flat boardwalk, taking you through a cedar forest, all highlighted by an excellent view of Avalanche Gorge.
If this hike isn't tough enough, continue to Avalanche Lake, accessible via a hiking trail that also starts from Trail of the Cedars. It's a 4.5-mile trail with decent elevation, looping you to Avalanche Lake and back. Avalanche Lake has a nice beach and a clear view of the water and surrounding mountains.
Best time to visit Logan Pass
Logan Pass sits at the highest point accessible via Going-to-the-Sun Road (over 2000m elevation). It is situated on the Continental Divide and offers one of the most breathtaking views in all of Glacier. That said, it's also the most popular lookout in the entire park, so you'll want to get there early during peak season to have any shot of finding parking.
Logan Pass offers an expansive view over the Park, including sweeping fields, plains of wildflowers, rocky mountains, and a good chance to see some of the region's wildlife (including mountain goats and bighorn sheep).
Logan Pass meets the hype and is one of the most impressive views we can recommend in any of the USA's National Parks. When you're there, stop by the Logan Pass Visitor Center for more info.
Best time to visit Many Glacier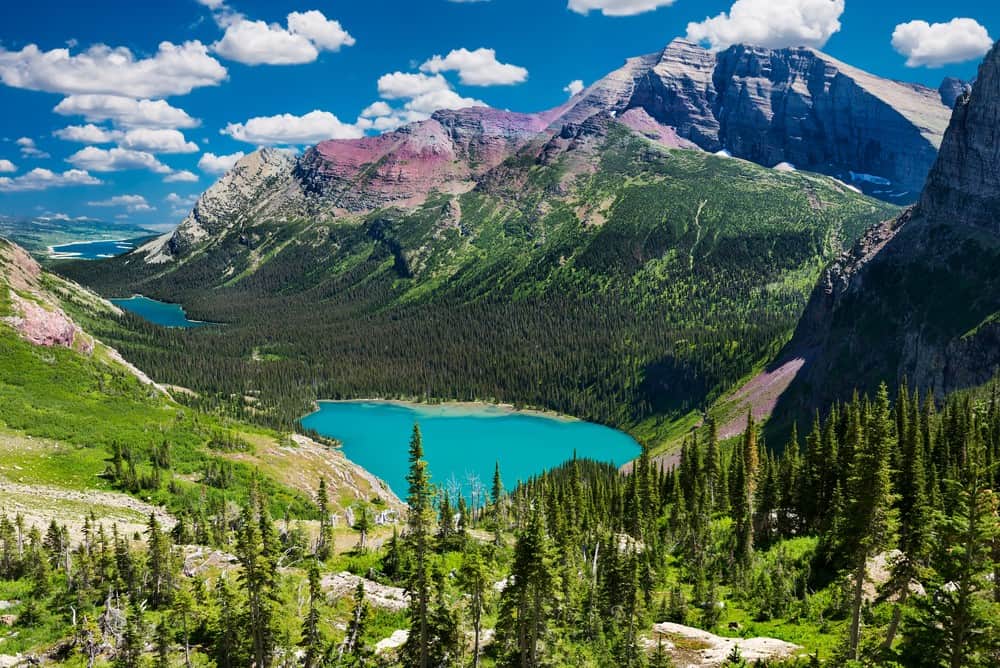 Many Glacier is the name of an area within Glacier National Park, not a glacier itself. That said, it's one of the coolest areas in the park, featuring mountains, lakes, glaciers, and much more. The area is also home to the historic Many Glacier Hotel, where you can access boat rides across the lakes.
The area is also home to many of the Park's most popular hikes. We recommend the Grinnell Glacier hike, a hike taking you to one of the park's most popular glacial attractions. Grinnell Glacier is among the most-photographed sites in the Park, but be warned that it's about a 10-mile round-trip hike to get there.
Like many other areas in the park, parking is limited and tends to fill up during the busy season. There are a few lots at the lodge and various trailheads, but we recommend getting there early if you plan to hike during peak season.
Best time to visit Lake McDonald
Lake McDonald is the largest lake in Glacier National Park, so it warrants a visit. The surrounding area is a tourist hot spot on the western side of the park. It's earned this reputation because of all there is to see and do in this area. There are hikes, boat tours, and even horseback riding.
You'll also find the historic Lake McDonald Lodge, as well as some historic chalets, but be sure to book well ahead of time!
Of course, you can also soak up the sights along the shores of the lake itself. The vast, clear waters drop onto a vista of jagged mountains and forests. The shores are rocky, so don't expect a beach day, but many tourists note that these rainbow rocks add to the natural appeal of the region.
Two popular hikes in this area include Trail of the Cedars and Avalanche Lake, both of which we covered above.
Festivals & Events in Glacier National Park
The area surrounding Glacier National Park holds many cool events and festivities throughout the year. Here are some of our favorites to look out for:
Whitefish Winter Carnival – If you're planning your Glacier National Park trip during winter, be sure to check out the Winter Carnival in the nearby city of Whitefish. Whitefish is a quaint resort town, and the winter carnival features all types of winter activities. There's a torchlight parade, a polar dip, a fireworks show, and lots of local vendors.
Montana Dragonboat Festival – Held just South of Kalispell on Flathead Lake, the Montana Dragonboat Festival is a neat summer event to check out. This event features teams competing in Dragonboats, which are very long rowboats. The event pays homage to the popular Hong Kong festivals from which it draws inspiration.
Columbia Falls Heritage Days – Columbia Falls Heritage Days is an annual summer celebration of "the way we were". Events span a week in July and include classic activities such as a barn dance, an antique car show, a parade, and more. A great way to check out the history of this interesting region.
Glacier National Park
Thanks for reading our guide to Glacier National Park. There's a lot to see and do in Glacier at any time of year. The best time to visit Glacier is really just the time that offers the most to you. No matter when you schedule a trip to Glacier, we don't think you'll be disappointed.
FAQs
How Many Days to See Glacier National Park?
Glacier National Park is big. The park itself is over one million acres. Therefore, seeing all of Glacier National Park might not take days but years! That said, you could quite easily see the park's main attractions in a matter of days, which is especially true given the convenience of cutting across the park via the Going-To-The-Sun Road. If you're looking to check out the sites and do a few hikes, we'd recommend three to five days in Glacier.
How Cold is Glacier National Park?
Winters in Glacier are frigid. During December, January, and February, temperatures commonly stay below freezing all day and night, which also means lots of snow and ice. Temperatures are more moderate during the shoulder seasons and much warmer during summer. Unless you're a fan of wintry conditions, we recommend scheduling your trip in the warmer months.
National Parks in the USA That Should Be On Your Travel List
Best Time to Visit Zion National Park
Best Time to Visit Yellowstone
Best Time to Visit Yosemite
Best Time to Visit Grand Teton National Park
Family Fun Ideas in Northern Arizona and New Mexico
Stunning USA Self-Drive Tours and Adventures
Sunrise from Haleakala National Park
Saguaro National Park Tucson Arizona
Things To Do In Kentucky