Best Time to Visit Yosemite – As one of the most famous National Parks in the United States, Yosemite has quite a reputation to live up to. In our opinion, Yosemite has no problem matching this reputation. With its massive granite rock faces, crystal clear streams, giant sequoias, and sweeping meadows – it's hard not to be blown away by Yosemite. In this article, we tell you the best time to visit Yosemite and the best things to do while you're there.
Best Time to Visit Yosemite
The best time to visit Yosemite is all going to depend on what you're looking for in your ideal vacation. Yosemite has a lot to offer travelers at all times of the year, as the seasons change and new activities present themselves. That being said, Yosemite has a clear high and low season:
Yosemite Tourist High and Low Season
Yosemite's high season for tourism is during summer (July & August). Yosemite is an extremely popular national park, and you'll find crowded roads, trails, and attractions, not to mention much more expensive lodging. We think the best time to visit Yosemite is during the shoulder months (May-June and September-October). These months still have pleasant temperatures, but the park isn't quite as crowded.
Note that due to snowfall, much of the park is closed during the winter months, including many popular trails and roads throughout the park. You can still access Yosemite, but it's very limited. It depends on the yearly snowfall, but you can expect road and trail closures to last from mid-November to late March, sometimes longer.
Yosemite receives much more precipitation during the winter months and almost none during summer. For this reason, and also due to wintry conditions, many tourists avoid the park in winter, making it a definite low season.
Getting to Yosemite
Yosemite is a big national park, covering nearly 750,000 acres of land. Getting around the park is an important consideration during your vacation. We recommend one of two options:
Car: Renting a car is our top recommendation. A car gives you the freedom to explore Yosemite on your own terms. Many roads lead to Yosemite's most popular attractions, with many parking options. But do note that, due to the park's popularity, there is the potential for heavy traffic during high season. Parking lots at trailheads and popular attractions also fill up fast, so we recommend you get there early (7:30 am or earlier).
Shuttle: There are free shuttle services that run through Yosemite during the year. The Yosemite Valley Shuttle operates year-round and takes tourists all through Yosemite Valley. The El Capitan Shuttle only runs through peak season and takes visitors to the Four Mile Trailhead and Valley Visitor Centre. In addition to the free shuttle service, there is also the YARTS (Yosemite Area Regional Transportation System), which brings tourists to Yosemite from various destinations and around the park to certain spots. YARTS is a paid shuttle and is subject to closures at certain times of the year.
Where to Stay at Yosemite
Since this is such a popular destination, it can be difficult to find lodging in Yosemite. All lodging in peak season books up fast, so you'll want to book well ahead of time. Here are the three main options to consider:
Lodging: Several historic lodging options in the park itself are managed by the National Parks Service. These lodges range from luxury hotels to classic lodges to campground style cabins and more. But be warned that these fill up fast during peak season, so book well ahead of time.
Camping: There are many options in Yosemite for camping, be it tent-camping or mobile home camping. These sites are affordable and perhaps the best way to experience the true nature of Yosemite. Check online for a full campground map and more details. Also, note that booking these sites is extremely competitive, and often book out within minutes of reservations opening.
Near Yosemite: Unlike some National Parks, there is no town or city directly adjacent to Yosemite. Your best options are smaller towns or roadside lodging within driving distance of the park. Popular towns and cities near Yosemite include Mammoth Lakes, Fresno, Mariposa, and El Portal.
What to Do in Yosemite
Yosemite National Park is packed with things to do and see. It's difficult to narrow it down to a single list without feeling like we've left out some major attractions. Yosemite hiking trails are always popular as are picnicking, camping, and viewing wildlife. Here are the top things to do in Yosemite National Park:
Best time to visit Yosemite Valley
The highlight and true focal point of Yosemite, Yosemite Valley, is probably what pops into your head when you think of the National Park. Many of the most famous landmarks and features, including Half Dome, El Capitan, Bridalveil Falls, are visible from the highway. It's also home to many of Yosemite's most popular hikes, treks, and climbs. The valley itself is forested, with magnificent granite rock faces in any direction you look.
You won't struggle to find things to do in the Valley. The area has picnic areas, campgrounds, trailheads, and it's home to Yosemite Village, a popular campground area with plenty of amenities and lodging options.
Best time to visit Half Dome
As mentioned above, and part of Yosemite Valley, Half Dome is such a popular site that we'll give it its own section. Half Dome is a granite dome that rises almost 5,000 feet above the valley floor.
For some tourists, just seeing Half Dome is enough, but for the particularly adventurous, you can climb to the top via the Half Dome Cables route. The hike is extremely challenging, covering approximately 15 miles (depending on your route) and nearly 5,000 feet of elevation.
The trek consists of many popular hiking trails, including Mist Trail, capped off by a vertical, cable-assisted ascent to the summit. The hike is difficult, dangerous, and requires excellent fitness.
Best time to visit Tunnel View Outlook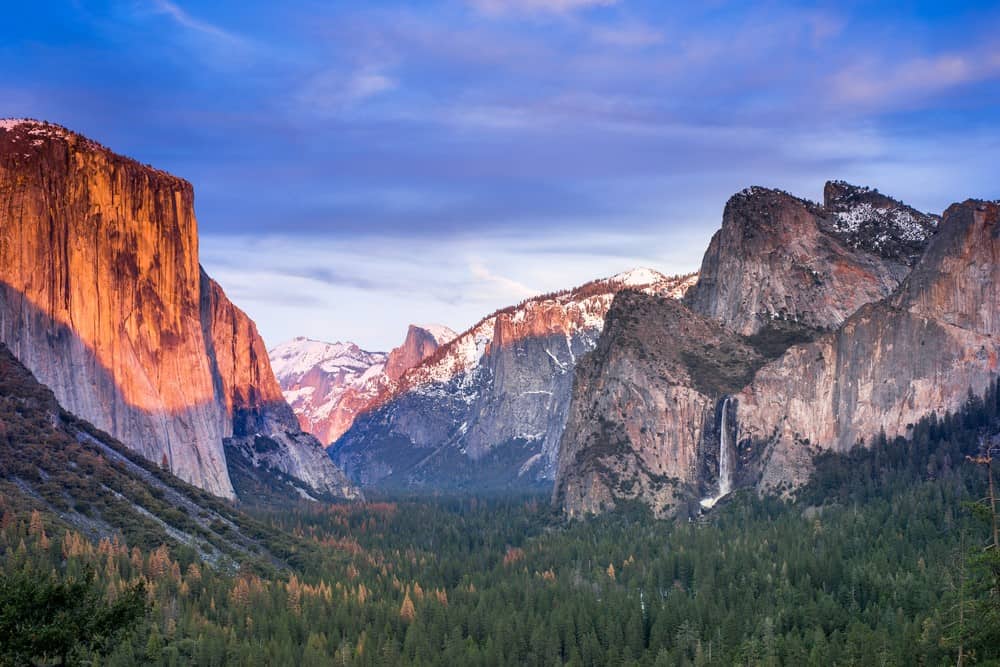 Perhaps the best view in Yosemite (and certainly the most popular), Tunnel View Outlook provides a wide, sweeping view of Yosemite Valley in all its glory.
It's not hard to get to Tunnel View Outlook, which is perhaps why it's such a popular view. It's right off Wamona Road, on your way into the Valley. Be sure to get there early if you want to have any hope of finding parking.
Best time to visit Glacier Point Road
Glacier Point rounds out the top two most popular lookouts in Yosemite, and it's easy to reach via Glacier Point Road. The lookout can become extremely crowded, and parking fills up quickly, so go early in the morning or later in the evening.
There are also numerous hiking trails accessible along the road itself. Trails range from mild to extreme, and some lead to some stunning views and vistas. Tip: Any trail name that contains the word "Point" means that the trail ends with a fantastic overlook (but also may want to be avoided by those with a fear of heights).
Best time to visit Mariposa Grove
There's much more to Yosemite than just the Valley. Southern Yosemite is populated with giant sequoias, and Mariposa Grove is a great place to catch a glimpse. Mariposa is the biggest of three groves in the park, and there are numerous trails and hikes throughout the area. Getting to Mariposa Grove from Yosemite Valley is about an hour's drive.
Best time to visit Tioga Pass Road
Tioga Pass Road takes you through a wide array of Yosemite's geographic diversity. Great if you want to explore the park beyond just the Valley. Tioga Pass Road takes you past mountains, meadows, lakes, forests, and more.
Be sure to check out Tuolumne Meadows, located along Tioga Pass Road and accessible via two overlooks. The Meadows feature a wide array of biodiversity, including grasslands, forests, and rivers, all backdropped by the Sierra Nevada mountains. There are many trails and hikes to explore this region.
Yosemite Festivals and Events
Because it's such a popular region for visitors, there are many annual festivals & events in the Yosemite areas. Here are some of our favorites:
Music On The Green: Music On The Green is a summer arts & music festival in Mariposa Park, located in downtown Mariposa's outdoor art park (just west of Yosemite). The event runs all summer, featuring free outdoor concerts from bands of all genres. It's a great way to spend a summer evening.
Mariposa Butterfly Festival: The annual summer Butterfly Festival is also in Mariposa. The festival goes all weekend and features plenty of food, celebration, music, games, and, of course, butterflies. It's well worth checking out Yosemite's historic gold-rush town during the festival.
Chefs' Holidays: Chefs' Holidays comprises three food & wine events held at Yosemite's historic Ahwahnee hotel throughout the year. Events are exclusive, and bookings go fast, but if you want to sample some of the best food Yosemite has to offer, you'll find it here.
During fall is Vintners' Holidays, featuring food & wine from the region's top wine-makers. In December, there is Bracebridge Dinner, a seven-course dinner & a show to celebrate the holiday season. During January, there are the official Chefs' Holidays, featuring menus designed by internationally renowned chefs.
Best Time to Visit Yosemite
Thanks for checking out our comprehensive guide to Yosemite National Park. As one of the most popular natural regions in the United States, the Park has a lot to offer tourists of all sorts. From the world-famous Yosemite Valley and beyond, there is so much to see and discover. Use our guide to plan your ultimate Yosemite vacation. It's worth braving the crowds for some of the most magnificent views you'll ever see.
Best Time to Visit Yosemite FAQs
What is Winter Like in Yosemite?
Cold and snowy. Days hover around 45F, and nights routinely go below freezing. You might think that its location in California means that Yosemite is sunny year-round, but its elevation has other things to say about this. Yosemite actually receives most of its precipitation during the winter months, and this snow can lead to plenty of road and trail closures.
How Busy are Parking Lots in Yosemite?
Very busy! Especially during peak season. Yosemite is one of the most popular natural areas in the United States. Parking lots routinely fill up early in the day during peak season (summer), so you have to get there early to ensure yourself a spot. That said, most traffic is between the Yosemite Valley area of the park, and parking becomes much easier to find the further you get from the Valley.
National Parks in the USA That Should Be On Your Travel List
Best Time to Visit Zion National Park
Best Time to Visit Glacier National Park
Best Time to Visit Yellowstone
Best Time to Visit Grand Teton National Park
Family Fun Ideas in Northern Arizona and New Mexico
Stunning USA Self-Drive Tours and Adventures
Sunrise from Haleakala National Park
Saguaro National Park Tucson Arizona
Things To Do In Kentucky
Things To Do In Kings Canyon National Park
Best Hikes In Sequoia National Park
Best Time to Visit Lake Tahoe
Lassen Volcanic National Park Camping
Lassen Volcanic National Park Things To Do