Oh yes. It gets hot in Tucson. May through September are often unbearable, especially when you are in the direct sun. But, as we say in Tucson, it's a dry heat! Whatever time of year you visit, you'll find that Tucson, Arizona is one of the most eclectic and beautiful cities in the United States. Located in the southwest, it boasts stunning mountain views, a vibrant downtown, university culture, and desert majesty.
While you are taking in the saguaro cactus and desert beauty, there's also a lot of interesting things to do in Tucson. If you are hoping to combine stellar sightseeing with history, arts, flora and fauna, Tucson is the place. There are museums, outdoor pursuits, wildlife, culture, science explorations and more.
Learn why Tucson is one of America's most interesting cities. You will not run out of Tucson attractions.
Places to Visit Tucson Arizona
Natural desert beauty
Tucson, known as Old Pueblo, is simply overflowing with natural beauty. It is located in the desert and situated between many mountain ranges:
Tortolita Mountains
Santa Catalina Mountains
Tucson Mountains
Rincon Mountains
Santa Rita Mountains
Sierrita Mountains
Nature lovers and exercise enthusiasts will find there is lots to see and do. There is bird watching, hiking, climbing, horseback riding, and biking.
It's important to note, spring, summer and fall can see very high temperatures. In addition, Tucson is a dry climate. It's essential to always carry water. Also be sure to bring a hat and wear sunscreen.
Some places to explore in Tucson to enjoy nature and enjoy native desert plants, cactus, and animals are:
Saguaro National Park
Arizona-Sonoran Desert Museum
Tucson Botanical Garden
Sabino Canyon Recreation Center
Catalina State Park
Mount Lemmon – scenic drive to the top; many cyclists ride to the top and down
Redington Pass
Sabino Canyon Recreation Area
In northeast Tucson, there's Sabino Canyon Recreation Area. Here you can take in the majestic views of the Santa Catalina Mountains which began forming 12 million years ago. This is part of Coronado National Forest.
There is a nature center, gift shop, tram ride, and hiking. Hiking at Sabino Canyon is diverse; there are easy, moderate and challenging trails. There are 30+ miles of trails. You may see water in Sabino Creek. Seven Falls is a popular hike here. It's just over an eight mile hike.
Sabino Canyon Crawler ~ Tram ride at Sabino Canyon
You can't drive through Sabino Canyon but there is a fantastic tram ride called the Sabino Canyon Crawler which takes you up the canyon. While this used to be with an interpretive guide, it is now pre-recorded.
Some may like this better because you can choose to listen to it with the ear buds they give you or choose not to listen. It's an interesting recording, and you will learn a lot but we definitely enjoyed experiencing the tour with a live narrator. It was always different. There is still a tour operator on the tram, and they probably will be able to ask questions.
Taking the Sabino Canyon Crawler up will save you four miles of hiking and is a great way to explore this area and see it from different vantage points. You can stop and get out to hike around and hop on another tram to go up to the top or back down. Or you can walk back down. Reserve and pay online for a ticket time.
The shuttles are electric and emissions-free. Shuttles can accommodate 60 passengers but fill up quickly. The interpretive program explains how Sabino Canyon formed, the native plants that grow in the canyon, wildlife, the impact of the flood of 2006 and how it affected Sabino Canyon, seasonal changes, and historical and cultural facts.
It is important to note, that while you can get out at any stop on the way up and the way down to explore further, oftentimes the trams are full.
Book online. Otherwise, it's important when you arrive to go right away to the ticket booth in order to get a reserved time. You should be able to secure a spot, though you may have to wait an hour or more. You can use cash or credit card when you pay onsite.
That's okay because then you can go do the other things you want to do. Depending on the time of day you arrive and how hot it is, you may want to start with hiking. Or, if it's already hot, you may want to spend the time in the nature center and gift shop.
Now with the "new" tour system, you also have the option to go online in advance to book it with Sabino Canyon Crawler. Then you can pick your time slot. You will see the Tram Crawler outside the Sabino Canyon Visitor Center, 5700 N Sabino Canyon Rd, Tucson.
We were interested to learn 1.3 million people visit Sabino Canyon Recreation Center each year. There is ample parking, a wonderful Visitor's Center with helpful volunteers to help you plan your visit. There are also clean restrooms. It's a kept-up park with a lot of activity.
Catalina State Park
Take in the gorgeous views at Catalina State Park. There is hiking, biking, camping, picnic areas, bird watching, and more. Dogs are allowed except for the area which encompasses the Desert Bighorn Sheep Reintroduction Area. There are many shared-use trails, many for the beginner and for the more advanced.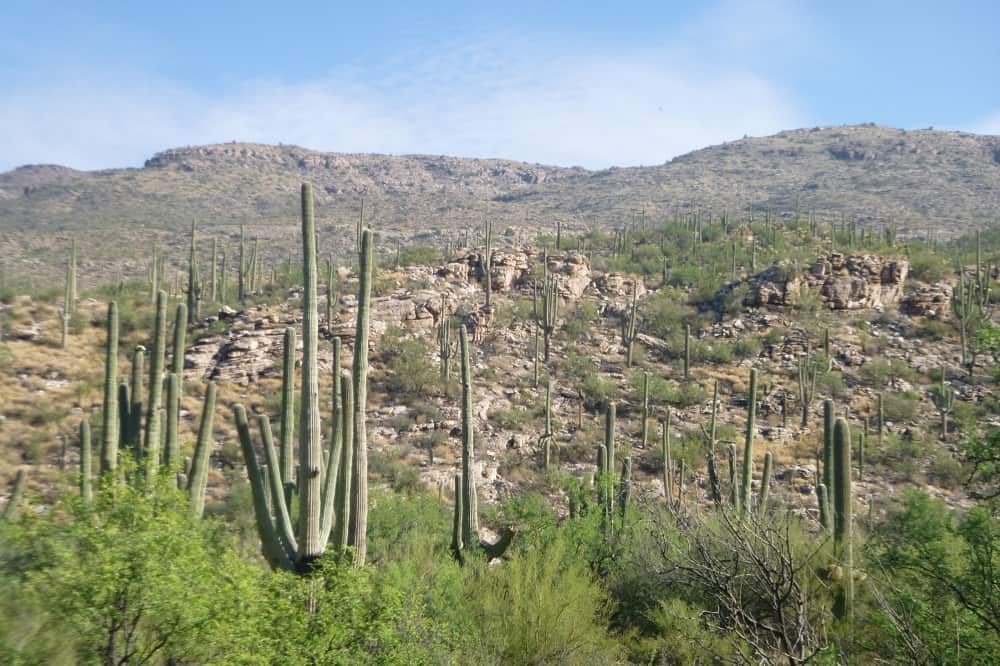 Saguaro National Park
How many cities can boast they have a national park? Tucson can! Here too you can enjoy picnicking, hiking, biking, and learning about the native plants and wildlife living in the Sonoran Desert. You may see wildlife here; it really depends on the time of day and how hot it is. We usually at least see birds and lizards.
There are two park entrance locations. One is Rincon Mountain District East and the other is Tucson Mountain District West. Whichever you choose, you will have diverse trails to choose from, from easy to moderate and advanced. You can also drive through parts of Saguaro National Park which makes it nice if you are visiting when it's hot.
Visitor's Center at Saguaro National Park
Both locations have visitor's centers, so whichever site you visit, be sure to take some time to visit. The one at Tucson Mountain District West's is larger. However, they both have bookstores along with lots of information and displays about what you can see at Saguaro National Park. In addition, both have a 15-minute video which runs throughout the day.
Whichever location you choose to visit, each offers ranger-guided programs as well. Like with all places in Tucson, be sure to bring extra water with you, especially while hiking. Visiting National Parks is a great way to spend a day or a few hours.
Arizona-Sonora Desert Museum
Learn all about the Tucson desert at the Arizona-Sonora Desert Museum. Containing an aquarium, botanical garden, zoo and art gallery, the Arizona-Sonora Desert Museum will give you an immersive look at the desert and the fascinating creatures in it.
You could easily spend an entire day wandering around this museum, so make sure that you have ample time to see it all.
There is a cafe as well as many indoor exhibits. Be sure to time when you see the outside animals to a cooler part of the day if you can; you will see more of them that way. During the summer months (March – September) it opens at 7:30am. In the cooler months, it opens at 8:30am.
Cool Summer Nights at the Desert Museum
Throughout the year, it closes at 5pm except on Saturdays in June, July and August. Through the last Saturday in August, they have Cool Summer Nights on Saturday evenings. There are talks and activities. Be sure to bring a flashlight to find scorpions and see them glow.
If you don't have time to drive out to the Sonoran-Desert Museum, be sure to make a stop at Reid Park Zoo if you want to see animals. This is a fantastic place to spend your day.
Visiting the Desert Museum will give you a fantastic overview of why the Arizona desert is so important and how you can preserve and enjoy it. Be sure to look at the schedule for the day when you arrive if you are interesting in taking a docent-led free tour.
Mount Lemmon
The Coronado National Forest is a gem for those wanting to escape the Tucson heat. You will see many cyclists riding their bikes along the way on Catalina Highway up and down the mountain, so take extra caution all around this area. You will feel like you are in a different world as you drive up to the top of Mount Lemmon. This is a scenic drive like no other.
The diverse eco-systems along the way are spectacular. As you gain elevation, you leave the Sonoran Desert and experience evolving topography — it mimics the changes as if you were traveling from Mexico north to Canada.
There are lookout points along the way. There are several stops where you can get out and walk around, hike, or camp. Some interesting places along the way are General Hitchcock, Molino Basin, Rose Canyon and more.
Even if you don't get out of your vehicle, it's worth a trip to drive to the top of Mt. Lemmon. Have fun watching the temperature change as you drive.
Summerhaven on top of Mt. Lemmon
You will be 9,159 feet at the top in Summerhaven. There are a few restaurants and a few little shops. Cyclists often ride to the top of Mt Lemmon and stop at The Cookie Cabin for an extra-big cookie, pizza and more.
Mt Lemmon Ski Valley
You can ski as well as hike at Mount Lemmon Ski Valley. Be sure to check in advance for skiing conditions. Even in the summertime though you can ride the chair lift which is very fun as well as scenic.
Mt Lemmon Sky Observatory
An often overlooked opportunity on top is the Mt. Lemmon Sky Observatory. You will need to plan this in advance. Reserve online for their night sky viewing. It gets cold so be sure to bring warm clothing.
Colossal Cave Mountain Park
Technically in Vail, AZ, it's very close to Tucson. It's a place you will want to visit. You can go for the day or plan to stay and camp.
When we went once on a Saturday in October, we were able to walk right up and get a spot for a cave tour. However, they do have an online reservation system which you may want to use to guarantee your spot.
There are different "levels" of tours, including several which are for advanced (adventurous!) enthusiasts. One is their day or night intermediate Ladder Tours (12 and older) and the other is their intermediate and their advanced Wild Cave Tours (16 and older).
We took did the Classic Cave Tour which was ideal for children and adults. When you are out this way, be sure to visit Saguaro National Park's entrance at Rincon Mountain East which is about 15 minutes away.
If you loved spending time in Colossal Cave and you have time, you may want to plan to check out Kartchner Caverns State Park in Bensen, AZ as well.
These two caves are about 45 minutes from each other. You won't want to do both in one day because you will really want to spend enough time at each site. If you do plan to visit Kartchner, be sure to book one of their tours online in advance. During certain times of the year they fill up quickly.
Things to do with kids in Tucson
While there are many things for kids to do in Tucson, we wanted to highlight these two unique attractions:
Trail Dust Town
Here you will be able to enjoy an old western setting. Trail Dust Town is one of Tuscon's iconic destinations. Step back in time and see how things were in the old west. The historical buildings in Trail Dust Town are well preserved and give you a great snapshot into what life was like for thee adventurous souls that braved the wild west and the sprawling Arizona desert.
For dining, you can visit Millie's Pancake Haus for breakfast or lunch. Pinnacle Peak is the dinner spot — be sure to have everyone wear an old tie (one you don't care about). Check out the Silver Dollar Saloon as well.
Kids will love the attractions and rides in this quaint setting. Note these are later in the week, Wednesday through Sunday. There's a train ride, a carousel ride, and Ferris wheel. There's also a stunt show and family haunt experience (Thursday – Sunday). Kids will also have fun panning for gold and going to the shooting gallery.
On Fridays, there is Heirloom Farmer's Market.
Trail Dust Town is less than 15 minutes by car from Sabino Canyon Recreation Area. You can spend the day at Sabino Canyon and then head to Trail Dust Town to eat and enjoy.
Children's Museum Tucson
My kids love Children's Museum Tucson. It's fun to make a day of going here because you will be in the downtown area where there are lots of restaurants. For us, we typically just bring snacks. You can enjoy them at a table. There aren't many seats so we don't linger. They also have a vending machine on site.
Like most children's museums, there are different areas. No matter your child's interest and age, they will find it interesting and interactive.
We went here until my kids were 11 and 12. They still enjoyed it and would still find it fun even though they are older now.
We always spent a long time — up to five hours — here. Though many locals seem like they cover it in just two hours. My kids always enjoyed all the interactive exhibits and enjoyed playing, especially since it wasn't ever terribly crowded.
A few times we visited, they had their art area open for creating. They also have a tiny gift area right in the main area where you pay. In addition, there is a fun area outside for your kids to explore. We've always found street parking — there are parking meters — within two blocks.
Science in Tucson
No matter what your interest, you can find science-related activities in Tucson.
Enjoy Pima Air and Space Museum, the Flandrau Science Center and Planetarium in the University of Arizona campus, the Tucson Children's Museum in downtown Tucson, and Kitt Peak National Observatory, Mt. Lemmon SkyCenter Observatory with it's after-dark program where you learn about astronomy.
Biosphere 2 is in Oracle, Arizona. This is likely within an hour of Tucson, depending where you are in the city. It's worth a trip out to visit.
Pima Air and Space Museum
Everyone in your group will find something interesting here. You will be able to walk up to scores of airplanes inside and outside.
We've returned many times to Pima Air & Space when family and friends visit us in Tucson. We always learn new things and never tire of it. You can spend all day here or just a few hours, depending on how much time you have.
Interaction of nature with architecture
DeGrazia Gallery in the Sun
DeGrazia Gallery combines nature with art through a series of desert installations. They don't have tours but you will enjoy walking through all the different rooms in what was Ted DeGrazia's home. It's beautifully lit with amazing architecture. You will find it to be very peaceful as you enjoy looking at his paintings.
We've been three times. It used to be free but now they charge a nominal fee. Also, there used to be a small Mission in the Sun that was destroyed by a fire. I'm not sure if they are rebuilding it. It used to be a space where one could reflect, meditate, etc. Visitors would leave photos and tokens for deceased loved ones.
On the grounds we've also seen visiting artists. There is also the burial site for Ted and his wife.
You can easily spend the day wandering between the buildings and admiring the art. Many of the installations are incorporated right into the natural scenery, making the DeGrazia Gallery a must-see for any serious art connoisseur or nature lover.
There is a small gift shop in the main gallery building.
Tucson Museum of Art
This art museum is newer and modern and boasts cutting-edge installations. I've been here twice for field trips. While it was wonderful, I wasn't able to roam at my will. Both times we had docents. There is a beautiful main gallery. We also saw a nativity display by walking outside to another area.
U of A Museum of Art
There is also a Museum of Art at the University of Arizona campus. It features artwork from the Renaissance through the 2oth century.
The Mini Time Machine Museum of Miniatures
Young and old will fall in love with the Mini Time Machine Miniature Museum from the minute you walk into the oversized doors.
You step inside a wonderland of dollhouse-type exhibits. My kids went here on field trips. We visited during the summer as well to explore and take advantage of their workshops. It's a great way to spend a few hours while visiting Tucson.
You will be facinated by the intricate dollhouses and rooms here. There are anique works of art mixed with comtemporary exhibits. Many are scaled to the inch or quarter inch.
You can sign up for a docent-led tour and/or wander at your own leisure. There is a tiny gift shop and plenty of free parking.
Other wonders in Tucson
This jewel of Arizona isn't just famous for its amazing natural wonders. There are some incredible places that make it totally unique and a place that you have to put on your bucket list.
Tucson Botanical Gardens
This heavenly 5.5-acre spot of land connects you with the beauty of the natural world through expertly presented flowers and plants. Spend the day wandering through the blooms, and learn about the varieties of cactus, native plants and trees.
These are 16 beautifully maintained gardens. Be sure to walk through the Butterfly Garden. They have garden tours, special events, classes, a gift shop, and a cafe. We visited when they had a sculpture exhibit which was interesting to see among the gardens. Tucson Botanical Garden opens at 7:30am so even if you visit Tucson during the hot months, you can enjoy it.
Mission San Xavier del Bac
Visit this historic Spanish Catholic mission on the Tohono O'odham Nation Indian Reserve. You can take a docent-led tour Monday – Saturday mornings. Learn about San Xavier Mission and the religious, artistic, cultural, and historic significance to the state of Arizona.
You will be stunned by the scope of the building and how well it was designed. There is a small gift shop. You are welcome to attend mass as well. This is just 10 miles south of downtown Tucson. You can explore the mission and then head downtown to eat and to enjoy the people watching, murals, and diverse restaurants and breweries.
Agua Caliente Park
Anyone who loves bird watching will want to check out peaceful and beautiful Agua Caliente Park. Bird watchers come here to see migratory birds as well as year-round birds. Depending on when you visit, the small nature center and gift shop may be open. There are sometimes special talks as well. You can plan to picnic and walk around the marked paths. It's a quiet, beautiful spot out in nature.
Bike riding in Tucson
You will see cyclists meeting up at Le Buzz coffee house at Tanque Verde Rd and Catalina Highway. Cyclists will ride up Catalina Highway up to Mt Lemmon. Other areas you will see cyclists include on Speedway near the entrance to Saguaro National Park.
El Tour de Tucson is an annual bike ride which attracts cyclists from around the world. There are different distances, from 25 miles to 100 miles along with various fun rides up to 10 miles.
Tucson Atmosphere and Culture
Tucson is known for its eclectic atmosphere and fun culture. There is always something happening in this amazing city, including gem and mineral shows, book fairs, music and arts festivals and so much more. There are always parades going on also, with the St. Patrick's Day parade attracting folks who want a little luck of the Irish from all across the world.
University of Arizona
The University of Arizona is in Tucson. This adds yet another level of fun, entertainment, culture, arts and sports to Tucson. Take in a sporting event such as football, basketball or baseball game at U of A. It's fun to walk around campus, visit the lively restaurants, and check out the bookstores. There are musical and theatrical performances and other events as well.
Restaurants in Tucson
This amazing metropolis is known for it's thriving food culture also. This bustling metropolis puts a new spin on comfort food, like its ranch fries that are deep-fried, crinkle-cut fries liberally sauced with mayonnaise and bacon bits.
Be sure to try a Sonoran hot dog! There are local breweries downtown as well as throughout Tucson. Be sure to check out downtown Tucson as well as the famous 4th Avenue. Eegee's is a local a sandwich shop with many locations throughout Tucson.
There is a substantial Mexican influence in this city also, with many of the dishes echoing Mexican tastes and styles. Since this city is home to a local college, the vibe is young, friendly and open-minded. You won't have to walk very far to find a local coffee shop or bar in this amazing city.
More things to do in Tucson
Bookman's Entertainment
If you love books, music, musical instruments, games, and local stores, you must make a trip to Bookman's Entertainment. The one we've been to is at Speedway and Wilmot and it's fantastic.
There's a mix of new and used items here…. You never know what you'll find. In addition, Bookman's is very generous in the community, always donating to my children's schools.
Tucson sports
As mentioned above, Tucson is lucky to have the University of Arizona's sports teams. There's a wonderful fan base of locals and transplants who have fun supporting the Wildcats.
Tucson Roadrunners – hockey team
Tucson Sugar Skulls – arena football
Broadway in Tucson
This has been great for locals to support theater. It also might be nice to take in a show while you're in town visiting Tucson.
Tucson weather
Tucson is in the Sonoran Desert, in the southwestern part of the United States. It's dry and hot. Winters are mild; plan to dress in layers. Monsoon season peaks in July and August; however, through the years, it's been sporadic.
Summers in Tucson can be brutal, and even though this city enjoys a dry heat, when you are in the direct sun, the weather is oppressive especially if you are not used to it.
Winters are often the best time to visit this city since they tend to be mild and bearable. Plus, many people from northern states love coming to Arizona during the winter because it gives them a nice break from ice and snow.
Some winter months can be a little bit on the wet side, so make sure that you check the forecast before making your travel plans. There have been very dry winters and some that were quite wet.
The good thing is that if inclement weather happens, it usually passes fairly quickly and will not disturb your day too much.
Make sure that you always take plenty of layers with you when you are hiking on the trails. You don't want to get caught in an impromptu rainstorm or find yourself knee-deep in the snow without any proper boots.
Visiting Tucson attractions
Tucson's amazing atmosphere, gorgeous natural features, and global food scene put it on the map as one of the top places to visit in Arizona.
Although often overlooked for places like Phoenix, there's a reason why Tucson is one of America's — and one of the world's — most beautiful cities.
Interesting things to do in Tucson
If you've never been to a desert, it may be different than you expect. Many visitors to Tucson are surprised it's so green. And when the desert cactus bloom, it's even more colorful.
Tucson is a haven for outdoor enthusiasts but know there is a lot to do here. There are plenty of ways to explore the great outdoors. Tucson residents and visitors enjoy hiking, horseback riding, climbing, and biking.
Yet, even if you aren't as mobile or don't want to be active, there is still a lot to do.
Tucson is a city is the perfect mix of old and new. No matter what your interests, you will not run out of things to do here. There are so many reasons Tucson makes for a unique destination.
Family Fun Ideas in Northern Arizona and New Mexico
Stunning USA Self-Drive Tours and Adventures
Top 5 Family Friendly Destinations in the United States South
National Parks in the USA That Should Be On Your Travel List
Choosing the Perfect Hiking Boots for Trekking the World
You Fit ~ In Shape
Expats' Rural Living in Cyprus