Best Time to Visit Lake Tahoe ~ There are plenty of reasons to visit Lake Tahoe. As one of the most visited freshwater lakes in North America, Lake Tahoe offers something for all outdoor adventurers. In this article, we're telling you the best time to visit Lake Tahoe, and giving a full rundown of the top experiences the region has to offer.
Best Time to Visit Lake Tahoe
The best time to visit Lake Tahoe is going to depend on the reason you are visiting Lake Tahoe. In the summer months (May-Sept), the area is packed with visitors enjoying the lake, its beaches, the surrounding natural area, and the surrounding towns. In the winter months (Dec-Mar), Lake Tahoe is home to world-class ski resorts, and draws adventure-seekers from all over the world.
The shoulder seasons are when Tahoe is least visited (Oct-Dec and Mar-May), but also when you can find the best rates on lodging and hotels.
Therefore, the best time to visit Tahoe is going to depend on what you want to experience while there. Do you want a classic lakeside vacation? Do you want an extreme downhill skiing experience? Or something in between? To help you decide, let's take a closer look at Tahoe's climate:
Climate
Lake Tahoe is characterized by warm spring & summer months, and moderate-cold winters. Summers in Tahoe hit highs of around 80F (27F), and lows of around 45F (7C). Winters have highs of roughly 45F (7C), and lows of about 27F (-3C). Shoulder seasons are in between, and also the least tourist-y.
Lake Tahoe is officially classified as a moderate continental climate. Summers are warm and sunny, and winters are cold and snowy. This might be of surprise to visitors, given that Lake Tahoe is located in the notoriously hot & sunny States of California and Nevada. The reason for its somewhat colder climate is its high elevation, sitting at 1900 meters above sea level.
Getting to Lake Tahoe & Where to Stay
Planning your vacation to Lake Tahoe starts with (duh) getting there! The closest major airport is Reno/Tahoe International Airport (RNO), which is a roughly 50-mile drive northeast of Lake Tahoe. Many visitors opt to rent a car for the duration of their stay.
Car rental makes sense not only for getting to Lake Tahoe, but also for exploring the Lake itself, seeing as how it is over 70 miles around! Alternatively, from the airport, you can take a shuttle, cab, Uber, or Lyft, but these tend to be pricier options.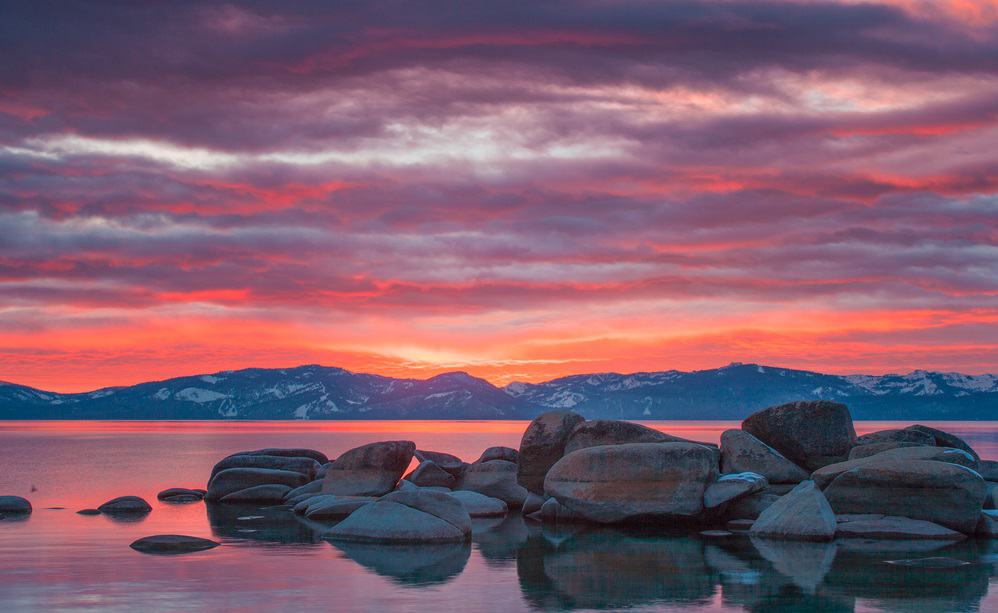 In terms of where to stay, Lake Tahoe is a massive region. It consists of 70-mile shoreline around the lake itself, the surrounding ski resorts and nature areas, the casinos, and even the nearby towns and cities. Each of these areas host motels, hotels, AirBnBs, and more. You're best to decide the reason you want to visit Tahoe, and then to book your lodgings from there.
For example, many summer tourists choose to stay in one of the towns on the shores of Lake Tahoe, such as South Lake Tahoe, Tahoe City, or King's Beach. It's also worth noting that Lake Tahoe sits on the border of California and Nevada, so you'll find plenty of lakeside casinos on the Nevada side. In the winter, you can choose to stay in one of the larger ski towns, such as Squaw Valley, Heavenly Ski Resort, Northstar, and more.
In other words, there's a lot to choose from! Next up, we'll attempt to make this decision easier. We'll give you more info on Lake Tahoe's geography, and also give you the top things to do in Lake Tahoe.
About Lake Tahoe – Natural and Man-Made Attractions
Now that we've given you the logistical details to consider as a tourist to Lake Tahoe, let's get to the interesting stuff. What makes tourists flock to Tahoe in the first place? What's so special about this place?
Lake Tahoe is the largest alpine lake in North America, and second to only the Great Lakes in size. Lake Tahoe is situated on the divide between Nevada and California, and has become a major tourist attraction for both States. Tourists come to Tahoe for summer fun, winter sports, and general outdoor recreation.
In terms of geography, Lake Tahoe is roughly 35km x 19 km. It is roughly 116 km around, boasting plenty of shoreline which is occupied by towns, beaches, casinos, and unspoiled nature. Interestingly, Tahoe is also one of the deepest lakes in the United States, only trailing Oregon's Crater Lake in terms of depth.
The largest city on Lake Tahoe is South Lake Tahoe, on the south side of the lake, located in California. Along the east end of the lake is Tahoe City. Other towns include Incline Village on the north side, and Stateline on the south side of Tahoe, directly on the Nevada border.
Things to Do in Lake Tahoe?
Let's get more specific, what are the best things to do in Lake Tahoe? It really depends what you're looking for, and when you visit Tahoe, but this diverse region features activities to keep just about anyone happy. Here are some of our top picks, but this is far from an exhaustive list!
Skiing/Winter Activities
Lake Tahoe is a world-famous destination for alpine skiing, and you'll have several options at your disposal. Perhaps the most famous ski resorts are Squaw Valley (situated west of Tahoe City) and NorthStar (situated northwest of Lake Tahoe). Both are large ski resort towns, offering lodging, restaurants, bars, and more. Both also offer world-class skiing, with runs that are suitable for beginners to the very advanced. Squaw Valley alone boasts over 4000 acres of skiable terrain, with six peaks.
And if you'd prefer a less commercial alpine experience, there are plenty of smaller ski resorts occupying the Tahoe region, including Homewood Mountain Resort, Sierra-at-Tahoe, and many more.
South Lake Tahoe
South Lake Tahoe is situated on, you guessed it, the South shore of Lake Tahoe, and is also the region's largest city. It makes a great home-base for many outdoor activities in the region, and a great place to stay year-round. Known as a "resort city", you'll find plenty of restaurants, bars, and shops. It's adjacent to many beaches, hiking trails, biking trails, and more. You can also access Emerald Bay State Park via a short drive, one of Tahoe's most popular scenic locations.
South Lake Tahoe is situated on the California side of the State border. Directly, across the border you'll find another popular town called Stateline, which we'll cover next.
Stateline
Directly across the State border from South Lake Tahoe in Nevada you'll find Stateline. You'll immediately notice that you're in Nevada due to the prevalence of casinos. As you might expect, Stateline carries with it a much livelier, "party" atmosphere when compared with South Lake Tahoe.
Popular casino resorts include Harrah's, The Hard Rock Café, Montbleu Resort, and more.
King's Beach
One of the prettiest, most popular beaches in Tahoe, and it's easy to see why. King's Beach State Recreation Area is located along Tahoe's northern shore. The beach itself is wide, sandy, and full of swimmers, sunbathers, and boaters. The recreation area consists of 13-acres of space to explore, and the adjacent town offers shops, restaurants, and bars to check out. An extremely popular spot in the summer, you might have to arrive early to secure a prime spot on the beach.
Take a Boat Cruise
Why not explore the lake itself? Boat cruises are offered from all along the shores of Lake Tahoe, and are a great way to check out the views from the centre of this expansive lake. Catch a boat tour from Emerald Bay State Park and you can check out Lake Tahoe's only island, Fannette Island.
Emerald Bay State Park
Perhaps the most popular scenic destination in Tahoe, Emerald Bay State Park has earned its stellar reputation. Emerald Bay State Park is situated along the shores of Emerald Bay, on the southwest side of Lake Tahoe. Emerald Bay Lookout is the most popular tourist destination in the park. The Lookout sits atop a cliff, and offers a stunning panoramic view of the bay, and of the main lake in the distance. Emerald Bay State Park is also a fantastic location for hiking, swimming, and exploring.
The trails in Emerald Bay State Park range in difficulty, featuring unspoiled wilderness and tall trees. But be aware of the black bears in the area.
Lake Tahoe – Festivals & Events
Before we wrap up our guide to Tahoe, let's check out some fun events to attend while in the region. Lake Tahoe has plenty of events & festivals spread across its various towns, regions, and resort towns. They're best separated by "summer events" and "winter events". Let's check out some of our favorites.
Top Lake Tahoe Summer Events
Lake Tahoe Shakespeare Festival: One of the most popular festivals in Tahoe, the Shakespeare Festival in Sand Harbor each summer. The festival hosts many different events, and they're not just limited to Shakespeare. From live music, to ballet recitals, to (of course) Shakespeare plays. The open-air theatre backs onto Lake Tahoe, and there's not a bad seat in the house!
American Century Celebrity Golf Tournament – Taking place at Edgewood Tahoe South, this summer tournament draws a crowd every year. It's a fun week of golf, with celebrities and pros taking to the links for a good cause. Spectators can buy tickets for about $20 (depending on the day), but many Tahoe residents and tourists also pull their boats along the shore, as the golf course is situated right on the lake.
Top Lake Tahoe Fall/Winter Events
Lake Tahoe SnowFest: Lake Tahoe SnowFest was originally started to draw tourists to the region during March, a month that traditionally saw a dwindling ski season. The event was enormously successful, and held annually all across Northern Lake Tahoe. Events include a torchlight parade, the Tahoe City Dog Pull, Cornhole Tournaments, and more.
Autumn Food and Wine Festival: The Autumn Food and Wine Festival is held at Northstar Resort in Lake Tahoe. The event features a congregation of restaurants, wineries, and breweries across Lake Tahoe, and is a great way to experience the local cuisine. It's a three-day weekend festival, and is capped off with a large Marketplace on Sunday.
The Bottom Line – When to Visit Lake Tahoe?
So, the big question, when should you visit Lake Tahoe? Well, as you can see from our comprehensive guide, there really is no bad time to visit Lake Tahoe, it all depends what you're looking for! For world-class alpine skiing, visit Tahoe in the winter.
For beaches and summer fun, check out Tahoe in the summer. Lake Tahoe is also fantastic in the shoulder months, when the sites are less crowded, lodging is cheaper, and temperatures are still suitable for outdoor activities!
There's something in Lake Tahoe for everyone – use our guide to decide what's best for you!
FAQs
How Far is Lake Tahoe from Yosemite?
Planning a tour of all the USA's famous natural attractions? You'll be happy to learn that Lake Tahoe is a short 2.5-hour drive from Yosemite National Park. Yosemite National Park is popular for its massive cliffs and rock formations, including the world-famous Half Dome. Located in Northern California, Yosemite is a great stop on your USA vacation.
How Many Days Do You Need in Lake Tahoe?
Of course, it really depends how much you want to see and do, which is why we've written our guide above. We would recommend 4-7 days in Lake Tahoe. This allows you time to soak in one specific town or region, or travel around the circumference of the lake, seeing just about everything on offer. If you're visiting during the winter to ski, you'll likely book a ski vacation, which usually includes 3-7 days of lift tickets.
Top 10 Best Things to Do in Lake Tahoe Nevada
Lassen Volcanic National Park Camping
Lassen Volcanic National Park Things To Do
Best Time to Visit Crater Lake
Crater Lake Camping
The Best Crater Lake Hikes