Best Crater Lake Hikes – Crater Lake National Park in southern Oregon is a beautiful and monumental place for you and your family to have quality time in the great outdoors. While most visitors go for overlooks along West Rim Drive, there are a lot of other trails to choose from for unique views around the park. These trails lead to unique geological sites, dramatic views, and in some instances, meadows, and wildflowers.
In this guide, we explore the fantastic trails, overlooks, and views in and around Crater Lake National Park.
Best Crater Lake Hikes
1. Best Crater Lake Hikes – The Watchman Peak Trail
The Watchman Peak Trail has one of the best vantage points of Wizard Island and the tall volcanic cone that peers out from beneath Crater Lake. This hike starts with some switchbacks on an uphill, rocky climb that runs mainly on the western section of the rim. When you reach the highest point (8,013 feet), you'll be rewarded with a magical view of the entire lake.
The Watchman Peak Trail has an Observation Station that was built in 1932. This watch-over tower has been used as a lookout for wildfires and recorded on the National Register's historic places.
2. Castle Crest Trail
Castle Crest has a wildflower trail that's the shortest and easiest of all Crater Lake hikes. It's highly recommended for those who aren't ready to take on more technical hikes but still want to take in the gorgeous views. During summer, the melted snow gives way to beautiful blooms or wildflowers. Wander around the picture-perfect bowl-shaped meadow filled with yellow, purple, and pink blossoms.
3. Garfield Peak Trail
The Garfield Peak Trail runs behind the Crater Lake Lodge and is a great choice if you want to stop for lunch or have a drink on an outside patio before or after your hike. The trail itself doesn't have a lot of shade, so start early in the day to avoid the hot sun and enjoy cooler temperatures and some solitude.
The hike has a height gain of approximately a thousand feet and is somewhat strenuous, but the reward is some of the best views in the park. There's a wide-open plateau above the ridge that offers breathtaking panoramic views of Crater Lake and beyond.
5. Pinnacles Valley Trail
Even though the Pinnacles Valley Trail within the ancient Crater Lake Park is somewhat a strange place to visit, it's still one of the most interesting out of all the other sites mentioned. Visitors are attracted to this site by the rocks under sheets of the volcanic pumice. Gasses and steam generated by the volcano were primarily released through tubes and vents, making the pumice into cement when they passed through.
Eventually, erosion of the softer materials around the formation led to the emergence of the pinnacles. The pinnacles valley also has a 6-mile trail that's easy to walk.
6. Cleetwood Cove Trail
Even though most visitors enjoy exploring Crater Lake from the top, hiking below the water can be fun, too. Use Cleetwood Cove Trail to get to the water and enjoy the amazing view by boat if you're up for it.
It's possible to swim in Crater Lake's clearwater; however, the water is colder than you might think, so be prepared. The hike takes a significant amount of time as the climb is steep. It's similar to walking up 65 flights of stairs, so this one is best for experienced hikers.
Before taking the boat ride, consider taking a raincoat with you to manage the cold water spray and winds. Note that the restroom at the bottom is always busy, so you need to consider using the one at the top.
7. Discovery Point Trail
Discovery Point is where John Wesley Hillman, a great gold prospector, first saw Crater Lake in 1853 and named it the Deep Blue Lake. For unknown reasons, the name didn't stick for long.
Even though it's an easy stroll, this trail has many rewarding views. It's a perfect fit for families and inexperienced hikers, but you watch your little ones close to avoid the steep drop-offs along the edges.
8. National Creek Falls Trail
The National Creek Falls is 10 miles from Rogue River Gorge, and it's an amazing place to head out into the woods and forget what ails you. The Creek Falls Trails are easy to navigate, making it easier for children and adults to climb. However, don't use the trail when it's wet or snowy to avoid injuries.
9. Mount Scott Trail
Mount Scott's views are beyond imagination, almost as if you're reading a travel fantasy novel, though it's very real. Named after Levi Scott, the pioneer of Oregon, Mt. Scott is still one of the ancient sites, with a height point at 8,938 feet, offering spectacular views.
The mountain is a fantastic place for historians as you'll learn what happened to create Crater Lake and how Mount Scott survived the cataclysmic volcanic eruption of Mount Mazama some 7,700 years ago. This mountain hike is strenuous, though, due to its height and elevation gain.
At 8,938 feet, you can enjoy the full view of the collapsed volcano at the unique watchtower. Even though the mountain's height is imposing, the hike only extends 4.4 miles with 1,245 feet to climb.
The trail's elevation makes it among the last places to open due to the snow. It's only open in late July, so you have a lot of time to plan for the adventure. Seek advice from park officials before heading up the mountain.
10. Wizard Island Summit Trail
A tour in and around Wizard Island ranks high on Oregon's list of best experiences. You'll see huge cliffs that are a result of the volcanic explosion. but the tophat-like island has the best views.
Even though the hike is tiresome and sweaty, the reward is viewing the pumice-strewn shoreline and maybe taking a chilly swim to relax. If you aren't up for the height, there are two tour boats daily that drop visitors at Wizard Island. On these tours, rangers summarize the history and geology of the fantastic site.
Places to Stay
Now that you put together your Crater Lake itinerary, it's time to start thinking about where to stay. Crater Lake camping is an option. In addition, Crater Lake has renovated cabins and campsites at Mazama Campground for those intending to stay overnight. Spectacular lodges are available in the National Park Service System if you don't want to camp. Even though it was built in the 1900s, it has been renovated, so advanced booking is recommended.
There are other places to stay nearby in Chiloquin, Union Creek, and the Klamath Falls areas. Motels, vacation rentals, premium resorts, and hotels are available.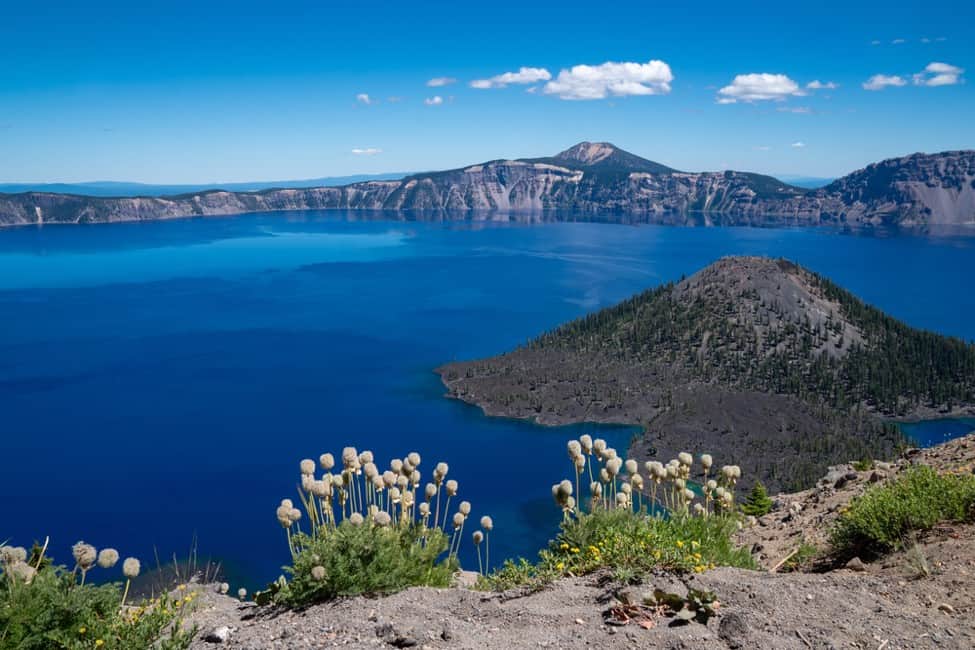 Some Quick Tips When Visiting Crater Lake
Be sure to learn the best time to visit Crater Lake for what you want to do there. For sure, if you are camping, visit in the summer months. Expect the potential for snow in Crater Lake between December and March.
Bring a jacket or raincoat: You must carry a raincoat or a jacket as the weather at Crater Lake is unpredictable.
Be good to nature: Always stay on the trail to avoid damaging or tramping down vegetation. Similarly, don't pick up beautiful rocks, foliage, or wildlife to take home.
Crater Lake Hikes
Some places are meant for adventures. Every Crater Lakes trail offers something unique. Wizard Island, Cleetwood Cove, Pinnacles Valley, among others, are adventurous places you can go to experience the vastness of this gorgeous park.
Use this Crater Lake trail guide to pick your own routes and choose the best hikes for you and your family for your next trip to the Pacific Northwest. If none of these strike your fancy, there are plenty of others to choose from, including the Sun Notch Trail, Plaikni Falls, and the section of the expansive Pacific Crest Trail that runs through the park.
Yosemite Hiking Trails
Best Time to Visit Yosemite
Things to Do at Mammoth Cave
Best Time to Visit Sequoia National Park
Best Time to Visit Death Valley
Best Time to Visit Acadia National Park
Best Time to Visit Seattle
North Cascades Camping
Best Hikes in North Cascades National Park
11 Things To Do In North Cascades National Park