Best Time to Visit Death Valley has quite an intimidating name for a tourist destination. The park was established in 1934 to protect prehistoric images and other cultural artifacts. For thousands of years Native Americans have lived within its boundaries. Currently there are no human inhabitants but many animals still call the park home. But this National Park located west of Las Vegas is a lot more welcoming than its name might imply – as long as you do it right. Our guide will take you through the best times to visit Death Valley to avoid the scorching heat, and what to see & do while there.
Best Time to Visit Death Valley
Tourists do visit Death Valley year-round, but its blazing temperatures give it a defined tourist season that you'll want to consider. Death Valley National Park is an American national park that straddles the California–Nevada border, east of the Sierra Nevada. The park boundaries include Death Valley, the northern section of Panamint Valley, the southern section of Eureka Valley and most of Saline Valley.
Death Valley Tourist Season
Despite its extreme heat, Death Valley remains a popular tourist destination year-round. This being said, the tourist traffic dips slightly during the summer heat, and also during the winter. The shoulder seasons see increased activity in Death Valley due to the pleasant weather, especially on weekends.
We think that shoulder seasons are the best time to visit Death Valley. Despite the crowds, temperatures are much more tolerable during Spring and Fall. Winter is also a good time to visit Death Valley, but be aware that it gets quite chilly at night (or at higher elevations). You can avoid crowds during tourist season by visiting popular sites early in the morning.
Death Valley Weather
Death Valley is characterized by its subtropical, desert climate. However, tourists might be surprised by the ecological diversity of the region. Death Valley is largely a below sea level basin, but also contains mountains, lakes, and rivers. As such, climate is not consistent across Death Valley, and will change depending on where you are.
This being said, tourists can expect hot, dry conditions when they visit Death Valley, especially if visiting during the summer months. Summers in Death Valley are sweltering hot, routinely reaching temperatures above 120F (with low temperatures at higher elevations). During the shoulder seasons, you can expect more reasonable highs of 70-80F. Winters see the lowest temperatures, but are still pleasant, reaching daytime highs of 60-70F and lows of 40-50F.
Death Valley sees a consistent drought year-round, so expect sunny, clear skies when you visit. Occasional rainstorms bring plant life to the region for short periods, but these are unpredictable and rare.

Where to Stay in Death Valley
Death Valley has several options for staying right in the park itself. These include:
Death Valley Lodging
There are a few lodging options within the park itself. Options include a ranch property, a classic inn, and more. Certain properties book up fast, especially in tourist season, so you'll want to book ahead of time. Also note that Death Valley is a massive National Park (about 3,000 sq. mi.), so you'll want to book a destination near what you want to see. You can also book lodging in one of the smaller towns surrounding the Park (detailed in the link above). Some tourists also make a daytrip from Las Vegas, but it's roughly a 2.5 hour drive (one way).
Death Valley Camping
There are several campgrounds across Death Valley which can be booked via the parks' website. Campgrounds are first come, first serve, and they book fast for popular timeslots (holidays and weekends). Death Valley camping has campgrounds year-round, but most are closed during summer months due to the extreme heat. Because of this, the few open campgrounds located at higher elevations book fast during summer.
What to Do in Death Valley
Now that we've covered the logistics, let's get to the fun stuff – what should you see and do in Death Valley? Being such a massive National Park, Death Valley is packed with natural wonders and historic sites. Here are some of our top picks:
Mesquite Flat Sand Dunes
For a true desert experience, head to Mesquite Flat Sand Dunes, located near Stovepipe Wells near the centre of the park. These sand dunes are picturesque desert landscape. Long, swooping sand formations that illuminate in the sun fantastically, with some dunes reaching up to 100 feet in height. You're free to walk the dunes and climb to their highest points for the grand views. It's also a popular spot for "sand-boarding", which is snowboarding on sand.
These are probably the most popular dunes in the park, but it's for a reason. As such, you can expect them to be very crowded during tourist season (spring and fall). But they're big dunes, so there will still be plenty of room to hike.
Badwater Basin
Badwater Basin is one of Death Valley's most-frequented tourist locales. It's a salt pond and its claim to fame is being the lowest point in North America, at 280 feet below sea level. Depending on the conditions, there will be more or less water in the basin. When the area is dry, it's a large salt flat that tourists can walk onto. Other times, the water can get quite deep, and the reflection off the water makes the surrounding scenery pop.
Dante's View
Dante's View is one of the most spectacular viewpoints in the park, overlooking the aforementioned Badwater Basin, and the mountains that border the basin on either side. It's a broad, breathtaking viewpoint, but this magnificence also makes it one of the most popular points in the entire park. Its popularity is increased by the fact that you can drive right to the viewpoint (but be aware that the parking situation is dicy during peak months).
Being so high up, Dante's View offers cooler temperatures, which makes it an especially attractive destination during summer months.
Zabriskie Point
On the topic of viewpoints, we can't leave out Zabriskie Point. Zabriskie is another viewpoint that is accessible by car, and offers a sweeping view of the stunning, multicolored rock formations in the area. If you're more adventurous, there's also an 8-mile hike leading to the viewpoint.
Wildflowers
You can see wildflowers which bloom throughout Death Valley in spring. Peak bloom is usually in March, but it changes quite a bit depending on weather conditions. A "superbloom" is exceptionally rare, and happens with perfect conditions, seeing the entire valley floor covered with wildflowers.
Ubehebe Crater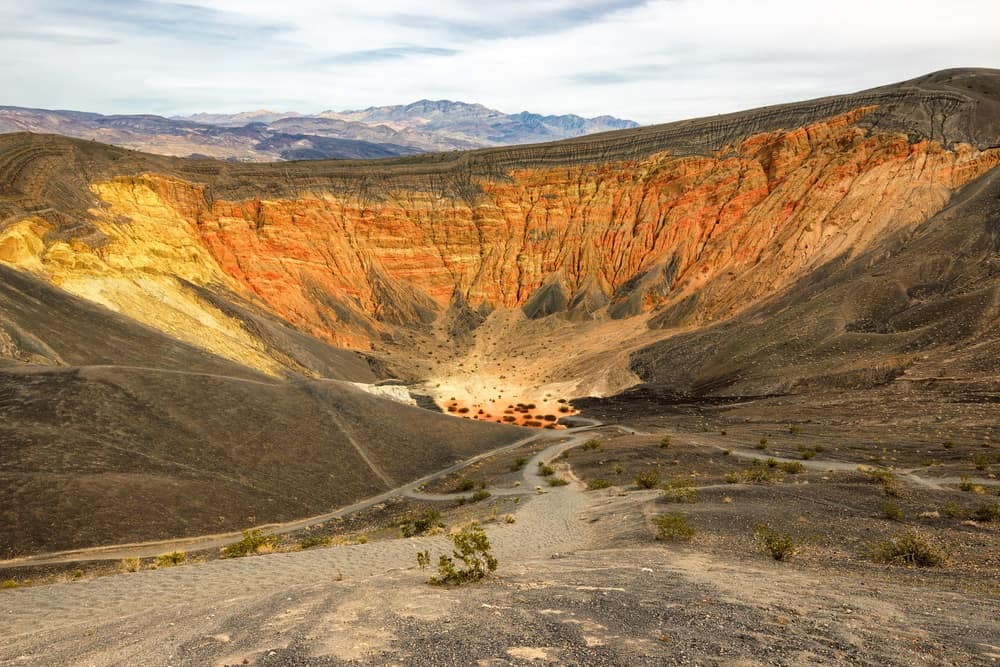 The Ubehebe Crater is a volcanic crater that is over 400 feet deep. Its depth is a wonder from up-top, and there are also trails leading into the crater for the adventurous. Tourists can also choose to walk around the crater's rim, which is almost 2 miles long. There's also a parking lot near the crater's rim if you're only interested in the sights. Definitely one of the most interesting geological phenomena in Death Valley.
Racetrack Playa
The Racetrack is a large, flat mud bed in Death Valley. The flat itself is cool enough, but the main attraction are its rocks which have noticeable "tracks" behind them, as if they were moved. Numerous theories exist about how these rocks were moved – some more plausible than others. Either way, it's sometimes better to wrap yourself in the mystery of it all.
Festivals and Events in Death Valley
Numerous events and festivals occur in and around Death Valley during certain times of year. If you're lucky enough to visit Death Valley during any of these events, be sure to check them out:
Lone Pine Film Festival – The Lone Pine Film Festival is located in the small town of Lone Pine, just west of Death Valley. Taking place in October each year, the film festival celebrate movies and shows that were filmed in Lone Pine. Lone Pine's unique geography (and proximity to LA) has made it a filming location for over 400 Hollywood movies and TV shows throughout the years.
Shoshone Old West Days – Shoshone is located on the southeast end of Death Valley. Old West Days is an Old West themed celebration, with plenty of performances, festivals, BBQ food, music, and more.
Death Valley 49ers Encampment – The Death Valley 49ers are a group of people committed to celebrating the heritage and preservation of Death Valley. The Encampment is an annual event held by the 49ers to celebrate the park, with live shows, a wagon train, a golf tournament, music, and more.
Death Valley National Park
Thanks for reading our comprehensive guide to Death Valley. Don't be intimidated by the name, Death Valley has a lot to offer any tourist. Whether you want to hike, trek, or just soak in some sights, Death Valley's unique geography makes it a "must see" on the list of US National Parks. Use our guide to plan your ultimate Death Valley vacation.
Where is Death Valley
Death Valley is in the desert between Los Angels and Las Vegas. With its unique location in two states (California and Nevada) and an elevation of over 8,000 feet above sea level, the park attracts millions of visitors each year. Although it ranks among the least visited national parks, those who do visit marvel at its vast expanses and dramatic contrasts between landforms. In this report, readers will learn about the natural wonders of the park, including geologic formations, plants and wildlife, recreation opportunities, and more!
Death Valley is a valley in western Riverside County, southeastern San Bernardino County, and northwestern Inyo County in southern California. Its name originates from its proximity to what used to be called Death Valley, part of the Mojave Desert. Death Valley is part of the Great Basin Desert and not far removed from Mount Whitney which is the highest peak in the contiguous United States outside Alaska. Even though most of the valley is now under federal protection, the surrounding communities continue
Where is Death Valley located
Located in both California and Nevada, Death Valley National Park is the largest national park in the lower 48 states and has nearly 1,000 miles of roads that provide access to both popular and less visited areas. It is a well-known site for rock art as it features some of the oldest such art in North America. The park also serves as a major stop along the "scenic route" between Los Angeles and Las Vegas.
Death Valley FAQs
How Much Time Do You Need for Death Valley?
Death Valley is over 3000 sq. mi., making it a very large National Park. As such, you can spend as much or as little time soaking in the sights as you want. Most of the tourist hotspots (such as the ones on our list) are very driveable, and often just a short walk from parking.
If you just want to see the main attractions, you can do Death Valley in one or two days. For a more extensive tour of everything the park has to offer, you could spend up to a week, but be aware of the extreme heat during summer months.
How Far is Death Valley from Los Angeles?
Quite far, but it's doable. It's just over a four-hour drive (assuming traffic cooperates). The closer major metro is Las Vegas, which is roughly a 2.5-hour drive from Death Valley.
Zion National Park Camping | Camping in Zion
Glacier National Park Camping
Best Time to Visit the Grand Canyon National Park
Best Time to Visit Olympic National Park
Best Time to Visit Joshua Tree National Park
Best Time to Visit Death Valley
Best Time to Visit Acadia National Park
Yosemite Hiking Trails
Yellowstone Hiking Trails
Things to Do in Rocky Mountain National Park
Best Time to Visit Zion National Park
Best Time to Visit Glacier National Park
Best Time to Visit Yellowstone
Best Time to Visit Yosemite
Best Time to Visit Grand Teton National Park
Best Death Valley Hikes and Tips for Hiking Death Valley
Kings Canyon National Park Camping
Things To Do In Kings Canyon National Park
Best Time to Visit Lake Tahoe
Lassen Volcanic National Park Camping
Lassen Volcanic National Park Things To Do