Best Time to Visit the Grand Canyon National Park – The Grand Canyon has a reputation that precedes itself. It may well be the most famous natural landmark in the United States, which puts it pretty high on the worldwide rankings. But fame aside, it remains a sight that needs to be seen to be believed, regardless of the many thousands of pictures you've seen already. In this article, we tell you the best time to visit, and what to do while there.
Best Time to Visit the Grand Canyon
Tourists flock the Grand Canyon year-round, meaning there isn't necessarily a bad time to visit and see this wonder. This being said, there are distinct tourist high and low seasons which will influence your decision.
Tourist Season
The peak of Grand Canyon's tourist activity is during the summer. This is when tourists absolutely pack the Canyon's popular viewpoints and trails. This means you'll find crowded tours, booked up lodging, and more expensive amenities. Summer is also when the weather at Grand Canyon is nicest, with pleasant temperatures due to the high elevation.
Because of the crowds during summer, we recommend the shoulder seasons as the best time to visit Grand Canyon. Temperature in Spring and Fall are still quite pleasant, and crowds dip significantly outside of summertime. Of course, this is still the Grand Canyon, so you'll still find crowds either way. The shoulder seasons also see less crowded and more affordable lodging. Winter in the Grand Canyon still sees tourist activity, but temperatures are quite a bit chillier (to downright freezing at nighttime).
Getting to and Getting Around Grand Canyon
Being such a tourist heavy area, there are numerous options for getting to and getting around Grand Canyon.
Getting There: The most popular airports among travelers to Grand Canyon are Phoenix's Sky Harbor International Airport and the McCarren International Airport (in Las Vegas). Flagstaff Pulliam Airport is closer to Grand Canyon, but it might be less accessible if you're coming from far away. Either way, all three airports will be packed with shuttle buses which will take you to the Grand Canyon, although we recommend booking ahead of time for better rates. There's also the option of renting a car, which allows you to see more of the Canyon, and not just the tourist hotspots.
Getting Around: The easiest way to see the Grand Canyon is by car, which is also your best bet for seeing less accessible tourist locales (such as the North Rim). There is also a shuttle bus that runs from the Grand Canyon Visitor Centre to popular sites around the park. The various routes take you to different lookouts, hiking/climbing routes, campgrounds, and more.
Talking to a Park Ranger in the visitor center is the best way to decide which shuttle to hop onto. Rides are free, but note that they do close throughout the year if driving conditions are not ideal. If you're in the mood for more scenic transportation, check out the Grand Canyon Railway. This train runs from Williams, Arizona into the Grand Canyon Village. Many sections offer magnificent, scenic views, and once you're in Grand Canyon Village you can explore the are on foot.
What to do at the Grand Canyon
The Grand Canyon is massive. As such, there are many ways to see and experience this natural wonder. In this section, we'll break down some of the best views, hikes, treks, and best ways to learn about the Canyon.
Grand Canyon Visitor Centre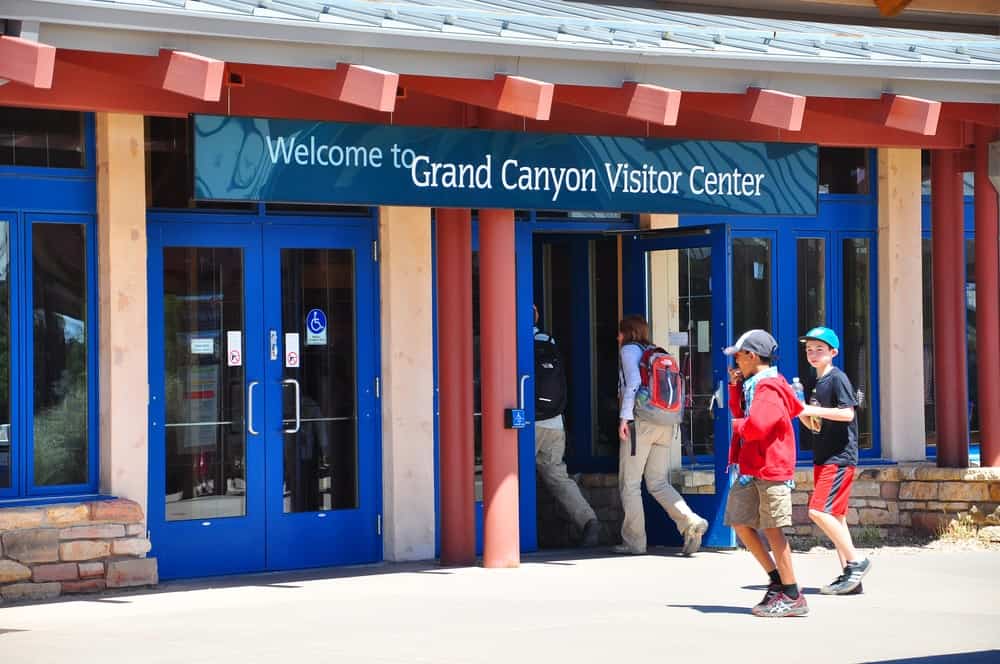 Located on the South Rim of the Grand Canyon, just outside Grand Canyon Village is the ideal (and obvious) place to start your Grand Canyon adventure – the Visitor Center. The Visitor Center an excellent hub destination, and is also the departure point for the free shuttle service that takes you around the Canyon. In the Visitor Centre you can find plenty of trail maps, pamphlets, and brochures advertising various tours. Or just talk to an information specialist for inspiration on planning your trip.
South Rim Grand Canyon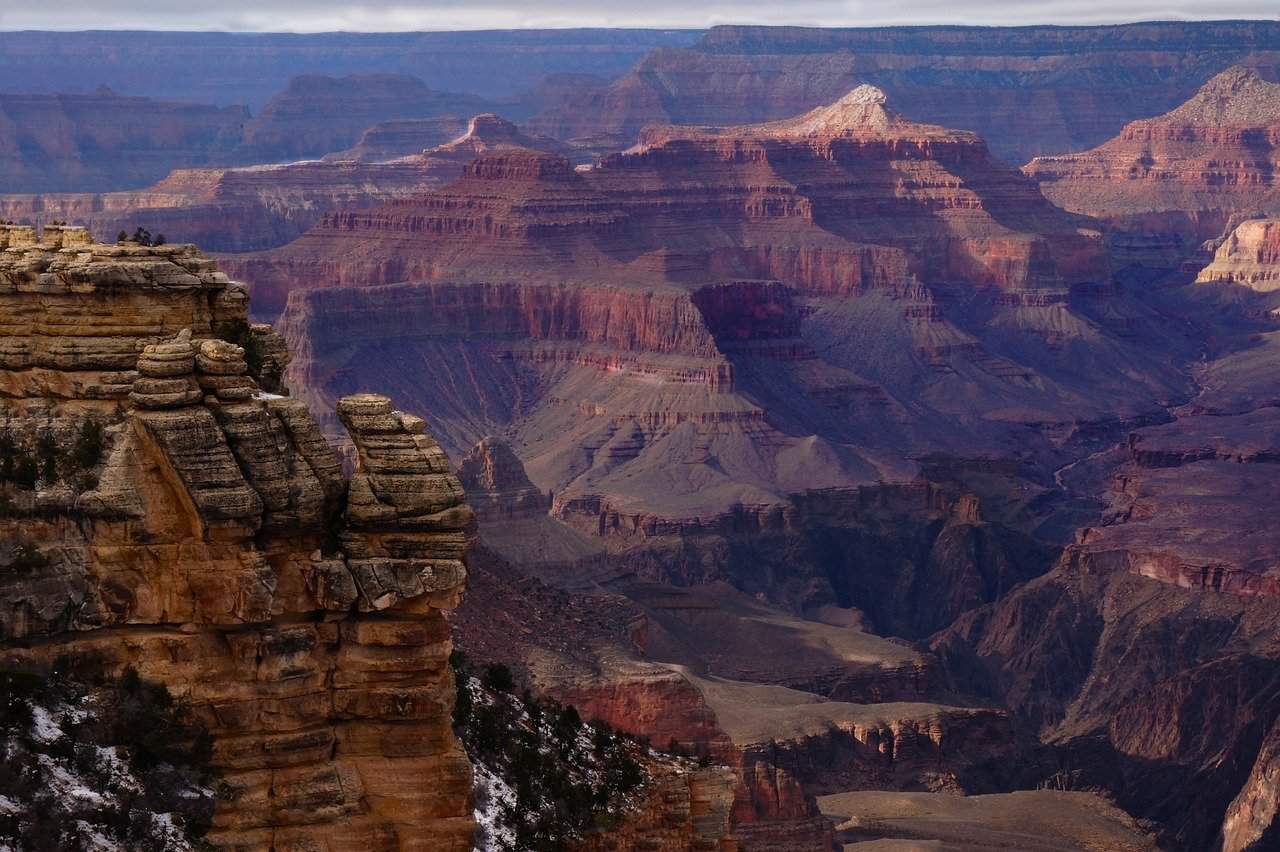 The South Rim is the more accessible side of Grand Canyon, and thus more popular among tourists. As a result, it's also home to many popular trails, lookouts, and activities. It's also where you'll find the Grand Canyon Visitor Centre (mentioned directly above). The South Rim offers some of the most stunning vistas you can see in Grand Canyon.
The popular Mather Point is most accessible from the Visitor Centre, and might be the most popular lookout in the Canyon. That being said, it's a stunning view for miles in either direction, so it's not to be missed. There are also tons of hiking trails, guided treks, lookouts, campsites, and so much more on the South Rim, and we'll cover a few more in detail below.
North Rim Grand Canyon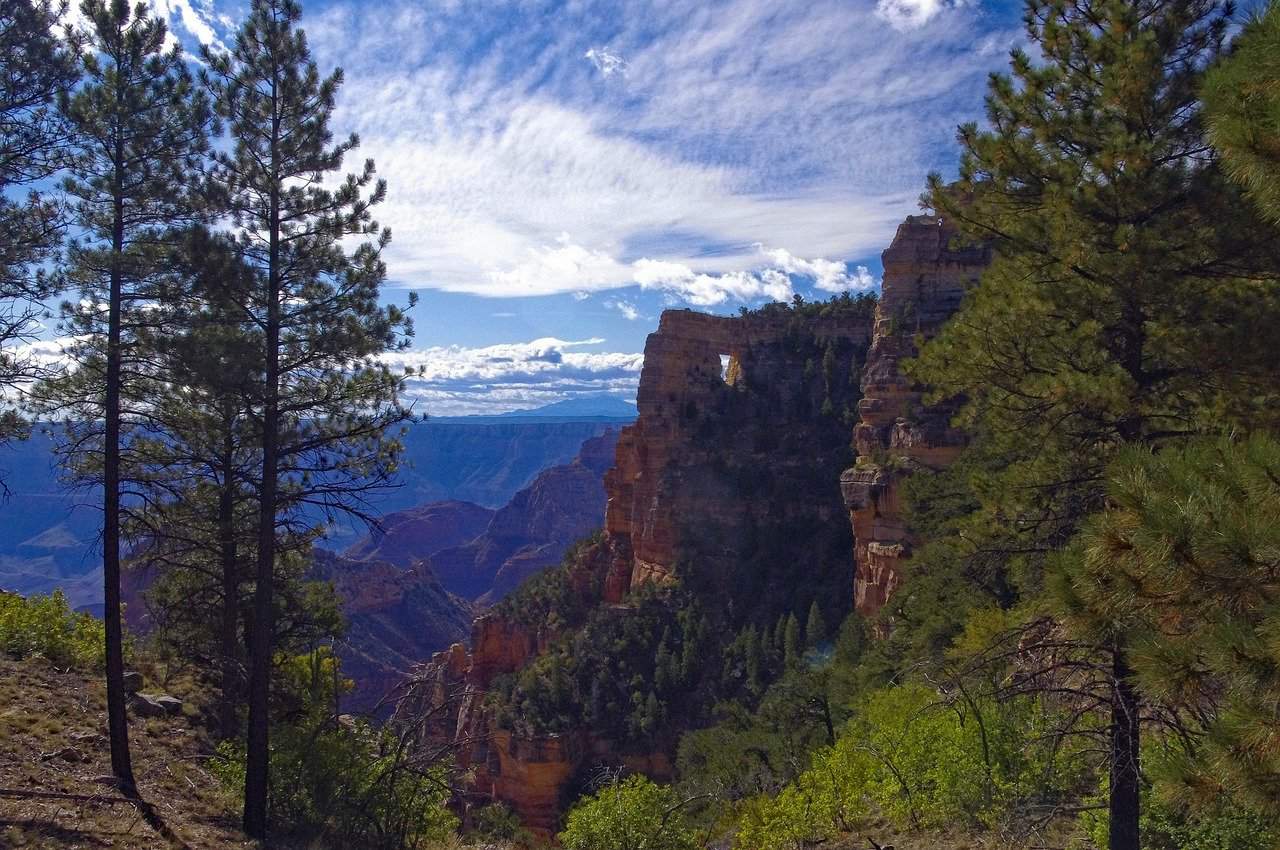 The North Rim is considered the less "tourist-y" side of the Grand Canyon. However, it's still the Grand Canyon, so don't expect popular spots to be empty. The area is less accessible and less developed, so you'll generally find less tourist traffic, more access to viewpoints and trails, and easier access to facilities (although there aren't as many).
Die-hards will tell you the views are better from the North Rim Grand Canyon, but we find that they're mostly better due to the absence of crowds. If visiting the North Rim Grand Canyon, be sure you're prepared, because there's decidedly less help four tourists. There isn't a shuttle bus service, the roads are harder to drive, and there are fewer buildings and lodging. This side of the Canyon is also closed during winter.
Grand Canyon Rim Trail
There are so many incredible hiking trails in Grand Canyon National Park that we can't mention them all in this list. Our best advice is to do some research and match a trail with your skill level. The Rim Trail is one of the most popular trails in Grand Canyon, and takes you past many of South Rim's most popular attractions and lookout points. It's a very accessible trail with a trailhead east of Grand Canyon Village.
It's also not a difficult trail, as it's mostly paved and flat. It's about 12 miles long, but a shuttle bus runs along the trail meaning tourists can do as much or as little as they want. You'll pass popular lookouts including Maricopa Point and Hermit's Rest.
Grand Canyon Village
Grand Canyon Village is considered the "gateway" to Grand Canyon National Park. Located on the South Rim of the Grand Canyon, you can experience great views of the Canyon right from the village itself. It's also where you can access the Visitor Centre to plan your excursions. The Village is a quaint piece of history, including the Grand Canyon Railway Depot which gives you a sense of the areas' unique history. The town is often full of tourists, so you'll find plenty of places to eat, shop, drink, and sleep.
North Kaibib Trail
Although you'll find most popular hiking trails along the Canyon's South Rim, the North Rim has some popular routes as well, such as the North Kaibib Trail. This 14-mile trail is a great way to check out some of the major sites along the quieter, less tourist-y North Rim. The North Kaibib Trail takes you past plenty of scenic views and varied biodiversity, and ends at the Bright Angel Campground.
The North Kaibib Trail receives park maintenance, meaning it is more accessible than most trails in the North Rim, which are rugged and remote. This also means it is one of the "easiest" ways to see the North Rim, and there are plenty of guided treks available (on foot or by mule).
Havasu Falls
Havasu Falls is located in Havasupai Indian Reservation, below the South Rim of the Canyon. It's one of the most beautiful natural attractions in Grand Canyon National Park, featuring a huge waterfall that drops into clear blue waters. It's about a 10-mile hike to see the waterfall, and it's just about the only tourist attraction in this secluded area.
Visit the Grand Canyon National Park
Thanks for reading our comprehensive guide to the Grand Canyon. Sometimes the most popular tourist attractions are popular for a reason, and Grand Canyon has certainly earned that status. Its magnificence will always be a sight to behold. Use our guide to plan your ultimate Grand Canyon Experience.
Are There Grand Canyon Helicopter Tours?
Yes, there are many helicopter tours offered of the Grand Canyon from many different tour companies, and departing from many locations in the Canyon's vicinity. Many consider the view from above to be the most spectacular view of the Canyon, but it's also probably the most expensive way to experience the Grand Canyon!
Can I Visit the Grand Canyon with My Pet?
Yes, definitely, just be sure that you keep your dog on-leash in popular hotspots or in dangerous hiking routes. For many of Grand Canyon's trails, the risk is assumed by the hiker, and that extends to their pets. And for many of the more crowded tourist attractions, be sure your pet is comfortable with large crowds.
Zion National Park Camping | Camping in Zion
Glacier National Park Camping
Best Time to Visit Olympic National Park
Yellowstone Hiking Trails
Best Time to Visit Joshua Tree National Park
Yosemite Hiking Trails
Best Time to Visit Death Valley
Best Time to Visit Acadia National Park
Things to Do in Rocky Mountain National Park
Best Time to Visit Zion National Park
Best Time to Visit Glacier National Park
Best Time to Visit Yellowstone
Best Time to Visit Yosemite
Best Time to Visit Grand Teton National Park