Best Time to Visit Olympic National Park – Olympic National Park is quintessential Pacific Northwest. Located west of Seattle across Puget Sound, it's a lush National Park full of forests, mountains, greenery, and lots of rain! In this guide, we'll help you plan your Olympic National Park vacation, including when to go and what to do.
Best Time to Visit Olympic National Park
Olympic National Park has a distinct high and low season for tourism that is mainly defined by climate. More specifically, it's defined by the area's wet and dry season.
Olympic National Park Tourist Season
High season for tourism in Olympic National Park is during summertime. This is when temperatures are most pleasant, and when the area sees significantly less rainfall. The Pacific Northwest is often defined by its rainy climate, and Olympic is no exception. Despite the crowds, we also think this is the best time to visit Olympic National Park. It is by far the most pleasant time of year, especially if you are planning on staying overnight and keeping dry. To understand this further, let's break down some climate specifics:
Olympic National Park Weather
Olympic National Park is characterized by its temperate climate, which sees plenty of precipitation and a distinct wet and dry season. Summers are warm, with highs around 70-74F, and lows around 47-50F. Shoulder seasons are mild, with highs around 57-67F, and lows around 38-48F. Winters are cold, with highs around 44-50F, and lows around 34-37F. It's also worth noting that Olympic National Park is a big park covering over 900,000 acres. It also features a wide variety of elevations, from valleys to mountains, as well as a long coastline. There are distinct differences in terrain which range from lush rainforest, to wildflower meadows, and more. All this is to say that temperatures and precipitation is not consistent throughout the park. You can expect different temperatures at different elevations, and different precipitation patterns on any given day. Speaking of precipitation, it's perhaps the most important factor to consider when planning a trip to Olympic National Park. Olympic National Park receives a lot of precipitation, with rain that turns into snow at certain elevations. Wet season in Olympic picks up in October and lasts until early April, with the park seeing roughly over 10 inches of precipitation in most of these months. The precipitation drops sharply from May to September, only averaging around 2 inches per month. Overall, it's pretty easy to see why tourists prefer the warm, dry months in Olympic National Park.
Getting to Olympic National Park
Tourists who are flying to Olympic National Park will most likely land in Seattle-Tacoma International Airport, which is east of the park in Seattle. Many who land in Seattle-Tacoma will rent a car to explore the region, which is our recommended way of seeing Olympic National Park. Olympic National Park's large size makes a car the best way to see the park. It allows you to plan your trip and see the destinations that interest you most, and it's also a great way to explore these areas at your own pace. But it's important to note that much of the park is made of dense forest, which means there aren't roads running through most sections of the park. Highway 101 runs roughly around the circumference of the park, with numerous supporting roads that lead to certain destinations. You can check on road conditions here. There are also buses which can take tourists to Olympic National Park, but it's hard to recommend them as a preferred method of transportation. The park's sheer size makes it difficult to explore without your own car, or without a guided tour.
What to Do in Olympic National Park
Now that we've covered the logistics, let's get to the fun stuff. What should you do in Olympic National Park? The park's size makes it difficult to make an exhaustive list, so we've picked a few of our favorite sites. For more info on Olympic, be sure to check the NPS website.
Olympic National Park Visitor Centre
The Olympic National Park Visitor Centre is located in Port Angeles, Washington, which is a port town located at the northern end of Olympic National Park. It's a great place to start your National Park adventure, albeit an obvious choice. The Visitor Center is full of maps, information pamphlets, tour info, and more. You can also ask a Park Ranger or a member of staff for more information on things like trail difficulty, distance to certain attractions, etc.
Hoh Rainforest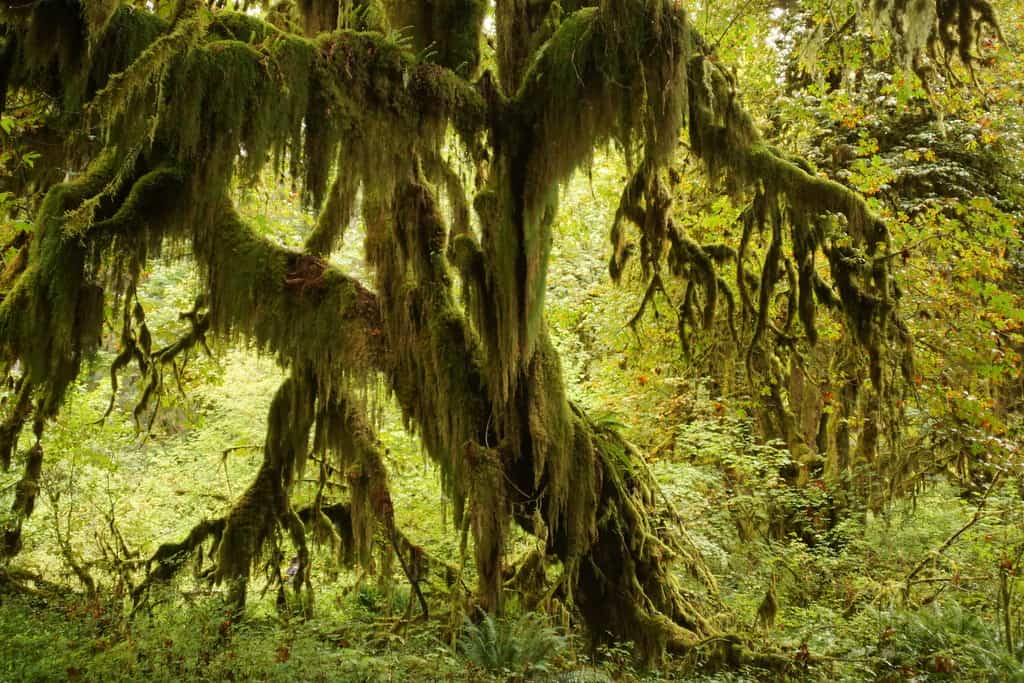 Hoh Rainforest is a great example of the varied geography in Olympic National Park. Its annual rainfall gives it the status of a "temperate rainforest", and has resulted in lush greenery, moss-covered surroundings, and lots of vegetation. Check out the Hoh Rainforest Visitor Centre to get started, where there are maps and general information about the area. There are many trails to choose from, which range from beginner to advanced.
Simply walking through Hoh Rainforest is an experience on its own, and you might even forget where you are in the world at some points. It's unlike anything we've seen in the United States, and it was an easy choice at the top of our list.
Lake Crescent
Lake Crescent is a glacial lake, and the most popular lake destination in Olympic National Park. The lake features a stunning vista, backed onto mountains and forests, which reflect off the lake in a sight to behold. The region is popular for water activities like boating, canoeing, and swimming (although the waters are quite cold most of the year). There are also many hiking trails in the region which range from moderate to intense. Lake Crescent is located east of Port Angeles, toward the northern tip of Olympic.
Hurricane Ridge
One of the most stunning backdrops in Olympic National Park is Hurricane Ridge. Located south of Port Angeles, Hurricane Ridge is a mountainous area with sloping meadows and rocky peaks. The area is packed with hiking trails which range from easy to difficult mountain treks, many of which can be accessed via Hurricane Ridge Road, departing out of Port Angeles. Needless to say, the area is full of stunning views, with a lot to see and explore. There are also downhill skiing resorts in the area during winter.
Sol Duc Valley/Sol Duc Falls
The Sol Duc Valley is a river valley that offers tranquil scenery amongst a lush green backdrop. There are many popular hikes and excursions in the area, with the most popular being the short trail leading to Sol Duc Falls. It's about a 1.5 mile round-trip, but is definitely worth it to check out the rushing waterfall in the middle of the forest. It's a tourist hot-spot, but one that's earned its reputation.
Kalaloch
Kalaloch is a resort area located on the southwest edge of Olympic, right on the Pacific coast. The coast offers excellent ocean views, as well as the opportunity to see a diverse range of aquatic life. It's also an area very popular with birders, with many marine bird species frequenting the area. Near to Kalaloch is Ruby Beach, one of the most popular beaches in Olympic. The sandy beach is great for nature walks right along the coast, and the prevalence of large driftwood gives it a distinct Pacific Northwestern feel.
Olympic Discovery Trail
The Olympic Discovery Trail is an awesome bike (or walking) trail that cuts right through Olympic National Park. It's a huge trail that covers 135 miles from Port Townsend to La Push, cutting right across the northern section of the Park. The trail takes you past a whole lot of sights and landmarks, including Lake Crescent, the Spruce Railroad, Daley Rankin Tunnel, and much more. All the while you'll be traversing past lush forests, flowing streams, cascading mountains, and more. Of course, there are plenty of places to hop on and off the trail, and you don't have to do it in one go. The trail caps off in La Push on the banks of the Pacific Ocean, on Olympic's western shores. It's a great way to experience the park, and hiking, biking, and horse-back riding is allowed.
Festivals and Events in Olympic National Park
Plenty of festivals and events happen in and around Olympic National Park throughout the year, especially in one of the cities or towns located outside the park. Here are some of our favorites:
Juan De Feca Festival of Arts
Juan De Feca Festival of Arts is an arts festivals that is arranged by the Juan De Feca Foundation for the Arts in Port Angeles. The Juan De Feca Festival takes place each year, typically on Memorial Day Weekend. It is a 4-day music festival, with plenty of activities for kids and adults. There's a bunch of fun bands, a selection of street food, and a beer garden. There are also workshops that take place during the weekend for aspiring musicians and artists.
Crab and Seafood Festival
Crab and Seafood Festival – Being right on the Pacific Ocean, there's a ton of great seafood in the area around Olympic National Park, and it's all on display at the Crab and Seafood Festival in Port Angeles. Taking place each year in October, the Crab and Seafood festival sees vendors from across the region pack the Port Angeles waterfront to show off their cuisine. It all takes place on the City Pier, where you'll also find live music, family-friendly events, and even a 5K fun run.
Sequim Lavender Festival
Sequim Lavender Festival – Sequim is a town situated east of Port Angeles, on the northern side of Olympic National Park. Each summer is the Sequim Lavender Festival, a festival celebrating the beautiful lavender grown in the region, and the Sequim Lavender Growers Association. It's a large, outdoor event where you can find plenty of activities, performances, and artisan goods to sample.
Olympic National Park
Thanks for checking out our guide to Olympic National Park, one of the most stunning natural areas in the Pacific Northwest. Use our guide to plan your ultimate Olympic National Park vacation.
FAQs
What Kind of Wildlife are in Olympic National Park?
The broad geography in Olympic National Park means that there is a diverse array of wildlife that populate the park – from its coastlines to its interior regions. Examples include black bears, mountain lions, otters, grey whales, bald eagles, sea lions, and much more.
Olympic National Park camping
There are several campgrounds in Olympic National Park. As is the case with most popular US National Parks, the campgrounds tend to get booked well ahead of time in peak season. In other words, during summer, campgrounds go fast. In many instances, you may need to book a campground as soon as they open up to have any chance of securing one during summer.
Zion National Park Camping | Camping in Zion
Glacier National Park Camping
Best Time to Visit the Grand Canyon National Park
Best Time to Visit Olympic National Park
Best Time to Visit Joshua Tree National Park
Best Time to Visit Death Valley
Best Time to Visit Acadia National Park
Yosemite Hiking Trails
Yellowstone Hiking Trails
Things to Do in Rocky Mountain National Park
Best Time to Visit Zion National Park
Best Time to Visit Glacier National Park
Best Time to Visit Yellowstone
Best Time to Visit Yosemite
Best Time to Visit Grand Teton National Park