Yellowstone Hiking Trails – Yellowstone National Park is one of the most popular National Park destinations in the United States. Its popularity can be largely attributed to its natural phenomena, including its jaw-dropping geysers. Hiking Yellowstone is one of the best ways to see its natural beauty, and we'll give you a guide to the top Yellowstone trails in this article.
Best Yellowstone Hiking Trails
Let's get into it. In this list, we're covering our top hiking trails and attractions within Yellowstone National Park. Our list ranges from beginner trails to advanced hikes, so there's something for everyone.
Grand Prismatic Hot Spring
The Grand Prismatic Hot Spring Trail is one of the most popular trails in Yellowstone. This isn't a surprise, as the trail takes hikers past one of the most popular sights in Yellowstone. The Grand Prismatic Spring is one of the largest hot-springs in the world. It measures almost 400-feet across and over 120-feet deep. Its main appeal is its magnificent colors, alternating from yellows, to oranges, to blues and more.
The Grand Prismatic Spring is located in the Midway Geyser Basin portion of Yellowstone. The trail leading to the Spring is very tourist-friendly. It's a 2.6km loop, leaving from Fairy Falls trailhead and taking visitors to an overlook of the Grand Prismatic Spring from above. Terrain is very moderate, and it should be no problem for most hikers.
There is parking near the trailhead, but it fills up extremely fast during busy season, and you may need to show up very early to get a spot.
Upper Geyser Basin and Old Faithful Loop – Observation Point
Old Faithful is Yellowstone's most popular sight, so it's no surprise that the hiking trail leading there is very popular as well. Old Faithful's name derives from its predictability, erupting predictably on 30 minute to 2 hour intervals. The eruptions are very impressive, usually reaching well over 100 feet high. Old Faithful is located in Upper Geyser Basin.
You don't need to hike to see Old Faithful, as there is an observation area near the geyser itself, with parking available. The popular hike takes you to observation point, which gives you a great view over Upper Geyser Basin where Old Faithful resides.
The elevation gain is just over 100 metres, so it's definitely not a difficult hike. It's a great way to watch Old Faithful erupt without the extreme crowds that frequent the observation area. But don't expect to avoid crowds altogether. It's a very popular hiking trail, and Observation Point is no stranger to crowds itself, especially during mid-day or during summertime.
All this being said, it remains a must-do in Yellowstone. Old Faithful is one of the most unique natural attractions in the world, and pictures don't do it justice.
Harlequin Lake Trail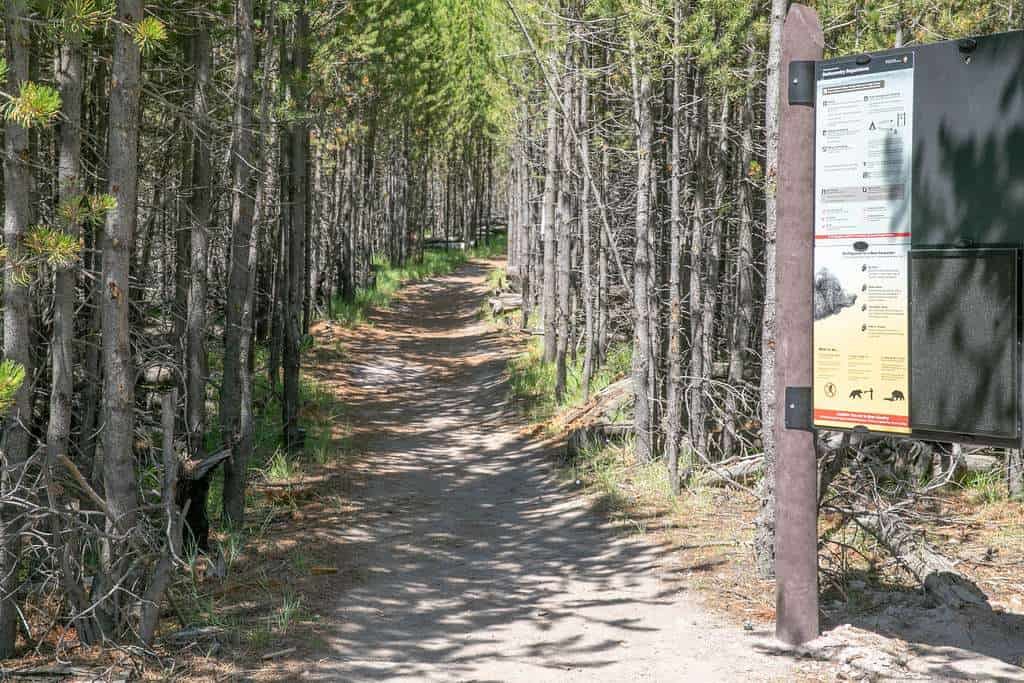 Harlequin Lake Trail takes visitors through a unique area of Yellowstone, dense with coniferous forests and greenery. The trail is located on the western edge of the park, east of West Yellowstone.
Harlequin Lake Trail is a highly accessible trail, less than 1-mile round trip, with a gentle elevation gain of 42m. The trail takes you on a winding path through dense forests, up to Harlequin Lake where the trail ends. The Lake offers picturesque views, backed onto forests and mountains.
Harlequin Lake Trail is moderately popular, but doesn't draw nearly the crowds of the popular geyser basins. Parking for Harlequin Lake Trail is located off West Entrance Road, near the (you guessed it) west entrance of the park. It's a great way to get an idea of the true geological diversity of Yellowstone – it's more than just geysers!
Avalanche Peak Trail
Avalanche Peak Trail has a fittingly intimidating name for what is one of Yellowstone's more difficult hikes. It's not the longest hike, but it's nearly all uphill, so it will definitely test your physical stamina. Avalanche Peak Trail measures in at 4.5-mile roundtrip with a 631m elevation gain. Experienced hikers will complete the trail in 3-4 hours, but we definitely recommend going at your own pace.
Avalanche Peak Trail is located toward the east end of Yellowstone, with parking located off East Entrance Road. From the parking lot, you can access Avalanche Peak Trailhead.
Avalanche Peak is challenging but very worth it! Right from the Trailhead, the hike enters a steep uphill and doesn't relent. You'll start by hiking through a densely forested area, until you arrive at the base of Avalanche Peak.
From there, you'll take switchbacks toward the peak. The trail crosses a narrow ridgeline that travellers must hike with utmost caution. This section is not recommended for those with a fear of heights. But if you brave the hike, you'll be rewarded with fantastic views of Yellowstone from one of its highest peaks.
Note that the higher sections of the trail are often snow-covered right until summertime. Be sure to bring layers to account for the dropping temperatures during the ascent. The elevation can also present problems for some.
North Rim Trail (Yellowstone Falls, Crystal Falls, and Inspiration Point)
North Rim Trail is a popular trail leading alone the North Rim of one of Yellowstone's most popular attractions – the Grand Canyon of the Yellowstone. The Grand Canyon of the Yellowstone is a huge canyon on the Yellowstone River, below Yellowstone Falls.
This popular 6.2 mile route takes you past many of the Canyon's top sights, including magnificent views into the Canyon itself. It's a partly paved, highly frequented route without much elevation, but the views are unmatched.
The trail is an easy out-and-back with optional switchbacks and lookout points throughout. Most hikers have reported a relatively easy hike, even with the optional parts included. Plus, the optional parts are where you get some of Yellowstone's best views of the Canyon and its popular waterfalls.
North Rim Trail is best hiked in warmer months, and is known to get snowy and icy during winter and even during shoulder seasons. Be sure that you dress accordingly and bring plenty of water.
Mystic Falls Trail
Mystic Falls Trail takes hikers to one of Yellowstone's most spectacular attractions – Mystic Falls. Mystic Falls is a 70-foot waterfall on the Little Firehole River.
The hike to Mystic Falls isn't overly difficult, and it's a 2.4 mile there-and-back trail. It's a frequented route, which most hikers consider to be on the easier side. From the Falls, you'll reach an optional switchback which takes you up to an overlook over Upper Geyser Basin, which eventually loops back to the main Mystic Falls Trail. This adds another 1.5 miles to the trek, but it's considered a more difficult part of the hike, with the additional elevation gain.
We definitely recommend you include the optional part of the hike, as it takes you to some of the Park's most worthwhile viewpoints. As long as you're willing to exert the extra effort, it's well worth your time.
The trail is accessible via Biscuit Basin Trailhead, off Grand Loop Road on the western end of the park. There is a parking lot at Biscuit Basin Trailhead, but it's a very crowded lot, so you'll need to be there early to secure a spot.
When to Go to Yellowstone for Hiking
Yellowstone National Park is located in the northwestern United States, spanning the States of Wyoming, Montana, and Idaho. The Park is popular for its broad range of geographic scenery and attractions, including mountains, lakes, canyons, forests, and more.
More notably, the Park is famous for its dense concentration of seismic activity – specifically geysers. In fact, Yellowstone National Park is home to over half the world's geysers!
Needless to say, the park is immensely popular among outdoorspeople, and is home to many hiking trails taking you past its natural sights. Below, we'll cover some of our favorites. But before that, let's cover some important details you should know before you plan your hiking expedition.
When to Visit for Hiking
Due to Yellowstone's location in the northwestern United States, it has very distinct tourist seasons which is mostly dictated by the weather. As such, these conditions will certainly influence your ideal time to hike in Yellowstone.
Yellowstone features warm summers and cold winters, which is why most tourists choose to visit Yellowstone in summertime. The shoulder seasons are also a good time for hiking, as you are able to avoid peak tourist traffic, and weather conditions are still pleasant.
Summers in Yellowstone see highs around 60-70F, with lows around 30-40F. Shoulder seasons (spring and fall) see highs around 35-50F with lows around 15-25F. Winters are cold, with highs around 25-35F and lows around 1-5F.
All this being said, Yellowstone's range of elevation and large area means that conditions throughout the park will never be consistent, and you can expect weather to vary wildly from seasonal norms and from other areas of the park.
Basically, know what to expect, check forecasts ahead of time, and be sure you bring supplies for any conditions you might experience. As with any hiking expedition, preparedness is crucial to enjoyment and success. Best time to visit Yellowstone
Staying in Yellowstone
Yellowstone National Park offers various places for park visitors to stay, including:
Yellowstone Campgrounds
There are many camping options within Yellowstone. Options range from RV camping to tent camping, with some campsites offering options for both. Click the link to check out available sites or to book campgrounds. Yellowstone is a popular location, so popular campgrounds tend to book up fast – especially during peak season. Also note that many campgrounds close during colder months.
Yellowstone Hotels
Yellowstone is also home to many lodging options, with options ranging from luxury hotels to cabin-style bunkies. There are nine lodges in total which offer access to the Park's attractions. Some of these lodges are a sight to behold on their own rate. The historic Lake Hotel (on the north shore of Yellowstone Lake) dates back to the late 1800s.
Yellowstone Hiking
Thanks for reading our guide to hiking in Yellowstone National Park. Yellowstone is a fantastic destination for all sorts of outdoor adventure, and it's so much more than just geysers. Use our Yellowstone Hiking Trails guide to plan your ultimate Yellowstone adventure.
FAQs
Can You Drive in Yellowstone?
Yes, there are many roads running through Yellowstone, making many of the Park's major attractions very accessible by car. The Park's main road is Grand Loop, which takes travelers all around the Park, past many important sites.
Many roads branch off from Grand Loop taking travelers to more remote destinations. It's important to note that, due to snow and ice, many roads (including Grand Loop) are subject to close during winter.
Where Do I Enter Yellowstone National Park?
Yellowstone National Park has 5 entrances. It's accessible from all sides, with 2 entrances located on the eastern side of the Park. The only entrance that is open year-round is the Gardiner Entrance (or North Entrance).
Zion National Park Camping | Camping in Zion
Glacier National Park Camping
Best Time to Visit the Grand Canyon National Park
Best Time to Visit Olympic National Park
Best Time to Visit Joshua Tree National Park
Best Time to Visit Death Valley
Best Time to Visit Acadia National Park
Yosemite Hiking Trails
Things to Do in Rocky Mountain National Park
Best Time to Visit Zion National Park
Best Time to Visit Glacier National Park
Best Time to Visit Yosemite
Best Time to Visit Grand Teton National Park
Badlands National Park Camping
Things to Do in Badlands National Park