Best Time to Visit Grand Teton National Park – Whether you are a tourist, hiker, climber, photographer, kayaker, rafter, mountaineer, or backcountry skier, Grand Teton National Park offers a lot to see and experience. There is always something amazing to discover from the serrated mountains, valley floors, glaciers, alpine lakes, and diverse wildlife.
Grand Teton National Park Overview
Grand Teton National Park is one of the top tourist destinations in the US. The 500-mile park is located in Jackson Hole, northwest Wyoming. It is home to the majestic Teton Mountains, Jenny Lake and Jackson Lake, hidden waterfalls, rivers, and an array of wildlife. You can also take horseback riding trips on the Teton Village Trail Rides.
Grand Teton was established in 1929 and covers 2,240 square miles. It has 569,000 acres of land and features five major glaciers. When visiting the park, stop by Jackson Lake Lodge, which has the most spectacular views of Grand Tetons from the deck. This lodge also offers food services, accommodations and guided tours. You can visit nearby Jenny Lake while staying at the lodge. Jenny lake is a small body of water with a few campsites along the shore. A boat launch makes it easy to get there without hiking too far. The visitors center is open daily from 8am until sunset year round and offers information about camping and hiking.
Best Time to Visit Grand Teton National Park
Grand Teton Peak Tourist Season
Grand Teton National Park is busiest during the summer months. Tourist activity starts to peak in mid-June after a relatively quiet half of the year. The influx of tourists continues to rise throughout the summer. The park is less congested before July and becomes busier in the months leading up to Labor Day.
You can hike, watch wildlife, fish, take road trips, go sightseeing, and do a wide range of other activities in the summer. As the days become sunnier and night skies clearer, the wildflowers bloom, and any residual snow melts off completely towards the end of July.
There is also a significant number of tourists in the fall. Most trails are still accessible throughout fall up to mid-October, so you can go hiking or backpacking. However, there may be snow in higher altitude areas of the park.
The mountain climbing season at the park usually closes down in mid-September. Lodging rates are considerably lower than in summer, and the park is not crowded. Therefore, if you want to avoid the crowds, enjoy mildly warm weather, and lodge affordably, the autumn season is the best time to visit the Grand Teton National Park.
Off-Peak Season
There is minimal tourist activity during winter. Typically, the park's lodges, campgrounds, restaurants, and visitor center is closed between November and April. However, that does not mean that access to the national park is restricted.
The park works with locals to groom a 14-mile section of the road for skating and cross-country skiing between mid-March and mid-April. Visitors mainly visit the park for backcountry skiing. They chart snowshoe trails into the ranges and around Taggart and Bradley Lakes.
The spring season attracts three specific groups of tourists to the park: bear watchers, cyclists, and skiers who engage in skateboarding, in-line skating, and cycling.
While the park's lodges, campgrounds, restaurants, and visitor center remain closed, there is a slight increase in the volume of tourists compared to the winter season. Most snow and ice thaws away, and the trails are rather muddy.
The park opens entry to non-motorized traffic immediately after the roads have been plowed the first week of April. Entry for cars is opened the first week of May as warmer spring days kick in.
Grand Teton Weather
The Jackson Hole region is characterized by primarily cold weather. Summers are short and mild, while the winters are long and cold. The spring season is relatively cold as the winter prolongs into May. It rains slightly in March and April.
Summers are warmer, with daytime temperatures between 73°F and 82°F and 37°F to 41°F at night. The air is mostly dry throughout the year. Even during the summer, humidity levels are low.
As the fall season progresses, it gets cooler. Therefore, you want to bring some warm clothes if visiting the park at this time. Trees are quite colorful in the fall. Cottonwood trees become golden while Aspens turn yellow.
Heavy snow starts falling the first week of November and lasts throughout winter up to April. The winter temperatures are quite low, with highs of 28-33°F during the day or lows around or below 5°F. However, the air remains dry. On the coldest winter days, the temperatures remain below freezing point during the day and night.
Your Grand Teton itinerary depends on factors such as the activities you are interested in doing, the climate at a given time, when you have time for a visit, and your budget, among others. If you want to avoid crowds, September is the best time to visit Grand Teton National Park.
How to Get to Grand Teton National Park
Grand Teton National Park is one of the few parks that is home to an airport. The Jackson Hole Airport is located within Grand Teton National Park. So, if you are flying in, you get a preliminary aerial tour of the park. The airport services several major airlines, including Delta. Therefore, finding a plane should not be an issue, but plane tickets are quite pricey.
Some people opt to fly into neighboring airports such as Salt Lake City International Airport then rent a car or hire shuttle services into the national park. This option is much cheaper.
Driving is a convenient and budget-friendly option for getting into Grand Teton National Park. There are several routes you can use to access the park by road. If coming from the south, use US Highway 191. If coming from the west, use Idaho Highway 33 or Wyoming Highway 22. For more breathtaking scenery, use Moran and Highway 26 from the Northeast.
How to Get Around Grand Teton National Park
You can get around Grand Teton National Park by road, bike, or on foot. The best way to get around most of the park is by car. Three main roads and several trails service the park.
During peak season, all roads are open and accessible 24/7. Sections of Teton Park Road and Moose-Wilson Road are closed between November and the first weeks of April. Highway 89 is the outer park road, and it remains open throughout the year.
5 Things to Do in Grand Teton National Park
Take a Drive on Teton Park Road
Teton Park Road winds around the Teton Range, giving you a view of the majority of the park. It passes by the Menors Ferry Historic District, Jenny Lake, and overlooks Snake River. You will likely spot some wildlife, including elks, bison, moose, and maybe a few bears.
It is best to start your road trip early to have ample time to take in the scenic views. You may want to stop over at a visitor center to pick up a map of the area before embarking on your trip.
Also, check in with the park ranger for safety guidelines, a heads up about any problematic areas, and recommendations for some must-see places. Once you have paid the park admission fees, the drive is free.
Looking for more scenic road trips? Check out our article on the most Stunning USA Self-Drive Tours and Adventures.
Grand Teton Hikes
Grand Teton is a hiker's paradise. Grand Teton hikes have over 100 trails for all hiking levels that provide beautiful views all along. Some of the most popular hiking trails and things to see in Grand Teton National Park include:
Cascade Canyon Hiking Trail
Taggart Lake Loop
Delta Lake via Lupine Meadows
Phelps Lake Trail
Death Canyon Trail
Hidden Falls Trail
Surprise and Amphitheater Lakes Trail
Hermitage Point Trail
Signal Mountain
Jenny Lake Trailhead
Paintbrush Canyon Trail and Paintbrush Divide
Two Ocean Lake Loop
August is the best time for backpacking, mid-May and September is a great time for watching wildlife, while December is perfect for cross and backcountry skiing. In summer, visit the park in June when it has warmed up, but it is not too crowded.
Backpacking in the park can take anywhere from three days to several weeks depending on how far you want to venture into the wilderness. One of the most popular hikes in the park is the Continental Divide Trail. This 665-mile trail runs through four national parks including Yellowstone National Park and reaches more than 11,000 feet above sea level. At the highest point of the trail near Estes Park, Colorado, this route takes you through the Grand Teton Mountains and across the continental divide.
Take a Boat Tour in One of the Grand Tetons Lakes
Taking a boat ride is a refreshing way to explore Great Teton National Park, especially at the height of summer. Several boat companies operate floating and rafting trips and mini-cruises on Snake River, Jenny Lake, and Jackson Lake. The guided trips are conducted by knowledgeable and friendly tour guides. You may also spot some wildlife while on the ride.
Boat trips are usually available in the peak tourist seasons between mid-May and the end of September. Boat trip charges are not included in the park. They vary from one boat company to another and depending on how long your trip is. Expect to pay anywhere between $20 and $100.
Explore the History of Grand Teton National Park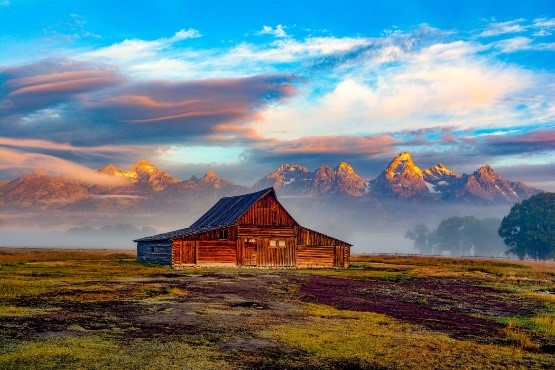 History enthusiasts will enjoy a stop at one or more historic districts within the park. The major historic districts are Mormon Row Historic District and the Menors Ferry Historic District.
The Menors Ferry Historic District can be accessed from Teton Park Road. Stop over at the Chapel of Transfiguration for a great view of the park. It is a 1920s-log chapel where Sunday services are conducted over the summer. The chapel also houses the National Register of Historic Places. Guided tours are conducted in the Menors Ferry Historic District daily during the peak season.
Mormon Row Historic District is a tract of land that was a Mormon ranch settlement in the 1890s. Today, it is home to preserved homesteads and barns. It provides a breathtaking foreground to the Teton Mountain Ranges. It also offers a great view for photographers to take photos. You may also be lucky to catch some animals such as antelopes grazing.
The Mormon Row Historic District can be accessed from Highway 191 off of the Antelope Flats Road. Admission to either of the historic parks is included in the park entrance fees.
Take a Wildlife Tour
As long as you are in the park, you are bound to encounter some animals. However, if you want to explore the wildlife in-depth, consider booking a guided wildlife tour. Several companies operate within the park. You can hire them for a half-day, full-day, or multiple-day tour. The exact price for a wildlife tour varies from one company to the next and depends on the excursion's extent. On average, they cost between $140 and $200.
Grand Teton National Park
Grand Teton National Park is vast. It offers a wide range of things to see and do. You can easily spend a month at the park and not run out of things to do. However, with a carefully planned itinerary, you will be able to see as much of the park as you can.
You don't want to miss the 42-mile scenic drive, Signal Mountain, Jenny Lake scenic drive, Inspiration Point and Hidden Falls, Chapel of the Transfiguration, Moose Junction, Headwaters Lodge, Teton peaks, Yellowstone Lake, and Schwabacher Landing – to name a few.
Grand Teton National Park FAQs
How Safe is Grand Teton National Park?
If you observe the safety guidelines provided by the park's management, you should be fine. Keep in mind that wild animals are wild. Therefore, give them enough space. National park laws and regulations require that you keep away from bears and wolves by at least 1000 years and 25 yards from elks, moose, bison, and other animals.
The weather in Grand Teton National Park is quite volatile. Warm, summer mornings can quickly turn into rainy afternoons with thunderstorms and lightning. A calm lake can develop whitecaps even in summer, spring, and fall. As such, even when visiting in summer, bring along some cold-weather clothes and gear. Also, ensure to check the metrological report.
When hiking, wear the right gear and bring along some water and snacks. Seemingly easy terrain can be quite challenging for an unprepared hiker.
Where to Stay When Visiting Grand Teton National Park?
When visiting the Grand Teton National Park, you can either stay at the campgrounds or lodges.
Grand Teton Camping
The Tetons have 7 campgrounds that operate camping in the Grand Tetons and on an advanced-reservation basis through recreation.gov. All are open throughout summer. The Lenny Lake Campground only has tent camping sites, while the rest accommodate tents, RVs, and trailers. All the campsites except the Lizard Creek have utility hook-ups and dump stations.
Grand Teton Lodging
There is a range of lodges within and around the park, whether you are looking for a budget option or more luxe log cabins. Jackson Lake Lodge, for example, is a full-service eco hotel that serves as a primary activity hub in the park.
How Long Does It Take to Explore the Grand Teton National Park?
One trip would not be enough to explore the vast and scenic Grand Teton National Park. You would need to come back several times. With that said, the ideal length of a given trip depends on how much time you have, the must-do activities on your itinerary, and how much ground you intend to cover. A multi-day or week-long trip is most preferable.
Best Time to Visit the Grand Canyon National Park
Best Time to Visit Olympic National Park
Best Time to Visit Joshua Tree National Park
Best Time to Visit Death Valley
Best Time to Visit Acadia National Park
Yellowstone Hiking Trails
Things to Do in Rocky Mountain National Park
Best Time to Visit Zion National Park
Best Time to Visit Glacier National Park
Best Time to Visit Yellowstone
Best Time to Visit Yosemite
National Parks in the USA That Should Be On Your Travel List
Best Hikes in Rocky Mountain National Park
Badlands National Park Camping
Things to Do in Badlands National Park