Rocky Mountain National Park is a haven for nature lovers, hikers, and backpackers. The park offers over 350 miles of trails for all hiking levels. Its highest point, Pikes Peak, is 14,259 feet high. There is a lot to explore, from glittering lakes and spruce forests to diverse wildlife. You will leave the park feeling calmer after breathing in the refreshing mountain air.
Rocky Mountain National Park Overview
Rocky Mountain National Park is located in Denver, Colorado. It is vast and encompasses 415 square miles of mountainous environment. Although it is not the largest park or the highest mountain in the US, it offers a lot to see and experience. It is one of the most visited national parks in the US and attracts 4.5 million visitors each year.
Aside from the 350 miles of trails, the park is also home to approximately 450 miles of streams and rivers and has 150 lakes. There are about 77 mountain peaks within the park, and each point of elevation gives you a glorious view. A large part of the park, about 260,000 acres, is designated as protected wilderness.
Best Time to Visit Rocky Mountain National Park
The best time to visit the park depends on personal factors such as when you have time, your budget, the type of activities you wish to engage in, and whether you want to avoid crowds.
Rocky Mountain National Park is open throughout the year. However, major amenities such as camping sites, visitors centers, and some roads are closed during the winter season between the months of October and May. The park begins to open up towards the end of May, with summer starting peak tourist season. Fall weekends are also pretty busy.
Rocky Mountain National Park in the Summer
In summer, between June and August, you have unlimited activity options. You can go backpacking, camping, hiking, and fishing. You can join a park ranger-led program or take a road trip across the park, among other options. Also, the options for lodging both within and outside the park are unlimited as almost all hotels and the park campground is open.
However, the park is quite crowded during this season, and accommodations prove to be pricier due to the increased demand. The park is busiest in July and August. Too many people mean that it may take you longer to get to various locations within the park.
It helps to have a solid itinerary when visiting Rocky Mountain National Park in the summer, so you can see as much as possible. You may also want to venture into the western regions of the park, where it is less crowded.
Rocky Mountain National Park in the Fall
If you want to avoid the crowds, the fall season is a great time to visit Rocky Mountain National Park. The best time to visit during the fall is in September and early October. The trees have beautiful fall colors, and you can catch more wildlife as the animals come out to feed in preparation for hibernation. Note that the park is quite busy on weekends early on in the fall.
Rocky Mountain National Park in the Winter
Winter is a perfect time for activities such as sledding, cross-country skiing, and snowshoeing. There are park ranger-led winter activities on both the eastern and western sides of the park throughout winter.
Although the major roadways are closed for vehicles, they are accessible on foot. Usually, the Trail Ridge Road stays open on the east side near Parks Curve and the Colorado River Trailhead on the west side, weather permitting. Old Fall River Road closes for vehicles while Bear Lake Road remains open.
Many lodging accommodations and the visitor center are closed this time of year. The Kawuneeche Valley and Beaver Meadows Visitor Centers stay open throughout the year. You can also find open accommodations and restaurants in nearby downtown Estes Park and Grand Lake towns.
Rocky Mountain National Park in the Spring
The park begins to open up again in spring. The winter snow starts to melt, and the fog clears. Animals begin to emerge from hibernation, and the park's management team begins to prepare the roads, park campground, and various parts of the park for summer traffic.
However, the park has minimal activity as most roads and trails are still covered with snow. Campgrounds do not open until the last weeks of May. If you want to see the park come alive again, the end of May is an excellent time to visit.
Rocky Mountain National Park Weather
Rocky Mountain National Park Weather in the Summer
The summer season is mostly hot and humid in Rocky Mountains National Park. Ice has melted off most of the peaks and trails. However, there might still be snow in higher peaks and backcountry until the end of July.
Keep in mind that summer is also thunderstorm season. Since the Rocky Mountains are quite elevated, the weather may change drastically within the park. Sunny and calm mornings may quickly become stormy in the afternoon. Therefore, pack accordingly and familiarize yourself with thunderstorm and lightning safety guidelines.
Rocky Mountain National Park Weather in the Fall
In the fall, the air is crisp, and the summer temperatures have chilled slightly. The best time to visit the park in the fall is in September when it is still warm and has limited snow and ice.
Winter weather begins to set in from mid to late October. The weather at this time is highly unpredictable. It can change from sunny to rainy, snowy, and extremely cold in a moment. Most campgrounds close the first weeks of October, and Trail Ridge Road closes in mid-October.
Rocky Mountain National Park Weather in the Winter
Winter temperatures in the Rocky Mountains are usually below freezing. The majority of the trails are densely covered with snow. Therefore, dress warmly, pack on the winter clothes, and wear the right type of shoes.
Rocky Mountain National Park Weather in the Spring
Like during fall, the weather in spring is unpredictable. One day it could be warm and dry and the other wet and cold. While most of the snow melts off in April, the trails are muddy in early April, and there might be slight snowfall in the higher parts of the mountain. Generally, temperatures range between the 60s and 70s.
Learn more about the best time to visit Colorado
How to Get to Rocky Mountain National Park
Most people visiting Rocky Mountain National Park from outside Denver prefer to fly to the Denver International Airport. They then rent a car or take the Estes Park Shuttle to the park.
There are four entrances into the park:
Beaver Meadows Entrance. It is located on the east side. It is the most direct entrance if you are coming from Estes Park. It is the most popular entrance and is open all year round. Immediately after you enter, you will find the Beaver Meadows Visitors Center, where you can buy entrance permits and find information about the park.
Fall River Entrance. The easiest way to access Trail Ridge Road or Old Fall River Road is through the Fall River Entrance. It is also located on the east side of the park and is easily accessed from Estes Park downtown. It is also less crowded, even during peak seasons.
Wild Basin Entrance. It is also located on the east side of the park, south of Estes Park. The Wild Basin entrance is the best entry point if you want to access the Wild Basin area. Many people do not get to this side of the park, so it is usually not crowded. However, it is not ideal for RVs as sections of the road are too narrow.
Grand Lake Entrance. This is the only entrance on the western side of the park. The Kawuneeche Visitors Center is located at the Grand Lake entrance. This side of the park is one of its best-kept secrets. It is less congested, and there is a wide range of activities you can engage in. You can explore Grand Lake Town, hang out at Grand Lake beach, go paddle boarding and kayaking, and see some wildlife. It is only a few minutes from Grand Lake.
How to Get Around Rocky Mountain National Park
There are several ways to get around the park, including:
On foot
By car, motorcycle, or RV
Bicycles
Free park shuttle bus
Commercial tour vans and buses within the park
Stock animals such as horses, mules, llamas, ponies, and donkeys
Things to Do at Rocky Mountain National Park
Here is a sampling of some of the things to do in Rocky Mountain National Park.
Take a Scenic Road Drive on Trail Ridge Road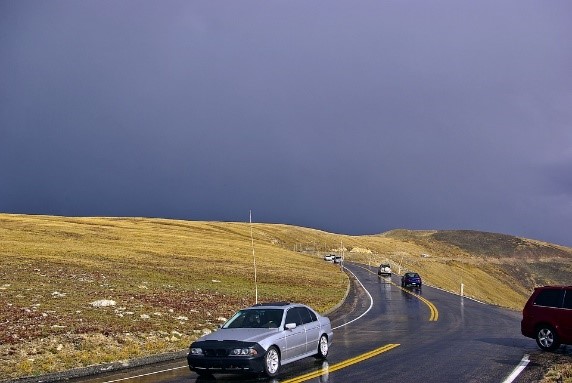 Trail Ridge Road is awe-inspiring. It treats you to a great view every mile of the way, in every direction. It is the highest paved highway in the US. In some sections, drivers climb up to 4000 feet in just a few minutes. The 48-miles road connects Estes Park on the eastern side to Grand Lake on the western side.
Rocky Mountain National Park Entrance
Start Your Visit at One of the Park's Visitor Centers, The park rangers at the visitor center are quite helpful. They will provide you with all the information you need to develop an itinerary for your visit.
For instance, if you are a hiker, they will advise you on the best hiking trail depending on your hiking expertise and how much time you have. You will also find maps at the visitor center showing you the area and each hiking trail.
Hike Bear Lake Rocky Mountain National Park
Best Hikes in Rocky Mountain National Park There are several hiking trails around the Bear Lake trailhead to suit different people's hiking fitness levels. One of the most popular trails is a one-mile trail around the lake. It is fairly easy and offers a beautiful view.
You get to see the pines, firs, and spruce trees surrounding the lake, as well as giant granite boulders. You will also get a majestic view of Hallett Peak and Half Mountain.
Visit Moraine Park Museum
If you enjoy studying history, you must visit Moraine Park Museum at Rocky Mountain National Park. It is housed in converted, 1900s log cabins. Since the log cabin is elevated at about 81,000 feet, you enjoy a bird's eye view of the surroundings.
The museum has numerous exhibits detailing the history of the Rocky Mountains, including its geology, glaciers, and wildlife. The museum also has an outdoor amphitheater where talks and events are held.
Rocky Mountain National Park Camping
The Rocky Mountains have long been an important part of Western culture. They symbolize rugged grandeur, majestic peaks, pristine lakes, majestic rivers, and a wild untamed environment that attracts outdoor enthusiasts with their adventurous spirit. These mountains offer camping opportunities suitable for beginners as well as experienced campers. Each year thousands of visitors travel to get into the backcountry of the national parks in this region.
Campers can enjoy the great outdoors, meet new friends, experience nature's beauty at its best, learn about wildlife and history. There are many opportunities and activities for backpackers, day hikers or even families to participate in all throughout Wyoming's wilderness areas.
Camping in Rocky Mountain National Park
You can camp overnight in the designated wilderness region of Rocky Mountain National Park. However, you need a permit from one of the Wilderness offices at the park. Aside from the park's entrance fees, you are required to pay a $30 administrative fee for each reservation. You need to make a reservation beforehand as the park needs to control the number of people at one time to preserve the area. There are several campsites to choose from.
Camping Rocky Mountain National Park
This is one of my favorite places to visit because it has so much to offer. I had a chance to spend some time here last summer and fall, but there is always something new to explore and photograph each time you come. In the park you will find diverse types of landforms and ecosystems, from lush forests, alpine meadows, glacial lakes, wetlands, grasslands and deserts.
One of the most popular destinations within the park is Cripple Creek. It offers camping both in the developed campground or along the banks of beautiful Bear Lake. Some people like to make their own fire pit to cook food outside when they go camping here. This area also provides fishing opportunities in addition to hiking trails and other recreational activities.
There are over 200 miles of trails in the park. You could hike and explore on your own or take part in guided trips. If you choose to do your own thing, bear canisters are required during certain times of the year.
Camping Near Rocky Mountain National Park
Another place where you can camp around Rocky Mountain National Park is at Lumpy Ridge. This is an excellent location for those looking to experience true off-the-grid living. Here you will be able to sleep under the stars with no electricity, running water or bathrooms. However, these sites are limited in number and require reservations before arriving. Once you make it out there though you will feel completely cut off from civilization. There are many things to see and experiences to have while you are here.
Rocky Mountain National Park Fishing
Fishing is allowed in certain waters within the park. However, there are specific guidelines for fishing within Rocky Mountain National Park. There is no permit required, but you need to have a valid Colorado fishing license.
You should only use a one-hand-held rod or line with artificial lures or baits. There are some catch-and-release designated areas where you are not allowed to use any bait.
Fishing regulations within the park change from time to time, so check in with the rangers at the visitors center about the latest regulations.
In addition to the activities outlined above, you can also:
Visit Forest Canyon Overlook
Go on a hike on the Alpine Ridge Trail, Gem Lake, or Ute Trail to Tombstone Ridge
Visit Nymph Lake, Dream Lake, and Emerald Lake
Moderate hike on Deer Mountain
Panoramic views of Twin Sisters
Sky Pond hike to see waterfalls, alpine lakes, high mountain views, and river and stream crossings
Hallett Peak hike
Visit Alberta Falls and explore the short trails along Glacier Creek
Tour of the Holzwarth Historic Site
Scenic drive through Old Fall River Road and Chasm Falls
Rocky Mountain National Park
If you're planning a trip into the Rocky Mountains, where do you begin? If you like long hikes through beautiful scenery, then you should plan on spending several days in one of the national parks in this area. Some people choose the more popular parks such as Yellowstone, Grand Teton, and Glacier. However, if your travel budget is tight, there are many other options available that will allow you to see much of the same sights, but cost less.
All amenities, roads, and trails are open each year between summer and early fall. As such, this is the best time to visit Rocky Mountain National Park. The park is quite crowded during the summer but less crowded during the fall season. You can also visit during winter for backcountry skiing and snowshoeing activities.
Glacier National Park Camping
Best Time to Visit the Grand Canyon National Park
Best Time to Visit Olympic National Park
Best Time to Visit Joshua Tree National Park
Best Time to Visit Death Valley
Best Time to Visit Acadia National Park
Yosemite Hiking Trails
Yellowstone Hiking Trails
Best Time to Visit Zion National Park
Best Time to Visit Glacier National Park
Best Time to Visit Yellowstone
Best Time to Visit Yosemite
Best Time to Visit Grand Teton National Park
Best Time to Visit Great Sand Dunes National Park
Great Sand Dunes National Park Camping
Badlands National Park Camping
Things to Do in Badlands National Park