Best Hikes in Acadia National Park – Acadia National Park, Maine is a national park in the state of Maine. It was created on August 3, 1965, when President Lyndon B. Johnson signed Public Law 88-560 into law. The area encompassing the park is almost 100 square miles and includes the islands off the coast of Down East, including Acadia Island itself and Mount Desert Rock.
A large portion of the park lies within the towns of Bar Harbor, Ellsworth, Southwest Harbor and Winter Harbor which are home to more than 7,500 residents.
The park has a history that goes back several hundred years; it is one of the oldest national parks in the United States. In fact, there is evidence that Native Americans have lived here for 4,000 years, but most archaeological findings date from between 1605 – 1725AD.
This time period coincides with French colonist Jean de Brébeuf's missionary explorations. His journeys were successful as he established missions at present-day Saint John and Ktaqamkuk in 1609. However, his expedition may not have been entirely positive as many tribes were driven out of this region or massacred by some tribes who believed they had stolen land or resources.
Acadia National Park is one of the most beautiful and unique parks in the United States. With a wide variety of habitats, it provides an excellent opportunity to view wildlife and plants. Acadia National Park has about 120 miles of trails.
There are over 230 hiking trails to choose from, depending on your hiking fitness level. You can go for an easy family stroll along the beach or choose from more strenuous and thrilling cliff trail hikes. Some trails also give you some aspect of rock climbing. The rock cliff trail is fitted with metal rungs and a ladder trail. Below is a look at Acadia National Park hiking.
6 Best Acadia National Park Hikes
Cadillac North Ridge Trail
Route Type: Out and back
Distance: 4.23 miles
Elevation gain: 1150
Difficulty level: Moderate to difficult
The Cadillac North Ridge Trail is a moderate to hard 4.23-mile trail. It leads to the top of Cadillac mountain. Cadillac Mountain is the highest point along the North Atlantic seaboard.
The trail is mostly uphill but getting to the top of the mountain will reward you with beautiful scenery, including an unobstructed view of Frenchman Bay, Bar Island, and Bar Harbor village.
It is easy to follow as the park ranger does an excellent job of marking it out with blue paint. It starts with a moderate ascent through a forested area. It then becomes steeper as you climb over granite ledges and occasionally pass red pine trees.
In some sections of the hiking trail, you need to climb over huge rocks with some slanted at step angles. In the wetter seasons or early in the morning, some of the rocks may be slippery. Bring along a good pair of hiking boots for these trails to maintain adequate traction and support.
The Cadillac North Ridge hiking trail is one of the most popular trails among advanced hikers. You can expect it to be busy, especially during the weekends, between 9 am and 4 pm. That also means that if you are driving into the park for your hike, you need to arrive early to get a parking spot.
If hiking in the summer, it is best to start your hike as early in the day as possible when the temperatures are lower. As the day progresses, the temperatures can become unbearably hot, making your hike much harder. You can start the hike as early as 5 am for a stunning sunrise view at the top of the mountain. You would need a sunrise hiking ticket, though.
Precipice Loop Trail
Route Type: Loop
Distance: 2 miles
Elevation Gain: 1000 feet
Difficulty Level: Strenuous
The Precipice Loop Trail is relatively short but one of the most challenging and thrilling trails to hike at Acadia National Park. It is a steep ascent that elevates over 1000 feet in less than one mile. It is short, but it will test your fitness level. It can take up to 3 hours to get to the top of Champlain Mountain.
Your first challenge is to maneuver a series of giant boulders with sections where you have to crawl under some of the boulders. The trail then proceeds to a narrow path next to the ridges. You will pass a bridge, after which a steep vertical climb will begin.
The first section of the ascent is climbing up an exposed cliff. There are metal handles installed in the rocks, but you will need to use your upper body strength to pull yourself up. In some sections, the metals bars are further apart, making it even more challenging.
The last section of the ascent is steeper and takes a lot more focus and stamina. It leads right to the top of the mountain for a panoramic view of the Schoodic Peninsula, Frenchman Bay, and Porcupine Islands. To descend the mountain, take the 1.2 miles Champlain North Ridge trailhead.
The Precipice Loop Trail may be one of the shortest trails in Acadia National Park, but it is not for the faint-hearted. It will challenge your stamina and your cardiovascular fitness and give you an adrenaline punch. If you fear heights, have achy knees, get dizzy easily, or experience panic attacks, this trail is not suitable for you. Pets and children are not allowed on this hiking trail.
Park rangers recommend against going down the trail. The descent is too steep and dangerous. The best time to hike this trail is during the summer. While it may be open during winter, keep off.
Also, do not hike when it is rainy. The rails and ladder become extremely slippery. Even on a sunny day, you need a good pair of hiking boots for adequate foot support and grip.
If you are looking for a good place to camp, consider the Schoodic Woods campground after your hike.
Dorr Mountain Ladder Trail
Route Type: Loop
Distance: 2.6 miles
Elevation Gain: 1132 feet
Difficulty Level: Moderate to difficult
If you are up for a challenge but want to avoid the high traffic often seen around the Cadillac Mountain trails, take the Dorr Mountain Ladder Trail. It is a 1-mile ascent to the top of Dorr Mountain, where you are treated to a 360-degree view of surrounding Bar Harbor and sections of Acadia Park.
To descend, take the Dorr South Ridge Trail. Take the Canon Brook Trail and then the Kane Path back to the ladder trailhead at the junction. The 2.6 miles descent is less challenging and definitely easier on the knees.
The ascent section of the trail comprises 90% rock stairs and ladders, with some extremely steep sections. In a few sections, you go over large sloping rocks and then a flat surface. There are some junctions along the trail but follow the Dorr Mountain signs at every junction.
The ascent feels like being on the Stairmaster for a mile. The trail also puts a lot of pressure on the knees, so it is not suitable for people with knee problems. The ladders are fun and thrilling, but they can be nerve-wracking for people afraid of heights.
Ocean Path Trail
Route Type: Out and Back
Distance: 4.4 miles
Elevation Gain: 374 feet
Difficulty Level: Easy
The Ocean path trail is an easy, casual, scenic trail that is heavily trafficked, especially in the peak tourist season in summer. It is open and accessible all year round and is suitable for all hiking levels. It is also kid and pet-friendly. You can bring your dog along for the hike as long as you keep them on leash.
The hike starts at the far end of the upper side of the Sand Beach parking lot. It proceeds to meander southward for 2 miles along the eastern shore of Mount Desert Island. It then leads to the Otter Cliff and Point.
Halfway between Sand Beach and Otter Cliff is the Thunder Hole. It is famous for the thunder-like sound the hole produces. There is a set of granite stairs and rails that take you to the viewing site. To get back to Sand Beach, walk back along the trail.
The trail is between the ocean on the left and Park Loop Road on the right. Therefore, it offers you a good view of both the coastline and the forest. There are many sections along the path where you can stop, relax, and take in the scenery. Some people consider it more of a walking path than a hiking trail.
Cadillac Summit Loop Trail
Route Type: Loop
Distance: 0.5 miles
Elevation: 52 feet
Difficulty Level: Super easy
Cadillac Summit Loop Trail is the easiest and shortest route to the top of Cadillac mountain. It is mostly flat and paved, making it wheelchair friendly, pet-friendly, and children-friendly. If you have a toddler, you can use a stroller on the trail.
Since many people want to reach the top of the highest mountain on the eastern coast of the US, the trail and the summit are quite busy. The summit offers a 360-degree view of Downeast Maine, Bar Harbor, and Mount Desert Island. The mountain top also offers a breathtaking view at sunrise, but you need a sunrise permit to come in early.
Jordan Pond Loop Trail
Route Type: Loop
Distance: 3.5 miles
Elevation: 29.5 feet
Difficulty Level: Easy to moderate
One of the must-see places when visiting Acadia National Park is Jordan Pond. The best way to explore it is through a hike around the pond. The Jordan Cliffs Trail is recommended for more experienced hikers.
The Jordan Pond Loop Trail is an easy to moderate hike around the pond. It is suitable for hikers of all levels, including kids and pets. It is right on the pond's shoreline, and you get spectacular views of the North Bubble and South Bubble and two glacier mountains on the northern side of the pond. You may also want to stop over for a delicious meal at Jordan Pond House.
The trail is mostly level with sections of dirt trail, wooden planks over wetlands, and boulders. Some parts of the trail include bridges over streams joining the pond. The sections where you have to go over boulders can become wet and slippery when hiking during wet seasons. Always wear hiking boots that provide you with good traction. The trail is accessible throughout the year. It is busier in the summer months as clear skies enable an unobstructed view.
For a more challenging hiking experience, consider the Jordan Cliffs Trail to Penobscot Mountain. It is a three-mile moderately trafficked look near Mount Desert. The elevation gain is 1,033 feet. The trail is primarily used for hiking, nature trips, and bird watching.
Guide for Hiking in Acadia National Park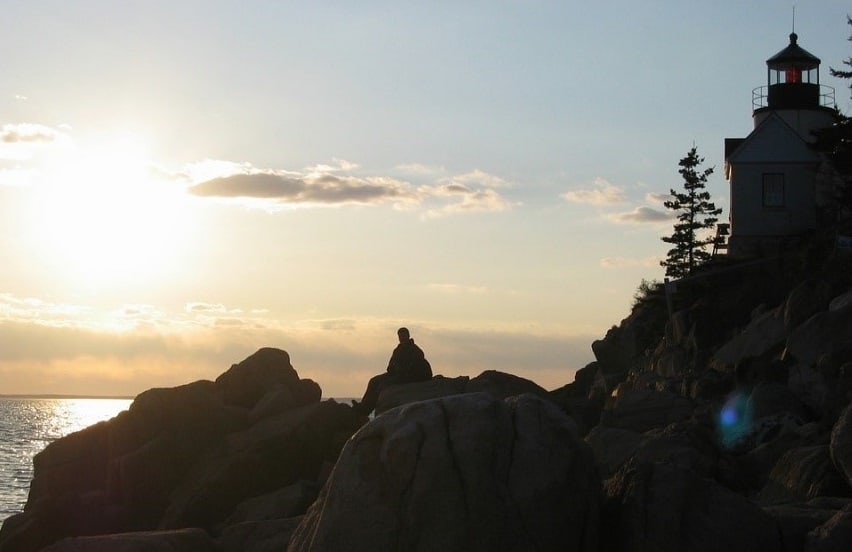 Types of Hiking Trails in Acadia National Park
The main types of hiking trails at Acadia National Park include:
Forest Trails: They maneuver through the forest
Summit Hikes: The trail end is usually at an elevated ground, mostly a mountain. There is a wide range of summit hiking trails to choose from, depending on your fitness level. Some prove to be an easy hike, while others are strenuous and involve going up steep cliffs
Coastal Hikes. The trails lead to a water body or loop around a water body. Most are easy to moderate and accessible for kids and pets
Out and back. You go back the same way you came in
Loop trails. Most hiking trails at Acadia National Park are loops. These are trails that are linked together to get you to and from a given location. Some form a circular shape while others form a lollipop
Accessing the Hiking Trails
There are several designated parking lots for different trailheads. The parking lots are open and accessible on a first-come-first-serve basis. However, it may be difficult to get a parking spot, particularly in the tourist peak season.
The earlier you get there, the higher the chances of securing a parking spot. Otherwise, you might have to wait a while for hikers who had come in earlier to leave. The other alternative would be to hike the less-trafficked trails as their parking lots are less trafficked. Or take the park's shuttle to and from the trailhead.
Hiking Fees
Most hiking trails are open throughout the year, but some may be closed during different seasons. Check the NPS website on trail closure alerts or check in with the visitor's centers.
You are not required to make a reservation to access the hiking trails. You only need to pay the park entrance fee.
Hiking Safety Tips at Acadia National Park
Familiarize yourself with the trail before embarking on it to ensure that you can manage it. This is particularly crucial for the more strenuous hikes. Check the trail's elevation profile and read other hiker's reviews about their experience hiking the trail to get a sense of what to expect.
Wear the right hiking shoes. Your regular sneakers will do for easy, mostly flat hiking trails. However, for steeper trails that involve climbing over boulders, you need shoes with adequate traction
Stick to the marked or indicated trail path. Unless there are designated stopover areas or picnic areas along the trail, avoid deviating from the path. You may get lost or get in the way of wild animals. You could also pick up ticks in the vegetation
Only bring pets along if they are allowed on the specific trail you will be hiking. Even in pet-friendly areas, you are required to keep pets on a leash
If you encounter wildlife, get out of their way. If an animal changes its behavior toward you, you are too close to it
Bring hiking essentials such as a map, extra clothes, a compass, and snacks for your hike.
Acadia National Park
Plan your travel for the best time to visit Acadia National Park to take advantage of all of the trails. This magical place offers endless hiking opportunities. You can take an easy stroll or go for a more challenging trail. Some of the best hikes in Acadia National Park take you to the mountain tops, the shoreline, and even forested areas. Some will treat you to all three environments. If you are unsure which trail to take, consult with a park ranger at one of the visitor centers. Always adhere to the park's hiking rules and regulations.
Best Hikes in Rocky Mountain National Park