Best Hikes in Rocky Mountain National Park offers over 350 miles of hiking trails for all levels. Lower elevation areas are easier to hike. The hiking trails in this ecosystem take you through grassy meadows. The subalpine ecosystem is slightly elevated and makes for moderate hikes. It mainly comprises evergreen forests, natural lakes, and boulders. At higher elevation levels (above 11,000 feet), an alpine ecosystem takes you through the mountain summits, glacier basin, and alpine tundra.
However, these can be challenging hikes, and there are fewer people in the elevated areas. This article will explore the 7 best hikes in Rocky Mountain National Park.
7 Best Hikes in Rocky Mountain National Park
Rocky Mountain National Park trails – Emerald Lake Trail
Difficulty level: Easy to Moderate Hike
Trail type: Out and Back
Length: 1.8 miles (one-way)
Elevation gain:600 feet
Average time to complete the hike: 2-3 hours
Emerald Lake Trail is a great day hike as part of other hikes or, if you are short on time, as a single hike. It is one of the most popular hikes in Rocky Mountain National Park, so you can expect it to be crowded.
The hiking trail starts at the Bear Lake trailhead. Proceed to the trail and deviate to the left just before getting to the viewing area at Bear Lake. Although it is a relatively short trail, it offers a variety of things to see, including a waterfall near the end of the trail, Nymph Lake and Dream Lake, and animals such as squirrels, bears, elks, and birds.
It is a moderate trail and offers great views throughout. It is family-friendly, especially during the summer. It is 3.6 miles long all around with manageable elevation. You can pack some snacks for a picnic next to Nymph Lake.
If hiking this trail in the fall, you need microspikes. The second half of the trail near Emerald Lake gets quite icy and snowy, making the elevated sections seem steeper. You can also access the trail in winter for snowshoeing. You can rent snowshoes at the Colorado Mountain Shop in Estes Park.
Rocky Mountain National Park trails – Deer Mountain Trail
Difficulty level: Moderate
Trail type: Out and Back
Length: 6 miles
Elevation gain:1000 feet
Average time to complete the hike: 3-4 hours
Deer Mountain offers high mountain views and is one of the easier areas to hike in Rocky Mountain National Park. Its peak is about 10,000 feet high and offers a great view. It can be accessed through the Deer Mountain Trail, which is a moderately strenuous hike for beginner hikers, but seasoned hikers find it quite easy.
The Deer Mountain Trailhead can be easily accessed from Trail Ridge Road, three miles west of the Beaver Meadows Entrance. Note that parking at the trailhead is quite limited, with only 8 spots available on each side of the road.
During the summer, arrive at the trailhead by 7.30 am to increase your chances of getting a parking spot. Otherwise, consider using the park's shuttles to get you to the trailhead.
The trail is easy to follow as it is well-marked. In the first mile, the trail meanders through an open valley, occasionally providing a view of Long peak. There is a junction a few meters into the trail from the trailhead. Keep to the South Deer Mountain Trail as indicated by the sign at the junction.
After the first mile, the trail gains elevation into a forested area. There are 8 switchbacks, which are the most strenuous part of the trail. The last mile of the trail is a slight downward elevation through an aspen forest, with the last section being steep stones to the summit. From here, you have a good view of Estes Park, Longs Peak, Trail Ridge Road, and Moraine Park.
The best time to hike the trail is during the summer when the trail is clear, and most of the snow has melted. You will need microspikes or trail crampons to hike the trail in spring, early summer, and fall, as some sections are extremely icy and slippery.
Alberta Falls Rocky Mountain National Park hikes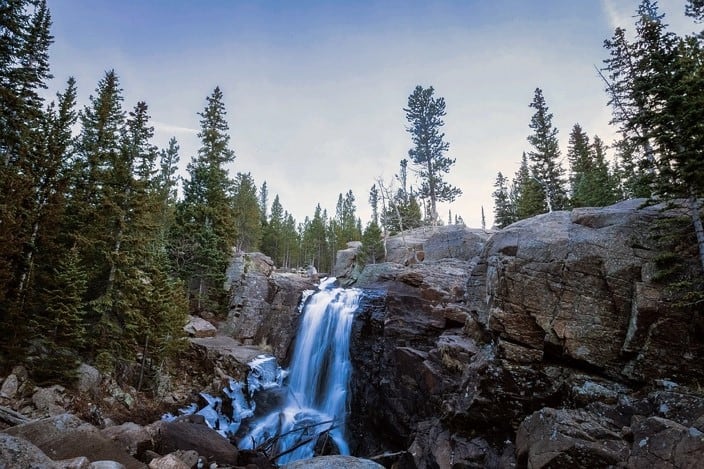 Difficulty level: Easy
Trail type: Out and Back
Length: 1.2 miles (round trip)
Elevation gain:160 feet
Average time to complete the hike: 1-2 hours
The Alberta Falls Trail is another short and easy hike to consider if you are short on time or want to incorporate shorter trails into your itinerary. It is heavily trafficked as it is suitable for all levels and offers spectacular views. The trail is also used for horse riding.
The Alberta Falls Trail starts at the Glacier Gorge Trailhead off Bear Lake Road. You could also start the hike at the Bear Lake Trailhead, which adds 0.2 miles to the hike. Since the Bear Lake Area is extremely popular, especially in summer, it can be difficult to get a parking spot. So, consider using the park shuttle to get to the trailhead.
One-quarter way into the trail, it converges briefly with the Glacier Creek Trail. It then splits off to the right and proceeds to Bear Lake. The Bear Lake sightseeing junction proceeds to the left to Alberta Falls. The trail ecosystem alternates between aspen groves and pine forests. This waterfall hike offers an excellent view during fall.
Alberta Falls is regarded as one of the best waterfall hikes in North America. It is a 30-foot waterfall that thunders down a narrow gorge on Glacier Creek then empties into Bear Lake.
It is named after Alberta Sprague, wife of one of the earliest settlers in the Estes Park Area. You can set up for a relaxing picnic near the falls. Or, proceed to The Loch or Mills Lake.
Sky Pond Via Glacier Gorge Trail
Difficulty level: Hard
Trail type: Out and Back
Length: 10 miles (round trip)
Elevation gain:1780 feet
Average time to complete the hike: 4-7 hours
The Sky Pond hike offers a great view of the alpine scenery. The best way to hike the ponds is through Glacier Gorge Trail. You get to see two lakes and waterfalls along the way. Cliff walls surround the pond.
This 10-mile round trip hike is quite popular, and getting a parking spot may be a challenge. You should start the hike by 6 am to ensure you have ample time to get to the Sky Pond and back in time, especially in the summer when it might rain in the afternoon.
The first mile of the hike is relatively easy and takes you to Alberta Falls. Proceed to the rehabilitated part of the trail. At 1.6 miles, you will arrive at the North Longs Peak Trail Junction. Take a right and proceed to the Mills Junction, which is about half a mile further up. Continue straight ahead on to Loch Vale Trail and climb up the Timberline Falls.
The climb to Timberline Falls is one of the most challenging aspects of this hike. It is steep, and you have to climb up the rocks, which can be slippery due to water splashes from the falls.
So, wear hiking shoes with great traction for this hike. Note that it is more challenging to descend the Timberline Falls than it is to go up. Be patient with yourself as you ascend and descend this section of the trail.
About a quarter-mile after Timberline Falls is the Lake of Glass. It offers a great view, and some people assume this is the Sky Pond. Proceed a quarter mile further to the actual Sky Pond. It is twice as large as the Lake of Glass.
Sky Pond is surrounded by high mountains. From the southern side, you can see the Sabre, Sharkstooth, and Petit Grepon Peaks. Fields of wildflowers and columbines surround the pond's shoreline.
It is a high elevation area, so the weather can be unpredictable, even in summer. While it is advisable to check the forecast on the day of the hike, it may not be accurate. Be prepared to turn around if you notice clouds building up and a thunderstorm approaching.
Your safety is a priority. Cellular service is weak and non-existent on most trail parts, so bring a map or a GPS to track the trail.
Longs Peak through the Key Hole Route
Difficulty level: Extremely Difficult
Trail type: Out and Back
Length: 15 miles (round trip)
Elevation gain:1780 feet
Average time to complete the hike: 10-15 hours
Long Peaks is one of the toughest to hike. It has a 5000 feet elevation gain that will test your resilience and stamina. The hike takes you to overexposed cliffs that present a high risk of falling. The terrain above the tree line is quite difficult, and storms frequently roar, especially during the summer. While the route is clearly marked, many people lose track of where they are.
The Long Peak trail attracts all types of hikers, from professional athletes and seasoned hikers to beginners and intermediate hikers seeking a challenge. Fifty percent of people who attempt to reach the summit do not do so due to factors such as fitness levels, tough terrain, a closed trail by the park rangers, and bad weather. This hike is not suitable for the average person. It is best to try out other hikes before attempting Long Peaks.
There are two routes to access Longs Peak Mountain – one on the eastern side and the other on the western side. Most people access it through the Estes Park entrance and then take Key Hole Route. This route is well-marked and easy to follow.
The route consists of seven major sections: boulder field, keyhole, ledges, trough, narrows, homestretch, and summit. The boulder and keyhole sections constitute five miles of Class 2 hiking trails.
The rest of the hike comprises Class 3 hiking trails that involve scrambling over cliff edges, slit-like sections, and boulders. Most parts of the trails after the first 5 miles are extremely steep. The summit offers a breathtaking 360-degree panoramic view of Rocky Mountain National Park and Colorado.
Most people hike Long Peaks in one day as there are limited backcountry campsite options along the hiking trail, and those available require at least 30 days reservation. This requires starting the trek as early as 3.00 am. Once you get to the summit, do not take too long there as you need to begin your descent early in the afternoon.
Long Peak has winter-like weather conditions due to its high elevation. The best time to hike is during the summer months, between July and September. Sometimes, the rangers have to close the hiking trail even in summer due to poor weather conditions.
Prepare and park adequately for the hike. Acclimate to the high elevation in preparation for the hike. Essential items to pack include a gallon of water, high-energy foods and snacks, a first aid kit, layers of clothing, rain gear, hats, sunglasses, sunscreen, and a headlamp.
You must wear broken-in hiking shoes for the hike. Also, bring along a map or GPS watch, a fire starter, and a utility knife in case of emergencies.
Fern Lake Trail Rocky Mountain National Park hikes
Difficulty level: Strenuous Hike
Trail type: Out and Back
Length: 7.6 miles (round trip)
Elevation gain:1400 feet
Average time to complete the hike: 4-5 hours
To start your hike to Fern Lake in Rocky Mountain National Park, you will start in the Moraine Park area. Follow Moraine Park Road for approximately half a mile to an unmarked junction to reach the trailhead from Bear Lake Road.
Along the Fern Lake Trail, you will follow the Big Thompson River to The Pool. It then alternates between forested areas and some open areas that offer spectacular views of Big Thompson Valley.
You will also see a mix of aspen grove, lodgepole pine, ponderosa pine, cottonwoods, and willows. During the spring and summer months, you will see various wildflowers spring up in the area.
Once you have hiked 1.7 miles, you will reach the Cub Lake Trail junction. This is where Fern Creek meets Big Thompson River. It is also where the waters form what is known as The Pool and is a great place to stop for a picnic.
The Pool is also the side trail that will lead you into Old Forest Inn Backcountry Campsite. Here, you will find two individual backcountry campsite locations. Past this campsite, you will begin a climb of 400 feet to reach the base of Fern Falls, where you will find a stunning 60-foot waterfall.
The hike through Fern Lake offers incredible views and scenery and many other historical stops along the way. Fern Lake is located about 3.8 miles from the trailhead and awards you great views of Notchtop Mountain, Little Matterhorn, Knobtop Mountain, and The Gable.
Bear Lake to Fern Lake Trailhead
Difficulty level: Moderate to Strenuous Hike
Trail type: Point-to-Point
Length: 10 miles
Elevation gain: 2100 feet
Average time to complete the hike: Approximately 2 hours
If you are looking for a one-way hike with a mountain view, lake views, waterfalls, and scenic landscapes in Rocky Mountain National Park, consider the Bear Lake to Fern Lake Trailhead.
On this Fern Lake trail hike, you get to explore four mountain lakes and a waterfall. It is one of the busiest trail hikes in the park. Parking fills up fast in the morning, so you may want to use the shuttles instead. The shuttles arrive every 10 to 15 minutes and will take you directly to the trailhead.
Your hike will begin at Bear Lake. Here, take the first right along the shore, and the next right takes you to Odessa Lake and Flattop Mountain. Hike for about half a mile, and you will come to the junction for Bierstadt Lake. To continue to Odessa Lake, keep left. If you are ready for a break, climb another half mile to the junction for Flattop Mountain. Here you can proceed to the main trail.
After three miles, you will find a small trail leading to Lake Helene. Now is the perfect time to rest, eat a snack, and take in the spectacular views and scenery. You will also find the scenery at Odessa Lake breathtaking, so make sure to stop by. You will then continue your descent along the main trail until you reach Fern Falls. This is a great waterfall photo op.
Continue hiking on the main trail until you reach the Fern Lake trailhead. Now it is another 0.8 miles until you reach the next shuttle stop. The shuttle at the Fern Lake trailhead stops every 30 minutes and will take you back to the Park and Ride area.
Tips for Hiking Rocky Mountain National Park
Acclimate to Rocky Mountain National Park. If you come from sea-level areas, you will most likely experience altitude sickness on your first few days at the park. It may be as mild as a slight headache or severe with symptoms such as disorientation and vomiting. Take it easy on the first day or two. Drink lots of water, eat regularly, and plan for tougher hikes later in your visit.
Plan for unpredictable weather. Even when hiking in the summer, the weather can be quite unpredictable. A day that starts as sunny and warm can quickly become rainy and stormy in the afternoon. Look out for sketchy clouds on the horizon and have an alternative route in mind to get back to the trailhead if need be. Also, pack a raincoat and extra set of clothes for your hike and be ready to turn back if you find the trails are too snowy or you notice a thunderstorm approaching.
Plan for crowds. If you are hiking the Rocky Mountain National Park in summer and early fall, expect that most trails on the signature areas will be crowded, and parking lots may be difficult to access. If you are keen to avoid the crowds, start your hike before dawn.
Instead of bringing your car, take the Estes shuttle to the trailheads so that you don't have to worry about parking space. You could also plan some hikes on the west side of the park, which is less congested. Early fall weekdays are also less congested compared to the weekends.
Best time to Hike Rocky Mountain National Park
The best time to hike Rocky Mountain National Park is between June and October. It is summer at the park, and the temperatures are warm. Most of the snow has melted off the trails, making them easily accessible. You may also hike in winter for snowshoeing. Most trails are still snowy in spring, making them impassible.
Significant amounts of snow begin to build up on the trails, and the weather can be quite cold, especially in the high elevation areas during fall. Always check the park's website or check-in with the rangers at the visitor center for closed trails or safety alerts for specific trails.
Hikes in Rocky Mountain National park
Your hiking options are unlimited at Rocky Mountain National Park. To make the most out of your excursion, plan a detailed Rocky Mountain itinerary. Decide whether you want to explore several hiking trails or take a longer one to comprehensively explore a given area.
Whichever option, ensure to bring all the essentials to last you through the hike. If you are a beginner, start with easy and moderate hikes to build your stamina and experience more challenging hikes. The Longs Peak hiking trail is one of the ultimate hikes at the Rocky Mountains National Park, but it is not for everyone.
Glacier National Park Camping
Best Time to Visit the Grand Canyon National Park
Best Time to Visit Olympic National Park
Best Time to Visit Joshua Tree National Park
Best Time to Visit Death Valley
Best Time to Visit Acadia National Park
Yosemite Hiking Trails
Yellowstone Hiking Trails
Things to Do in Rocky Mountain National Park
Best Time to Visit Zion National Park
Best Time to Visit Glacier National Park
Best Time to Visit Yellowstone
Best Time to Visit Yosemite
Best Time to Visit Grand Teton National Park
Best Hikes in Rocky Mountain National Park
Best Time to Visit Great Sand Dunes National Park
Great Sand Dunes National Park Camping