Best Time to Visit Yellowstone – As one of the most geographically fascinating areas in the United States, Yellowstone National Park is a necessary stop for anyone who wants to explore the historic American National Parks system. In this article, we're giving you a comprehensive guide to the park to help you put together your Yellowstone itinerary. We'll tell you when to visit, where to stay, and what to do. Let's get started!
Best Time to Visit Yellowstone National Park?
The best time to visit Yellowstone can differ from the most popular time to visit Yellowstone. The best time to visit is the one that matches your ideal travel conditions. That said, there is a definite high and low season for tourist activity in Yellowstone:
Yellowstone National Park Tourist Season – High and Low Season
Yellowstone has distinct high and low seasons which center around the seasons. The most popular travel time is during summer when temperatures are warm and pleasant, which coincides with most North Americans' vacation time.
We recommend visiting Yellowstone in the months shouldering summer (April to early June and Sept-Oct). Because Summer is when most tourists visit Yellowstone, the park will be less busy in the shoulder seasons while still offering pleasant weather and more affordable stays. Tourists still visit the park in the winter, but the road closures and frigid temperatures mean many people avoid the park.
Yellowstone Climate
Yellowstone has a varied climate, ranging from subzero temperatures in winter to hot weather in summer to mild conditions in spring and fall.
Spring and fall see daily highs ranging from roughly 43F (6C) to 62F (17C). Summer highs hover around 72F (22C) but can drop down significantly at night. Winters are frigid, with daily highs of approximately 24F (-4C) and lows of 1F (-17C). These temperatures change depending on where you are in the park, with higher elevations seeing colder temperatures day and night.
Where to Stay in Yellowstone
Yellowstone National Park features over two million acres of land and has five park entrances, which can make deciding where to stay quite the challenge. In choosing where to stay, you have a few options to consider:
Lodging Within the Park: The Park features nine lodges within the park itself which offer accommodation. These lodges feature classic campground architecture and are centrally located for ultimate convenience. That said, the lodges are difficult to book and typically sell out over a year or more in advance.
Camping or RVing: There are many campgrounds within the park for tent camping or mobile home camping. You can find the locations of each spot here. These spots are typically very inexpensive, but you'll have to book far in advance (sometimes up to a year or more).
Nearby Towns: There are a few smaller towns near Yellowstone that offer traditional lodging (hotels, motels, AirBnBs). The closest major town is West Yellowstone, Montana, just about a 45-minute drive to the closest section of the park. Other nearby towns include Gardiner, Montana, Cooke City-Silver Gate, Montana, and Cody, Wyoming. Each of these small towns offers several lodging options for you to choose from.
Getting to Yellowstone National Park
Yellowstone National Park is huge and is accessible from several airports. These airports include Yellowstone Regional Airport (COD), Jackson Hole Airport (JAC), Yellowstone Airport (WYS), and Bozeman Yellowstone International Airport (BZN). Each airport offers a relatively short drive to one of the parks' main entrances.
We strongly recommend you rent a car to experience Yellowstone. There is no public transit on offer in Yellowstone National Park. Your only other options are via tour bus or tour van, with several companies offering tours in many of the towns surrounding the park. That said, a car is much more practical (not to mention affordable) and also allows you complete control over your itinerary. You can rent a car at any airport surrounding Yellowstone.
Be aware that park roads are subject to close for snowfall during winter, and there is periodic road construction throughout the park.
What to Do in Yellowstone National Park
Best Time to Visit Old Faithful
Located in the Upper Geyser Basin section of the park, Yellowstone's most famous attraction is the Old Faithful geyser. There are over 500 geysers in Yellowstone, and this was the first to receive a name.
Named for its predictability, the geyser will reliably erupt once every half-hour to two-hour period. The eruption is quite impressive, averaging about 130 feet each time. If you're lucky, the geyser will erupt right as you arrive, but you might have to exercise some patience to see it in action.
As one of the most popular sites, you can expect Old Faithful to be crowded year-round. You'll always see tourists crowding the benches surrounding the geyser. If you want to take on a different perspective, we recommend the mile-long hike to the Observation Point, offering a birds-eye view of Old Faithful (and the entire Upper Geyser Basin). The hike is worthwhile in its own right.
Best Time to Visit Grand Prismatic Spring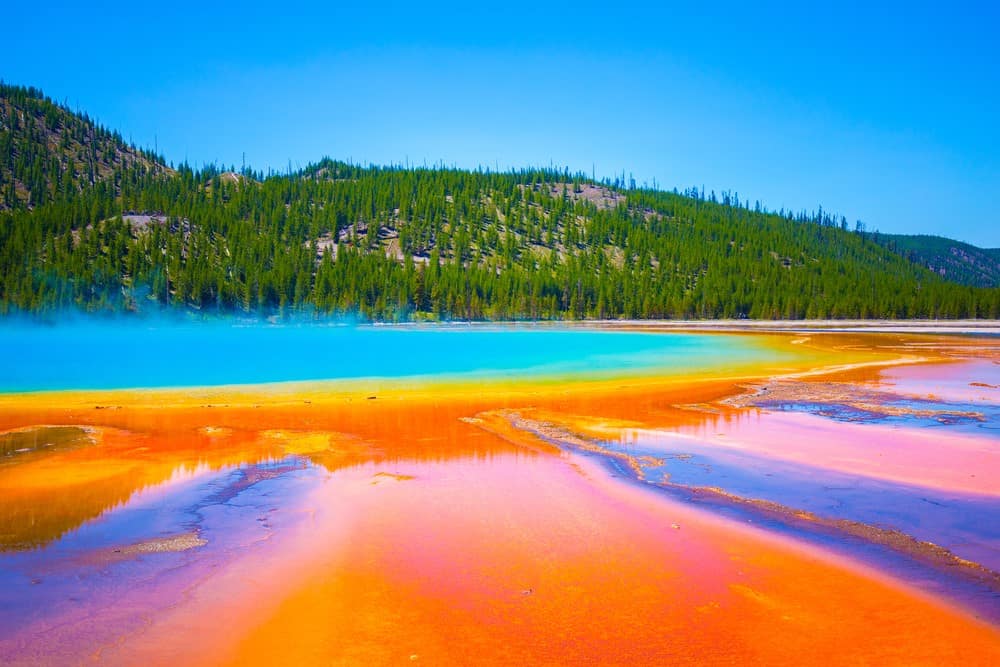 Along with Old Faithful, these attractions are the two most popular in Yellowstone. Located in the Midway Geyser Basin, the Grand Prismatic Spring is one of the world's largest hot springs (more specifically, third-largest). It measures over 370-feet wide and is deeper than 120 feet.
But the true wonder of the Spring is in its magnificent appearance. Its waters pop with vibrant blues, yellows, oranges, and greens, which are caused by the different bacteria that populate different depths.
Like Old Faithful, you can always expect crowds at the Grand Prismatic Spring. Crowds will be less in the colder months or very early in the morning. You can park in the Grand Prismatic Spring parking lot in Midway Geyser Basin, but the lot is known to fill up. You can experience the area on foot, with several boardwalks that take you close to the action. There's also the Grand Prismatic Viewing Platform along the Fairy Falls Trail, which is about a two-mile hike from the spring itself.
Best Time to Visit Grand Canyon of the Yellowstone
The Grand Canyon of the Yellowstone is (you guessed it) a large canyon that runs through Yellowstone Park. But "large" is an understatement here. The Canyon is over 24 miles long and can reach up to 4000-feet wide and 1200-feet deep in certain areas. As such, there's a lot to see and discover in the Grand Canyon of the Yellowstone – from hiking trails, scenic drives, and walking trails on either side of the Canyon's rim.
The most popular tourist spots in the Canyon (for good reason) are Artist's Point and the Upper/Lower Falls. Artist's Point is located on the South Rim of the Canyon and offers an incredible view of Lower Falls. Both the Lower and Upper Falls are worth seeing, offering you great views of Yellowstone River, which runs through the Canyon.
Or, you can take Uncle Tom's Trail, which takes you right down into the Canyon (via multiple stair-sets). But there are so many more things to see and do along either of the Canyon's rims. Click here if you want more info on finding the trails, including trail maps and information.
Best Time to Visit Lamar Valley
Checking out the wildlife in Yellowstone is a must, and there is no better spot than the park's wide-open valley regions. Along with Hayden Valley, Lamar is one of the best spots to take it all in.
Lamar Valley is between the park's Northeast Entrance and Mammoth Hot Springs and is accessible on Beartooth Highway. The valley is sprawling, with vegetation, rivers, wildflowers, and more. It's an ideal place for a wildlife sighting, including bison, elk, grizzlies, bald eagles, wolves, bighorn sheep, and more. But remember, don't feed the animals!
The valley also features many opportunities to explore on foot, including hiking trails, walking trails, and more. Click here for more information on all the trails accessible in this area.
Best Time to Visit Upper Geyser Basin
Home to Old Faithful, there are plenty more reasons to visit the Upper Geyser Basin. The Upper Geyser Basin contains the densest concentration of geysers in the entire world, with the Basin alone containing about 25% of the world's geysers. Pretty impressive and definitely a sight to behold.
You'll obviously want to check out Old Faithful, but we've already covered that above. There are so many things to see that you'll probably want to walk along one of the area's hiking trails. Be sure to check out Morning Glory Pool, a colorful pool that rivals the Grand Prismatic Spring in its beauty (and is always less crowded).
Morning Glory Pool is accessible via the Upper Geyser Basin Loop, a walking trail about 4.5 miles long, taking you past many of the region's popular sites.
The entire region is roughly three miles across, so it will take some time to see it all. That said, you can do it in a day if you're ready to walk!
Festivals & Events in Yellowstone
There is plenty to see and do inside Yellowstone National Park, and we've only scratched the surface above.
If you're visiting Yellowstone's surrounding areas during particular times of the year, you'll want to check out some popular annual events. We'll cover a few of our favorites below. Note that, due to the sheer size of Yellowstone, event accessibility depends on where you are staying.
Targhee Music Festival – The Targhee Music Festival is one of the most popular music festivals near Yellowstone. It features a diverse lineup of musical acts in a neat outdoor venue. The Targhee Music Festival takes place each year in July and is a great way to soak up music and food while enjoying the mountain lifestyle. The event is at Grand Targhee Resort, which offers plenty of lodging, entertainment, and accommodations. Best of all, the resort is under a 20-minute drive to Yellowstone.
Cheyenne Frontier Days – Located in Cheyenne, Wyoming, Cheyenne Frontier Days bills itself as the World's Largest Outdoor Rodeo and Western Celebration. We can't officially verify that claim, but we can say that you'll have a good time! There are plenty of booths, vendors, live music, games, and more, all centered around the Cheyenne Frontier Rodeo. The event is lots of fun, but do note that it's a couple of hours' drive from Yosemite. Cheyenne Frontier Days takes place in July each year.
Jackson Hole Sled Dog Race – Jackson Hole is located roughly 60 miles from Yellowstone's South Entrance. Jackson Hole is a popular destination for all sorts of winter and summer activities (most notably its world-class downhill skiing). The annual sled dog race usually starts in late January each year. The race goes right through downtown Jackson Hole, and spectators can get a great view of this traditional sport.
Best Time to Visit Yellowstone
Thanks for reading our comprehensive guide to Yellowstone Park, and the best time to see this magnificent National Park yourself. There's a reason Yellowstone remains one of the most visited National Parks in the entire world. From geysers to canyons to valleys and so much more, there's something for everyone in Yellowstone.
Best Time to Visit Yellowstone FAQs
When is it Winter in Yellowstone?
Winter conditions in Yellowstone go from December to March. Winters in Yellowstone are cold and snowy, with temperatures routinely dipping below freezing. As such, visitors generally avoid the park during winter. But if you enjoy snowy vistas and don't mind the temperatures, there's still a lot to see.
The winter season brings a unique opportunity to beat the summer crowd, and a stay at the Old Faithful Snow Lodge and a winter tour is a unique experience you won't forget.
How Long Does It Take to See All of Yellowstone?
Yellowstone National Park is massive, covering over 2 million acres of land. Seeing everything the park has to offer would probably take years, if not lifetimes. That said, if you're looking to knock off the major tourist sites in Yellowstone (Old Faithful, Grand Prismatic, Grand Canyon of the Yellowstone, etc.) you can do it all in a single vacation.
All the main tourist hotspots are accessible by car, but it might be a few hours of driving in between spots. As long as you don't mind all the driving, you can see the top sites in a few days.
National Parks in the USA That Should Be On Your Travel List
Best Time to Visit Zion National Park
Best Time to Visit Glacier National Park
Best Time to Visit Yellowstone
Best Time to Visit Yosemite
Best Time to Visit Grand Teton National Park
Best Time to Visit Great Sand Dunes National Park
Family Fun Ideas in Northern Arizona and New Mexico
Stunning USA Self-Drive Tours and Adventures
Top 5 Family Friendly Destinations in the United States South
Montana Road Report – Things to do in Montana
Sunrise from Haleakala National Park
Saguaro National Park Tucson Arizona
Historic Kentucky Adventure
Badlands National Park Camping
Things to Do in Badlands National Park