Best Time to Visit Greece – From its world-famous historic landmarks to the beauty of the Greek Islands, Greece remains a tourist hotspot for travelers from around the world. In this guide, we help you plan your ultimate Greek vacation, looking at when to visit, what to do, and what to see. Let's get started.
When to Visit Greece
Tourists flock to Greece year-round, but the area has distinct high and low seasons for tourism. The best time to visit Greece will depend on what you are looking for. Consider the following factors:
Tourist Seasons
High season in Greece coincides with (no surprise here) the best weather. Therefore, tourist high season takes place over the summer season, from June to August each year. Greece experiences hot and dry days. This is when you find the most expensive hotel rates, and is when most tourists flock to the Greek Islands, landmarks, and major attractions across the country. You'll also encounter overbooked ferries and flights during this time.
Most savvy tourists will tell you that the best time for a Greek vacation is during the shoulder season (Spring and Fall). These seasons still feature fantastic weather, and the water is plenty warm enough to swim. In fact, even the Greek locals will tell you that summer in Greece is too hot.
Temperatures during summer routinely go above 100F, and most visitors prefer to stay inside during the hottest parts of the day – another reason it's preferable to visit during spring and fall, even though it might not be peak tourist season. And if Greek nightlife is your thing, the weather will matter less.
Winter in Greece is rainy and somewhat cold (especially at night). You'll definitely want to avoid Greece in winter if you were planning on a sunny, beachy vacation, but there are fewer tourists in general.
Climate
Something to note is that, due to Greece's immense size and all the islands that populate the Aegean Sea, the climate across Greece is not consistent. That said, most of Greece experiences a Mediterranean climate, with scorching hot summers and mild winters. Overall, it is a dry climate.
During summer in most of Greece's tourist hotspots (Athens, Santorini, Crete, etc.), you can expect highs of 90F and above and lows of about 72F. It's slightly cooler on many of the islands, but not significantly. During the shoulder seasons, expect highs of about 77F and lows of about 57F. Winter is quite a bit cooler, with highs of roughly 60F and lows of about 50F ( and highs of 15C and 10C).
Rainfall, on the other hand, varies significantly across the country. Athens receives most of its rain during fall and winter. Some islands, like Santorini, receive very little rainfall, while islands such as Crete receive quite a bit.
That said, with temperatures being so great through the shoulder seasons and summer, there are many excellent times to book a vacation to Greece, and the country sees a steady stream of tourists year-round. When deciding the best time to travel to Greece, consider the summer as well as the shoulder seasons.
Top Places to Visit in Greece
Now that we covered when to visit Greece, let's get to the fun stuff. Where should you go? What should you do? With a nation this large and diverse, it's impossible to cover it all in this article. The following are some of our favorites and some of the most popular, but this list is far from all Greece has to offer.
1. Athens
Greece's capital and largest city, Athens, is bursting with culture and vibrance, all against a backdrop of some of the most famous historic landmarks in the world. There's so much to see and do that it can be quite overwhelming. Athens can offer you whatever you're looking for – excellent restaurants, vibrant nightlife, a rising art scene, and so much more.
Surely you'll want to check out Athens' crown jewel, the Acropolis, standing high above the city and tempting you with historical significance. The Acropolis contains many historically and culturally significant ancient landmarks, but the focal point is the Parthenon, standing high above the rest, and visible from almost anywhere in Athens. There's something about first laying eyes on this ancient structure that you have seen in so many movies, TV shows, and stories.
2. Mt. Olympus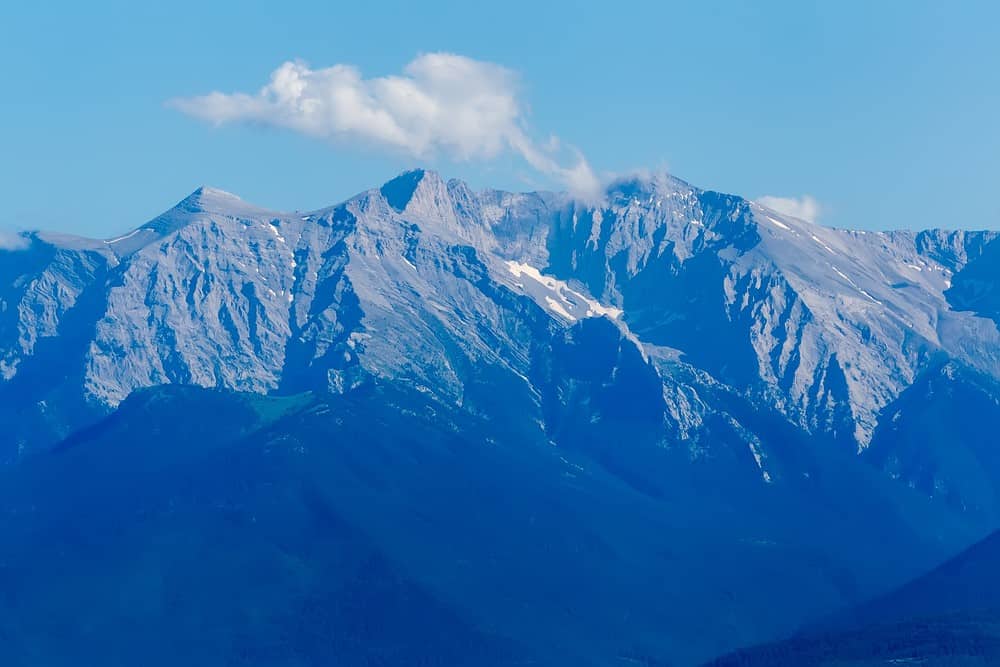 Olympus might be the most historic climb in the history of the world, or maybe we're being slightly dramatic. Either way, climbing Mt. Olympus is a fulfilling experience. There are many routes for climbing Mt. Olympus, depending on your experience level. It's recommended for intermediate to advanced climbers/hikers, and we recommend you hire a guide who can show you the way.
Mt. Olympus is a multi-day climb and usually takes climbers two days to reach the peak. That said, it does depend on your physical fitness and the route you choose.
3. Santorini
In a tight race for Greece's most popular island destination is Santorini. But it's earned its spot near the top because it offers some of the most impressive architecture you'll ever see. The Cycladic architecture built up the cliff face on the island's west coast is the definite highlight. You'll wind your way through quaint alleyways, taking you past shops, restaurants, and bars. It's hard to find a better place on Earth to get lost.
Many tourists rent mopeds and see what else the island has to offer. There are beaches, cliffs, and many spots to catch a spectacular sunset over the sea. Santorini is also a popular romantic cruise destination surrounding the Mediterranean.
4. Crete
It's hard to make a list of Greek travel spots without leaning heavily on the Greek Islands. But that's because they are such wonderful vacation destinations, each with something different to offer.
Crete is a great option for budget travelers, but there's also no shortage of luxury options available. Crete is also by far the largest and most populous of the Greek Islands, so there's plenty of locations to stay or to check out. It's also further into the Mediterranean, which means it's close to an hour's flight from Athens.
You can stay in Heraklion, the capital of Crete, where there are plenty of places to stay. There are also many seaside towns and resorts surrounding the island. Tourists also recommend Samaria Gorge National Park, where you can check out one of the most awe-inspiring natural attractions on the island.
5. Mykonos
Mykonos is only rivaled in tourist-popularity by Santorini. Both are tourist hotspots, and we think both live up to the hype they garner. Mykonos has plenty of options, whether you're a luxury tourist or someone on a budget.
Mykonos doesn't feature the stunning cliff-side views and architecture of Santorini, but it's certainly no slouch. Mykonos is known for its lively party atmosphere. Its nightlife scene is world-renowned, with massive dance clubs that pump out the beats. The party extends to the white, sandy beaches that populate the island. Many tourists stay in Mykonos Town, which is full of shops, restaurants, and classic Cycladic architecture.
6. Meteora
Meteora is located north of Trikala in Southwestern Greece. Meteora is a designated UNESCO heritage site, and a real sight to behold. The area consists of massive rock pillars that jut out of the ground with their magnificence. Ancient monasteries on the summits of these pillars were home to hermit monks in the 14th century.
Since then, steps have been built into the rocks, allowing tourists to reach a few of the monasteries (only six are accessible). Depending on the monastery, it can be quite the hike, but it's certainly one of the most breathtaking views in all of Greece. For a country so rich in history, it says a lot that Meteora still manages to sit near the top of the list.
There are various tours you can take, including tours by train that are one or two days; local tours — including an authentic hiking Meteora tour; and full day private Meteora tours from Kalabaka or Kastraki.
7. Corfu
A large Greek island located off the West Coast of Greece in the Ionian Sea, Corfu is also one of Greece's largest islands and is a fantastic place to visit. Almost every ferry from the mainland will take you to Corfu Town, known for its eclectic mix of architecture – from the Venetian Old Town to 19th Century British architecture to Byzantine structures and more.
It's a joy to navigate Corfu's cobblestone streets and laneways on foot. There's plenty to see, do, and eat. Its proximity to Italy also makes it a major vacation destination for Italians, and you'll find lots of excellent Italian food (along with Greek food of course).
Outside of Corfu Town, you'll find mountains, sprawling countryside, beautiful beaches, and cliffs. It's a large island with many smaller towns, settlements, and resorts lining its coastline, making it an easy spot to spend a few days.
8. Thessaloniki
If you're looking for more cities to check out in mainland Greece, we recommend Thessaloniki. A great way to experience the culture of Northern Greece, Thessaloniki features a laid-back vibe with gorgeous architecture and unique culture.
Be sure to check out the Old Quarter, where cobblestone streets wind past churches, fountains, and iconic houses. The arts scene is alive and well in Thessaloniki, and it's evident by the prevalence of world-class museums. It's a great place to appreciate the true diversity of this nation.
Best Festivals in Greece
Greece is a country with strong religious and cultural roots. As such, many important festivals in Europe dot the calendar. As a tourist, be sure to respect the significance of religious holidays. But the Greeks are a welcoming people, and these cultural and religious events are often celebrations that tourists of all sorts can enjoy. Here are some recommendations:
Orthodox Easter – Being a Christian nation, Easter is one of the biggest days on the Greek calendar. You can find Easter celebrations in Greece anywhere you go. Greece has a unique approach to Easter, with candlelight processions lining the streets, particularly surrounding Churches.
You'll also find plenty of food to go around, with lamb being a traditional dish. Easter is a week-long event in Greece, starting a week before Easter Sunday and ending Easter Monday. Most of the celebratory events take place on Easter Sunday, and this is when tourists will find the most to see and do.
Carnival – Thought of by many as a South American tradition, Carnival is celebrated by Christian nations across the world. Greece is home to some of the oldest known Carnival celebrations in the world. Carnival (or Apokreas in Greece), takes place in the few days leading up to Lent. In many major areas around Greece, the streets fill with festivals, street performers, parades, food vendors, and more. The specific celebrations vary from region to region.
Navy Week – What better way to celebrate Greece's distinct marine culture? Navy Week is held in Crete each summer (usually June), and celebrations are held across the island. You can expect street festivals, food vendors, and, of course, ships of all sorts lining the coastlines. It's a great way to experience Greek's unique island culture and get a glimpse of some true feats of naval engineering.
Exploring Greece
Greece is a large nation with many things to do and see. Before you can answer this question, decide what you want out of your Greek vacation. If you have a specific Greek Island in mind, then you'll be happy to get away for just a few days. To get a taste of the mainland, the Greek Islands, and to visit major historic sites, you'll want at least ten days or more.
FAQs
How Many Days Should I Spend in Greece?
Greece is a very large nation with many things to do and see. Before you can answer this question, decide what you want out of your Greek vacation. If you have a specific Greek Island in mind, then you'll be happy to get away for just a few days. To get a taste of the mainland, the Greek Islands, and to visit major historic sites, you'll want at least 10 days or more.
How Expensive is Greece?
Although famous for its luxurious hotels and picturesque island destinations, Greece is a generally affordable place to vacation. Rates for lodging, restaurants, and general goods are highly affordable, especially compared to much of the rest of Western Europe. Greece uses the Euro, which makes it easy to adjust if you're already on an extensive European trip. Plan your trip to Greece and surrounding countries with a Europe travel guide.
Best Time to Visit Italy
Best Time to Visit Bergamo Italy
Bergamo – The City Milan Doesn't Want You To Visit!
How Do I Use My Cell Phone While Traveling to Europe