Last Updated on October 5, 2021 by Aswetravel
Europe Travel Guide – If you are planning a trip to Europe, but you are not sure whether to take the bus or train, then you should read this article before leaving home.
What to Know For Exchanging Money Before Vacation of International Trip
What's The Best Way To See Europe?
Planning to go on holiday is a great way to rejuvenate yourself.
What's more, travelling at cost effective rates adds to the excitement of the trip.
Europe has many must-see destinations that are full of history and culture.
Best Way To See Europe
These places are easily reachable by buses or trains.
Now is the best time to start planning that adventurous trip to your favorite European countries. England Travel Guide
See Europe By Bus
If you wish to make the most of your journey and see the sights on the way, there are many tour buses that are air conditioned and fully equipped with washrooms.
Catching a bus to see a European city such as London or Rome saves the hassle of getting around by taxis and you will save money too, plus you can really enjoy the scenery while making the most of your time.
Most buses accommodate up to 44 people, and the front row seats have extra leg room.
See Europe By Train
If you are not too keen on standing in long queues to buy your bus ticket, there are many tour operators that offer river cruises and rail packages through Europe.
All European residents are eligible for InterRail Passes that offer flexible access to many of Europe's national rail services.
You can buy an InterRail Pass in two varieties: InterRail Global or One Country Pass.
Your One Country Pass is valid for up to 26 countries in Europe.
There is no need to make any reservations, as you just hop on the train with your Pass.
However, it is important to check the train timetables, just in case it is subject to compulsory booking.
If a seat reservation is required, the price will not be included in your InterRail Pass, although this depends on the country you are visiting, the type of train, and date of travel.
Europe's Most Scenic Views on A Train Journey
Europe is famous for having high quality train systems.
Travelling by train is a popular way to explore this fantastic continent at a slower pace.
Train fares are by no means cheap, yet you will feel very comfortable on your trip, plus you can bask in the beautiful scenery as you go through Austria and Bulgaria.
The train system is almost stress-free, that is why most young travelers choose this mode of transport.
So if you want to meet new people on the way, taking a trip on the train might be the best way to travel.
See Europe By Plane
Aside from tour buses and InterRail, another convenient way to travel to Europe is by air.
There are many companies that offer low cost airfares to popular holiday destinations.
You should also check Airfares Flights, they are an independent guide to flights with thousands of flight prices and schedules worldwide.
If you do not have the time to hop from one bus to another, and you just want to reach your destination quickly, flying is the easiest way to get from London to Prague, or Madrid to Athens.
The services that are offered by the airline are by no means luxurious, but if you are not too keen on taking long trips by train or bus, flying is your best option.
Nowadays, most people want to reach their destination quickly and inexpensively.
Sometimes it works out cheaper to travel by air rather than by train.
Many European airlines offer promotional flights at off-peak seasons.
So instead of taking a night train to your favorite city, you should fly in order to reach your destination quickly.
What's The Best Way To See Europe?
Travel Guide Portugal for First Timers
(photo credit: 1)
Best Apps to Keep You Occupied on Holiday
Europe Travel Guide
Backpacking is one of the most exciting ways to explore Europe.
It's fun, it's cheaper and it allows you to discover Europe from a whole different perspective.
Great backpacks for Europe
But needless to say it is a very different way of traveling from the traditional vacation.
Backpacking Europe Budget Tips
It needs a bit more planning, and there are a few good tools that are good to know about before you head out on your trip.
We will go through each of these topics more thoroughly, but here is a quick check list of things to know about when backpacking Europe.
Backpacking Europe Budget Tips
Europe is quite an expensive place to travel in, and while backpacking Europe is by far the cheapest option to explore the continent, it can still turn out pretty expensive.
Food, accommodation and transport are the big money suckers, but there are ways to get it all on a budget. Tips on Winter Scandinavia Travel
Backpacking Europe Accommodation
If you are a solo traveler, hostels are the cheapest option when backpacking in Europe.
As a rule, the more beds in a dorm room, the cheaper.
When you look for a cheap hostel, also check what is included in the price.
Sometimes a hostel might look the cheapest, but they might charge for things that other hostels offer for free, like bed linen, washing machine, towel and breakfast.
If you are a family, you might want to look into renting an apartment.
Then you pay for the whole apartment, not per bed, and if the place can fill a family of four it might actually be cheaper than a hostel.
If you want completely free accommodation, the budget of budgets, then couch surfing is the way to go.
Just remember that they expect you to hang out with them and be social, people don't give a place out without expecting something in return.
And there is always camping.
Backpacking Europe Food
The cost of food is something you simply can't get away from when backpacking Europe, but by cooking your own food you can get away with 1/3 of the costs from eating at cheap fast food joints.
Again, hostels usually have kitchens, and so do apartments, which will save you a lot of money.
However, when you're out and about you don't really want to go back to the hostel for dinner and then head out again, and since you're on a trip after all you might want to splurge a little and try the local food.
Fast food places are obviously the cheapest places to get food, but that does not mean they don't have local food.
In Europe, every country has their own "cheap food" which is still traditional and typical for their country.
So just because you want to eat cheap, it doesn't mean you can't eat local food.
The number one rule is to stay out of the touristy streets when looking for a place to eat.
The further away from the main tourist route, the cheaper it usually is.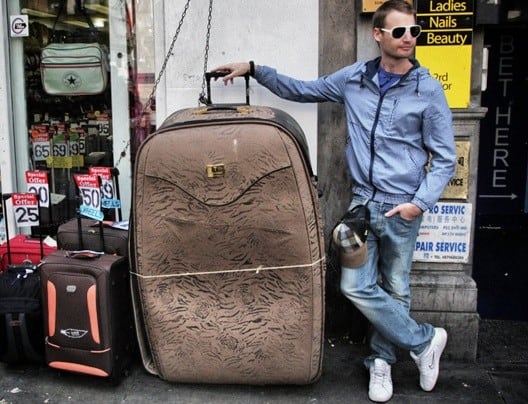 How To Travel Around Europe
When backpacking Europe the most popular choice of transport is to go by train.
Backpacking Europe Train
Eurail offers passes in different varieties that will provide free train rides or hefty discounts on train journeys all over Europe.
But before you get your pass, do some research to see if it is worth it for you.
The passes are not extremely cheap, but if you will be traveling a lot, it might save you a lot of money.
It also depends on where you go.
If you plan on traveling through northern Europe (except Sweden) it is definitely worth it.
Southern Europe is more doubtful as almost all trains need a booking fee.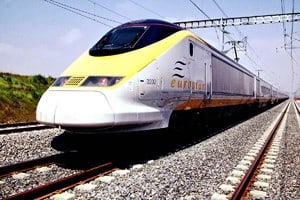 Backpacking Europe Bus
Eurolines is another option which offers similar passes to EuRail but with bus.
It is definitely something to look into since it's a cheap option and it sometimes makes it possible to travel to places trains can't.
Backpacking Europe Fly
If you want to fly there are several budget airlines that fly all across Europe.
Ryanair and Wizzair are two great ones, the latter one connecting eastern Europe to each other as well as to the west.
What To Pack Backpacking Europe
If you plan on doing a lot of flying while backpacking Europe, you will save quite a bit of money but bringing carry-on luggage, as many of the budget airlines charge extra fees for checking in your luggage, and in eastern Europe some bus operators also charge extra for larger bags.
Check out our travel packing list for some tips and advice what to bring when you travel with carry-on luggage.
Split Excursions Every Traveler Will Love
(photo credit: 1)
European Destinations for a Summer Break
Summer holidays don't always have to be about lounging on a beach and working on your tan.
There are plenty of options for action-packed city breaks in Europe, where you'll still be able to enjoy warm weather.
European Destinations For A Summer Break
Here are my three suggestions for getaways on the continent that offer a little more than just sun, sea and sand:
Best Places in Europe in the Summer
Not all European cities are ideal destinations in the summer, some are overcrowded, thick with smog and geared towards over charging tourists for everything.
However there are a few European cities which make ideal summer destinations.
Riga, Latvia
Riga has it all, huge beautiful parks, a perfectly preserved Old Town, the sea, canals, large shopping centers and beer gardens. But perhaps the best thing about Riga is that it has not yet been overrun with tourists.
The prices are reasonable and you have a great combination of modern amenities, a complex history, historic buildings and Riga has a dynamic nightlife. A great summer destination whatever your travel style.
Although summer is the high season for traveling Europe, you can still find good Europe travel deals to Riga and its neighboring countries, as they're cheaper than the most popular cities.
Budapest, Hungary
Enjoy the thermal baths and pools as well as the Danube River which cuts through the city offering boat excursions.
The Palatinus Beach on Margaret Island has 11 pools including a wave pool and thermal pools and the Alfred Hajos Swimming Center and Gellert Gyogyfurdo are just two of the many swimming opportunities in the city.
The city has all the history and beautiful buildings as London and Paris but without the crowds.
It is a great city to cycle in and the many outdoor cafes and mix of East and West make it fascinating to Western travelers.
Biarritz, France
Biarritz is one of the most beautiful coastal cities in France, and its great mixture of people gives the city a relaxed, fun atmosphere.
Glamorous party groups and girls in stilettos rub shoulders with hardcore surfers in flip flops, and everyone enjoys the beaches, the nightlife and the food and wine Biarritz is so famous for.
After all, who says surfers can't be fussy with their wine, or that glitzy girls can't enjoy some good waves?
During summer, Biarritz becomes an international city with people arriving from all over the world.
Traveling to France from Canada is easier than ever before, so many of the French speaking people you hear on the streets may just be Quebecans!
Salzburg, Austria
The city of the Sound of Music offers an exquisite castle, large open squares with market stalls, street musicians, delicious food and interesting stores.
The city has some quality museums and beautiful churches.
You can visit Mozart's house, enjoy the many outdoor cafes and the city is conveniently located so that you can make day excursions to places like Munich, Germany and Neuschwanstein Castle.
If you're getting too hot then take to the nearby mountains…"the hills are alive with the sound of music."
Fun Ways to Get Around European Cities
Fun Ways to Get Around European Cities – There are many ways to travel around European cities that can add to your overall travel experience.
Finding an optimal travel method is very much dependent on the city that you are visiting.
London, for example, has a subway system known as the "London Underground" that is both convenient and historic as it was the first subway system introduced.
Venice offers travel by both water taxi and gondola which adds a unique charm to the city.
Be sure to research any unique offerings in each European city that you visit to explore the charms of that city.
Walking to explore European cities
Walking is a great way to explore many European cities.
As many European cities were built prior to the introduction of automobiles, there are many town squares and passages that are not accessible to cars.
Walking through these towns allows you the opportunity to explore the nooks and crannies of many of these town centers stopping at cafes, artisan shops, and courtyards on your way.
Cycling around Europe
Walking around is not always practical given the distance between locations you are attempting to visit.
Cycling seems to be the best way to explore many new cities whether you're a local or a visitor.
A bike gives people the freedom and flexibility to chart their own paths through the city along with other cyclists and experience the 'real' city.
Unsurprisingly, seeing tourist on bikes is nothing new anymore. Government sponsored bike schemes make their bikes available to both locals and visitors guaranteeing a cheap trip through the city.
Momondo collected all the important information, starting from how to sign up for the schemes to recommended bike routes, and incorporated it in this handy visual guide on public bike schemes in European cities.
Hiring a Europe Cycling Guide
It is sometimes difficult to find your way when travelling to a new city with signs posted in a language you may not be familiar with.
Having a local tour guide bring you to a variety of different sites and explain to you the history of the area can provide you with insight regarding the city you are visiting.
Once you sign up with a tour guide they often provide their own transportation, whether bus or other means to help you during your travels.
Glamorous Places To Visit In Europe
Glamorous Places To Visit In Europe
St Moritz
St Moritz is famous for being one of the first luxury ski resorts in the world, and is still today the place for the rich and famous to be seen.
Located in a fairy tale landscape with mountain peaks and green valleys, people come here to enjoy the best that Switzerland has to offer: beautiful nature, fresh air, five star restaurants and hotels, and a range of outdoor activities.
St Moritz boasts everything from 350 km of piste skiing in winter and watching the horse races on the frozen lake, to incredible mountain biking and hiking experiences during summer.
There is a bubbly "champagne" vibe in St Moritz, and while the surrounding nature implies that you've escaped into the middle of nowhere, the glamorous boutiques are never far away.
Saint-Tropez
If hiking and sport activities don't appeal to you, Saint-Tropez might have exactly what you want.
Perhaps the most famous of the glamorous resorts along the French Riviera, Saint-Tropez has more than just impressive yachts and "celebrity-spotting" to offer.
In spring, autumn and mild winter, the streets of this picturesque town are no longer as crowded, giving you the opportunity to really enjoy the town, and realize why so many artists were lured to this place over the centuries.
Walking along the waterfront, enjoying the beaches, art galleries and quayside cafes are great ways to make the most out of this glamorous resort.
Monaco
Being the smallest independent state in the world, Monaco sure makes a lot of noise.
It has become a luxury resort for tourists, and many of the richest people in Europe make it their home, as it is known to be one of the best "tax havens" in the world.
Many of these rich people set up luxury resorts and hotels, so if you want to your hotel to be an experience rather than a place to crash, you'll be sure to find lots to choose from in Monaco.
But while the hotels and restaurants will suck the money from your wallet at an accelerating speed, there are plenty of free things to do in Monaco as well, such as visiting Monaco-Ville.
It is very picturesque medieval village made up of pedestrian streets and old beautiful buildings.
There are also free galleries and museums, like the Marlborough Fine Arts Gallery.
(photo credit: 1)
Great Mountain Bike Locations In Europe
Mountain biking is a big sport in Europe, and there are plenty of trails and routes to choose from, so going mountain biking on your holiday is a great way to see the country.
You get the best of both worlds: spending a lot of time in the most beautiful surroundings, while getting your adrenaline kick at the same time!
It's really difficult to say which mountain bike routes are the best in Europe, but below we have listed some truly great ones to give you some ideas and inspiration for your next trip to explore Europe.
Great Mountain Bike Locations In Europe
Lake Garda – Italy
Possibly one of the most beautiful locations for mountain biking in Europe, Lake Garda makes for an unforgettable mountain bike experience.
With over 1000 kilometers of way marked trails for all abilities from beginners to pros, it lives up to its reputation for having some of the best mountain biking in Europe.
There are routes for all likes; some go past small villages, rural fields and olive groves to ruins, forests, cliffs and waterfalls.
Calderdale, Yorkshire – UK
UK has a lot of really good mountain biking, but Calderdale has to be among the best routes in the country.
It's the best technical riding area in England with plenty of routes, including the "Mary Towneley Loop" which is 47 miles long with some serious challenge in beautiful nature.
People spend years exploring the relatively small area finding new bits and places, but spending a week in one of the cottages in Yorkshire is often enough. Yorkshire-cottages.info
When you're in the area or are staying in the holiday cottages Yorkshire dales, I should also mention that it's worth checking out the Yorkshire dales national park, where it's also possible to mountain bike or cycle.
Karavanke Alps – Slovenia
What puts Slovenia on our list is not only that it offers some incredible mountain biking, but that the place is rather "undiscovered" and therefor it almost never gets crowded on the trails and you often have the whole place to yourself.
The trails here were cut by mules, huntsmen and miners over a long time, but have only recently been discovered by mountain bikers.
Morzine – France
The small French town Morzine sees itself as the heart of Alpine mountain biking, and with over 23 lifts and hundreds of kilometers of trails for both free ride and cross country bikers, this is a place that has it all.
While many people go to Morzine for their winter holidays, this place is just as good during the summer months for a bit of mountain biking and adventure sport.
Beautiful Sites in Europe
Europe is one of the most breath taking places to visit due to its natural beauty and vast range of luxury holiday destinations.
There are so many amazing countries to visit each filled with beautiful sites and their unique cultural identity.
When you visit Europe, there are some places that you cannot miss out on, and most are available to see on an escorted tour for added value.
The following list represents the best of the best when you are planning your trip across Europe.
Paris, France
Paris Beautiful Sites in Europe
Paris is classic European elegance at its finest, you can wander the cobblestone streets near the Seine or admire works of art in small Parisian galleries.
One thing that you cannot miss is the Eiffel Tower standing in all of its beauty above the French capital.
You can climb the tower to see the breath taking skyline of Paris or admire it from afar in all its glory.
Perhaps the best time to see it is at night when hundreds of lights twinkle against the night skyline illuminating the Eiffel Tower for all to see.
Paris is incredible itself, but no trip can be complete without gazing on this beautiful site.
Rome, Italy
Rome Beautiful Sites in Europe
Rome is the seat of ancient civilization.
You will see some of the most incredible ruins of the Western world in Rome.
From the Colosseum to the Baths of Caracalla, you need to visit Rome with plenty of energy to see everything!
There are monuments, arches, columns and ancient roads galore to explore and visit in Rome.
There is so much to see that you will need several days to space everything out.
If your idea of the incredible is seeing remnants of ancient architecture, then Rome is for you!
As you can see, Europe is full of amazing places both modern and ancient that need to be discovered.
Best City Tours In Europe
In recent years, guided city tours have become more and more popular throughout Europe – tours like the "Hop-On-Hop-Off" buses are now in pretty much every capital city across west and central Europe.
I think the reason why this sightseeing bus has become so popular is because they don't just drive around the city talking about all the monuments and places they drive past, but they actually let you get off and explore the place, and then jump on the next bus an hour or so later.
People don't want to see the city from the window anymore, they want to reach all the places of interest and be able to choose where to get off.
Another reason is of course that many of the city buses give you a pretty good deal, especially with discount coupons.
Other types of tours like walking city tours and free city tours are increasing even more in popularity.
Berlin Free Walking Tour
Walking is most often one of the best ways to explore a city and see more of it, but often visiting all these different monuments is boring if you have no idea what you're looking at, which is why guided tours are so popular.
These days it is even easier for people to do it, because it doesn't have to cost a fortune anymore – in fact, it's free.
Berlin's free guided vacation tours are one of the best and most praised in Europe, I don't know anyone who has not been pleased with the tours.
The tour guides are young students who have a passion for the city, its history and people, and who know how to tell a story and be entertaining.
The good thing about these free city tours is that anyone can afford it.
The students are paid by tip, and you pay what you think the tour was worth and by how much you can afford – don't worry, the guide usually doesn't even look at how much you give, so don't feel pressured or bad if you can't afford paying much.
Stockholm Boat Tour
Stockholm is surrounded by water everywhere, which isn't very surprising since the city is made up of several islands.
The best way to see this beautiful city and its surroundings is by a boat tour.
The boat tours take you around to different places, from the island where the Old Town is based to the island where the famous Vasa ship can be found, and do make a stop over at Skansen which is on the same island, the first open air museum in Scandinavia which gives the visitor a great insight into Swedish culture and history.
Some city boat tours even take you all the way out to the islands where the locals have their summer houses and where you can go swimming.
With some of the boat tour tickets you also get free entrance to the amusement park Gröna Lund.
Amsterdam Bike Tour
One of the best ways of exploring Amsterdam is by bike, but while the city is easy to get around in on a bicycle, it's sometimes difficult to find your way on the map among all the canals and bridges.
Take a bike tour where the guide shows you the best parts of the city, from the most famous streets and and buildings to the local treasures unknown to tourists.
Some bike tours even take you to the outskirts of the city where you'll find some beautiful parks and countryside with windmills and tulips.
To save even more, you can check out hotels.com voucher codes for a cheaper hotel, because as we all know that is usually the part that costs the most.
(photo credit: 1)
What are the Different European Regions?
Europe is the second smallest continent based on land area but it is also one of the most powerful based on economic strength and political influence.
It has been the home of two powerful empires: the Greek and Roman civilizations.
Today, the largest and most powerful cities in Europe include: Paris, France, London, United Kingdom, Rome, Italy, Berlin, Germany, Madrid and Barcelona Spain, Moscow and St. Petersburg, Russia, and Istanbul, Turkey.
These cities are not just large based on their land area, they are also highly populated.
Most tourists visit these cities especially during the peak seasons.
How Many Countries In Europe?
Europe's population is above 700 million but it is slowly declining.
That is the reason why some countries are welcoming more immigrants.
Due to the rush of immigrants and Europe's rich history, this continent's culture is very diverse.
Its inhabitants speak around 255 different languages.
This continent is comprised of several peninsulas and some islands.
It has many coastal areas and is surrounded by different bodies of water which are the Atlantic Ocean to the west, Arctic Ocean to the north, and the Mediterranean, Black, and Caspian Seas to the south.
The main land Europe is also bordered by Asia and some parts of Africa.
Read through this article to know what are the different European regions based on different categories.
Transcontinental Countries
There are a number of Transcontinental countries which are in two continents at the same time.
Georgia, Turkey, Russia, Azerbaijan and Kazakhstan are considered to be located in both Asia and Europe, so depending on who you ask you will get a different answer to whether they are a European country or not.
If you include the transcontinental countries the number of countries in Europe would be 50 internationally recognized sovereign states with territory located in common definitions Europe and/or membership in international European organizations, of which 44 have their capital city within Europe.
All except the Vatican City are members of the United Nations (UN), and all except Belarus, Kazakhstan and Vatican City are members of the Council of Europe.
Micro-states
There are also a number of micro-states in Europe.
Due to their size they are most often closely linked with another larger state.
The Vatican city is a perfect example of this, located in Rome, the capital city of Italy it is very closely linked with Italy.
The Vatican City, Andorra, Monaco, Lietchenstein and San Marino are usually considered to be the micro-states of Europe.
There are a total of 50 countries and 6 dependent states in Europe which could be divided into different regions based on culture, politics, economics, religion, and geographical characteristics.
Culturally, Europe can be divided based on the tribal ancestors of the citizens of each country.
For example, we can clearly see the distinct cultural characteristics of the Scandinavian Nations or the heritage of countries which found their roots from different Germanic tribes.
Politically, Europe is classified into European Union and non-European Union Countries.
The European Union is considered as one of the strongest politico-economic organisations of the world.
It is comprised of 28 European countries which support each other in making political and economic decisions.
There are also economic and political influences in Europe that can be divided into four spheres or blocs.
These are the German Sphere of Influence, The Nordic Regional Bloc, Visegrad-plus and the Mediterranean Europe.
The German Sphere of Influence is comprised of economies which depend on German trade for economic benefits.
They do not see Germany as a threat, but rather as an aid in their economic pursuits.
The Nordic Regional bloc is composed of non-euro-zone countries which do not see Germany as a competitor or as a partner.
These countries do not favor Russia's resurgence.
Meanwhile, the Vise grad-plus bloc is a mix of countries from different spheres.
They only support each other for security purposes.
Lastly, the Mediterranean countries help each other in protecting their Middle Eastern and African borders.
Most illegal immigrants come to this country via routes in Turkey and the seas.
This year, some of these countries have received many war escapees from Libya.
Most of them traveled by the sea and drowned but some still reached the European shores.
Based on religions, Europe can be divided into four groups:
Catholic, Orthodox, Protestant, and Muslim Countries.
The headquarters of the Catholic Church is located at the Vatican City so many countries that are near it are Catholic majority.
The Catholic majority countries are Andorra, Austria, Belgium, Croatia, France, Germany, Hungary, Ireland, Italy, Liechtenstein, Lithuania, Luxembourg, Malta, Monaco, Poland, Portugal, San Marion, Slovakia, Slovenia, and Spain.
On the other hand, Orthodox countries include Belarus, Bulgaria, Cyprus, Georgia, Greece, Macedonia, Moldova, Montenegro, Romania, Russia, Serbia, and Ukraine while Protestant countries include Denmark, Finland, Iceland, Latvia, Norway, and Sweden.
Lastly, Muslim European countries include Albania, Bosnia and Herzegovina and Turkey.
The other European countries that are not mentioned in the lists above do not have specific religious orientations.
According to the United Nations Statistics Division Geoscheme, Europe can be geographically divided into four regions.
These are Western, Eastern, Northern, and Southern Europe.
This scheme has been used by the United Nations (UN) as an internal tool only for its statistics division, so it is not used by all divisions of UN.
Some of these regions overlap, but it is still a useful guide in categorizing each division.
Western Europe include 9 countries
According to the UN statistical scheme this region includes nine countries:
Austria, Belgium, France, Germany, Liechtenstein, Luxembourg, Monaco, Netherlands, and Switzerland.
Some of these countries can also be found in other geographical divisions.
During the cold war, Western Europe has been politically characterized by the influence of the United States of America in this region.
Some of the historical events that occurred in Western Europe are the Renaissance period and the Reformation.
The topography of this region is characterized by western uplands which are mainly composed of hard, ancient rocks that were formed by glaciation.
This is a process of lands being transformed by ice or glaciers.
These countries mostly have lakes, marshlands, and fjords.
One of the famous lakes found in this region are the blue lagoons of Iceland.
Eastern Europe has 10 countries
This region includes ten countries:
Bulgaria, Belarus, Czech Republic, Moldova, Poland, Hungary, Romania, Slovakia, Russia, and Ukraine. Again, some of the countries on this list can also be found in other divisions.
Most of the people in this region speak Bulgarian, Croatian, Czech, Hungarian, Polish, Romanian, Slovak, Slovenian, and Serbian.
During the cold war, Eastern Europe has been politically characterized by the influence of Soviet Union and the prevalence of communism.
Based on religious dominance, Western Europe is primarily Orthodox.
The topography of this region is characterized by the Caucasus Mountain, Ural Mountains, and Ural River.
This region is quite close to Asia so some of the countries here have also been influenced by Asian culture, mostly Chinese.
Northern Europe
This region is comprised of the Scandinavian Peninsula, the Jutland Peninsula, The Baltic States, the British Isles, the Low Countries, Iceland, and the islands that lay near the mainland northern Europe which includes Greenland and the Faroe Islands.
The Scandinavian Peninsula is the largest peninsula in Europe.
Geographically, the Scandinavian Peninsula covers Sweden, Norway, and a large art of northern Finland.
It is surrounded by different bodies of water including Baltic Sea to the east, North Sea and Norwegian Sea to the west, and Barents Sea to the North.
Culturally, Scandinavia is the cultural region of Sweden, Denmark, and Norway.
Most of the languages in this region have been derived from Old Norse.
These languages, also known as North Germanic languages, are Norwegian, Danish, Icelandic, and Faroese.
The Jutland or Cimbrian Peninsula covers the mainland part of Denmark and some parts of northern Germany.
The name of the peninsula has been derived from the Germanic tribe called Jutes, which formerly invaded Denmark.
This peninsula is characterized by wide plains, open lands, and peat bogs.
The Baltic States are Estonia, Lithuania and Latvia.
These are the states that mostly border the Baltic Sea.
On the other hand, the British Isles include two states: the United Kingdom and the Republic of Ireland.
The confederate nations of UK include England, Scotland and Wales.
It also has dependent territorial islands such as the Isle of Man, the Bailiwick of Jersey, and the Bailiwick of Guernsey in the Channel Islands.
Lastly, the Benelux or Low Countries include Belgium, Luxembourg, and the Netherlands.
Generally, the weather in this region is temperate and subarctic.
This region is characterized by wide tundras, temperate coniferous forests, boreal forests, high mountains, broad leaf forests, and highlands.
With the exception of the British Isles, northern Europe is known for its extremely cold climate and harsh winters.
Southern Europe
This region is comprised of the Iberian Peninsula, Italian Peninsula, the Balkan Peninsula, and the island country of Cyprus.
Expats' Rural Living in Cyprus
The Iberian Peninsula countries include Andorra, Gibraltar, Portugal, and Spain. Meanwhile, the Italian Peninsula is the home of Italy, Vatican City, Monaco, Malta, and San Marino.
Lastly, the countries in the Balkan Peninsula are Albania, Bulgaria, Bosnia and Herzegovina, Croatia, Greece, Kosovo, Macedonia, Montenegro, Romania, Serbia, and Slovenia.
Southern Europe's topography is characterized by small plains, dry hills, blue Mediterranean seas, pine forests, and olive trees.
The climate here is subtropical meaning the countries here have warmer summers than other parts of Europe.
These countries also rarely see snowy winters.
The people living in this region generally use the Romance language family which includes Italian, Portuguese, Spanish, and Catalan.
Some people in this region also speak Greek or Hellenic language, South Slavic language, and Basque language.
Europe's southern region is predominantly Christian, with most countries being a Catholic majority.
Christianity has been widely spread in southern Europe during the Roman civilization.
Specifying the exact midpoint of Europe is quite difficult.
That is why some of the countries in these regional divisions overlap.
Nonetheless, these regional separations can give you a good idea of how to distinguish the different European countries based on their geographical locations, topography, climate, political affiliation, economic strengths, languages, and culture.
How Many Countries In Europe?
Ask this question to 15 different people and you will get 15 different answers, while most continents in the world are very well defined,
Europe is almost more like a concept.
However, experts say there are 44 countries in Europe.
Exactly how many countries are in Europe is hard to define, since some countries are on two continents at the same time – Istanbul, a city in Turkey, is actually situated both in Asia and in Europe.
(photo credit: 1)