Best Time to Visit Scotland – A visit to the United Kingdom is not complete without a trip up north to Scotland. Famous for its rolling highlands, historic cities, and proud culture, Scotland is an experience you don't want to miss. We'll show you how to plan your ultimate Scottish vacation.
Best Time to Visit Scotland
The best time to visit Scotland is really just the time that best coincides with your ideal vacation. This being said, there's a definite "high" and "low" season for tourism in Scotland.
Scotland Tourist Season
Scotland has a moderate to cold climate. The hottest time of year is during summer, which is undoubtedly when peak tourist season occurs. Undoubtedly, it's the most pleasant time to visit Scotland, with warm temperatures giving rise to increased hustle and bustle, with more things to see and do. You might just want to accept the higher hotel rates to visit Scotland during summer.
However, if you want to skip the crowds at some of Scotland's most popular attractions, you may want to visit during the shoulder seasons of Spring and Fall. Temperatures are colder, but still bearable, and you should be okay with light cold-weather gear.
Winter sees temperatures drop even further, but it rarely goes below freezing. If you really want to save on accommodations, book a trip during winter.
Scotland Weather
Scotland is characterized by its temperate oceanic climate. However, due to the its immense coastline and differing elevations, you'll see a lot of variability in conditions temperature conditions throughout the country. This includes colder temperatures as elevations rise, and specific windy areas by the coast.
All things consider, Scotland is milder than you might expect given its northern latitude. The capital city of Edinburgh sees summertime highs of about 60-65F, with lows about 47-50F. Spring and fall see highs around 50-58F, with lows around 35-42F. Winters are cooler, with highs around 43-47F, and lows around 32-34F.
Luckily, you don't need to worry about "wet" or "dry" season, because most of Scotland sees consistent precipitation year-round! The country is characterized by overcast skies and drizzly conditions, so be sure to pack a raincoat and umbrella.
What to Do in Scotland
Now that we've covered when to visit Scotland, let's cover what to do while there. There's a lot to see and do, so we'll rundown our favorite cities, towns, historical landmarks, and natural attractions.
Best Time to Visit Edinburgh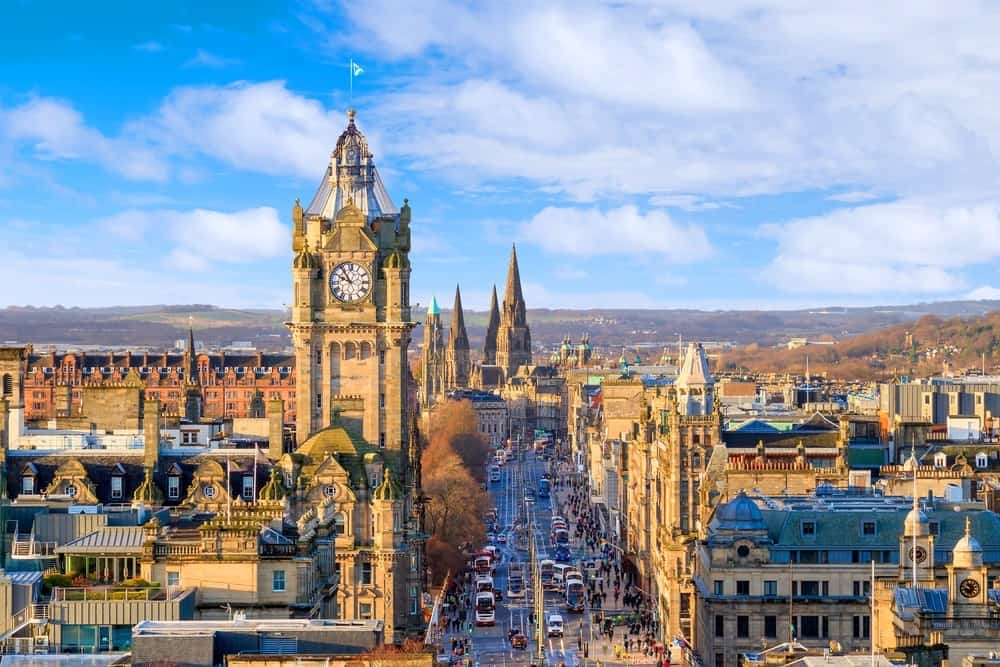 Edinburgh is Scotland's capital, and our favorite city to visit. It's absolutely packed with historical significance, including castles, churches, pubs, statues, landmarks, and so much more. It's an excellent mix of old and new, with preserved neighborhoods contrasting up-and-coming developments, shops, and restaurants. A jaunt through Old Town and New Town will help you appreciate this difference.
Edinburgh has no shortage of museums and galleries to celebrate Scotland's history, but you could just as easily spend an afternoon in the pub. It's very walkable, with plenty of parks scattered throughout, and there's something new to discover around every corner.
Best Time to Visit Glasgow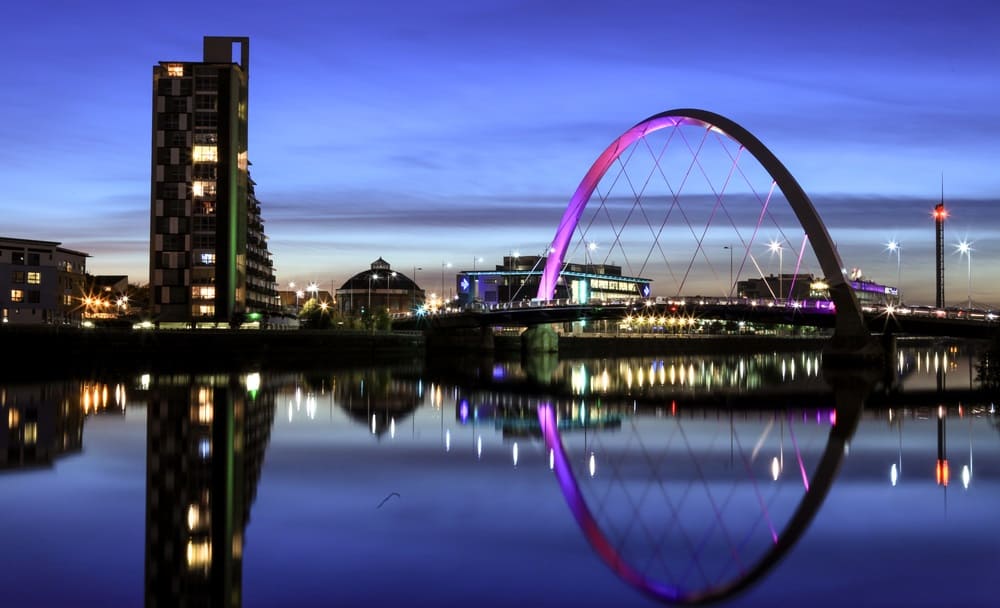 Glasgow is Scotland's most-populous city, and it owes most of this growth to its large seaport, and its situation on the River Clyde. Compared to Edinburgh, Glasgow has always had a "blue collar" reputation, but that also makes it a hub for culture, and you'll find many hip restaurants, bars, and boutiques. Glasgow also has a lively night-life, with dance clubs, pubs, or whatever you're looking for.
As with any city in the United Kingdom, Glasgow is packed with historical landmarks that date back centuries. Lots of historical architecture including castles, houses, churches, and much more. This history is complemented by museums where tourists can learn more about the city.
Best Time to Visit St. Andrews
St. Andrews is perhaps most famous for its golf course, the "Old Course", which actually is considered the oldest golf course in the world. Of course, golf was invented in Scotland, so it's not a big surprise. Being a public course, tourists can walk the course for free anytime, but there will always be a substantial wait-time to play the course. Nonetheless, the course is immaculately kept, and it's no wonder it's played host to the PGA Open Championship almost 30 times. Also check out the nearby British Golf Museum to learn more about the history of the game.
St. Andrews is well-worth visiting for the town itself. It's a quaint town located on the east coast of Fife, north of Edinburgh. Walk the main drag for quaint shops, pubs, restaurants, and historical significance. It's home to St. Andrews University, one of the best regarded Universities in Scotland, so you'll find plenty of young people and a lively culture.
Best Time to Visit Aberdeen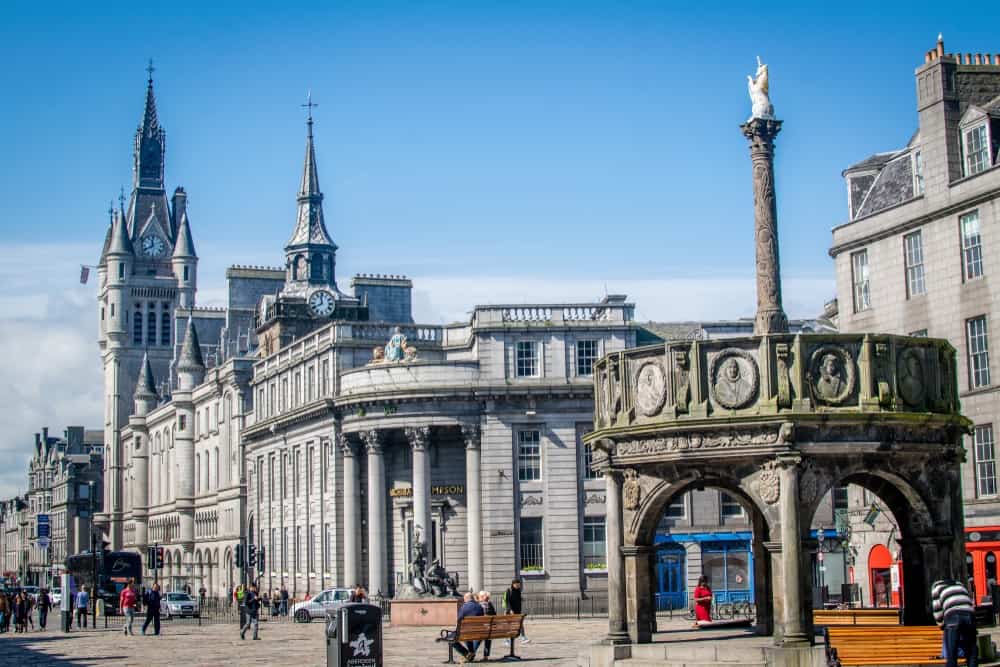 Further north in Scotland is Aberdeen, a port city located at the intersection of the Dee and Don rivers on the North Sea. Aberdeen is a quaint city packed with character, and we recommend checking it out on foot. Check out the historical architecture, grab a bite to eat, stop at a café, or check out one of the golf courses right in town. It's Scotland's third-largest city, and that makes it the perfect size for soaking up in a day or two.
Aberdeen is right on the sea, and there's a long, sandy shoreline to check out. The city has many parks and greenspaces, which is a great place to stop for a break before continuing your tour. The city has become a popular hub for business, due to offshore oil.
What to Do in the Scottish Highlands
The Scottish Highlands are a tourist experience unto their themselves. Comprising the entirety of northeast Scotland, the Highlands are a massive, mountainous regions that are full of rolling landscape and gorgeous natural sites. The Highlands are much more sparsely populated than the Lowlands, so natural beauty takes centre stage. Here are our favorite attractions:
Best Time to Visit Loch Ness
Perhaps the most famous attraction in the Scottish Highlands, Loch Ness is Scotland's largest loch, nearly 23 miles in length. Of course, the reason for the loch's worldwide fame is due to the famous tale of the Loch Ness Monster or "Nessie". Tales of Nessie date back to the early 500s, although the monster only entered common knowledge in the early 1900s.
But even if you aren't interested in these tall tales, Loch Ness remains an excellent place to visit for its excellent scenery and wealth of things to do. There are plenty of boat tours which take you out onto the loch (from any of the towns around Loch Ness). The area also features the green, rolling landscape of the Scottish Highlands, meaning there are many places to hike and explore. A particularly popular site among tourists is Urquhart Castle, which sits on the edge of the loch, in Drumnadrochit.
Best Time to Visit Isle of Skye
The Isle of Skye is an island on the northwest coast of Scotland, and is renowned for its natural beauty and interesting landscape. The Isle of Skye is peak Scottish Highland, featuring everything the region is famous for and more. Rolling vistas, jagged rock formations, lakes and ponds, cliffside coastlines, all tied together in a lush greenery.
The largest town in the region is Portree, which many visitors use as a home-base, making daytrips to see what the Isle has to offer. Perhaps the most popular site is the Quiraing, a series of jagged rock formations. The area also offers a surreal view of the surrounding landscape, so it's easy to see why so many day-trip out to the area.
Best Time to Visit Cairngorms National Park
Cairngorms National Park is the largest National Park in the UK. It's located in the centre of the Highlands, and offers a whole lot to see and do. Being such a large area (nearly 1,800 sq. mi.), it features every bit of the Highlands iconic geography. Mountains, rolling hills, lakes and streams, and much more. There are many trails for hiking, sightseeing, and exploring. It also contains many of Scotland's highest peaks, and multiple ski resorts. The area is dotted with historical significance, including castles and manors. You might also get a glimpse of some reindeer that populate the region.
The Cairngorm Mountain Railway takes tourists into the park's highest elevation, where they can enjoy interesting hikes and stunning views. Just be sure to pack warm clothing, because conditions can be quite cold and snowy.
Best Time to Visit Glencoe
Glencoe is another popular natural attraction in Scotland. "Glen" means valley, and this is one of the most picturesque valleys in the Highlands. Located in western Scotland, the valley is also home to the village of Glencoe, which is situated on Loch Leven.
The valley is wonderful to explore with rolling landscapes, bumbling streams, and rocky trails. Its proximity to Loch Leven also makes it a great spot for water activities, checking out the village, or wandering the coastline. If you're short on time, you can drive through the valley by car, but we definitely recommend exploring on foot when possible.
Scotland Festivals & Events
Now that we've covered what to do, let's get a little more local and check out some of Scotland's best annual events. These are just a few of our select favorites. If you're lucky to visit Scotland during any of these events, be sure to check them out!
Edinburgh Film Festival – One of Scotland's most popular film festivals. Started in 1947, it's actually the world's longest continually running film festival. It puts the focus on UK filmmakers (with internal entries as well), showcasing talent from up-and-comers and established professionals. The festival runs two weeks in June every year, and it's a great place to catch some unique cinema you wouldn't see elsewhere.
Highland Games – The Highland games are an athletic competition which date back hundreds of years. If you're trying to get a true taste of classic Scottish competition, this is it. There are many Highland Games events held in Scotland throughout the year, with the biggest being the Braemar Gathering in September. Sports in the Games are often "tests of strength", including hammer toss, shotput, caber toss (with a large log), and even tug of war. You'll also see plenty of Highland dancing, with no shortage of kilts.
Tartan Heart Festival – Taking place each year in late-July or August, the Tartan Heart music festival is one of Scotland's biggest, drawing famous acts from the UK and around the world. It's a lively outdoor musical event. It's also billed as a "family-friendly" music festival, with tickets being sold to children, and accessible fun for people of all ages. The event is held on the Belladrum Estate near Inverness, and many visitors camp on the grounds for the duration of their stay. Definitely worth checking out if you're in Scotland during summertime.
When to visit Scotland
Thanks for reading our comprehensive guide to your Scottish vacation. A Scottish vacation is packed with history, natural beauty, and good times. But with so much to see and do, it's hard to fit it all in. Use our guide to craft the Scottish vacation that is right for you!
FAQs
Does it snow in Scotland?
It depends where you are in Scotland. In the Lowlands, it tends to snow very little, with about 20 days of snowfall. The snowfall generally happens overnight, and melts quickly. In the Highlands, with its rising elevation, there are areas where snowfall is more frequent (about 100 days), and where it will stay on the ground longer. In fact, there are 5 downhill skiing resorts in Scotland.
What is the best time to travel to Scotland for golf?
Golfing in Scotland is ideal in Spring, Fall, and Summer. Of course, summer has the most pleasant weather for golf, but it's also when you'll find the most expensive rates and the most competition for tee times. Spring and Fall is easier to book, but it can become quite cold, so you may want to wear a sweater. Winter is not an ideal time for golf in Scotland, and many courses shut down for the season (usually from November to April, but it's weather-dependent).