Last Updated on July 7, 2022 by Aswetravel
Best Time to Visit India is an exotic, cultural experience for travelers the world over. From the Himalayan alpine region in the north, to the balmy, tropics of the South, and all the massive urban-centers in-between, India has something for every traveler. We'll help you plan your ultimate Indian vacation, including when to go, what to do, and what to see.
Best Time to Visit India
The "best" time to visit India will depend where you're going, and what you want to see in this enormous nation. Planning your trip requires an understanding of the climate and seasonal patterns in India, which we'll explain in this section.
India Climate ~ Tourist Season
India has a high & low season for tourism that is mostly dictated by the weather. However, India is a very big nation, with different geographic conditions that lead to drastically different weather patterns across the country.
As such, northern regions can become quite cold during winter, while southern, tropical regions remain hot year-round. To give a rough summation, the north of India features cooler temperatures, the south features a tropical climate, and the middle of India is hot and dry. Here are more details:
Seasons in India
It's difficult to describe India in terms of traditional seasons. It makes more sense to break up their seasons into a winter, a summer, and a monsoon season. Due to the sweltering temperatures and periods of precipitation, we think the best time to visit India is from November-February. Here's why:
What most effects India's tourism is monsoon season. Monsoon season hits different parts of India at slightly different times, but usually starts at the end of May or early June, and works north across the country from there. Monsoon season persists throughout the summer, with precipitation tapering off until October. The east coast of India is hit with another monsoon burst during November and December, which is a short but powerful monsoon. The rest of India isn't as affected by this monsoon.
"Summer" in India lasts from March-May, ending abruptly with the start of monsoon season. It's considered summer because it is the driest time of year when temperatures are highest. The most sweltering conditions are seen in central India, where temperatures routinely reach 105F during the day, with pounding sun all day long.
Temperatures are cooler up north, which actually makes this an ideal time to visit the Himalayan regions. It also stays cooler in the South of India, with its tropical climate, although the air is more humid. Also, "cooler" is a relative term, as these areas still hit 95F with regularity.
The other side of monsoon season is winter, which lasts from November to February. In fact, we'd recommend this period as the best time to visit most of India, particularly southern and central India. Temperatures cool off, and you avoid the unbearable heat of summertime. India's southern beaches see tourist traffic during this time. Travellers often avoid the Himalayans during winter, because they get quite cold, with frequent snowfall.
Things to Do in India
Now that we've covered India's complicated climate, and when you should visit India, let's get to the fun stuff. Here are some of the best places to visit on your Indian vacation:
Best Time to Visit New Delhi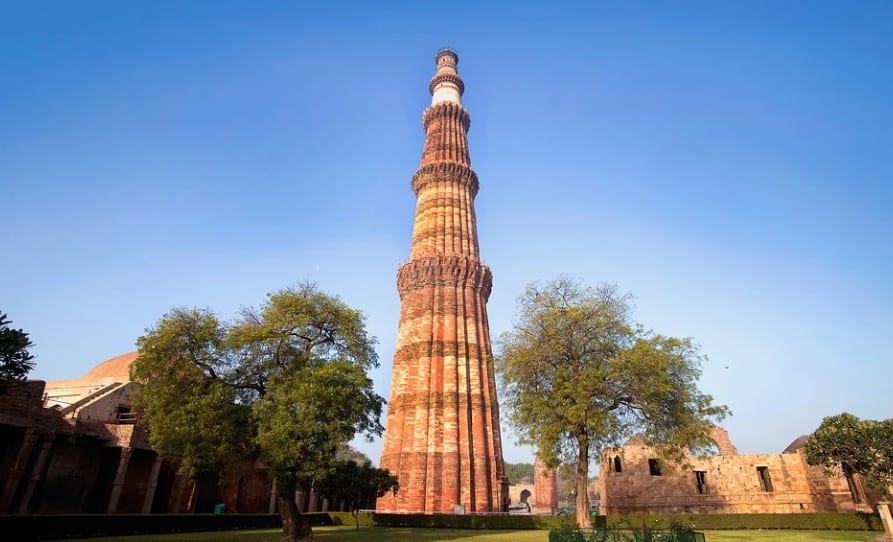 New Delhi is India's capital city, the centre of its government, and one of its busiest metropolitan areas. New Delhi is located in Northern India, with a total area of 16.5 sq. mi.
New Delhi is where you can truly begin to appreciate the hustle & bustle of the Indian urban lifestyle. Streets are chaotic, sometimes with cows wandering about, and cars, bikes, and segways zip around. There is plenty of historical architecture to appreciate, including the Qutub Minar, a massive sandstone structure dating back to the 1100s.
The city is made of many different districts with vast contrast between rich and poor. Definitely know which areas are safe for tourists, and don't wander too far off the beaten path. Either way, it's a fascinating city to explore, offering the "culture shock" that so many tourists appreciate.
Best Time to Visit Beaches of Goa
In stark contrast to massive urban-centres like Delhi are the sandy shores of Goa, with its sprawling beaches and clear, blue waters. Located on India's western shoes, Goa is a beachfront destination featuring luxury accommodations and a laid-back beach lifestyle. Goa is dotted with settlements that range from tourist-y to quaint fishing villages, and everything in between.
Beaches sprawl as far as the eye can see, meaning there is plenty for everyone. Popular beaches include Candolim Beach, which sees tourist traffic during summer and winter. A former colony of Portugal, you'll see the European influence throughout Goa, both in its colonial architecture and Portuguese cuisine. Visit Old Goa for a true sense of the history of this region.
Best Time to Visit Ladakh
Ladakh is located in northern India, and is actually a heavily disputed territory. But politics aside, it's a fantastic place to visit, tucked away in the mountains, with crisp air, towering peaks, plateaus, lakes, and streams. The area is quiet and serene, with a low local population. The region is large, with plenty of activities offered to tourists. Ladakh is popular for its mountain treks, which range from short to weeks long, with overnight camping and true isolation. You'll also find white-water rafting, climbing, and more.
Ladakh is truly an experience unto its own. Tucked away from the rest of India, its unique landscape is an essential stop on your trip.
Best Time to Visit Taj Mahal
Home to the Taj Mahal, Agra is one of the most visited cities in all of India. Located south of New Delhi on the Yamuna River, Agra is a bustling city on its own, with plenty to see and do, but it's hard to deny that the Taj Mahal's individual fame hasn't overshadowed the city as a destination.
All this being said, the Taj Mahal is well worth a visit. The pure white mausoleum is a feat of architecture. Commissioned in the 1600s to house the tomb of an emperor's wife, the Taj Mahal continues to be considered a "monument to love", and is a romantic vacation destination to tourists throughout the world. Perhaps India's most recognizable landmark, you can expect large crowds at Taj Mahal at any time of year, but especially during peak season.
Best Time to Visit Kashmir
Like Ladakh above, Kashmir is another region that is hotly contested on a geo-political scale. Also like Ladakh, it is a wonder to visit. Located in Northern India, Kashmir is a valley region that features lush vegetation, rolling hills and valleys, clear lakes, and more. Kashmir is a popular destination for outdoor adventurers, with so many treks, hikes, and trails to discover. It's also popular for outdoor activities like fishing, rafting, and even downhill skiing (in the winter).
Of course, there's plenty of history to discover in Kashmir. The area is packed with religious and historical landmarks, many of which serve as sites for pilgrimages.
Best Time to Visit Rajasthan
Located in Northwest India, and near the border to Pakistan, is Rajasthan, a territory packed with cultural significance and charm. Tourists often visit the city of Jaisalmer, which is located right in the Thar Desert. You can taste food authentic to the region, or marvel at the gorgeous architecture as you walk.
Rajasthan has a culture and feel that you won't experience elsewhere in India. It stands as an example of the true depth of variety that you can pack into an Indian vacation. We could go on and on with this list, but we have to stop somewhere!
Festivals and Cultural Events in India
India is a land of diverse faiths, and actually home to four of the world's major religions (Hinduism, Buddhism, Sikhism, Jainism). Hinduism is the most practiced religion in India, followed by Islam and Christianity. Basically, there are many events of cultural and historic significance across India all year. Here are a few that are well worth checking out:
Diwali – Diwali (the Festival of Lights) is one of the most significant events on the Hindu calendar. Diwali usually takes place from mid-October to mid-November, and you can find celebrations all across India. Houses are lit up with candles and lights, people gather to share food, and city streets and markets come alive with celebration. You'll also see many people lighting off fireworks and firecrackers. It's a joyous time, meant to be shared with friends and family.
Holi: Festival of Colors – The festival of colors takes place across India in March, with livelier celebrations generally taking place in Northern India. The festival of colors is a true joy to watch and to take part in. People gather in city squares and across the country to cover each other with "colors". Be it water guns, dry chalks, colored liquids, and more, it's an event that is generally a good time all-around. Holi has even also begun gain popularity in other areas of the world.
Dussehra – Dussehra is another major festival in the Hindu religion. It takes place in October, and is done to celebrate the death of the demon king Ravana. Celebrations and festivals differ across India, but one of the highlights in many places is the burning of huge effigies to symbolize their defeat. Despite its celebratory nature, it's quite a religiously significant celebration.
When to visit India
Thanks for reading our guide to India. It's difficult to sum up such a massive nation which is equal parts culturally and geographically diverse. Just know that there is a lot to see and do in India, but you have to decide what best suits your vacation plans. Use our guide to plan your ultimate trip!
FAQs
How Long to Spend in India?
India is huge, with many distinct climate zones, urban areas, regions, and so much more. Basically, you could spend as long in India as you want and not run out of things to do. Short vacations to India might consist of a visit to a major city, a tropical region in the south, or the Himalayans in the north. It might be best to segment your vacations like this, so you can concentrate your planning. We recommend at least a week in any of the above locations.
When is Monsoon Season in India?
Monsoon season runs throughout India from May-October, although different regions throughout India experience monsoon season differently. There's another monsoon season effecting India's east coast in November and December, although much of the rest of India is relatively unaffected. October-May in most of India is "dry season" where temperatures in many regions become sweltering hot.