Best Time to Visit Cancun – Cancun weather makes it a popular vacation destination, but there's a lot more to Cancun than just all-inclusive resorts. With a water temperature made for swimming and an ocean breeze that helps relieve the humidity, We'll give you a full guide on what to see and do and cover the best time to visit Cancun.
Best Time to Visit Cancun
Cancun Mexico sees its fair share of visitors during the warm summer months and more temperate winter months, remaining a popular vacation destination for those from North America and beyond. That said, there is a distinct high and low season for tourists that you may want to consider:
Tourist High and Low Season
High season for tourism in Cancun is during winter. Cancun is hot year-round, but winters offer noticeably milder conditions (although still hot), so tourists flock to Cancun and the Riviera Maya to escape their harsh winters back home.
Peak season runs from December to March each year and is a fantastic time to visit Cancun. It's one of the rare times where, despite the more expensive hotels, we truly think that the best time to visit Cancun is during the high season.
Many tourists still do visit the region during low season, but conditions are decidedly less ideal. Summer in Cancun is hot and routinely reaches daily highs of over 90F (with lots and lots of sun).
The low season extends into the Fall because that is when Cancun receives most of its rainfall. You can expect thunderstorms and even hurricane-like conditions during Fall. However, these storms tend to pass quickly, and there's still plenty of good weather to be had!
Something else to note is that Cancun is a very popular party destination, particularly during Spring Break. Spring Break sees American and Canadian partygoers flooding the towns, beaches, and resorts surrounding Cancun. Different schools schedule different Spring Breaks, meaning the Spring Break season runs from February-April. If you don't like partying, loud music, and general debauchery, we'd suggest avoiding Cancun during this time.
Best Things to Do in Cancun
Now that we covered when to visit Cancun, let's check out what you can do while there. Our list will cover not only what to do in Cancun itself but also everything worth checking out in some surrounding areas.
Cancun is a popular hub destination due to its international airport. Many travelers visit Cancun to stay in one of the many resorts in the Riviera Maya or to Cancun's popular Hotel Zone (which juts out of the city into the Caribbean).
Here's what you should check out in and around Cancun:
Chichen Itza
Perhaps the most famous Cancun destination is Chichen Itza, a historic Mayan site that you've likely already seen pictures of. The most famous structure in Chichen Itza is El Castillo, a huge Mayan pyramid-like structure that held deep significance to the Ancient Mayans. But the entirety of Chichen Itza is full of fascinating Mayan ruins, which is why we suggest booking a tour to learn of the historical significance.
As far as tours are concerned, you'll find many tours of the area advertised around Cancun, the airport, and at any resort. We recommend that you go with a reputable tour that is well-reviewed to be sure you get your money's worth.
Hotel Zone/Avenida Kukulkan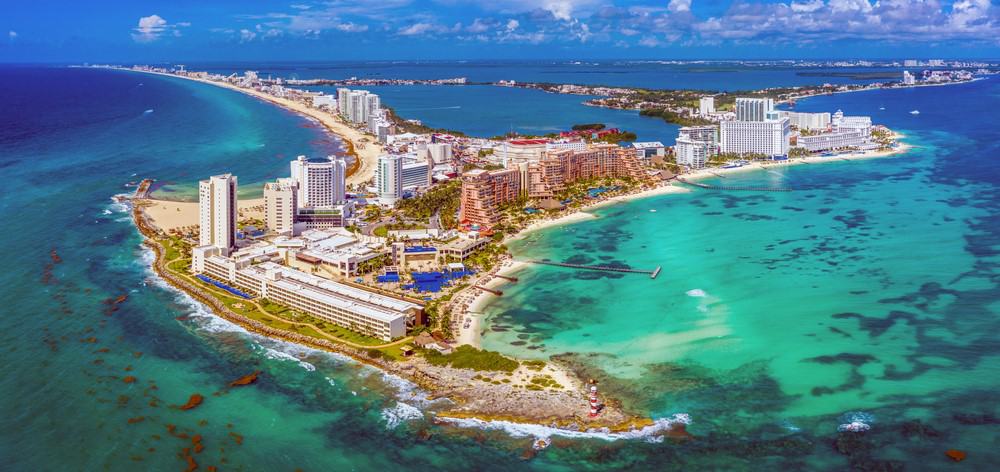 If you're booking a vacation in Cancun, you're likely to see many accommodations in the popular Hotel Zone. The Hotel Zone is a "7" shaped stretch of land that juts out of Cancun's downtown into the Caribbean. The hotel zone is packed with hotels lining white, sandy beaches, and features many bars, restaurants, and things to do. The hotels range from world-class, luxurious resorts to the more affordable.
Running through the hotel zone is Avenida Kukulkan – probably the most touristy street in Cancun, which runs right from Downtown Cancun through the hotel zone and beyond. Avenida Kukulkan is packed with bars, restaurants, shops, and more. The hotel zone is touristy and energetic, and there is plenty to see and do. You'll find warm weather, sandy beaches, cheap accommodations, and vibrant nightlife!
Isla Mujeres
Isla Mujeres is a popular island off the coast of Cancun in the Caribbean. It's accessible via a ferry, which takes about half an hour. Compared to the hustle of Cancun, the island is quiet and serene. You can hike around or visit the southern side of the island, which hosts some Mayan ruins. You'll also find nice beaches, cool rock formations, and plenty of natural sights. It's a great place to go to spend a relaxing afternoon and unwind.
Downtown Cancun
Although most tourists fly into Cancun to visit one of the area's many resorts or stay in its popular Hotel Zone along the beach, we strongly recommend checking out the city itself. There's a lot to see and do in the main city, and it's a great way to immerse yourself in Mexican culture. However, we recommend that you don't wander aimlessly because certain areas are much more safe-for-tourists than others – so stick to the main roads.
Most of the hotels in Cancun are on Avenida Kukulkan in the Hotel Zone, and many tourists never leave this area. If you're looking to check out downtown, we recommend a walk down Avenida Tulum. Avenida Tulum is a great spot to walk right through downtown, taking you past many restaurants, bars, shops, and more. There are lots of things to see and do, and it's all quite tourist-friendly.
Riviera Maya Resorts
We can't talk about Cancun without mentioning the world-class all-inclusive resorts lining the Riviera Maya. While Cancun is technically not part of the Riviera Maya, it sits directly to the North and is where most visitors to these resorts will fly into before their stay.
There's a reason that Mexico is such a well-known resort destination worldwide. All the resorts on the Riviera Maya have to compete ferociously for your vacation dollars, and the result is some of the most luxurious all-inclusive accommodations available for extremely fair prices (even during high season).
The all-inclusive resorts are packed with things to do, shows to see, and features all-you-can-eat (and usually all-you-can-drink). All situated along the white, sandy shores of the Riviera Maya, it's not a surprise that Cancun is one of the most popular resort destinations in the world.
Playa Marlin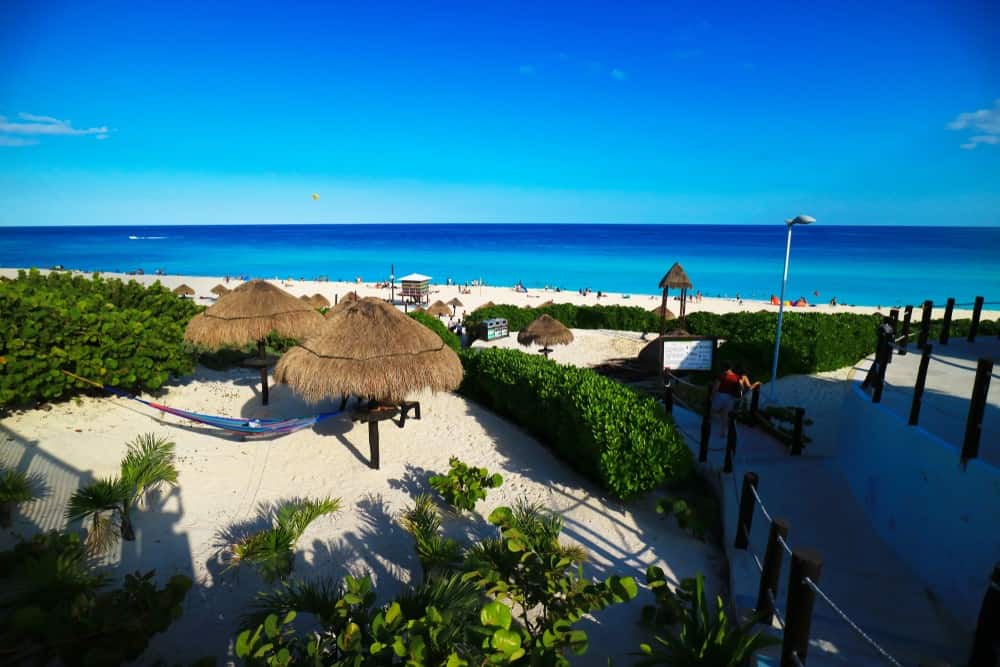 There are plenty of sandy beaches lining the hotel zone, but some tourists grow tired of the massive crowds during the high season. Playa Marlin is a sandy beach located just a short distance from the hotel zone, which receives much less tourist traffic.
Situated slightly south of the hotel zone's main area, Playa Marlin is pleasantly tucked away and frequented more by locals than tourists. You'll find a nice, quiet beach to enjoy the sun. And you're still within walking distance of plenty of shops, restaurants, bars, and more. Kukulcan Plaza, the area's main shopping mall, is just a short walk north.
Underwater Museum
The underwater museum (or Museo Subacuatico de Arte) is one of Cancun's most unique attractions. It's exactly what it sounds like, a museum situated entirely underwater. The museum consists of statues that sunk to the ocean floor that are viewable by people who scuba dive in the area (some are also viewable while snorkeling). The museum covers a few scuba hot spots between the hotel zone and Isla Mujeres in the Caribbean. Of course, you'll need to be an experienced scuba diver to experience the museum.
Cancun Festivals & Events
Cancun is a great way to soak up Mexican culture, and what better way to do so than by taking part in annual cultural events? Mexican culture is heavy on community, family, and celebration – so you won't be surprised to learn that Cancun is home to many festivals, parades, and events. No matter the time of year, there's something to check out. Here are some of our top picks:
Day of the Dead – Day of the Dead is celebrated in many areas of Mexico and has become one of Mexico's most renowned cultural traditions. Taking place each year from October 31st to November 2nd, Day of the Dead is centered around the Catholic celebration of All Saints' Day, and the tradition of celebrating friends and family members who have passed. The celebrations in Cancun are exciting, with grand parades, festivities, and more.
Carnival – Traditionally associated with South America, particularly Brazil (known as Carnaval), Carnival is celebrated across the world and is becoming more popular in the Riviera Maya region of Mexico. Cancun's celebrations have a yearly theme, and you can expect parties, parades, music, street performers, and much more! Carnival takes place each year in the Spring.
Independence Day – Independence Day marks Mexico's independence from Spain. The festivities take place each year on September 15-16. In Cancun, the main festivities are on Ave. Tulum (mentioned above), at the main government office. Locals gather to hear the ringing of the bell, which kicks off the festivities. Expect fireworks, parades, dancing, entertainment, and a general good time!
Best Weather for Cancun Visit
As you can see, there is more to Cancun than just a gateway to the Riviera Maya. There's plenty to check out within the city itself, and we've only scratched the surface in this article. Again, we think the best time to visit Cancun is also the most popular – during winter. Use our guide to plan your ultimate Cancun vacation!
FAQs
How Many Days Should You Spend in Cancun?
Many tourists visit Cancun as part of a vacation package, which typically includes a five- to seven-night stay in one of the many hotels or resorts. We think this is plenty of time to visit Cancun. You can see a variety of cool sites and have time left over to just lounge on the beach. If you're planning to see more of the Riviera Maya and the interior, then you might want to extend your stay. Some tourists spend all their winter months in Cancun, soaking up the sunny days when daytime temperatures reach as high as 83F.
When is the Rainy Season in Cancun?
The rainy season in Cancun runs from September to November, consistent with hurricane season along the Atlantic Coast and in the Caribbean Sea. September is the rainiest month, with October as a close second. The driest month is typically February, March, or April. Many tourists avoid Cancun during the wet season, but you can also find plenty of cheap accommodations. Even when there are rain showers, the weather in Cancun is hot and sunny most of the time, so there's not a bad time to visit Mexico.