Best Time to Visit Bali – One of the most popular island destinations in the world, Bali is a world-class destination whether you're into surfing or not. With its sandy beaches, sprawling rice fields, and laid-back culture, it's no wonder its tourism has held strong for decades. In this article, we break down the best times to go to Bali and what to do while you're there.
Best Time to Visit Bali
Your ideal Bali vacation will depend on many factors. The best time to visit Bali is the time that lines up with your personal vacation plans. That being, there are distinct high and low seasons to consider that will likely affect your decision:
Tourist High and Low Season
Bali's weather is pleasant all year round. As far as tourism, Bali's high season and low season are more determined by its precipitation levels than by its temperatures. The rainy season in Bali starts in late November and carries on until March. April to October are very dry, receiving almost no precipitation. Therefore, we think the best time to visit Bali is during the dry season.
Bali's temperatures are very comfortable, and many tourists still book their trips during the low wet season. Year-round, Bali's daily highs only fluctuate from roughly 87F to 92F, and the daily lows generally sit between 72 to 77F.
In other words, you can expect summer weather all year. Even during the rainy season, you'll find long stretches of great Bali weather every day. August is typically the driest month; January has the most rainfall, so you may encounter fewer crowds.
The peak season for visiting Bali is from April to October, but you'll still enjoy your stay any other time of year.
Things to Do in Bali
Now that we covered when you should visit Bali, let's get to the why. What is it about Bali that makes it such a renowned vacation destination? The truth is from the west coast to the east coast, Bali's tropical climate has a little bit of everything. There's so much to see and do whether you want an action-packed party vacation, a tranquil meditative retreat, or a lazy beach vacation. We've got something for everyone on our list. Here are the best places to visit in Bali Indonesia.
Kuta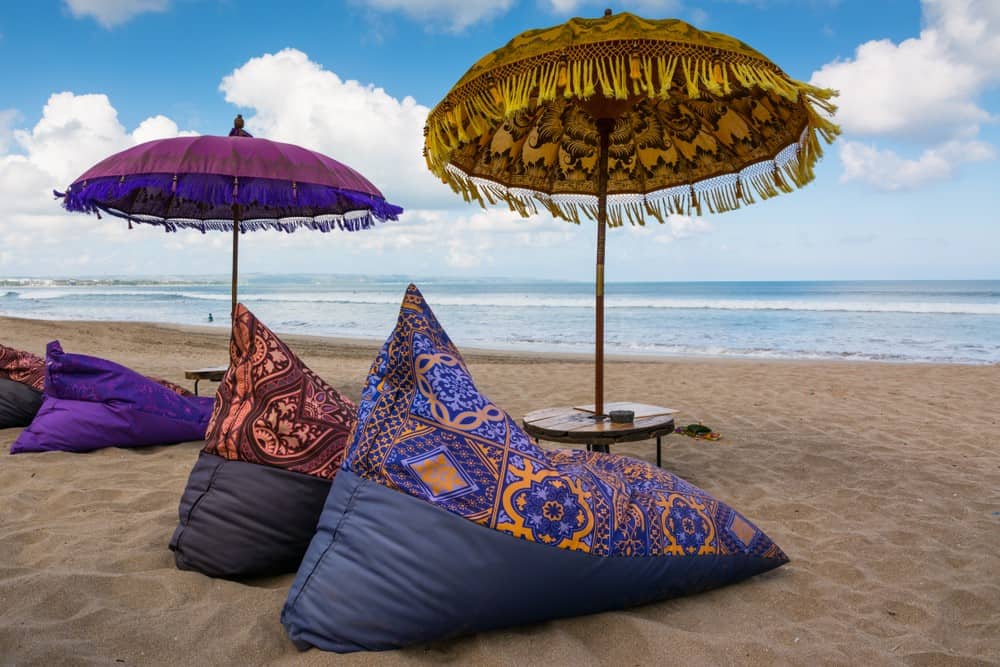 Kuta is Bali's most "touristy" town. Situated right on Kuta beach, it's a definite surf town, with plenty of restaurants, bars, shops, and more. The amount of youth hostels gives Kuta young energy and a party vibe, but there's also plenty of luxury accommodations if that's what you're after.
Perhaps the main reason for Kuta's popularity is that Kuta Beach is the perfect place to learn to surf. Waves are frequent, short, and gentle, and the most ideal conditions a surf novice could ask for. The beach is peppered with Bali locals who will teach you how to surf for very reasonable rates (they'll even provide the board and the dry-shirt). If you're looking to take up surfing in Bali while soak, there's no better spot than Kuta.
Ubud
Ubud is situated inland from Kuta, about an hour north by car. Compared to Kuta's party atmosphere, Ubud is a quiet, tranquil town with a more laid-back vibe. Ubud is a hot spot for yoga and meditation practitioners, and you'll spot plenty of tourists in town for that very reason. Ubud is upland of Kuta and provides very different geography to see and explore. Sprawling rice fields surround the town.
While in Ubud on your Bali trip, check out the Sacred Monkey Forest, a forested area full of monkeys. Be aware that these monkeys are quite mischievous and will snatch up any food or loose items they can.
Gunung Kawi Temple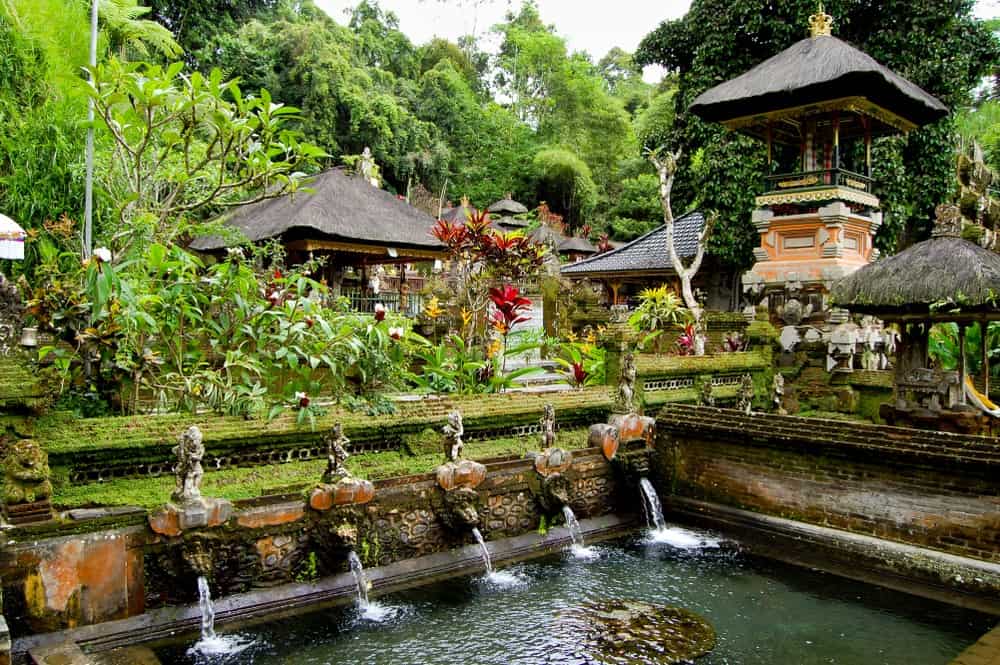 Bali is packed with ancient temples that hold religious significance, but these ancient sites are also very welcoming to tourists. The architecture alone makes them worth the visit, and the ancient Hindu Temple of Gunung Kawi tops our list. Located along the Pakerisan River near Ubud, this temple is surrounded by a complex of courtyards, fountains, and pools. There are intricate sculptures carved right into the cliff wall, which astound in their level of detail and consistency.
You likely won't want to spend your entire Bali vacation checking out temples, but this one won't let you down. Neither will:
Tanah Lot Temple
The list of Bali's historic Hindu temples goes on and on, but we'll only recommend a couple of our favorites. Tanah Lot is a tourist favorite because it's built on a small cliff right against the ocean. It's a majestic sight to watch the waves crash against the rocks and might be one of your top photo-ops in Bali.
Interestingly, the rock bridge leading to the temple is only accessible at low tide. At high tide, it appears as if the temple was built on a small island. Fun fact!
Mount Batur
Mount Batur is one of Bali's top hiking destinations. Located toward the northern end of the island, Mt. Batur is a great spot for an avid adventurer. You'll want to book a tour to climb this beast, which will ensure you take a route that is suitable to your skill level. It's not an easy hike, but intermediate hikers should be up to the challenge.
The ascent takes roughly two to three hours and covers over 5,500 feet of elevation. The view from the top is spectacular as you gaze at lush greenery, lakes, and mountains. Some tourists recommend hiking Mount Batur for the sunrise, but don't attempt it if you're uncomfortable hiking in the dark.
Tegalalang Rice Terrace
No trip to Bali is complete without visiting a rice terrace. Rice fields are serene, peaceful sites, and while enamored tourists probably amuse Bali locals, it's hard to deny that they're pretty cool to look at! The rice fields are tended with ancient farming techniques and result in something that resembles large dirt and grass-covered stairs carved right into the ground.
You can walk through this rice terrace as you please, just be sure to be respectful, and not to disrupt any farmers at work! The Tegalalang Rice Terrace is a popular tourist destination in Indonesia. It is located just north of Ubud.
Sanur Beach
If you're looking for a more laid-back beach-going experience rather than Kuta, check out Sanur Beach. Sanur Beach is in the town of Sanur, which is a quiet town populated by restaurants, shops, and hotels. It's a great spot to stay or for a day trip out of Kuta.
Sanur Beach is located in the town of Sanur, which is a quiet town populated by restaurants, shops, and hotels. It's a great spot to stay or a great spot for a day trip out of Kuta.
Bali Festivals & Events
If you happen to be in Bali during certain times of the year, you can check out numerous festivals & events dotting the Balinese calendar. Here are some of our top recommendations, although they're far from the only choices:
Nyepi – Nyepi is the Balinese New Year and one of the most interesting New Year's experiences you can have – just don't expect a traditional bash. The Balinese celebrate this day in near-complete silence to trick evil spirits into thinking that the island is unoccupied. Tourists are also requested to stay indoors during this observance, making this a polarizing event for tourists.
Bali Kite Festivals – Kiting is a major hobby for many Bali locals. The windy season brings many locals (and tourists) to the beaches of Bali to fly colorful kites in the wind. The most popular kite festival takes place each July on Padang Galak Beach, but several kite festivals take place each summer. Each festival is a way for kite aficionados to come together, showing off their designs and participating in competitions. Even if you don't know how to fly a kite, watching these colorful creations soar is cool.
Maybank Bali Marathon – One of Bali's most popular sporting events is the Maybank Bali Marathon. The marathon brings together elite distance runners from across the world, with a route that cuts through Bali's scenic countryside and in and out of different towns. The marathon usually takes place in August of each year.
FAQs
What is the Ideal Duration for a Vacation in Bali?
Most visitors to Bali plan to spend about a week there. We won't say you can see all of Bali in a week, but you can certainly get your fill. A week in Bali gets you plenty of time to experience Bali's varied landscape. For your travel plan, you can spend a couple of days on the beach taking in the clear skies and sunshine, head into the interior for a more traditional experience exploring rice paddies, and check out some temples along the way.
How Expensive is Bali?
If you're used to Western prices, you'll find Bali very affordable. But if you're comparing Bali to many other places in southeast Asia or even within Indonesia, you'll find Bali very expensive. Bali is a tourist hotspot, and local businesses know what these tourists can afford.
Conclusion
Thanks for reading our guide to planning the ultimate Bali vacation. The best time to visit Bali is from April to October. The peak of Bali's dry season is June to August, with August being the driest month. January is usually the wettest, so you may encounter fewer tourists. But there's no bad time to visit Bali. Use our guide above to get the most out of your island getaway.