Island life on a tropical isle is usually the best getaway for curing the wintertime blues.
Escaping winter was more popular among the elderly but has become an attractive idea for people of all ages.
Warm destinations such as Florida, California, Mexico, Hawaii and Central America are among the most popular.
Most of these offer top resorts and fun activities, but they can be crowded.
When the autumn weather turns grey, rainy and stormy – all you can do is dream yourself away to a beautiful island on the other side of the world.
Island Life – 5 Spots You Probably Never Heard About
If you're considering a few days of Island life, here's a great list of a few lesser known islands you might like to visit:
Why you should not miss out on Ile aux Cerfs while touring Island of Mauritius
Cook Islands
Intimately sized and reasonably priced, the Cook Islands are heaven on earth.
Located in the South Pacific Ocean, the economy relies on tourism, so these tiny islands are designed for visitors.
A wealth of resorts at every price point is available, and there is a stunning number of things to do here.
Stop at the Cook Islands Cultural Village to visit local markets, buy some crafts or even enjoy some nightlife.
Beaches are spectacular, snorkeling is stunning and kayaking will take you out into the warm crystal clear waters.
When the sun goes down, attend a sumptuous buffet complete with live music and dance performances.
Water Sports To Try Out In The Cook Islands
When travelling to the tropical Cook Islands there is only a handful of things that must be done.
Relaxing on a hammock, soaking up the golden sun and playing in the ocean.
You can't holiday on an island and not get swept away in the beauty that is the ocean front views.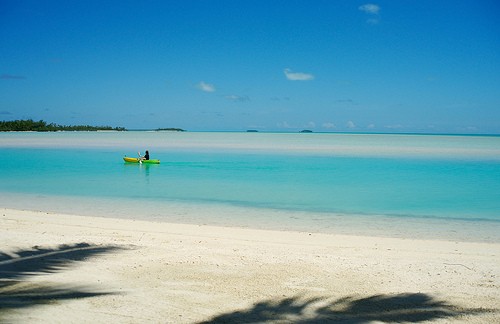 Fun in the Sun on Cook Islands
Whether you are after an adrenaline experience or a relaxing adventure, the Cook Islands can accommodate.
Jet skiing out into the ocean is a fast and fun way to enjoy the water and most water front hotels will offer you opportunity for a reasonable extra charge.
If high speed isn't your cup of tea, you could try sailing.
Sail till your Hearts Content
A yacht allows you to feel the wind in your hair and the sun on your skin without the big city noise of a loud engine.
It allows you to travel at speed and still feel like you're hardly moving.
Especially when you get to stretch out on the nets with the water splashing at your back.
If you don't mind being a little physical then trying your hand at a stand board or even a kayak could be the way to go.
The Physical Adventurer
A stand board is great way to explore, although it's probably better suited to more still waters.
A stand board is shaped like a surf board, however instead of having waves get you from A to B you use a paddle and gradually paddle you way around to witness all the cook island have to offer.
Beware though, a stand board is a lot harder than it looks so be prepared to go for a dip in the refreshing water.
Under the Sea
Finally we have snorkeling, the most popular of all the water sports.
This allows you to get up close to the tropical fish and beautiful coral found on the Cook Islands doorstep.
Taking a dive into the cool water to escape the hot sun will transport you into a whole new world.
Some of the best snorkeling to be had is in Huahine, Aitutaki & Bora Bora.
Make sure you have a waterproof camera on hand for this holiday as your best moments and memories will be out on one of the above adventures.
You won't want to miss this experience so head now to start you water sport adventure.
Grenada
These 3 Caribbean "Spice Islands" don't get the attention they deserve with their lush rain forests and white sand beaches.
Grand Anse, situated near St. George, is the most popular beach, but Levera is the place to be for splendid solitude.
A walk into nature will take you to dramatic waterfalls or sizzling hot springs and waterholes.
None of Grenadas beaches have large hotels and resorts, the perfect spot for a quiet picnic on the beach.
Make sure you also visit a rum distillery and have a little taste of their unique rum.
Vieques
Just off Puerto Rico lies the Island of Vieques which houses miles of pristine beaches and a notable wildlife refuge.
Best Time to Visit Puerto Rico
Travel Guide to Puerto Rico
You can hang ten at Navio Beach, scuba amazing clear waters, kayak the mangrove channels or hike some of it's scenic trails.
Don't miss the bioluminescent creatures found in Mosquito Bay, these are a unique phenomenon worldwide.
If you're into history, visit the the Fort Conde de Mirasol Museum where visitors get a glimpse of Vieques' colorful history.
The fun continues after sunset with stargazing, many great dining spots or even a little salsa dancing.
The Seychelles
Made up of more than 100 gorgeous islands, the Seychelles Islands in the Indian Ocean have something for everyone.
Exclusive, luxurious resorts are found on a handful of islands, allowing guests to feel like they own a little piece of paradise during their stay.
The living is easy here, days are spent island hopping, playing gold, swimming simply lying in the powder-soft white sand.
Activities such as kayaking, snorkeling, diving and hiking are widely popular and provide exciting views.
Hop along the top 16 islands for a little hiking, visit national reserves and marine parks.
Most visitors can't resist the Le Jardin Du Roi Spice Garden where they can acquire handmade candles with heavenly scents.
Capri
Lying off of the Naples coast, Capri isn't especially recognized for the quality of its beaches.
Rather, it is the startlingly clear waters that take the spotlight.
This is a wonderful destination for hikers as the island is strewn with captivating trails and vistas.
If you enjoy exploring, take a trip out to the famous Grotta Azzura caves, tour the island by boat or take a day trip to Naples, Pompei or Sorrento.
Culture comes alive at the busy Piazzetta where you can stop for a coffee or walk over to luxury boutiques and stores.
Make sure you visit the San Michele Church, which is noted for its intricately tiled floor.
With few visitors and gorgeous scenery, any of these islands can become your go-to destination next time you feel the need to escape!
5 Popular Things To Do In St Lucia
St Lucia is a beautiful Caribbean island that is famous for its romantic atmosphere and is very popular with honeymooners.
It has an air of exclusivity and seems to remain undiscovered and unspoiled.
If you want a bit of excitement thrown in along with a bit of lying around the pool, then check out the must see sights of St. Lucia below…
The Pitons
The Pitons are incredible volcanic formations that you could only see on a Caribbean island.
Take a day trip on a catamaran and approach them from the water for their full effect, or alternatively take the hike and really challenge yourself for this magnificent reward.
They are one of, if not the most, photographed spots on the island.
Tet Paul Nature Trail, Soufriere
Though it might be difficult to find, the Tet Paul Nature Trail is well worth the drive.
The guides are knowledgeable and passionate, making the trail fun and informative.
An easy trail, you see a wide range of plants, trees, fruits and vegetables as well as excellent views of the Pitons.
Pigeon Island National Park
Lush and green, Pigeon Island is a beautiful island.
Take a hike up to Fort Rodney and explore and immerse yourself in the history that it exudes.
With a small locally run bar and restaurant at the bottom of the hill, you'll get to enjoy the cuisine too.
Immaculate Conception Church, Castries
A definite must see, the Immaculate Conception Church is a mixture of Italianate, Romanesque and Baroque architectural design.
It has a clock tower and stained glass windows, making it a pretty sign to behold.
Inside, it is decorated by a local artist with bible scenes and saints.
This is the Caribbean's biggest church, and you'll find all sorts underneath its roof.
Sulphur Springs
If you can bear the sulphur smell and the climb upwards, a mud bath in the Sulphur Springs at Soufriere will leave your skin silky soft.
Pools of steaming black water in the crater of a volcano really are a sight to behold, and one that should not be missed.
Local legend has it that the mud cures all ails and gives you the libido of a Brahma Bull.
So if you're looking for somewhere to go on your holidays, St Lucia has lots to offer for young honeymooners, families and people travelling alone.
So don't miss out and make sure you see the most coveted sights in St Lucia.
Cap Maison St. Lucia – Great Reason To Visit St Lucia
Fancy getting away from Europe during the up-coming cold winter months?
Maybe a fun Caribbean holiday could get a great option – but which island should you choose?
Here is a good reason for choosing to visit St Lucia: Cap Maison!
This wonderful boutique hotel is really special.
First, its location – situated in an old sugar plantation at the northernmost tip of the island, it commands outstanding views of historic Pigeon Island and even Martinique from its cliff top perch.
Even more important is its ambiance – designed in gracious traditional Spanish Caribbean style, the accommodation (49 rooms ranging from spacious to huge) is spread out amongs gorgeous gardens in two- and three-story villas.
There is a carefully nurtured impression of being in a private residence rather than a hotel, one example is the absence of a formal check-in: on arrival guests are plied with champagne and shown immediately to their room.
Another key factor is the opportunity to unwind – peace and quiet unbroken by screaming small children (no children below the age of four accepted), the only sound coming from the waves crashing below.
Imagine having a massage from a trained therapist under a garden gazebo… or your room or the spa, along with other pampering, if you prefer. Picture lying in your own private terrace pool just relaxing and enjoying the view.
Its the perfect setting for romance – this hotel even has a special concierge to help nervous bachelors plan how and where to pop the question …
… maybe on a sunset cruise in the hotels own launch, or on a deck surrounded by sea on 3 sides, with drinks whizzed down from above on a zip line! (Not one refusal to date, the general manager proudly reports.)
Many guests enjoy wonderful honeymoons at Cap Maison, guests can arrange excursions by land and sea to ensure they sample the best of what is on offer in this friendly and exotic part of the world.
The luxurious motor launch Cap Maison 1 is available for overnight cruises to the Grenadine Islands, sunset cruises and day trips down the coast. You can also explore the rain forest by jeep, and combining the two in a land and sea trip is very popular.
What else is there to see and do?
Outside the Cap Maison hotel nearby there is kite-surfing suitable for all levels 5 minutes away on the Atlantic coast, and if you feel like sampling the night life, all the buzz of the bars and beaches of Rodney Bay is just a 10 minute taxi ride.
Tennis, squash and golf on a championship level course are also to hand. It would be a shame not to visit nearby Pigeon Island
Further afield, there is the colorful capital, Castries; the drive-in volcano and Piton mountains at Soufriere; the cocoa dance at Fond Doux plantation; the mineral baths, waterfall and botanical gardens at Diamond Falls; the Friday night fish fry at Anse la Ray.
Turtle and whale watching and zip-lining among the rain forest canopy treetops: St Lucia has it all.
You couldn't make a better choice!
(photo credit: 1)
Best unheard of islands in Europe
When people think of Europe, they tend to think of the countries on the continent.
Yet Europe has many islands.
In fact, there are over 300 islands off the coasts of European countries.
These 300 islands vary in size between 19 and 88,745 square miles, and there are hundreds of smaller pieces of land surrounded by sea.
Over 100 of these islands are home to at least 10,000 people.
The biggest of them, the UK, is home to 61.5m people.
Many of the islands, even the smallest ones, can be visited.
A significant number sit just off the coast of the mainland, so they are easily accessible.
Often even those islands that do not have a permanent population are interesting and popular locations with tourists.
Mljet Croatia
Lyngør Islands, Norway
This unusual island is located 7.5 miles off the coast of Norway.
It was once a popular home for sea captains.
The island can only be accessed via boat and there are no cars allowed.
Only 70 people live permanently on the island, but it is a popular tourist destination, and there is a sail factory located on the island as well as several very popular restaurants.
Mljet, Croatia
The island of Mljet is located just off the coast of Croatia.
It covers an area of just 20.8 square miles.
The majority of the island is covered by woods and is a National Park.
Currently, there are just over a thousand people living on the island in thirteen villages.
It is a popular destination and many of those who visit Dubrovnik visit Mljet, so there is a ferry that runs between the two locations.
The journey takes 2.5 hours.
There is also a ferry from Ston, which takes 90 minutes.
Aegina, Greece
Aegina is one of the Saronic Islands located just 17 miles from Athens it is a popular destination for both Greek and foreign tourists. At 33.75 square miles, it is quite a big island.
Hydrofoils run regularly from Piraeus, and the journey only takes 40 minutes; the ferry takes an hour.
Once on the island getting around is easy because there is a good bus service.
Fehmarn, Germany
This island is located off the East coast of Germany, but it is only 12 miles from the Danish island of Lolland.
It is a popular place with all kinds of tourists including many Danish and German nationals.
The island is well known as a sunny spot to enjoy water sports.
It has 2,200 hours of sunshine every year and is home to rugged cliffs and freshwater lakes which provide all kinds of opportunities for those who love active holidays.
Île dePorquerolles, France
This exclusive island is located just off the coast of the French Riviera and for many years was an exclusive destination for the rich and famous.
Today, there is a regular ferry, so it is growing popular with day-trippers.
It is a car-free island with wonderful beaches providing a fantastic break from the very busy French Riviera.
Sao Miguel, Portugal
Compared to the other islands in this list, this is a big place.
It covers 290 square miles and is the largest Portuguese island with a population of 45,000.
Locally, it is called the green island and with good reason.
It has lush fauna and, unusually, several of the bodies of water on the island are also green.
Year round, the Gulf Stream maintains a comfortable temperature.
The island is also known for its hot springs.
Sylt, North Frisian Islands, Germany
The island of Sylt really is idyllic.
It is home to 12 unique villages that have been largely unspoiled.
Visiting gives you a chance to step back in time and escape a frenetic modern life.
The island has a large health and wellness center and 25 miles of pristine sandy beaches.
This is a beautiful destination to travel alone.
Egadi Islands, Italy
This trio of islands are located just off the coast of Sicily.
Over the centuries, they have been home to Arabs, Romans and now Italians.
Today, the islands are popular with walkers and are great for snorkelers who enjoy the exceptionally clear waters surrounding the islands.
El Hierro, Canary Islands, Spain
This island is the smallest in the Canary Islands group.
This stunning island is located just off the coast of Africa, and is governed by Spain.
It is a UNESCO site, which has the status of Biosphere Reserve.
Apart from one small village, which is home to 10,000 residents, the volcanic island is completely unspoiled.
It is one of Europe's last truly wild places.
European islands
If the list of unusual European islands listed above do not appeal, try visiting some of the other fantastic types of islands on offer in Europe. There are several wonderful lake islands in Europe.
Most of them are privately owned, but some can still be visited.
Alternatively, visit the evocative Mont Saint-Michel off the coast of Normandy and St Michael's Mount off the coast of Cornwall.
Both mounts are home to a striking castle and church.
They are not islands as such because they are connected to the mainland by causeways, but nonetheless they are startlingly beautiful and quite unlike any other destination you have visited.
How to prepare for an island visit
Do your research before embarking on your island adventure as you would before visiting any foreign country.
What are the customs?
What is the native language?
What will you be able to do while you are there?
How will you get from place to place once on the island?
There can be so much to experience while on the islands so research in advance so you can make the most of your trip.
Remember other things too like bringing your passport and getting health insurance card.
If you are blessed with the opportunity to explore lesser known destinations, such as some of these unheard of islands in Europe, you are sure to create memories to last a lifetime.
Guide To Levada Walking In Madeira
Madeira is a fantastic choice for an active getaway, especially if you love walking – the isle is famed for its levadas – irrigation channels that supply water to the often precariously – placed farms and villages that cling to the sides of the mountains or line the lower ground by the seashore.
As well as having this highly practical use, the tracks alongside the levadas are excellent hiking routes.
As they span more than 1,500 km, you'll have plenty of trails to follow during an active getaway in Madeira.
What's more, they take you past every kind of landscape, from the island's mountains and forests to its rugged sea cliffs.
Levada walks in Madeira:
Vereda do Pico Ruivo
This trail leads you to the summit of the island's highest mountain – Pico Ruivo.
Starting at Achada do Teixeira, it should take you around 1.5 hours to complete the path that runs for nearly 3 km.
Although you're climbing Pico Ruivo, you begin walking just 300 m below the top of the peak, so you won't have to tackle a particularly strenuous ascent.
Levada do Caldeirao Verde
Stride out along this path and you'll fully appreciate the feat of engineering that many of the levadas represent.
Leading you into the interior of the island – and at times through tunnels carved by hand out of the rock – it's something of a journey of exploration.
Among the highlights en route is the Casa de Abrigo das Quelmadas, a traditional shelter with a thatched roof that's maintained as part of the Quelmadas Forestry Park.
Levada Faja do Rodrigues
This route will take you through parts of the native laurisilva forest, which has been protected by UNESCO for more than ten years.
The waterfalls and mountain streams that characterize the trail support a vast array of plant life, including geraniums, Madeira mahogany trees and the Madelran orchid.
Vereda da Ponta de Sao Lourenco
This is an excellent walk to choose if you want to be by the coast, as the trail skirts around Sao Lourenco Point in Madeira's easternmost peninsula.
Strong winds coming off the sea have resulted in few trees growing here, so it's a great place to fully appreciate the island's volcanic landscape.
As you wander, you are likely to spot numerous birds, with species such as Cory's shearwater, Bulwer's petrel and the common canary often seen in the area.
Regardless of where you decide to go walking in Madeira, it's important to consider your safety.
Some of the levada trails can be very isolated and may not be well-frequented, so you should always leave details of the route you intend to take, as well as the time you plan to return, with your hotel.
There are operators that offer guided levada hikes, which are perfect either if you do not have a walking companion and would like one, or are nervous about striding out alone.
Best Islands for a Summer Holiday Retreat
To help you choose an island for your forthcoming summer holiday, here are five of the very best islands from around the world.
A trip abroad to enjoy some sun, sea, sand and relaxation is a popular choice for many, but deciding on where to go can be a more difficult decision.
If you are heading off to a luxurious holiday island this summer, remember to purchase travel insurance to ensure you and your finances are protected throughout.
It's normally around this time of the year that Brits begin to consider a location for the year's summer holiday.
Islands make great summer holiday retreats as you can benefit from the sunshine and beaches in addition to also being able to sample the local cuisine and experience the culture of those who live on the island.
Fiji
Even further afield lies Fiji, an island to the northeast of New Zealand.
A large proportion of the Fijian population inhabit just two of the 332 islands in the area, Vanua Levu and Vita Levu, which are unsurprisingly the most popular locations to visit for tourists.
For an island where you feel away from the hustle and bustle of the rest of the world, Fiji is certainly the place for you, which is epitomized by the fact that there is always the potential to visit an area on one of the islands where very few people have ever been before!