Best Time to Visit Peru ~ Peru has become a tourist hotspot in South America, and it's not difficult to understand why. Peru offers so much to see and do, from bustling cities, to ancient sites, to lush jungles and dry deserts. In this article, we'll help you plan your dream vacation to Peru, including when to go and what to see. Let's get started with the title question:
Best Time to Visit Peru
Tourist Season
Tourist high and low season in Peru is determined mostly by weather. But unlike many other areas, temperature won't be your primary concern. Tourist season is separated by Peru's "wet" and "dry" seasons, with each season seeing significantly differing amounts of rainfall.
Many tourists prefer to visit Peru during the dry season, for obvious reasons. Peru's dry season runs from May to October, and they receive many more travelers during this period. Days are sunny and clear, and the lesser precipitation means less mosquitoes, especially in the Amazon region.
The peak tourist period during dry season is during June, July, and August. Note that this is technically "winter" in Peru, being that the entirety of the country lies in the Southern Hemisphere. Nonetheless, due to its proximity to the equator, Peru receives warm temperatures year-round.
However, as is the case with many savvy travelers, wet season is still a popular time to visit Peru. Peru receives another burst of travelers from December-January most years, with many travelers looking to escape Northern Hemisphere winters.
The wettest months are January-April, with many travelers avoiding Peru during this time. However, some travelers prefer the wet season for jungle treks, as it raises the rivers and allows for a more adventurous experience. Just don't forget to pack waterproof gear and sturdy hiking boots.
The climate in Peru is particularly variable from region to region, as Peru has three distinct regions. We'll break down each region next.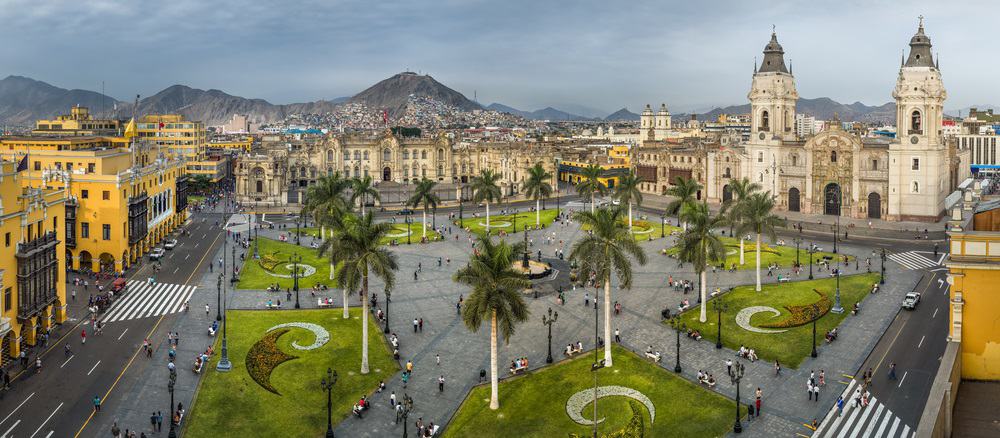 Climate
If you're planning a trip to Peru, your experience will depend on which region you are planning to visit. Peru has three distinct regions – the coastal region, the highland region, and the jungle region. Even within these regions, temperatures vary from place to place, so it's best to check a localized weather resource before you go.
Peru's desert coast sports warm weather nearly year-round. Summer in this region (Dec-Apr) is hot, sporting temperatures around 25-35C. Winters (May-Oct) in this region are milder, and the air is more humid, as it coincides with rainy season.
Peru's highland region sports cooler temperatures year-round. During dry-season (May-Oct), temperatures are warm during the day (20-25C), but get much colder at night, sometimes reaching the freezing mark. During the wet season (Nov-Apr), rain is much heavier, which brings with it cooler temperatures during the day (around 18-20C). However, since it's Peruvian summer, the nights don't get as cold as during dry season (only reaching about 15C). As you can see, Peruvian weather is quite the wildcard!
Peru's Amazon jungle region sports a hot, humid climate. Weather is hot almost year-round (roughly 28C-38C each day), but rainfall differs significantly from wet to dry season. During wet season (Nov-Apr), travelers can expect harsh rainfall almost every day. The rain usually falls intensely, but for short periods each day. Dry season sees much less rain.
As you can see, there's a lot to consider when visiting Peru, and it starts with a consideration of where you are visiting and when. Your decision will also be heavily swayed by one more important factor, what will you do while there? We'll cover this next.
About Peru
Now that we've examined when you should visit Peru, let's get to the fun stuff. What are the best things to do in Peru?
There's not really a simple answer to this question. There are so many things to do in Peru that it's difficult to nail down a list of must-dos for tourists. In fact, Peru is so diverse geographically that it takes a spot on the short list of "megadiverse" countries – given the title for its extremely diverse range of habitats and regions across the country. From the arid plains on the desert coast, to the Andes mountains running through the nation, to the Amazon Basin rainforest in the east.
And this isn't even to mention the cities, town, and historic sites worth visiting. From the bustling streets of Lima, to the historic remains of Machu Picchu. Here are our top things to see and do in Peru:
Top Things to do in Peru
Inca Trail and Machu Picchu
We'll start our list with the "cliché" choice. But tourist hotspots are often that way for a reason. Machu Picchu has certainly earned its spot near the top of any list of worldwide tourist destinations, and there are few experiences more rewarding than hiking the Inca Trail to see it in person.
The Incan citadel is one of the most popular archaeological sites in the world, seeing about 1.5 million tourists per year. It's an excellent place to appreciate Peru's complex history, and also offers stunning views of the surrounding regions. Most visitors attend Machu Picchu during the dry season, for obvious reasons. This is especially true if you're planning to hike to Machu Picchu via the Inca Trail.
The Inca Trail is a famous trek to Machu Picchu (and the very same trail used by the Incans centuries ago), taking travellers from Cusco all the way to the Incan landmark. There are various departure points, which offer longer or shorter hikes. The most famous hike is the 4-day hike, in which travellers camp overnight in tents during the trek. There are also one, two, and five-day hikes available.
If you don't want to hike it, there are several other methods of reaching Machu Picchu, including trains, buses, cars, and more. Best Time to Visit Machu Picchu
Lima
Peru's capital city, Lima, offers all sorts of things to do, see, and experience. Offering a stunning mixture of architecture, from Ancient Incan sites, to Spanish Colonial, to modern, and more. Located on the central coast of Peru, within its desert region, Lima is also the largest city in Peru, with a population of over 9.5 million.
Lima is packed with tourist activities, including bars, restaurants, museums, and much more. Downtown Lima is crowded and lively, with many surrounding neighborhoods and regions. The beachfront regions tend to be the heart of tourist activity, with lots to do both day and night.
There are also many festivals and events to experience in Lima throughout the year. If you're there during February or Early March (just before Lent), then you'll experience a true South American Carnival. While Brazil has the most famous Carnival (or Carnaval), the event is celebrated across South America and the world. Lima's version features street parties, parades, music, and an annual water balloon fight.
The Lima Marathon takes place in May, and is one of Lima's biggest sporting events (if you don't count anything soccer-related of course). The event attracts world-class talent, and spectators line the streets to watch the event.
Visit the Amazon Basin
The Amazon rainforest extends east of the Andes Mountain Range, and makes up over 60% of Peru's landmass. Most of the Amazonian tourism flows out of either Iquitos or Puerto Maldonado. From there, you'll find plenty of lodging, and plenty of options for tours, treks, and adventures.
The diversity of the region lends itself to plenty of different ways to experience the Amazon rainforest. From jungle treks, to treehouse camping, to luxurious cruises, to wildlife tours, and much more. There's something for everyone from casual tourists to intense survivalists.
Colca Canyon
With so much to do and see in Peru, many fantastic landmarks get relegated to the background. Colca Canyon is one of the deepest canyons in the world, and a true sight to behold. What might be the most popular landmark in another country is just business as usual in Peru! Colca Canyon is located in southern Peru, and is accessible via Arequipa. Definitely one of our top recommendations!
Huacachina – Dune Buggies and Sand Boarding
Much of Peru is covered by desert, and much of these deserts feature fantastic sand dunes which stretch for miles. The tourist hotspot for dunes is Huacachina, a small town surrounded by sand dunes. Tourists flock to the town to experience the dunes, and there's no better way than by dune buggy! "Sand boarding" is also a popular experience, and is basically snowboarding on sand. Definitely a fun spot for thrill seekers.
Here are some popular dune buggy and sandboarding experiences to consider in Huacachina.
Peru – Festivals and Events
While in Peru, you'll want to check out some local festivals and events to soak up all the country has to offer. There are many events hosted throughout the year, in many of Peru's major cities and regions. Here are some of the top options to check out:
Fiesta de la Candelaria – Perhaps the most famous festival in Peru, Fiesta de la Candelaria is also one of the biggest festivals in South America. Fiesta de la Candelaria takes place in Puno each February, to celebrate the patron saint of the town. It's a great event for tourists and spectators, as most of the festivities feature grand displays of dance, music, and costume.
Festividad del Senor del los Temblores del Cusco – A large parade which takes place in Cusco every Easter Monday. El Senor del lose Temblores is the "Lord of the Earthquakes", and is represented by a statue of Jesus Christ in front of Cusco's cathedral. On Easter Monday, the statue is removed from its position, and becomes the focal point of a major parade about town. It's a sight to behold for any tourist to Cusco.
And Much More!
As has been a running theme through this article, Peru is a very diverse region of the world. From mountains, to deserts, to jungles, to cities, to ancient civilizations. It's impossible to pin down a trip to Peru into a short list. We could write a whole book on the topic, and many have. You're best to decide which type of Peruvian vacation is best for you, and take it from there. Use our tourist guide above to decide which is the best Peruvian experience for you.
You might find yourself returning to Peru time and time again!
FAQs
Are There Sharks in Peru?
Many tourists to any country with an Ocean coastline might be afraid of the potential of sharks. In reality, it's quite a sad story. Shark landings in Peru have been decreasing significantly due to the prevalence of shark fisheries in the surrounding area. Shark attacks are exceedingly rare in Peru (as they are anywhere).
How Much Time Should I Spend in Peru?
If you're planning a South American vacation, we would recommend extended time in Peru. Due to Peru's status as a "megadiverse" country, there are many things to see and explore. Cities, deserts, jungles, and mountains, you could spend months in Peru and not run out of things to do. It's all about planning your itinerary, and seeing what appeals to you most. If you're crunched for time, you could still easily fill a week's worth of activities in Peru, but you might be tempted to come back!