Best Time to Visit Croatia ~ Croatia is a nation that has seen its tourist stock rise in recent decades. Located in southeast Europe on that Adriatic Sea, Croatia has a ton to offer tourists of any type. In this article, we're examining the best time to visit Croatia, and examining some of our favorite things to do while there. Let's get right to it.
Best Time to Visit Croatia
Tourist Season
Croatia has a climate which varies throughout the year. As such, there is a defined tourist season, and a low season. Croatia has hot summers and mild to cold winters. That being said, it's a big country, so its climate varies throughout. Along the coast, you'll find hot summers and mild winters. Inland, you'll find cold winters, sometimes below freezing, and sometimes accompanied by snow.
In other words, the most popular time to visit Croatia, and likely the time you'll want to go, is during the warmer season, which typically stretches from April to October. The summer months (June-August) are high season in Croatia.
You'll find more tourists, more locals on vacation, and more crowded and expensive lodging. As a result, many tourists plan their visit to Croatia in the months shouldering the high season (April-May or Sept-Oct), when weather is still pleasant, and tourist hotspots are much cheaper.
Climate
As mentioned above, the high and low tourist seasons in Croatia are primarily determined by the weather, so let's break down the specifics. Croatia is divided into three main climatic regions. As such, the weather in Croatia also varies throughout the country itself. Here is a general breakdown of how the weather differs across different regions:
Northern Croatia is made primarily of lowland regions, which have a continental climate. In other words, there are cold winters (around -1C, 33F daily highs), and hot summers (around 26C, 79F daily highs).
Central Croatia contains the Dinara Region, with mountainous terrain, higher elevations, and an alpine climate. This means colder winters and moderate summers. In winter, temperatures average around -3C, 27F daily highs. In summer, temperatures reach around 20C, 68F daily highs.
The Adriatic coast is Croatia's most popular tourist destination, and also has some of the most preferable year-round weather. Winters are cool and moderate, while summers are hot and dry. Winter temperatures hover around 8C, 46F daily highs, and summers hit daily highs of about 30C, 86F.
Basically, most of Croatia makes for a great tourist destination during the summer, but you might want to avoid certain areas during the winter (unless you're a fan of frigid temps and snow-covered landscapes).
Things to Do in Croatia
Now that we've broken down the tourist high and low seasons in Croatia, it's time to turn our attention to other considerations you might have when planning a trip to Croatia. In other words, why should you visit Croatia? In this section, we'll be covering some of our favorite things to do and see in Croatia. We'll run down our favorites, so you can decide whether a trip to this European nation is worth a spot on your dream destinations.
Split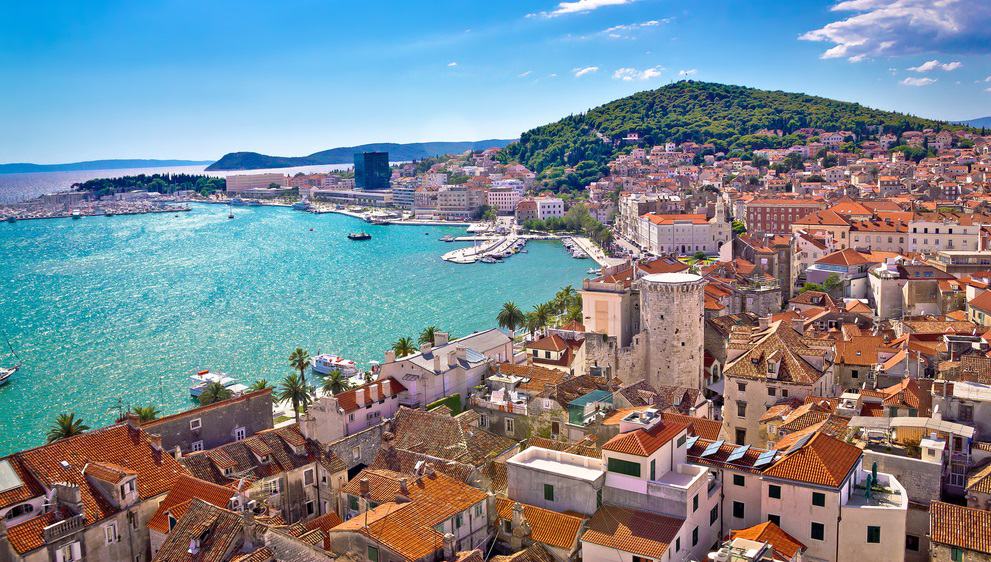 Croatia's second-largest city, Split is located on the Adriatic Coast, toward the south end of the nation. It's actually located on a peninsula off the Dalmation Coast. Split is a central hub with access to many of Croatia's most popular Adriatic islands. But the city itself is an excellent destination in its own right.
Split is packed with gorgeous Gothic architecture, and there is much to discover and explore by simply taking a jaunt around town. Whether you're looking for fine dining, vibrant nightlife, museums, parks, and more, Split has something to offer. Even if you're simply taking a walk along the water, there's a lot to appreciate about Split, and it's easy to see why it's one of Croatia's top tourist destinations.
Split is home to many festivals and events throughout the year. Perhaps the most unique event is the Cigar Smoking World Championship. The events is based around a competition for "slow smoking" a cigar. Competitors try to smoke a cigar for the longest time without the cigar going out (with other penalties for things such as breaking the ash or burning the cigar band). Fun for spectators, participants, and an overall great way to bring together cigar connoisseurs from around the world.
Also check out the Split Film Festival, held during September. The festival prides itself in being open to "all new creative work", which means you'll find films from every genre, from innovative, to radical, to surreal, and much more. It's a great way to check out films outside the mainstream, from creative talent across Croatia and the world.
Plitvice Lakes National Park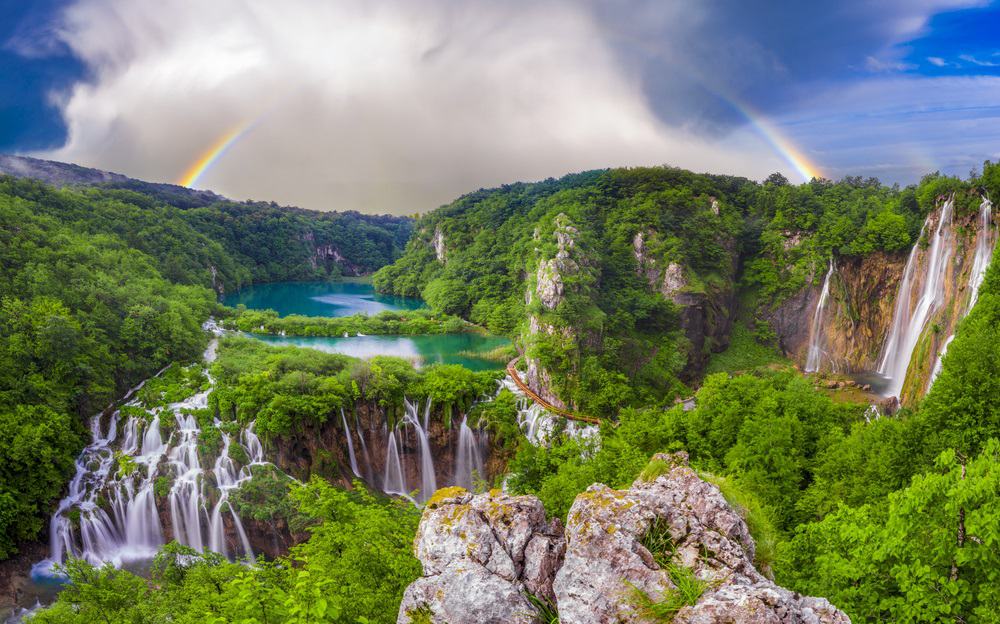 The varied geography of Croatia results in some fascinating national parks. The geography is unlike anything most North Americans or Europeans are familiar with, and one of the most popular parks is Plitvice Lakes, located a roughly 2-hour drive from Zagreb.
Plitvice National Park is characterized by its lush vegetation and stunning lake formations. The lakes occupy various levels of terrain, connected by waterfalls and natural dams. What makes the area so unique is that each lake has a unique color. Taken together, it's one of the most abnormally beautiful natural sites in Croatia and around the world. Visitors can hike through Plitvice Lakes using a series of trails, which are connected in part by wooden planks, taking you right into the lakes for the best possible view.
You'll likely need to commit an entire day-trip to Plitvice Lakes, but it's worth it.
Dubrovnik
Located south of Split on the Adriatic coast, Dubrovnik is one of the most historically significant areas of Croatia. It has a preserved Old Town, complete with original stone walls. You'll find a fascinating mix of old and new, allowing you to appreciate the historic architecture while enjoying excellent restaurants, and a vibrant nightlife.
Recently, Dubrovnik's tourism has skyrocketed in popularity as a result of being a primary filming location in the HBO series Game of Thrones.
And if you're in Dubrovnik during February, check out the Feast of St. Blaise, the largest public event in Dubrovnik. Religious festivities commence on February 2nd, which eventually turns into a public celebration on February 3rd. Many participants dress in traditional garb, seeing as the event dates back to 1190.
Hvar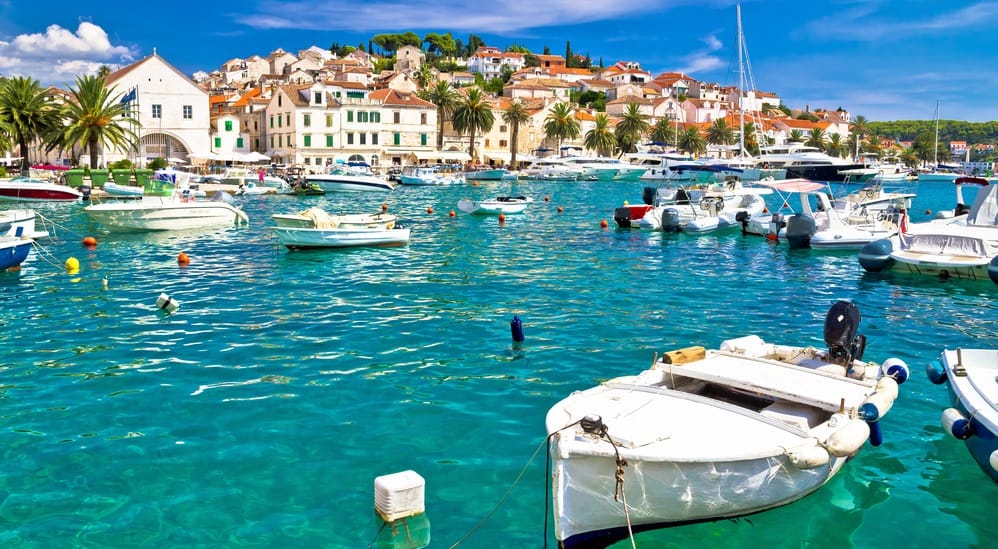 Hvar is one of the many popular island destinations off Croatia's Dalmatian Coast. Accessible from Split, Hvar features plenty of natural beauty, including beaches, lavender fields, rolling landscapes, and ocean views. The main city of Hvar Town draws the most tourist action.
It features historic Gothic design, complete with stone walls, marble streets, and capped off by a town square. Being a tourist hotspot, you'll also find a great restaurant scene, and a city that truly comes alive after dark.
The surrounding region is great for thrill-seekers or those looking for a relaxing destination. Beaches, cliff-jumping, hiking, biking, boating, and more! There are plenty of islands worth visiting off the Dalmation Coast, but Hvar has certainly earned the top spot.
Zagreb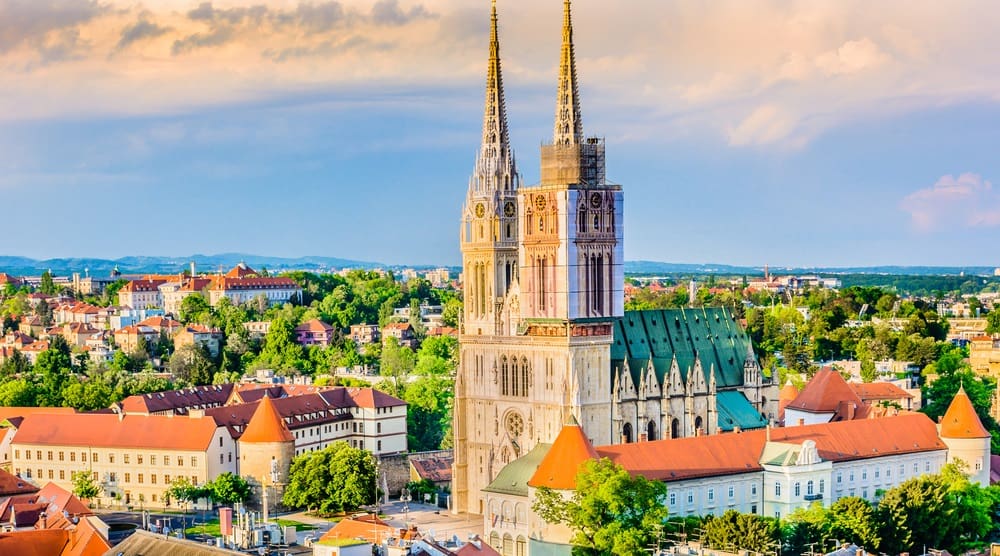 Much of Croatia's tourist activity takes place on the Adriatic Coast, but there's a lot to love about its interior as well. Zagreb, Croatia's capital city, is located in northwest Croatia, and is a great place to get a taste of interior Croatian culture.
Zagreb is much less laid-back than what you'd find on the coast, but it's worth seeing the center of Croatian government, business, and more. It's a large, diverse area with a lot to offer tourists. Plenty of places to stay, eat, drink, and more. Upper Town is a historic, preserved area of Zagreb, and Lower Town is more modern. A great city to experience by foot, as each cobblestone street has something new to discover.
Zagreb is host to many festivals and events throughout the year. If you're there during June, check out the INMusic Festival. The INMusic Festival features Croatian and international artists, and spans a broad range of genres – including rock, metal, indie, electro, and more. The three-day festival takes place in an open-air environment, and is a great way to soak up the summer sun.
If you're there during winter, check out the International Documentary Film Festival in February. The event has documentaries from Croatia and around the world. Zagreb is cold in the winter, so indoor events like this are welcome. Learn about Croatian customs and traditions.
The Bottom Line – When to Visit Croatia
With so much to do and see, there are many reasons to plan a trip to Croatia. That being said, unless you're a fan of the cold, you'll definitely want to plan your trip to Croatia in the warmer months. We recommend either of the seasons shouldering the summer months. You'll find cheaper lodging, less crowded tourist locales, and weather that is still quite pleasant. Visiting Croatia is less about planning when to go, but planning what to do while there. Use our guide above to help make your decision easier!
FAQs
Is it Possible to See Croatia in a Week?
It depends how much you want to see. It's certainly possible to see Croatia's big tourist hot-spots in a week. You could take a trip to Split, Dubrovnik, and a ferry out to a Croatian island. But Croatia is a big country, with many different regions, cities, and natural areas. If you want to see it all, you'll need more than a week.
How is Public Transit in Croatia?
In major cities across Croatia, public transport is quick and reliable. There is an extensive network of public buses, which arrive on-time and are easy to navigate. Through the islands, there is an extensive network of public ferries, allowing you to "island hop" with ease. Croatia's train network is somewhat limited compared to the rest of Europe, but you can still take a train between most major cities.
Visiting Croatia
Croatia is a country in the Balkans, on the coast of the Adriatic Sea. It has a population of 4 million people. The capital and largest city is Zagreb. Croatia was part of Yugoslavia until 1991 when it declared independence following a referendum that agreed to break away from Yugoslavia by majority vote.
It's not just the beautiful beaches that will make you fall in love with Croatia. Croatia is a country with a rich culture and history. The locals are friendly and always willing to help. The food is delicious, the scenery is breathtaking, and there are many things to see and do here.
Croatia has been a popular tourist destination for decades now. The natural beauty of this country attracts people every year from all over the world. One of the reasons for this popularity is its affordability when compared to other European countries such as France or Italy. Croatia's economy is mainly service-based with emphasis on tourism and transportation services, as well as shipbuilding and maritime transport.