One Night in Bangkok ~ Our feet are blistered, our legs are giving in, our minds are buzzing. Bangkok got the best of us, but we also got the best of Bangkok. Bangkok really has everything for everybody – it is huge, chaotic, but also in a weird way quite charming.
After spending 10 days there last month, we decided to share below a few of our favorite things to do in Bangkok, "The City of Angels".
We had a lot of creatures living in and around our bungalow in Koh Lanta: The two frogs in the bathroom and this lizard were the most frequent guests.
One Night in Bangkok
Travel to Bangkok via Cathay Pacific. Best Time to Visit Thailand
Check Out the Local Food Markets
There are loads and loads of markets in and around Bangkok, and it's great fun to visit them even if you're not planning on buying anything. Our favorite one is Thewhet Flower Market, a smallish flower and food market, and it really is a true cultural experience. Although the flower market is quite nice, the food section is most interesting part.
Bangkok Thai
Don't be surprised if you're the only tourist there, this is where locals come to buy their groceries, so soak up the atmosphere, take in the contrasting smells and sights, and just stroll around.
In a country like Thailand with so many things going on, people seem to be able to relax and rest anywhere no matter how crazy it is around them – especially monks…Sleeping Monk On Train Thailand
Bangkok Thai Temple Sightseeing

There are so many temples in Bangkok, so it would take you forever to see all of them, but among many others these four are the temples you'll absolutely love. Note: I wouldn't suggest you to see them all in one day, I tend to get templed out after only a few, so to really enjoy and appreciate them, take your time and spread it out over time…
The Turtle Temple (Wat Prayoon)
This was my favorite of them all, it was so different from all of the others. What's special about the Turtle Temple is the cave like mound surrounded by a large pool full of turtles. The mound is covered with shrines, all from chedis to spirit houses and doll houses. Wat Prayoon was built for loved ones who have passed away.
The Temple of Dawn (Wat Arun)
Wat Arun is known as the icon of Thailand. The detailed sides of the temple are so amazingly beautiful, and the view from the top is awesome. Make sure you go as high as you can, even if you have a fear of heights – it really is worth it!
Also go there in the afternoon, as the sun will give it a smooth beautiful light. Stay until after sunset to take some awesome shots, and it's also much nicer to visit when it's cooler outside.

The Reclining Buddha (Wat Poh)
Wat Poh, the Reclining Buddha, is a HUGE golden statue of a reclining Buddha. But don't just leave after having seen it, stay around and check out some of the other 1,000 buddhas within the temple area.
The Giant Standing Buddha
This is another huge buddha. It's a nice temple because it's a little quieter and you can sit back and just admire the size of it in peace.
Muay Thai (Thai boxing) means "Art of Eight Limbs", and it's a favorite sport for everyone in Thailand.
Shopping in Bangkok
Shopping can be an overwhelming experience in Bangkok, but that really is part of it. So go crazy and take a day running between these huge malls and update your wardrobe while snacking your way through the food courts. MBK and Central World were our favorites.
Spend a full day shopping, and if you go on a Wednesday you can finish the day with a nice, relaxing – thai boxing match outside MBK! It's free, it's rough, it's Thai…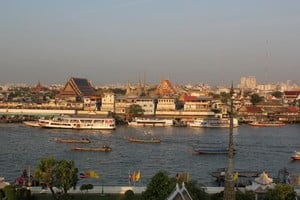 Best Time to Visit Bangkok
Bangkok can get horribly hot, and with 11 million people the streets are often jammed with cars and mopeds. If you want to get away from the bustling street, or just want to find a quicker and more enjoyable way of getting around the city, head to the canals – this is also where you can also find many great Riverside Hotels.
Taking a boat down the Chao Phraya river is one of the most popular things to do in Bangkok, the waterways are also often the best way to get around the city, plus it's really cheap.
We really enjoyed the boat ride to Siam Square from Golden Mount, and the orange boat line on the Chao Phraya river. The first one takes you via a small canal behind people's houses right into the center of Siam Square, all for just 9 baht.
The Orange Flag Express boat takes you to many of the most popular tourist attractions, and shows Bangkok from a different angle. The tickets cost 18 baht flat fee, and you can step off wherever you like.
Khao San Road's Side Streets
Khao San Rd has become a tourist attraction in itself, and you will likely want to spend some time there, especially the area around Khao San Road. The side streets have a little more laid back attitude and some really nice bars, restaurants and many Khaosan Hotels. You also might find that strolling around the smaller streets and corners is much more enjoyable than the actual Khao San Road itself.
You'll find some great street vendors along the street, and some nice bars to sit down and have a drink and do some people watching.
The Man In The Chair Bangkok
This man is one of the people we met during our trip that I will remember the most.
Every day he sat outside his home on a worn leather seat and watched the people pass by on this small side street in Bangkok.
He was there when we went out in the morning, and there when we went home in the afternoon.
And every time we passed he smiled with his toothless smile, waved his hands and said "Sa-waht dee-krap!" (hello).
The last day of our stay, we asked to take a picture of him.
Bangkok Nightlife
As the sun sets behind The Temple Of Dawn down the Chao Phraya river, people are getting ready to hit the streets and enjoy some of the crazy bangkok nightlife that makes the city change completely.
Some prefer to spend the evening in a nice bar or restaurant, others want to get right in the middle of it all and experience the crazy events that Bangkok hides under its robe during the day.
But the city is spread out over a large area, and it can be difficult to know where to go.
Here are our top picks of where to go to enjoy the Bangkok nightlife to the fullest:
Bangkok Cuisine
Although the Bangkok nightlife is known for being crazy, there are many places to just chill out at a slower pace.
Rambuttri road has quite a few nice bars and restaurants with a nice chill vibe, and a few places have live jazz and blues bands playing, which makes for a nice atmosphere for those who want to grab a drink and relax.
It's a nice street with many restaurants and bars to sit back and relax, do people watching, sample street food and talk with friends. This street is for a quieter night out.
If you want some more action, Khao San Road is right nearby.
Green House – Trendy restaurant bar, free wi-fi, cool music and always nearly full.
Even at 12 pm you'll find young tourists having drinks while trying to pick up girls.
Molly Bar – Relaxed atmosphere, a good place for people watching, having a drink or some food and just talk or play pool, while some not-amazing live band is playing in the corner.
It seems to be pretty popular with Thai people, but everyone comes here.
Girls, Girls and Ladyboys…
Let's face it, even if you're not looking to bring someone home, you're curious to see what the whole thing is about, what the Bangkok nightlife is most infamous for.
If you want to see where sad men go to buy their fake happiness, head over to the Sleaze central Nana Plaza.
It has become one of the most visited of all the areas to enjoy the nightlife Bangkok is so (in)famous for.
All the famous bars are here; the Rainbow bars, Hollywood Rock, Hollywood Strip, Playskool, Voodoo, G-spot, Rock Hard, Silver Dragon, Mandarin, Carnival etc.
It's basically a 3 story high sex mall with bars and shows.
It's rumored to be the largest sex complex in the world, and every night people flock here for a "unique" experience.
The place used to be a normal restaurant place, but in the 80's go-go bars started taking over, and today that's all there is to find at this place.
Quite a few bars here have only ladyboys working there (pre-operative), just so you know.
So you get the deal, it's adult entertainment on high level, and although a few curious girls come to visit, the American, European and Japanese men are the main types of people you'll see here.
Patpong
is a more "gentle" version as there is a night market there as well as a few other normal live music bars.
But remember that it is still a sex industry place.
I saw a girl standing outside so shocked that she was crying in her boyfriend's arms.
It's your choice to go there, you know what it's there, so don't act all surprised.
One Night in Bangkok
There are many "high class" clubs in Bangkok, and budget travelers as we are, we never entered any of them.
But, there is a really popular club you will love if you're looking for a cheaper option.
Route 66 – This place is known as one of the best clubs and is totally packed with people, and the entry is free!
Both live bands and DJ's play here, and they have light shows playing in the roof and on the walls.
Adhere 13th Blues Bar – A small but lively bar playing blues music every night.
The stage is small, and the guitarist is the owner of the bar (to give you an idea of the place), but it has a great vibe.
You'll find it on Samsen Road.
Saxophone Pub and Restaurant – Not just jazz music is played here, but ska, rock, reggae (a local band called T-bone plays every Friday night) and funk too.
It's a funky place to hang out for an evening, and pretty popular with expats.
Enjoy your time in Bangkok and get the most out of the Bangkok nightlife on offer!
Streets Of Bangkok You Need To Visit
Bangkok – the infamous capital of Thailand is full of amazing places to visit, some well known, some less so.
However from my personal experience, the city is very easy to get caught up in and you can find yourself only visiting the popular tourist places – The Grand Palace, Khaosan road, Chatuchak market the list goes on.
But the beauty of this place is when you take a side-step away from the tourist hot spots it's very easy to go off the beaten track and into the less known areas of Bangkok.
In my opinion these areas are the more interesting parts of Bangkok to discover and explore.
So, to really get a taste of what this incredible metropolis has to offer make sure you visit these five streets when you explore the city.
Bones and Blood Market Bangkok
Would you ever see anything like this in your supermarket at home?
Bones and Blood Market Bangkok
Klong Toei
Central Bangkok's largest surviving shanty town looks like something out of a film set.
It lies alongside the Chao Praya River and is a jumble of huddled together old wooden houses, narrow lanes, busy markets and stalls selling cheap souvenirs.
It's quite a full on place to visit, and not somewhere to go if you sterile and perfect, but this area will show you a real slice of Bangkok life that's disappearing.
Vegetables In A Thai Market
New Road
The main thoroughfare of New Road is often listed on the tourist trail because of the atmosphere you'll find here, but the surrounding warren of alleyways, hidden courtyards and narrow streets that weave across it are not.
Step off the main drag, and you will discover enticing food stalls, shops selling everything from gold to bric-a-brac, and little local bars where you'll feel wonderfully welcomed.
Washington Square
Tired or just BORED?
Hard to say, but this woman didn't bother trying to talk you into buying her sprouts…
Washington Square
Fronting onto the southside of Skhumvit Road between Sukhumvit Soi 22 and 24, Washington square is rarely on a visitors 'must visit' list.
Here, you'll find an easy going laid back atmosphere and a cluster of tourist friendly bars.
This is an area that is popular with ex-pats, and is what we imagine Bangkok used to be like before all the tourists came in and it was made all glitzy and well, touristy.
This is definitely a place to keep to yourself shhhh…
This is a very common sight that you will see in Southeast Asia.
It may look like a hassle, but it's actually pretty practical.
South East Asia Market Traditional Way Of Selling Veggies In Asia
Phahon Yothin soi 7
Reached by sky train, Phahon Yothin soi 7 is the perfect spot for a little people watching.
This really is authentic Bangkok street life not the sanitized tourist version, but the real thing.
Head west along the main soi and you'll see many tiny shops and small workshops with people going about their everyday business.
You can buy authentic food from the many food stalls here, and the sub-sois (side streets) are filled with many apartments as well as small bars that most tourists never find.
A Smorsgasbord of colorful veggies drew my attention so much that I barely noticed the little ladies in the middle of it all!
Thonburi
Outside the main bustle of the city center, the tourist throng thins out, and in the suburbs you'll find very few.
What you will find here, are seldom visited temples, cheap restaurants selling delicious food in pleasant and relaxed atmospheres, and quiet side streets interlaced among the leafy canals.
If this has tempted you to visit this amazing city, you can get flights to Bangkok and accommodation in the city.
Time in Thailand
People always talk about how places change so fast, how only ten years ago things were so different.
Bangkok in Thailand is no different, only that time there seems to be running on high speed!
During the end of our 10 day stay in Bangkok, we found this really nice Thai food and street food restaurant on a small side street off Soi Samsen road.
The street was quite empty, there were only a few other street food restaurants nearby, although when we went there this was the only one which was open.
7 weeks later we returned to the same street (after having traveled through Laos and Cambodia), but instead of the cute street restaurant we found a huge luxury 5-star hotel – open for business.
First we thought we had ended up on the wrong street, since we didn't recognize any of the restaurants, funky bars and huge 7-eleven shop, and especially not a luxury resort.
Well, after a second look, we found that the little street stall restaurant we used to go to was still there, hidden by all the glamor from its neighbors, although it wasn't open for business.
The quiet little side street had in about 7 weeks turned into a really cool area with some awesome eateries and a massive 7/11.
This wouldn't ever have been able to happen in cities like London, but in Bangkok it is more than possible – it's simply how it is, with everything in Bangkok!
Nothing ever stays the same: Different owners, different shops, new houses, everything is constantly changing.
People say that at some point everyone will eventually find themselves visiting Bangkok, and although I wasn't too keen on going back there – I must admit that seeing how much had changed in only 7 weeks ago, I'd like to come by every year or so just to see what else has changed.
There are so many more things to do in Bangkok, but I hope you enjoyed this quick mini guide and got an idea of what this city has to offer!
Sukhothai
Sukhothai Thai
Things to do in Thailand
Chiang Mai Thai
Bangkok to Ayutthaya
5 Things I've Learned About Thai People While In Thailand
Phuket Thai
(Photo credit: Keng Susumpow – Ray_from_LA – permanently scatterbrained)