Best Time to Visit Thailand ~ Are you going to travel to Thailand? Here are some practical travel tips every traveler should know before traveling to Thailand.
There are several important aspects about Thailand to know about, especially if this is your first Thailand Vacation.
Best Time to Visit Thailand
To travel to Thailand, you will need your passport with a minimum validity period of 6 months from the day of return.
If your nationality is the United States, you do not need to process any type of visa in advance if your stay is a tourist and does not exceed 30 days.
Fortunately, you don't have to pay anything to enter or leave the country. If you have other nationalities, please consult with your embassy.
You will need to learn the proper documentation to enter Thailand and the various countries which are part of your travel plan.
Thailand Vacation Healthcare
If you have visited a country at risk before, you will be asked to receive a yellow fever vaccine. This also applies even if you only go to airports of these countries which are at risk.
In addition, in any case, vaccines for hepatitis A and B, tetanus and typhoid fever are usually recommended. In general, the country's sanitary conditions are below American and European standards.
Although in large cities, it is possible to receive highly sophisticated medical assistance in private hospitals. (Note, they require payment in advance.)
That is why we always recommend renting out extensive travel assistance insurance.
In turn, the Thai Ministry of Health has warned about the high prevalence of dengue fever, which is exacerbated by the onset of rain.
The largest number of cases have been registered in the center and north of the country.
Symptoms of dengue fever are similar to flu: fever, muscle aches, nausea and cold. If you have a fever, you should immediately go to a doctor and learn about treatment options.
Taking aspirin can be dangerous.
Thailand Money
The Thailand Money is the Thai Baht, THB, which in turn is divided into 100 satang. At present there are 25 and 50 satangs coins and 1, 2, 5 and 10 baht.
There are tickets for 20, 50,100, 500 and 1,000 baht.
It is not recommended to exchange your currency for dollars, because you will do one more operation, and you will have to pay double commissions.
Credit cards are generally accepted in restaurants at some level and in hotels. You can also use it to get cash from cashiers.
When exchanging dollars for baht, you will find the best exchange rate at the bank, although almost all commissions charge fees.
Thailand Language
What language is spoken in Thailand ~ The official language of Thailand is tai or Siam, originating from India and with influences from Sanskrit and Pali. In most hotels, restaurants and shops in resorts and big cities they understand and speak English.
However, knowledge of the English language among the population is limited. Making an effort with a guidebook will go along way with the locals.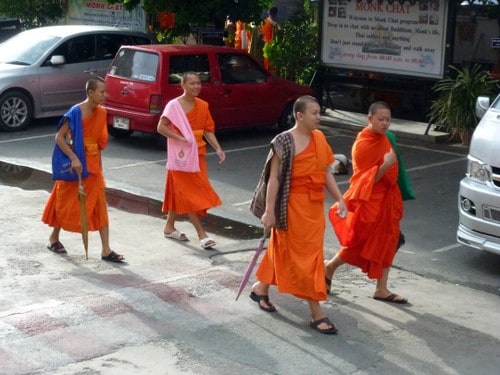 Amazing Thailand Religion
The clear majority religion in Thailand is Buddhism with 95% followers. Buddhism practiced in Thailand originates from the Theravada school, which some consider to be "authentic" Buddhism.
Many young people choose to become monks (men more often than women). It is customary to spend three months in a temple to learn about Buddhist principles and live the same way of life as monks.
Electricity
Electric current in Thailand has a power of 220 volts and a frequency of 50 hertz. However, various sockets are used in this country: Type A (two flat pins), B (three flat pins), C (two cylindrical pins).
We recommend you bring a travel adapter when you visit.
Thailand Weather
In Thailand it's always hot.
However, the country's climate consists of three seasons: the rainy season (approximately from May to October), the coldest season (from November to February) and the hottest season (from March to May).
The best time to travel to Thailand is from November to February. During these months, it rains less. It's also less hot.
Note, there are more tourists and travelers during this time.
However, if you cannot travel at this time, you can take advantage of less crowds.
In addition, traveling in the low tourist season means cheaper prices, less expensive accommodations, easier-to-find train tickets, more offers and discounts, etc.
Thailand Vacation
Traveling in Thailand during the rainy or rainy season does not have to be a problem. The rainy season is very unpredictable.
Even though it rains, it rarely does it all day. Or it may rain a few hours at night.
Basically, it's always a good time to travel to Thailand if you are looking for warmth and good weather.
Thai Food
Thai cuisine is unique. It combines lots of spices and ingredients that make every dish enjoyable.
It is common to find dishes that combine spicy, sour, sweet and savory flavors. Thai food specialties include soups, salads, fish, rice, vegetables, and sometimes pork, chicken or beef.
Thai cuisine combines the best culinary traditions of China and India: Chinese noodles, curries, sour and sweet dishes, and exotic spices. They also have some more bizarre dishes to try for the adventurous.
In Bangkok, Thailand's capital, many hotels offer dinner cruises on the Chao Phraya River.
Gentle breezes, candlelight, traditional music and dances create a romantic atmosphere.
Shopping in Thailand
The most typical national products are Thai silk, antiques, wood, bronze sculptures, ceramics, lacquered items, ivory, rice paper umbrellas and precious or semi-precious stones.
If you choose to get a gem, do it at a company that offers a guarantee to you.
It is also common for tourists to get tattoos or enjoy traditional Thai massage at Buddhist temples.
Is bargaining a habit?
Department stores and some shops in Bangkok have fixed prices. Know that elsewhere, in general, vendors expect you to bargain; it's accepted.
There are no rules, and depending on how buyers and sellers do it, the final price can be up to 30% lower than the original price.
An important point to remember is that Thais admire good manners and a sense of humor. They tend to reject outgoing tones.
Thai Culture
Customs law prohibits the introduction of more than 200 cigarettes (one carton) per person. If you exceed this amount, the fine is 467.50 baht per package if cigarettes are for personal consumption.
It is 701.25 baht if used for commercial use.
The alcohol limit that can be introduced in Thailand is one liter per person.
This law applies to travelers traveling to Thailand as well as those in transit.
What should I carry in my luggage?
In addition to bringing an adapter, the right clothing will enhance your trip. Regardless of the time of year you travel, we advise you to bring easy-to-wear light clothing.
Bring layers. Cotton and linen fabrics are ideal for the Thai climate.
If you plan to travel in January or December, or if you plan to visit mountainous regions in the north of the country, such as Chiang Mai or Chiang Rai, we recommend you pack long-sleeved shirts or shirts, and thin sweaters or jackets for cold nights.
Best Time to Visit Amazing Thailand
Planning your trip is an exciting time. Prepare in advance so you can see all you want to see in this amazing country.
Follow this Thailand travel advice, and you will know what to expect. Now are you ready to travel to the White Elephant Land?
5 Things I've Learned About Thai People While In Thailand
One Night in Bangkok
Things To Do In Bangkok