Best Time to Visit Israel ~ Israel is a country that is steeped in history and religious significance. As a result, it gets many tourists from across the world who are visiting Israel for religious reasons. But there are plenty of other reasons to visit Israel, and we'll be going over them in this article. We'll tell you the best time to visit Israel, and what you should do while there.
Best Time to Visit Israel
When planning your ideal time to visit Israel, there are two major considerations that effect most tourists' plans – weather and religion. The weather influences when conditions in Israel will be most favorable for your vacation (not to mention most crowded and most expensive). Israel is also considered a holy land for certain major religions around the world (not just Judaism). These religious events also happen to be times when travel to Israel is most competitive for travel, and most expensive. First, let's look at how weather plays a role:
Israel Climate
Israel has good weather year-round, characterized by hot, mostly dry conditions. That being said, Israel has a varied landscape, so the weather will also depend where in Israel you are staying.
Along the Mediterranean coast (such as in Tel Aviv) there are hot, dry summers which extend from April to October. Temperatures hover around 30C (86F) during summer, with clear blue skies most days. July and August are when Israel is at its hottest. Winters (Nov-March) are still warm, hovering around 18-20C (65-68F) during the day, but nights drop down to about 10C (50F). Winters in Tel Aviv are also rainier than many other areas of Israel, particularly desert regions.
As a result, many tourists consider the shoulder seasons surrounding summer to be the best times to visit many of Israel's major cities and attractions (April-June and September-November). This allows tourists to avoid the rainier, colder winters, and also the intense heat of July and August. The shoulder seasons provide comfortable temperatures and clear skies, without an overpowering heat.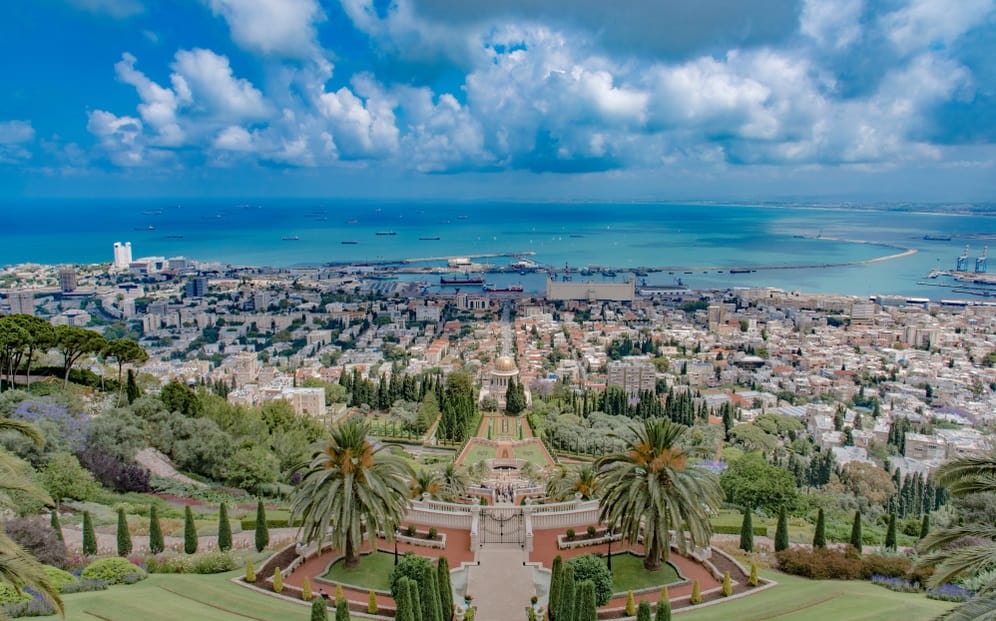 Israel also contains various elevations, including hilly regions and mountain ranges. As a result, areas such as Jerusalem feature noticeably cooler, rainier weather, while areas such as the Negev Desert (in southern Israel) are warmer and dry year-round. Northern Israel also features mountainous regions, where winter temperatures can approach freezing at times, and have been known to see snow.
Your main takeaway should be to check the local weather conditions for the area you are planning to visit. For most of Israel's tourist hot-spots, the best times to visit are during the shoulder months, as we explained above. But if you're visiting Israel for other reasons, particularly for religious reasons, you may need to book your travel at another time of year, as we'll examine next:
Religious Considerations
Depending on why you are visiting Israel, you'll likely want to be aware of the major dates of religious significance. Religious travelers will gravitate toward these times, while other travelers might want to avoid these times, due to more crowded and costly accommodations (not to mention more crowded historical sites).
Israel holds plenty of religious significance for Jewish, Christian, and Islamic travelers. The most popular dates for Jewish travelers are Passover and Rash Hashana (Passover in March/April and Rash Hashana in September/October). Christian travellers flock to Jerusalem during Christmas and Easter. In fact, Jerusalem holds major religious significance for Christian, Jewish, and Islamic travellers.
Whatever your reasons are for visiting Israel, it helps to be aware of these dates, and why booking your ticket at certain times of year may be much more crowded and expensive than others.
Top Things to do in Israel
Now that we've examined when you should visit Israel, let's check out the why. Israel has plenty to offer tourists of all sorts. From bustling cities to seaside beaches to ancient sites, there's a lot to see and explore. Here are our picks for the best things to do in Israel:
Jerusalem
One of the most famous holy destinations in the world, Jerusalem is packed with religious significance, and cultural areas to see and explore. All accentuated by the golden roofed Dome of the Rock, Jerusalem offers something for tourists both religious and non-religious.
Jerusalem holds deep significance for Christians, Jewish people, Islamic people, and more. You may have faith-based reasons for visiting Jerusalem, or you may just want to soak up the history of this famous city. The city is surrounded by stone-walls, and full of winding streets, bringing you to endless amounts of landmarks, religious buildings, museums, restaurants, and more.
If you're looking to experience the true historical hub of Israel, Jerusalem is your best bet.
Jerusalem Events and Festivals
Jerusalem hosts a few major events throughout the year. One of the biggest annual events is Jerusalem Day, which is celebrated each year, usually in May. Jerusalem Day is a huge, city-wide party, which includes many events, street vendors, street parties, live music, and general celebration. Jerusalem Day is a day to celebrate Jerusalem's status as a Holy City.
If you're in Jerusalem during the summer, be sure to check out the Jerusalem Festival of Light. Each June, the city teams up with international artists to "light up" the city of Jerusalem. This includes major light displays all around the old city, including on some of Jerusalem's most famous landmarks. It's fascinating to see the entire city light up, and it's free to attend the Festival of Light.
Beaches of Tel Aviv
There are many beaches along Israel's various coastlines, but the beaches of Tel Aviv are among the most famous in all of Israel. There's plenty to do in Tel Aviv, but its beaches are always one of the main attractions. Tel Aviv has over 9 miles of beach along its shorelines, which allows tourists to scope out a less-crowded seaside spot if they know where to look.
Beaches in Tel Aviv tend to be very clean and well-maintained, and many have public bathrooms lining the beachfront. In many areas, the beaches are lined with restaurants, cafes, and shops. You can lounge, swim, or even rent a surfboard. Don't forget to pack a travel towel.
And if you'd prefer less crowded beaches, you'll find plenty of beaches along Israel's expansive Mediterranean shoreline.
Tel Aviv Events and Festivals
There's lots more to do in Tel Aviv than just beaches. Tel Aviv's Pride Parade (and Pride events) take place at the during June each year, and are some of the most active Pride events in the world. The parade itself makes its way through downtown Tel Aviv, full of lively performers and elaborate floats. You'll find many more Pride events in downtown Tel Aviv the entire month.
Also don't miss the Fresh Paint Fair, Israel's largest annual art event. Held in March each year, the Fresh Paint Fair features art from small up-and-comers and major museums. You'll get a taste of the art talent across Israel as you walk through the galleries.
Sea of Galilee
The Sea of Galilee is located in Northern Israel, and offers travelers a wonderful excuse to visit Israel's northern countryside, which is very different from the arid deserts of the south. There are many areas of religious significance surrounding the Sea of Galilee, but many travellers simply visit the region to hike, swim, and explore.
Cruise Around the Negev Desert
The Negev desert comprises most of Southern Israel, and occupies almost half of the country's entire land mass. The Negev is sprawling, endless, and features hills, canyons, valleys, craters and more. There are many tours of the Negev which operate out of various cities and towns across Israel. We recommend checking out Timna Park, near the resort-town of Eilat, at the southern end of Israel. It's worth the journey down south to explore Timna Park's huge cliffs and wild rock formations.
Some tourists prefer to explore the desert via a tour, which is often done in an all-terrain vehicle, such as a Jeep. These tours are a great way to get a sense of just how vast this desert really is. Tours take you to the most interesting natural attractions across the Negev.
The Dead Sea
The Dead Sea is one of the weirdest natural attractions in Israel (and maybe the world). As the lowest land-based elevation on Earth, the Dead Sea is extremely mineral rich. More specifically, it's extremely salt rich, to the point where swimmers naturally float in the Dead Sea. There are several resort towns on the edge of the Dead Sea which offer travelers a spot to stay and check out this natural attraction.
And Much More!
Steeped in history and historical significance, Israel is a fascinating destination for travellers from all over the world. But even for non-religious travellers, Israel offers plenty to see and do. Deserts, beaches, natural wonders and more, use our guide above to plan the ultimate Israel vacation!
FAQs
What is the Time Zone in Israel?
The time zone in Israel is Israel Standard Time. Israel enacted this time zone when the State of Israel was founded in 1948. For reference, Israel Standard time is 7 hours ahead of Eastern Standard Time, and 10 hours ahead of Pacific Standard Time.
Do You Need a Visa To Enter Israel?
No, you don't need a Visa to enter Israel as a tourist. Tourists to Israel are granted leave for up to 3 months in the country (assuming there are no other issues with your entry). In most Israeli airports, you will be given an entry card, which you should keep with you until you leave the country. Sometimes, you'll be given this card instead of a stamp in your passport.