Best Time to Visit Joshua Tree National Park – Famous for its unique desert ecosystem, Joshua Tree National Park is truly one of the most interesting scenic locations in the United States. Located where the Colorado Desert meets the Mojave Desert, the park packs a lot of different experiences into its (relatively) small size.
In this article, I'll explain the best time to visit and what to do while you are there so you can get the most out of your time. Note: Stay alert for rattlesnakes when hiking and exploring.
Best Time to Visit Joshua Tree National Park
There is a clear high and low season for tourism in Joshua Tree that is mostly determined by the weather. However, since the park is open year-round, the best time to visit is the time that best matches your vacation schedule. Let's take a closer look:
Joshua Tree National Park Tourist Season
Joshua Tree experiences consistent tourism year-round due to its proximity to one of the USA's most visited cities – Los Angeles. But being a desert, the park experiences sweltering temperatures in summer, and somewhat chilly temperatures in winter.
Therefore, I think the best time to visit Joshua Tree is during the shoulder seasons of Spring and Fall. These seasons are the only times you'll experience pleasant temperatures during day and night. You should expect crowds at Joshua Tree pretty much year-round, especially at the park's most popular attractions (such as some we'll cover below).
Joshua Tree National Park Weather
Joshua Tree has an arid, desert climate. The temperatures shift with the seasons, but is dry and sunny year-round. Joshua Tree has very hot summers, with daytimes highs routinely pushing over 100F and lows of around 75F. Spring and fall are more pleasant, with highs around 80 – 90 degrees F and lows around 60 – 70 degrees F.
Winters can get quite cold, with highs around 60 – 70 degrees F and lows around 40 – 45 degrees F. All this said, Joshua Tree does feature a number of different elevations, and you can expect the temperature to dip as you go higher. Some of Joshua Tree's peaks will even experience snow during winter. Being a desert, you can expect hot, dry conditions, so you'll need to plan your trip accordingly. Be sure to bring an insulated water bottle and apply sunscreen no matter when you visit.
Getting To and Getting Around Joshua Tree
Joshua Tree is most accessible from Palm Springs International Airport, which is located around 50 miles east of the park. If you're flying from further away, you may fly into Los Angeles International Airport, which is about 150 miles east of the park.
Most visitors travel to the park from each airport by renting a car, which is my recommended method of transportation. A car is also the best way to see the park itself. There was a free shuttle service that ran through the park as recently as 2019, but it has since been cancelled due to lack of funding. Hopefully it comes back!
Compared to many National Parks in the United States, Joshua Tree isn't overly large (1235 sq. mi.), meaning you can drive through the park and see most major sites in a single day. The two major roads cutting through the park are Park Boulevard and Pinto Basin Road, which take you past many major sites, and are each a great way to see the park.
There are also plenty of spots to get out and hike if you so choose, and I'll cover some of them next.
What to Do in Joshua Tree
Now that we've examined the best time to visit Joshua Tree, let's get into planning your stay. In this section, I'll cover the best things to do in Joshua Tree.
Joshua Tree Visitor's Centre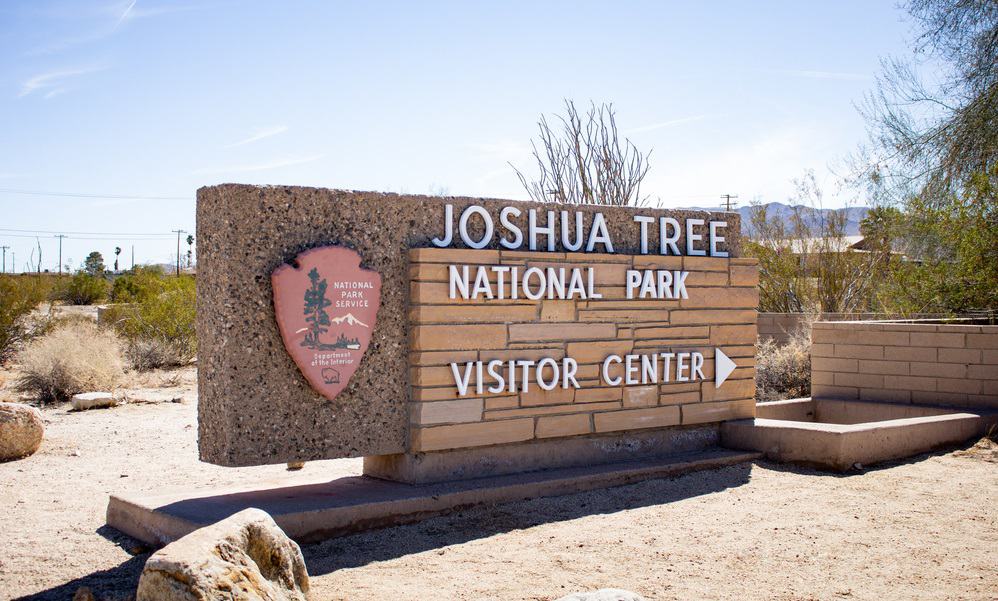 The Joshua Tree Visitor's Centre is located just north of the park, just east of Yucca Valley. The Visitor's Centre is a great place to plan start your trip, which is why its leading this list. Pick up some maps, talk to some rangers, and decide what to see and do.
You can first-hand advice from experts on the best park experience for you. The Visitor's Centre is also located on Park Boulevard, which cuts right through the Northern end of the park (and connects with Pinto Basin Road if you want to continue South). This makes it an even better place to start your journey.
Keys View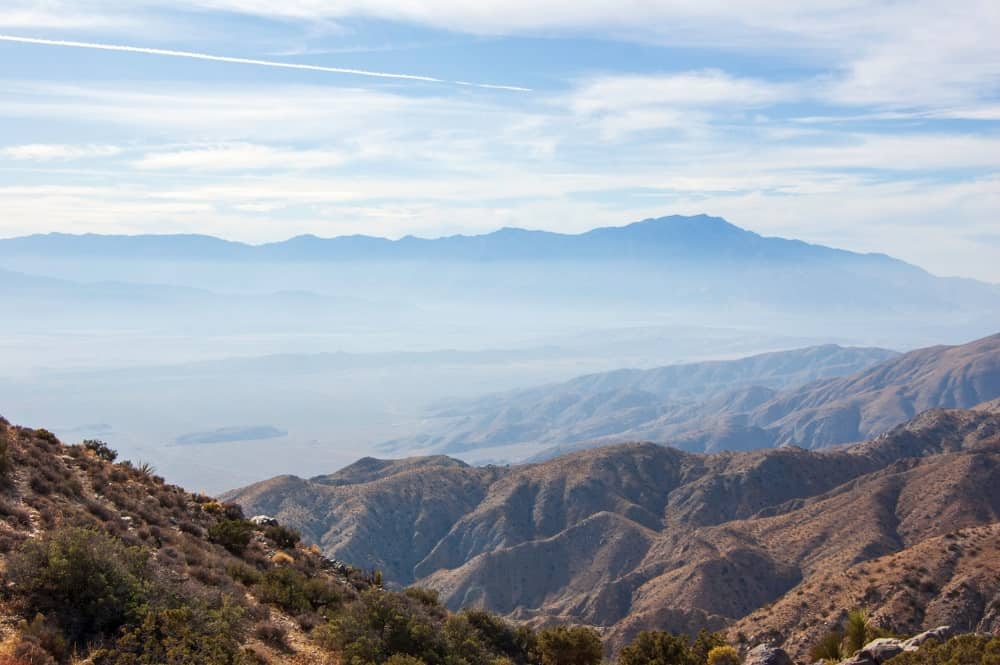 One of the most popular lookouts in Joshua Tree is Keys View. The viewpoint is located toward the southwest end of the park. Keys View is popular for a reason, as it offers an expansive view over the park's western end, including Coachella Valley. You'll also see the Santa Rosa Mountains, the Salton Sea, and many other notable sites in the distance.
Being as Joshua Tree is almost always clear and sunny, you'll get a great view pretty much any time you visit. You can drive almost the entire way to Keys View. Keys View Road is accessible off Park Blvd., and takes you almost the entire way there. It's a short 0.2 mile walk to the lookout point. Just be aware that parking tends to fill during busy season.
Cholla Cactus Garden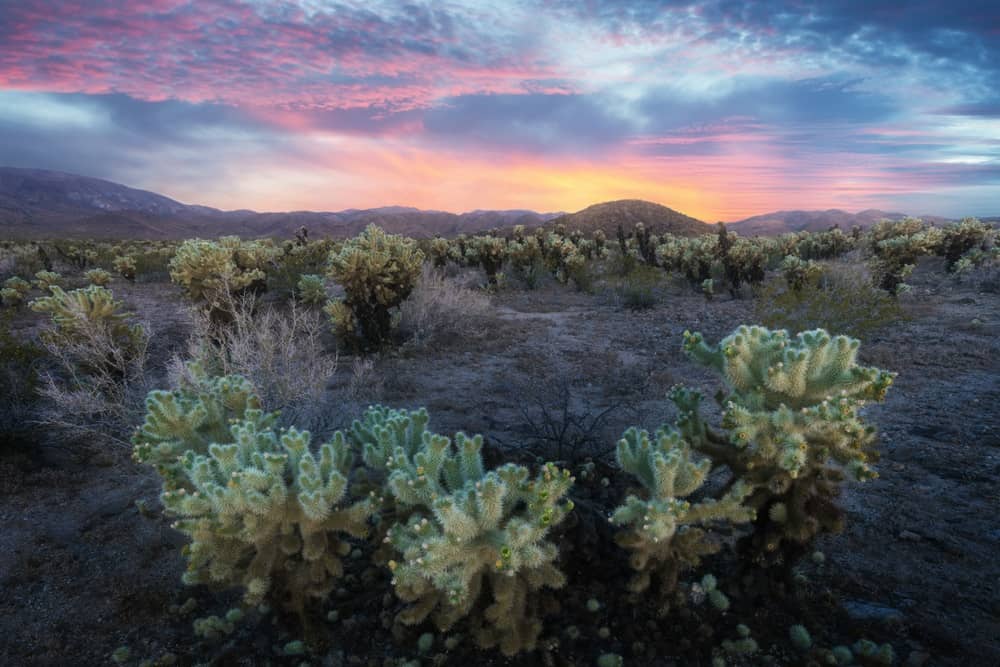 The Cholla Cactus Garden is located toward the center of Joshua Tree, just off Pinto Basin Road. The Garden is a short hike which takes you in a loop through some of the park's most interesting wildlife, including one of the park's only places to see the otherworldly cholla cactus. Cholla is pronounced choy ya.
It's a very short hike that can be completed in well under and hour, and is a great way to see spectacular biodiversity if you're short on time. Be careful not to touch the cholla cactus, as its grippy spines are easy to stick and VERY difficult to remove!
Ryan Ranch Trail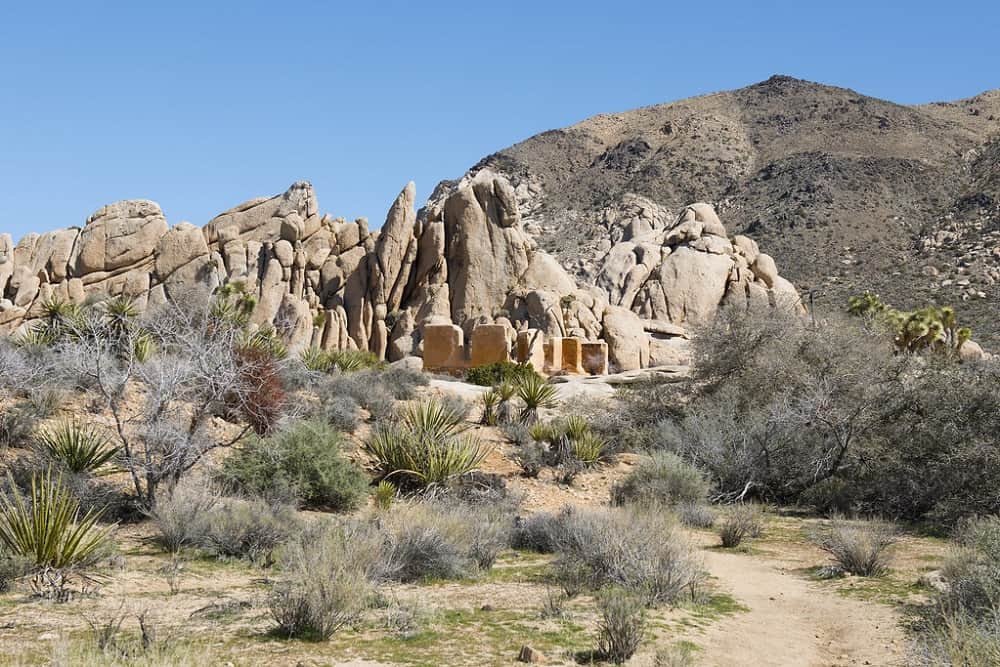 The Ryan Ranch Trail is another short hike that is packed with interesting features. The Ryan Ranch Trail is located east of the Ryan Campgrounds, which are located just off Park Blvd. The trail takes visitor from the campgrounds to the Ryan Ranch settlement, which is a collection of structures from the 1800s that was once a large ranch settlement.
It's a great way to soak up some desert views and some interesting history. It's an easy hike, which is made even easier if you happen to be staying in the nearby campgrounds.
Barker Dam Nature Trail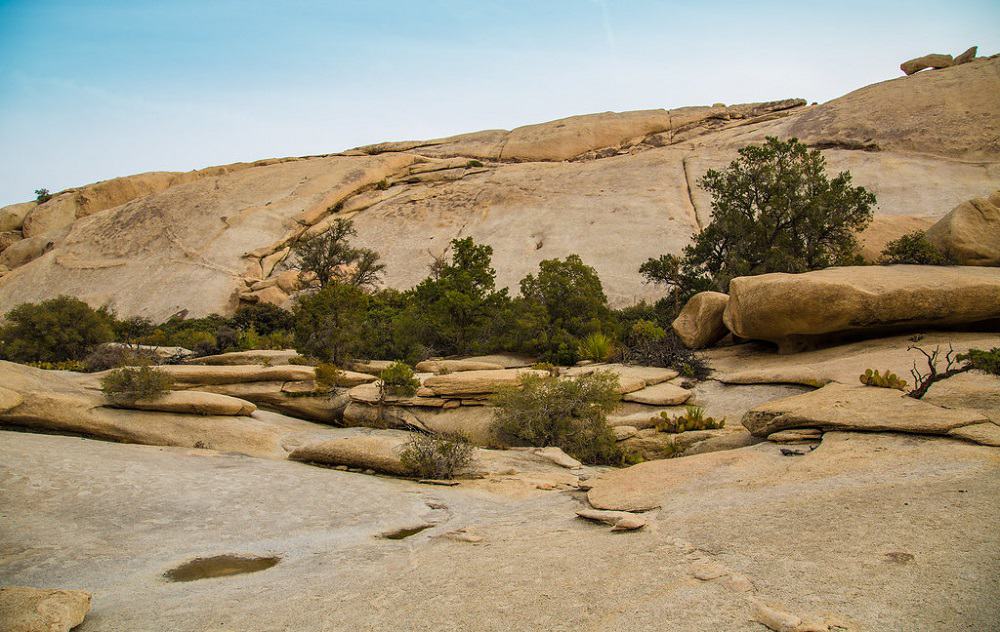 Barker Dam Nature Trail is another relatively short jaunt through the park. The reality is that most popular walks through Joshua Tree are quite short, given the park's harsh landscape and sweltering conditions. Longer hikes do exist, but we'd recommend hiring a guide for more difficult treks. Barker Dam Trail is a 1.3 mile round-trip which is located toward the northern end of the park, just off Queen Valley Road.
For a longer hike, start near the Hidden Valley campsite, where you can start from Hidden Valley-Barker Dam Connector Trail, which eventually connects with Barker Dam Trail. The hike takes you past Barker Dam, and features interesting desert landscape.
Climbing in Joshua Tree National Park
It's difficult to make a guide about Joshua Tree without mentioning climbing. Climbing and bouldering are among the most popular activities among those who frequent the park, with over 8,000 climbing routes throughout. Hidden Valley Campground is a popular destination for climbers, as it's surrounded by many of the park's more popular climbs.
Climbs range from easy to very challenging, and we wouldn't recommend any beginners try without an experienced guide. Climbing is actually very popular in Joshua Tree during the winter, because other nearby National Parks (such as Yosemite in the winter) are too cold for climbing, which sees many avid climbers venture to the desert climate.
Joshua Tree National Park Camping
Joshua Tree is also a hotspot for camping, with many campgrounds located throughout the park. As is the case with many popular US National Parks, campgrounds book up fast during busy season, so be sure to book well ahead of time to secure your favorite spot.
Festivals and Events in Joshua Tree
If you happen to visit Joshua Tree during certain times of year, there are many festivals and events of note. Here are some of my favorites:
Coachella Music Festival – One of the most popular music festivals worldwide, the Coachella Valley Music & Arts Festival draws premiere talent and huge crowds from around the world. Coachella takes place each April in the Coachella Valley, just west of Joshua Tree.
If you are looking for a full-blown party experience, and the opportunity to see some of the biggest names in music from all genres, then Coachella is for you. Just be aware that tickets sell out fast and hotels book fast as well, so you might need to book months in advance.
Joshua Tree Music Festival – For a slightly more "low key" music festival, check out the Joshua Tree Music Festival. This festival takes place in May each year, and bills itself as a "family-friendly" music festival with a laid-back vibe (especially when compared to Coachella). Musical performances are folky, funky, and unique. The event even features yoga classes every morning.
Timelapse Film Festival – Timelapse Film Festival is a festival which celebrates a very unique type of filmmaking – time-lapse filmmaking. Time lapsing is filmmaking which films an area for a long period of time and speeds it up, showcasing a long time-lapse in a short-period. You've surely seen time-lapse video before, but you probably didn't know it had its own festival! The festival is located near Joshua Tree (often in the Joshua Tree Retreat Center), and occurs yearly in summer.
When to Go to Joshua Tree National Park
Thanks for checking out our guide to Joshua Tree National Park. There's a reason this park has gained such notoriety, with so much to see packed into such a small park (at least by National Park standards). Use our guide to plan your ultimate Joshua Tree experience.
Joshua Tree National Park FAQs
How Much Rain in Joshua Tree?
Joshua Tree is characterized by an arid, dry, desert climate, and the area sees very little rain year-round. Historically, the rainiest month has been August, which still typically sees under 1-inch of rain through the entire month. Most days in Joshua Tree are clear and sunny, but also note that summers become sweltering hot.
How to Get Around Joshua Tree?
The best way to get around Joshua Tree is by car. There are two major roads in the park (Park Blvd. and Pinto Basin) with several off-shooting roads taking you to the park's major sites. There used to be a free shuttle service running through the park, but it has since been discontinued (although we'd love to see it return).
In addition to bringing a water bottle, sunscreen, a hat, and long sleeves if you choose, wear good shoes or hiking or hiking boots which will help keep you steady as you hike, climb, and boulder.
Where will your travels take you next? Check out some other info about national parks and when to explore them.
Zion National Park Camping | Camping in Zion
Glacier National Park Camping
Best Time to Visit the Grand Canyon National Park
Best Time to Visit Olympic National Park
Best Time to Visit Death Valley
Best Time to Visit Acadia National Park
Yosemite Hiking Trails
Yellowstone Hiking Trails
Things to Do in Rocky Mountain National Park
Best Time to Visit Zion National Park
Best Time to Visit Glacier National Park
Best Time to Visit Yellowstone
Best Time to Visit Grand Teton National Park
Best Time to Visit Rocky Mountain National Park
Best Time to Visit Lake Tahoe
Lassen Volcanic National Park Camping
Lassen Volcanic National Park Things To Do