Things to Do in Rocky Mountain National Park – Located northwest of Denver, Rocky Mountain National Park stands as a representation of the true geographic diversity in the United States. Huge mountain peaks tower over valleys and streams making for some of the best natural beauty anywhere on earth. In this article, we'll give you a rundown of the best things to do in Rocky Mountain National Park.
Rocky Mountain National Park – Overview
Rocky Mountain National Park covers over 260,000 acres of land in northern Colorado, northwest of the capital city of Denver. The Park is located in the Front Range of the Rocky Mountain Range – which stretches from US to Canada. The Continental Divide runs through the center of Rocky Mountain National Park.
Park Headquarters are located in the Beaver Meadows Visitor Center. The nearest cities to Rocky Mountain National Park are Grand Lake (on the western edge) and Estes Park (on the eastern edge).
Rocky Mountain National Park Weather
Rocky Mountain National Park weather is characterized by its Subarctic climate, featuring warm-hot summers and cold winters. Of course, due to its wildly differing elevations, weather conditions are never consistent across Rocky Mountain National Park. Generally speaking, tourists can expect colder temperatures at higher elevations, with increased chance of precipitation turning into snow.
Summers in Rocky Mountain National Park see highs around 72-78F and lows around 40-45F. Shoulder seasons (spring and fall) see highs around 50-60F and lows around 25-35F. Winters are cold, and see highs around 40-45F, with lows around 15-20F. Once again, expect temperatures to shift drastically the higher you go.
The Park tends to see more precipitation during summer months, but precipitation is another factor that is influenced by elevation. High in the mountains you'll see snow early and often, and might be experienced as rain in lower elevations.
Things to Do in Rocky Mountain National Park
Now that we've covered the background info, let's get to the interesting stuff. With so much to see and do in Rocky Mountain National Park, what should you prioritize during your visit? We'll run down our top picks, and we think there's something for everyone in our list:
Beaver Meadows Visitor Center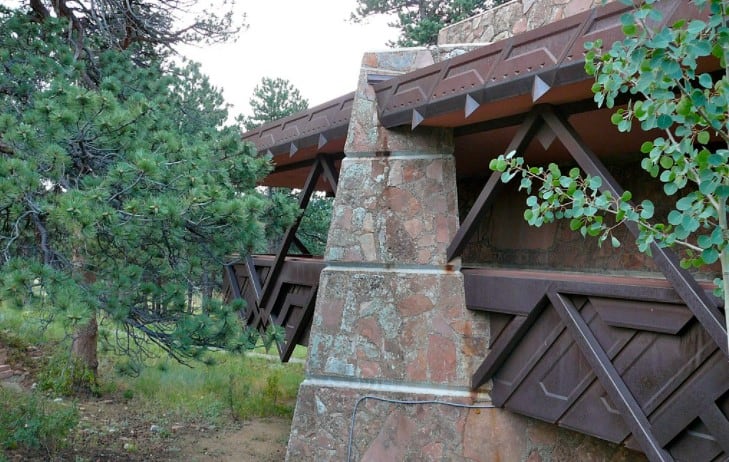 A visitor center may not be the flashiest pick, but we think they're a great place to start any National Park adventure. The Beaver Meadows Visitor Center is officially the park's headquarters, and is located in Estes Park, on the eastern side of the park.
The visitor centre is a good spot to get your bearings by checking out trail maps, park information, and learning about guided tours and excursions. It's also located near the main park entrance, so it's a logical stop on your way.
Trail Ridge Road
Trail Ridge Road is another great way to ease yourself into your Rocky Mountain excursion. We find that taking a drive is often the best way to get a sense of your surroundings, and to decide what you want to do next. Not to mention that Trail Ridge Road is one of the most spectacular drives in any US National Park.
Trail Ridge Road is a winding 48-mile road leading from Estes Park to Grand Lake. Along the way, you'll climb mountains, dip into valleys, and take in some incredible views of the Rocky Mountains and more. You'll also get the chance to see all sorts of wildlife. There are several lookout points along the way to stop your car for on-foot views.
However, you need to be sure to note the road conditions before you start your drive. Road conditions can become icy and hazardous during winter months, especially considering the drastic changes in elevation. The road is known to close at certain times of year for this reason.
Forest Canyon Overlook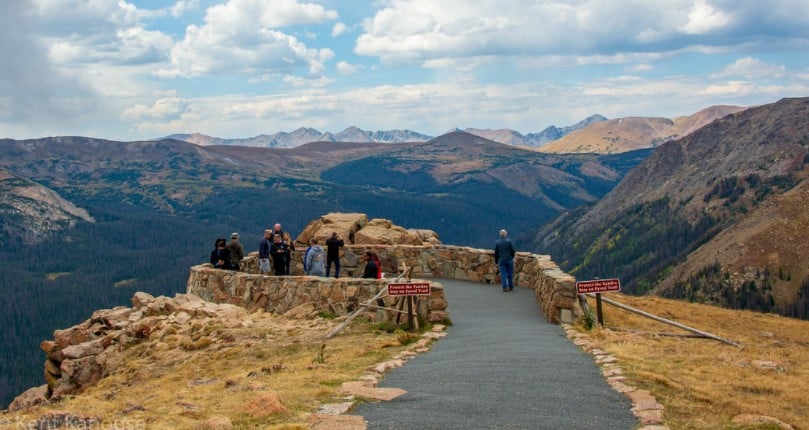 There are so many spectacular viewpoints in Rocky Mountain National Park that it's hard to go wrong – but Forest Canyon Overlook still stands out to us. Over 11,000 feet high, you'll look out at the massive Forest Canyon, as well as a several towering peaks in the distance.
There aren't many places on Earth that make you feel "smaller" (and we mean that in a good way!). Forest Canyon was carved out by glaciers, and has given way to rolling hills and mountains covered in trees, grasslands, snow, and rock.
Estes Park
Estes Park is known as the "gateway" to Rocky Mountain National Park, and is well-worth checking out on its own. It's hard to imagine a more picturesque backdrop than Estes Park, with the mountains towering in the distance.
It's very tourist friendly, and is packed with places to eat, stay, buy souvenirs, or drink! The town is quite small, and very walkable, and makes a great "home base" to take day-trips into Rocky Mountain National Park.
Sky Pond
Sky Pond is aptly named as a pond that sits high in the Rocky Mountains. The pond is surrounded by jagged peaks, with a gorgeous, sprawling view of the surrounding region. Sky Pond also represents one of the Park's most difficult hikes, a 9.5 mile round-trip with plenty of vertical elevation. We only recommend experienced hikers take on this challenge, and be sure to pack plenty of water and food.
Bear Lake
Bear Lake is one of the most popular attractions in Rocky Mountain National Park. Located toward the centre of the park, and accessible via Bear Lake Road. Bear Lake is a beautiful glacial lake with a stunning backdrop onto forests and mountains. Hike the easy, tourist-friendly Bear Lake Trail which takes you around the circumference of the lake.
Bear Lake also serves as the trailhead for many other popular hikes in the region, which range from beginner to advanced. You can keep going along Bear Lake Trail to Flat Top Mountain Trail, a more advanced hiking trail. It's an excellent spot to visit and spend a day. There is also parking and public washrooms located at Bear Lake Trailhead.
Old Fall River Road
Old Fall River Road is a unique experience, offering park visitors the opportunity to drive up a steep mountain road, full of twists, turns, and switchbacks. It's a one-way road that starts and ends on two major park roads. The road is accessible from Endovalley Road, which takes tourists to Endovalley Picnic Ground.
From there, there is the opportunity to turn back or tackle the one way climb up Old Fall River Road, which eventually meets up with Trail Ridge Road.
The road follows Fall River, with plenty of sights and lookouts along the way. Old Fall River Road dates back to the 1920s, and is very much reminiscent of that era. It's a treacherous drive, without guardrails, and with plenty of steep drop-offs and tight turns. It's also mostly un-paved. While the road is closed in the winter, drivers should exercise caution at all times of year.
Emerald Lake Trail
Here's another of Rocky Mountain's most popular hiking trails – the Emerald Lake Trail. The Emerald Lake Trail is popular for the sheer amount of sites packed into its 3.6 mile distance. You'll pass Dream Lake, Nymph Lake, Tyndall Creek, with the hike culminating Emerald Lake.
Emerald Lake is an alpine lake located high in the Rockies, rewarding you with great views for your troubles. The hike is classified as intermediate, but doesn't have especially difficult terrain. As long as you remember to pack food, water, and layers, you'll be able to handle Emerald Lake Trail.
The Trail begins from Bear Lake Trailhead, like many of the park's popular hikes.
Twin Sisters Peaks Trail
Twin Sisters Peaks Trail is another difficult hike with very rewarding views. It's a 7.4 mile round-trip up steep terrain, and is definitely best suited for intermediate-experienced hikers. It's a long hike, but heavily trafficked with clearly marked routes. There are many spectacular viewpoints along the way before you reach the peak.
Holzwarth Historic Site
The Holzwarth Historic Site is a historic log cabin and ranching site that gives visitors some true Rocky Mountain history. The Holzwarth family lived in the ranch property in the early 1900s, and its preserved nature makes it a great way to see how we once lived. It's well worth checking out as a change of pace from Rocky Mountain's natural sights.
The Site is accessible via a short detour off Trail Ridge Road on the Park's western end.
Festivals and Events in Rocky Mountain National Park
There are many popular festivals and events dotting the calendar in the Rocky Mountain National Park region. If you're lucky enough to visit during these times, be sure to check them out:
Scandinavian Midsummer Festival – The Scandinavian Midsummer Festival takes place each year in Estes Park to celebrate the Summer Solstice (each year in June). It's a traditional Scandinavian cultural festival which features plenty to do for people of all ages. There's dancing, music, exhibits, kids' activities, and much more. Traditional Scandinavian activities include the raising of the Maypole, a Grand March, and lots of costumes. It's a neat cultural experience that you shouldn't miss if visiting Estes Park in late June.
Stanley Live Concert Series – Stanley Live Concert Series is an ongoing festival featuring concerts and performances from big acts around the world. It's held at the historic Stanley Hotel, a classic hotel overlooking Estes Park.
Fall Back Beer Fest – Held each year in November for "Fall Back" (Daylight Savings Time), this beer fest features craft beers from around Colorado. It's a great time to get bundled up and sample beers from Colorado's strong craft beer scene. The latest event featured over 30 brewers from the surrounding region.
Rocky Mountain National Park Reservations
Thanks for reading our comprehensive guide to Rocky Mountain National Park! There's so much to see and do in this spectacular park that it often feels quite overwhelming. Use our guide to plan your ultimate Rocky Mountain vacation.
FAQs
What Wildlife are in Rocky Mountain National Park?
The geographical diversity of Rocky Mountain National Park makes it a habitat for all sorts of wildlife. You'll see birds, mammals, fish, insects, and much more. There are too many for an exhaustive list here, but some of the more notable wildlife include bears, moose, mountain lions, elk, and much more.
Is There Camping in Rocky Mountain National Park?
Yes, there are campgrounds in Rocky Mountain National Park. As is the case with any US National Park, you need to book them through the National Park's Service website. As is also the case, popular campgrounds fill up fast, often within hours of booking becoming open. This is especially true for popular summer months and long weekends. Many campgrounds are closed during colder months due to harsh conditions or due to road closures.
Zion National Park Camping | Camping in Zion
Glacier National Park Camping
Best Time to Visit the Grand Canyon National Park
Best Time to Visit Olympic National Park
Best Time to Visit Joshua Tree National Park
Best Time to Visit Death Valley
Best Time to Visit Acadia National Park
Yosemite Hiking Trails
Yellowstone Hiking Trails
Things to Do in Rocky Mountain National Park
Best Time to Visit Zion National Park
Best Time to Visit Glacier National Park
Best Time to Visit Yellowstone
Best Time to Visit Yosemite
Best Time to Visit Grand Teton National Park
Best Hikes in Rocky Mountain National Park
Best Time to Visit Great Sand Dunes National Park