Things To Do In North Cascades National Park should be a top priority when touring Washington State.
Compared to other American destinations, North Cascades is rich in glaciers. In addition, it is home to emerald lakes and mountains whose sights leave you awed and yearning to explore more of the surroundings.
Things To Do In North Cascades National Park
Here is a list of eleven things to do when visiting North Cascades National Park, from unique lakes and hiking trails to incredible wild drives overlooking widespread beautiful scenery.
Where is North Cascades National Park?
North Cascades National Park is located in northern Washington state, and due to its remote location, the park doesn't see many visitors.
Compared to other parks in the region, like Olympic National Park and Mount Rainier, North Cascades National Park is the least visited.
Protected wilderness surrounds the park, and there are fewer roads and less infrastructure than other parks in the area. Structures are also scarce, giving you a chance to enjoy undisturbed solitude and peace.
Major cities next to North Cascades National Park include Vancouver, BC, about 3 hours away, and Seattle, 2.5 to 3 hours away. The Seattle-Tacoma International Airport, which is a 120-miles distance from the park, is the closest.
Entrance to the park is free, though you should carry some money to access other sections of the park once you're inside, such as campgrounds, docks, and forests.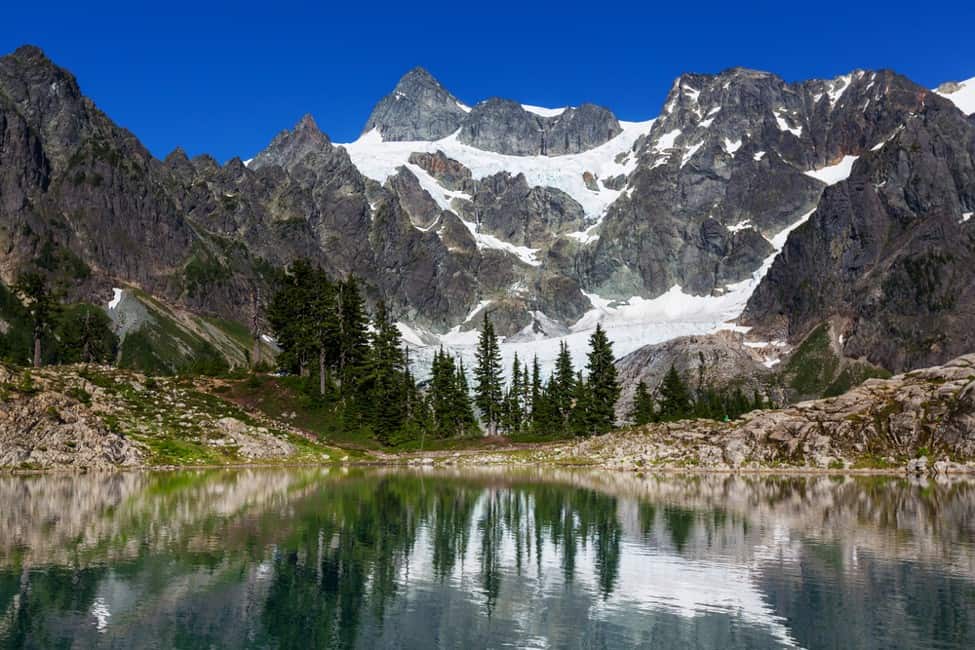 11 Things To Do In North Cascades National Park
1. Hike in the Maple Pass Loop
When hiking in North Cascades National Park, you can't go wrong on the Maple Pass Loop, which has a starting point at the Rainy Pass Trailhead.
This hike touches the Okanogan-Wenatchee National Forest, spreading across the highest point of North Cascades National Park.
Hiking in this park follows a scenic circuit from its boundaries to Maple Pass Loop. It guarantees you beautiful views throughout the day, including a look at Lake Ann, different species of summer wildflowers, alpine meadows, and other gorgeous scenery.
The loop stretches about 7.2 miles. If you are visiting during fall, you'll have a first-hand glance at the glorious colors of the red huckleberry and alpine larch bushes.
This hike is a bit strenuous, though you can accomplish it with a reasonable fitness level and a little hiking experience. Hiking the loop counterclockwise gives you the most scenic views of the park.
The popular and sensational hiking area is accessible through a trailhead slightly off North Cascades Scenic Highway, which is easy to locate.
When visiting during summer, be sure to set off in the early morning or afternoon to get the best views. The Maple Pass Loop hike is among the best things to do when visiting North Cascades National Park.
2. Take The North Cascades Highway Drive
If you're not up for hiking, the North Cascades Highway Drive is an excellent way to see the park because you still get all the beautiful views from a comfortable drive.
Following the National Scenic Highway, cruise through Sedro Woodley and the trail beside the Skagit River.
This route has a resting point at Washington pass with a spot on the uppermost roadside to take a break and observe the peaks and other breathtaking scenery.
Feel free to stop by the numerous generational farms and historic towns when driving downward. You also have a great view of different wildlife, sometimes right next to your car.
Remember to fill your gas tank before heading out. The drive is long, beautiful, and exciting, and you may want to keep moving further. The gas stations along the highway are also far from each other, so making sure you have enough gas will save you from making too many stops.
3. Take a View of The Gorge Lake Overlook
The Gorge Lake Overlook and the Gorge Creek are two iconic sites awaiting you at the 123 mileposts.
After reaching this point, you can stop the car and step out to enjoy the Gorge Lake overview to take in the spectacular bridge along the gorge.
The overlook has a loop trail extending 0.5 miles long, where you get a great view of the Gorge Dam and Gorge Lake. This point has trees spreading across it, so your view may be limited, but you'll still enjoy the natural bliss and serene mood as you rest for the long drive ahead.
You can take a short excursion towards Gorge Creek Falls on the bridge. This trail also has a beautiful display of wildflowers along the path towards the overlook, and you can listen to crows and ravens as they sing overhead the peaks.
At Gorge Lake, you get a good view of the Gorge Dam, a man-made structure that provides Seattle with electricity. The Pyramid Peak view is also along this overlook.
Trails leading to the Gorge Lake Overlook are accessible by wheelchair, and there are also restrooms for your comfort.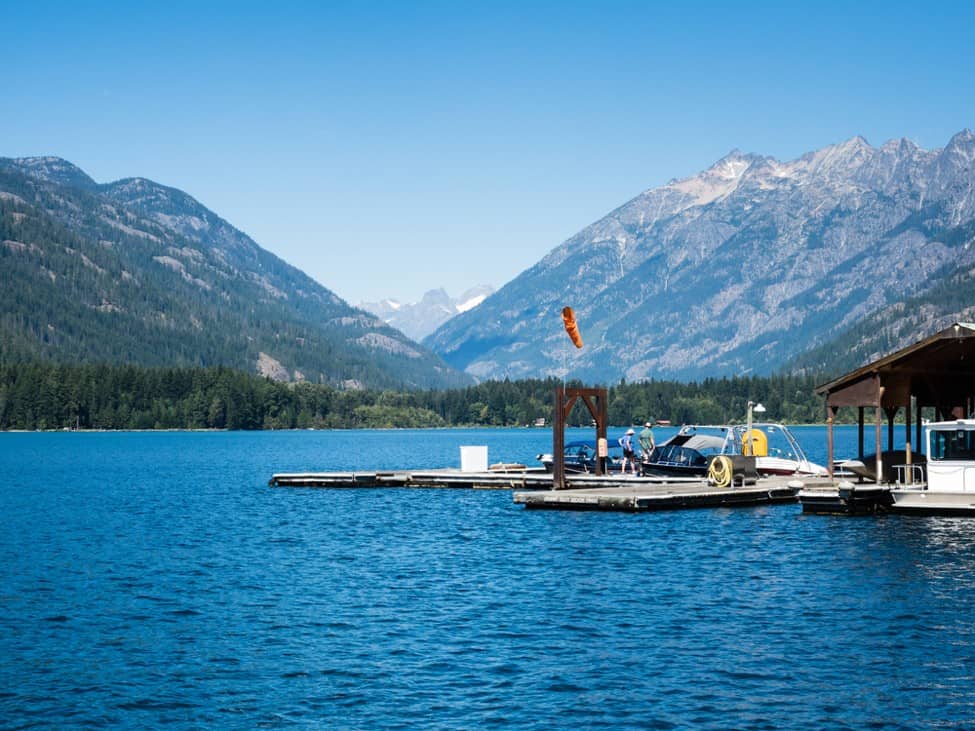 4. Go on a Boat Ride
Boat rides in Ross Lake will give you a whole new view of the mountains and other scenery.
The park's North Side has boat ramps where motorized boats are accessible. Kayaks or canoes are also available at the Colonial Creek campground.
As you paddle through Ross Lake, you will have numerous views of the scenic mountain towering over you. If you like fishing, this is your chance to catch cutthroat trout, eastern brook trout, and rainbow trout from the lake water.
Unfortunately, Gorge Lake and Diablo Lake don't offer boat rentals, but you can get canoes, kayaks, and motorboats at Ross Lake Resort to get out on the water.
The resort has water taxis at your service. Stehekin rents out paddle crafts, too, but they are in limited supply, and you might have to wait before you can access a vessel for a tour of Lake Chelan.
Lake Chelan, Diablo Lake, and Ross Lake offer boat-in camping. Check out the Ross Lake camping guide for more details.
For boat-in camping at Diablo Lake and Ross Lake, you first have to visit the Wilderness Information Center for a backcountry permit. For Lake Chelan boat-in camping, you need a federal dock permit.
5. Stop at The Diablo Lake Overlook
Like the overlook at Gorge Lake, getting to the Diablo Lake overlook also involves an easy and short hike. This walk opens up the spectacular view of the turquoise waters of Diablo Lake and other natural features.
The bright aqua blue lake gets its color from glaciers grinding against rocks, forming the silty turquoise color in the water as they melted.
This beautiful overlook lets you see the spectacular water of Diablo Lake and the mountain features in one breathtaking view.
If you are planning to stop at this point, note that you can access the trail in a wheelchair, and there are clean restrooms available for public use.
6. Go to Stehekin
The Stehekin community is located at Lake Chelan's edge.
To visit the town, you can embark on a multi-day backpacking trip starting at the Skagit River or ride across the lake on a ferry.
The area is not accessible by road, and the trip to Stehekin can be considered a chance to quench your adventurous spirit.
After reaching Stehekin, there are a variety of activities to try, including a visit to Stehekin Museum and other historical sites. The area also has many hiking spots.
Your stay at Stehekin may also include more watercraft, bicycles, fly fishing, and guided tours on kayaks, among other adventurous endeavors.
7. Partake The Thornton Lake Trail Hiking
If strenuous adventures make you happy, the Thornton Lake trail hiking is the way to go.
The 10.9-mile extension holds a variety of adventures. You start your hike on a gentle footpath, moving up the bushy route of the hemlock forest. Then, you'll trek on the slippery logs and muddy rocks until you reach the iconic sub-alpine lake.
You need a 4-wheel drive truck to get to the trailhead on this route thanks to the muddy roads, which are hard to walk through most of the time. The best part is that there are fewer tourists on this side, preventing overcrowding of the spectacular views.
8. Take in the Wildlife
Because it is so large, the North Cascades National Park is a welcoming habitat for many wild animals. The biologically diverse ecosystem of the park is made up of multiple species of wildlife, including 20 mammal families consisting of over 75 species. It is also home to approximately 21 species of amphibians and reptiles.
You're likely to come across black bears, coyotes, hoary marmots, and mule deers as well as Douglas's squirrels, and black-tailed deers, which are a great delight. If you are lucky, you may encounter elk or moose, but this happens rarely along the valleys.
Grizzly bears and gray wolves are rare and threatened mammal species that you may spot. They mainly reside in the most rugged and remote parts of the park.
From higher viewpoints, such as the Cascade Pass Trail, you can spot pikas and mountain goats as they make their way across the sloppy and mountainous terrain.
Bird habitats range from wetlands to elevation forests and alpine meadows. You might be lucky to see spotted owls and marbled murrelets, considered threatened animals by the Endangered Species Act.
There are multiple species of fish in the streams and lakes, and the rocky and bushy habitats support colorful mayflies, stoneflies, dragonflies, butterflies, and other invertebrates.
The fish species are approximately 28, while other aquatic invertebrates and land insects are 250 and 500, respectively.
9. Fish at the Skagit River
If you're an aspiring angler, the Skagit River harbors seven anadromous fish species: the cutthroat trout, the steelhead, and five species of salmon. These waters are also home to char and trout, giving you many options
You can fish at Ross Lake and Lake Chelan, which have recreational areas for fishing. Fishing is regulated within these sections of the park to enhance public enjoyment. These regulations prevent extreme activities from posing a threat to aquatic species and increasing negative impacts on the park resources.
When fishing at the North Cascades National Park Service Complex, you must adhere to the requirements of a fishing license, following the laws and regulations of Washington state.
You can't purchase a fishing license inside the complex, so you must get one before your visit. More details on obtaining a fishing license are available on the Washington State Department of Fish site.
10. Stroll Along the Rainy Lake
Rainy lake's trail offers you a chance to take a mini-hike that's more moderate than other parts of the park. It presents a beautiful view of the lake's waterfalls and its spectacular emerald water.
The trip stretches about 2.2 miles with an accessible path. The Rainy Lake has beautiful spots for family fun with benches where people can rest during their journey.
Because of unfavorable snowy weather for several months of the year, it's best to visit the lake area between July and October.
Best Time to Tour North Cascades National Park
When planning to visit this park, the best time to do this is between mid-July and mid-October.
Also, if you're not much into hiking within the park, a visit during late spring any time from after Memorial Day is suitable. You can participate in other activities like scenic drives, visit the Lakes and overlook or hike on low trails such as the Thunder Knob.
In the late spring, the weather is usually wet and cool, but you may experience warm weather on some days. Always pack warm clothes and rain jackets, just in case.
Visiting North Cascades National Park during the fall gives you beautiful and colorful views. This is an excellent time to take iconic drives and excursions within the park.
Winter isn't a good time to visit the park because of too much snow. Most roads are either blocked or closed. In the winter, Highway 20 remains closed along the Ross Dam to milepost 171 stretch, which opens later in May.
Wrapping It Up
Don't take a trip to northern Washington without stopping at North Cascades National Park.
The park has endless adventures to explore, and this list is but a glimpse of what awaits you. There's something for everyone at North Cascades National Park.
Alaska Cruise ~ Guide to Princess Cruise to Alaska
Best Time to Visit Seattle
Alaska Shore Excursions Guide for Deciding What to Do While in Port
Glacier National Park Camping
Best Time to Visit Glacier National Park
Yosemite Hiking Trails
Best Time to Visit Yosemite
Best Death Valley Hikes and Tips for Hiking Death Valley
Things to Do at Mammoth Cave
Best Time to Visit Sequoia National Park
Best Hikes in Bryce Canyon
Best Time to Visit Death Valley
Best Time to Visit Acadia National Park
Best Hikes in North Cascades National Park
11 Things To Do In North Cascades National Park