Things to Do at Mount Rainier National Park is a 369 square-mile state park in Washington state just southeast of Seattle named after Mount Rainier – the highest volcanic peak in the Lower 48 United States. Mount Rainier is always snow-capped. If you want to visit a national park with beautiful scenery and snow-capped mountains, Mount Rainier is where you should go.
Mount Rainier National Park – Overview
Mount Rainier is both the tallest mountain in Washington and the tallest mountain in the Cascade Mountain Range. Mount Rainier is iconic, so it's no surprise that the national park system immediately recognized Mount Rainier National Park when the National Park Service was established in 1917.
Mount Rainier National Park is open year-round. Because Mount Rainier National Park is made up of glaciers, the peak time to visit is in July and August, when it is warm, dry, and full of wildflower blossoms.
There are eight different visitor centers and informational centers you can visit within Mount Rainier National Park.
To navigate to Mount Rainier National Park, you will need to use the following address:
39000 State Route 706 E, Ashford, WA 98304
Mount Rainier Climate
According to the Köppen climate classification system, the climate of Mount Rainier National Park is Mediterranean-influenced humid continental climate (Dsb) or subarctic climate (Dsc). To put it simply, this means that it is cold and often wet in Mount Rainier National Park.
Elevation plays a major role in the weather Mount Rainier National Park experiences. The higher elevations will always stay colder and see more snow than the lower elevations. The base of the glaciers can be seen with full-bloom wildflowers in the late summer months, even while there is snow actively falling on the 14,000-foot peak of Mount Rainier.
While Mount Rainier National Park is open year-round, the busiest times in the park are during the summer months, especially July and August. During these months, the high temperatures are still cool, with an average high temperature that may not even reach 70 degrees Fahrenheit.
Because the park gets an influx of visitors during these two months, the park can quickly become congested. To make the most of your time visiting Mount Rainier, we suggest arriving before 10:00 AM or after 2:30 PM and visiting on weekdays instead of weekends.
Things to Do at Mount Rainier
Don't worry! Mount Rainier isn't one of those parks you can only visit during the summer. Whether you want to visit Mount Rainier in the winter or the summer, we've got you covered.
Myrtle Falls
Myrtle Falls is in the Paradise area of Mount Rainier National Park. Myrtle Falls is a 72-foot tall waterfall that sits in front of the iconic Mount Rainier in the background.
To get to Myrtle Falls, you will take the paved road towards the Skyline Trail or Golden Gate Trail. Myrtle Falls will only be 0.4 miles down this path. During the summer or dry months, when there is no snow or heavy rainfall, you can walk down to the falls and get a picture of the falls with Mount Rainier in the backdrop
Reflection Lake
You have likely seen Reflection Lake in a postcard or stock image and didn't realize it. On a clear and calm day, Mount Rainier perfectly reflects in Reflection Lake. This is a great spot to stop and get another iconic photo of Mount Rainier. Boating and fishing are not allowed in Reflection Lake.
Reflection Lake is on Stevens Road, which you can travel in the summer between June and September. If you plan to hike around Reflection Lake, you must stay on the trails at all times, especially during the summer months when new flora is growing.
There are several hiking trails around Reflection Lake. The Lakes Trail is a three-mile loop trail with a trailhead accessible from both ends of the parking lot at Reflection Lake. You can access the Paradise area of Mount Rainier National Park by taking the Lakes Trail to get to Paradise Valley, Mazama Ridge, and the Skyline Trail.
Narada Falls
Another waterfall to add to your list is Narada Falls.
Narada Falls is on the road that leads from the Longmire area to the Paradise area of Mount Rainier National Park. It is one mile west of the Paradise entrance.
Narada Falls is 176 feet tall and broken up into two parts. The first part of Narada Falls is a horsetail waterfall that drops 159 feet. The second part of Narada Falls is the 17-foot waterfall that ends in a plunge pool below.
You will have to walk a short distance to see the waterfall. It is a 0.2-mile walk down a slippery path that is often not accessible until the snow has melted in late May.
Sunrise Point
You don't have to hike Mount Rainier National Park to enjoy a scenic view. At Sunrise Point, you can view the two tallest peaks in Mount Rainier National Park – Mount Rainier and Mount Adams.
Sunrise Point is along Sunrise Park Road. There is a hairpin turn right before you arrive in the Sunrise area of Mount Rainier National Park, where you can pull off into the parking area and get out of your car to snap the perfect picture.
Backcountry Skiing and Snowboarding
The best area of Mount Rainier to go backcountry skiing and snowboarding is in the Paradise area. You will park at the Henry M. Jackson Memorial Visitor Center in Paradise and hike up more than 10,000 feet to Camp Muir. You will ski down from Camp Muir to Panorama Point and then back to the Henry M. Jackson Memorial Visitor Center parking area.
Backcountry skiing and snowboarding are recommended for those more experienced skiers who prefer a more primitive experience.
The Grove of the Patriarchs Trail
If you're looking for an easy, family-friendly hike, look no further than The Grove of the Patriarchs Trail. This trail is on the east side of Mount Rainier on the Stevens Canyon entrance of the park. The parking lot of the Grove of the Patriarchs Trail can only accommodate about 25 cars, so it gets filled up quickly in the summer months. We recommend getting here early in the morning to avoid the summer congestion.
On this trail, you will cross over a suspension bridge hanging over the Ohanapecosh River for nearly 0.5 of a mile. You can only cross this bridge in a single-file line, one person at a time. Upon exiting the bridge, you will arrive on the island, where you will go through some smaller trees until you reach a fork in the road. This road is a loop, and you can go either way.
This unique and undisturbed area in Mount Rainier National Park is truly unique. There are signs identifying the flora and fauna that inhabit the area. The trees on this island are protected by the numerous wildfires that plague the area, allowing the trees to grow for centuries. Some of these giant trees can reach more than 25 feet in circumference and tower hundreds of feet in the air.
Take your time when walking The Grove of the Patriarchs Trail. Block out enough time on your day to truly take in the natural beauty and age of the trees around you.
While this trail is easy to walk, strollers cannot navigate the roots and narrow width of the suspension bridge. So, if you have young children, make sure they are old enough to safely walk alongside you on the trail.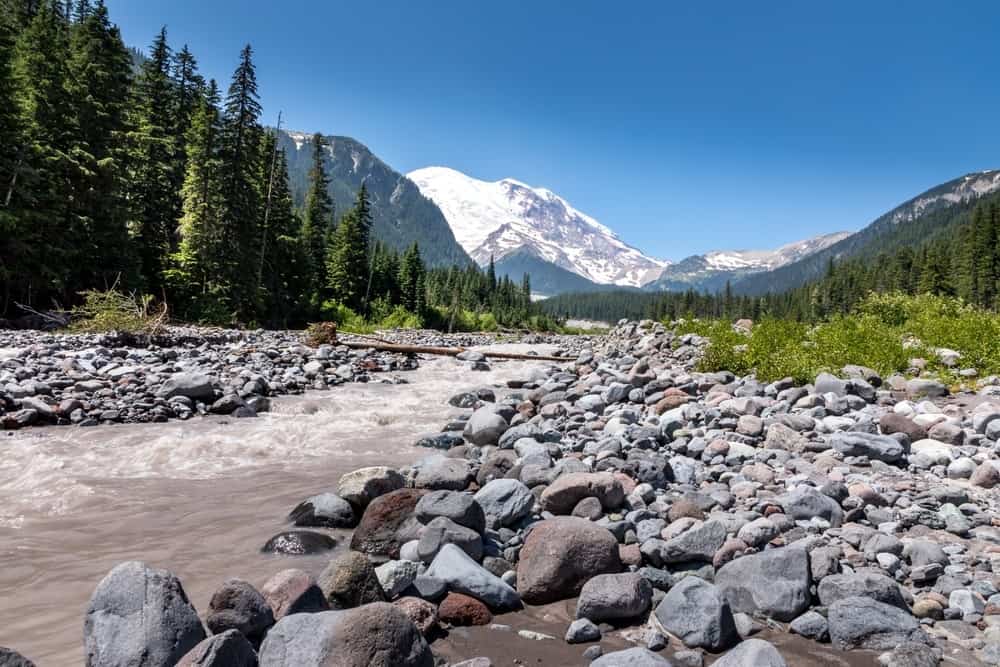 Things to Do at Mount Rainier
Mount Rainier is the ideal area to visit if you want to view iconic scenery and landmarks. While it can be cold in the winter months, you can still enjoy many hiking trails and roads that aren't snow-covered. Mount Rainier is most popular in the summer in July and August, but you can enjoy it year-round if you know what to do and where to go at Mount Rainier.
FAQs
How Much Time Do You Need at Mount Rainier?
There are many landmarks to see, including the mountains, glaciers, and waterfalls, so we recommend taking three days to truly soak up the area and not rush your experience throughout the park. Of course, you can always spend just a day or two in the park and still see the major landmarks. With three days, you have enough time to enjoy the park without feeling rushed.
Do Roads Close at Mount Rainier in the Winter?
Yes. When there is heavy snowfall during the winter months, the roads throughout Mount Rainier National Park may become closed for travelers. There is a tire chain requirement during the winter and spring months between November 1 and May 1. During this time, all vehicles, including four-wheel drive vehicles, must have chains on their tires, regardless of weather or road conditions.
Best Time to Visit Crater Lake
The Best Crater Lake Hikes
Yosemite Hiking Trails
Best Time to Visit Yosemite
Things to Do at Mammoth Cave
Best Time to Visit Sequoia National Park
Best Time to Visit Death Valley
Best Time to Visit Acadia National Park
Best Time to Visit Seattle
North Cascades Camping
Best Hikes in North Cascades National Park
11 Things To Do In North Cascades National Park