Switzerland is a fascinating country with a lot of history, culture and natural beauty. There were many things we didn't do and places we never went to, but here are our top 10 favorite things to do in Switzerland out of the dozens of things we did do.
Truth be told, I never had much interest in visiting Switzerland. I never thought I would visit the country because there were so many countries I wanted to explore first. I figured I'd stop by if we happened to pass by, but not more than that really. Well, life is full of surprises because last year we ended up moving there for months to work during the ski season, and Switzerland also turned out to be full of surprises.
Here is what to see and do in Switzerland.
Things to Do in Switzerland
Go Hiking/Tramping
Switzerland has more than 48 300 km marked trails, and the nature is mind blowing. The air is fresh, and you often find yourself alone with nature. Hiking in Switzerland is easy, there are often restaurants and hotels along the way, so you can choose between camping in a hut, or staying over in a hotel.
And even if you're not the hiking type of person, there are so many different day hikes you can do. Just going for walks in Switzerland is a beautiful experience, at all times of the year.
Even in winter time there are beautiful walks you can take up at the ski fields. Enjoying the nature in Switzerland is the number one thing to do, one way or another.
Adventure Time in Interlaken
Interlaken is like a big outdoor adventure park. There is a lot to do for the adrenaline seeker: Skydiving over the Swiss glacier, water ski etc. It's a beautiful area, and is also really close to the highest train station in Europe which you can find at over 3,400 metres high.
A Day In Bern
A beautiful city with a lot of history and old buildings. It's nice to walk around and let the old city take you back a few hundred years. All shops blend in so well in the old buildings, and some shops have been there for decades. Another nice city for a day visit is Basel. Basel has a stunning town hall, bridge and cathedral.
Try the Local Delicacies
Switzerland might be a small country in size, but every region has kept their own specialties and cultural traditions close to their hearts. Try out the local food specialties, they're different everywhere. One thing the regions have in common when it comes to food is that the food is almost always covered by cheese.
Cheese equals Switzerland. But it's cheese of the best quality you can get. A favorite is to just melt it all down in a pot (fondue) and dip bread in some bread – perfect! Another specialty you can find all over Switzerland is their nut cakes. There are special nut cakes for different areas of Switzerland.
Swiss Chocolate
No other chocolate in the world can compare to the one made here, it's amazing! Maybe because of the great milk they produce here? Anyways you will need to by and eat lots of this while you visit Switzerland.
Go Watch Shopping
I'm not sure why watches are such a big and important thing in Switzerland, but everything and everyone is so punctual it's ridiculous. Nothing or nobody arrive a minute later than planned, nor earlier. Every second shop is a watch shop, and watches seems to have become part of the Swiss lifestyle.
The best Swiss watch brands don't even like to call themselves a watch business anymore, but a luxury business.
Visit the Old Villages
If you take the time to visit the Graubunden area you'll be amazed. There are villages with houses dating back to the 13th century that people still live in! They also speak an ancient language called Romanch, which has died out everywhere else but here, and they try their hardest to keep their old traditions as well.
Take a Beautiful Train Ride
Traveling by train can look expensive at a first sight, but there are so many deals and offers you can get that you may end up with an amazing route cheaper than a one way ticket.
One example is their day passes where you can travel as much as you like, anywhere you want for a whole day. Just ask the staff, read one of their many pamphlets or check out their website for deals!
There is the world famous Glacier Express route, but also countless of other beautiful routes. Traveling by train is more than just a transport from point A to point B here, it's a destination in itself.
Switzerland Alpine Skiing
Yeah I know it's summertime at the moment, but I just have to mention two of the best things to do in Switzerland. There aren't many places in the world where you can travel to at any season and have a great time.
In Switzerland, winter is just as much of a high season as summer is, and that for a good reason. Few places in Europe has as good skiing as in Switzerland.
Many of the ski-fields are huge and often blend in with each other, meaning you can ski over to another ski resort. Many people who go skiing in Switzerland don't actually go there for the skiing, but for the experience.
Sitting in the sun 2000 meters high up on the mountain overlooking the mountain tops with a nice hot chocolate is just as nice as skiing by itself. In spring time it gets so warm you can ski in bikini!
Take the Glacier Express in Switzerland
What better way to enjoy fantastic views of the Swiss Alps than by taking the Glacier Express? This colorful train takes you through several small villages, across more than 200 bridges, through peaceful valleys and mountainous terrain on the way from Southern Switzerland through the Swiss Alps to the world famous resort, St. Moritz.
The Glacier Express was described by The New York Times as "A slow ride, with reason" this is one trip you need to add to your travel bucket list. Imagine this – vast sweeping snow fields, breathtaking views and spectacular white-capped mountains.
Board the Glacier Express in one of several villages — Zermatt, Visp, Brig — or another village along the way. You can enjoy the journey and return the same way later in the day, or, as many passengers do, spend the night in St. Moritz on Mount Matterhorn.
St. Mortiz, a lovely world renown resort, offers comfortable lodgings with panoramic views of the mountains just outside your window. Be sure to book reservations for your train ride and reserve lunch for you and your family.
You can reserve a 3-course lunch or a luncheon special that is served by Glacier Express's experienced waiters. They serve their guests with a special "ritual pour" that is incredibly fun and enjoyed by all. Snacks and beverages are special amenities included in the price of your ticket too.
With tall windows on either side of the train, enjoy photographing the fantastic Swiss Alp mountain passes, the sheer snow covered walls that drop down to ravines, gorges and rivers below.
You will pass over 250 bridges, go through 90 tunnels, cross the beautiful Landmassar Viaduct and continue on up the mountain to St. Moritz. Round trip, it takes 7 hours.
Go Sledging
This is a crazy sport. Yes, sport. They actually compete internationally with sledging. Not bobsledding, but the wooden one! In Bergün, you can sledge down a 6 km long sledge run- – – watch that video – or a shorter but steeper run for the fear less one.
Sledge runs are everywhere around the ski areas, and a lot of fun.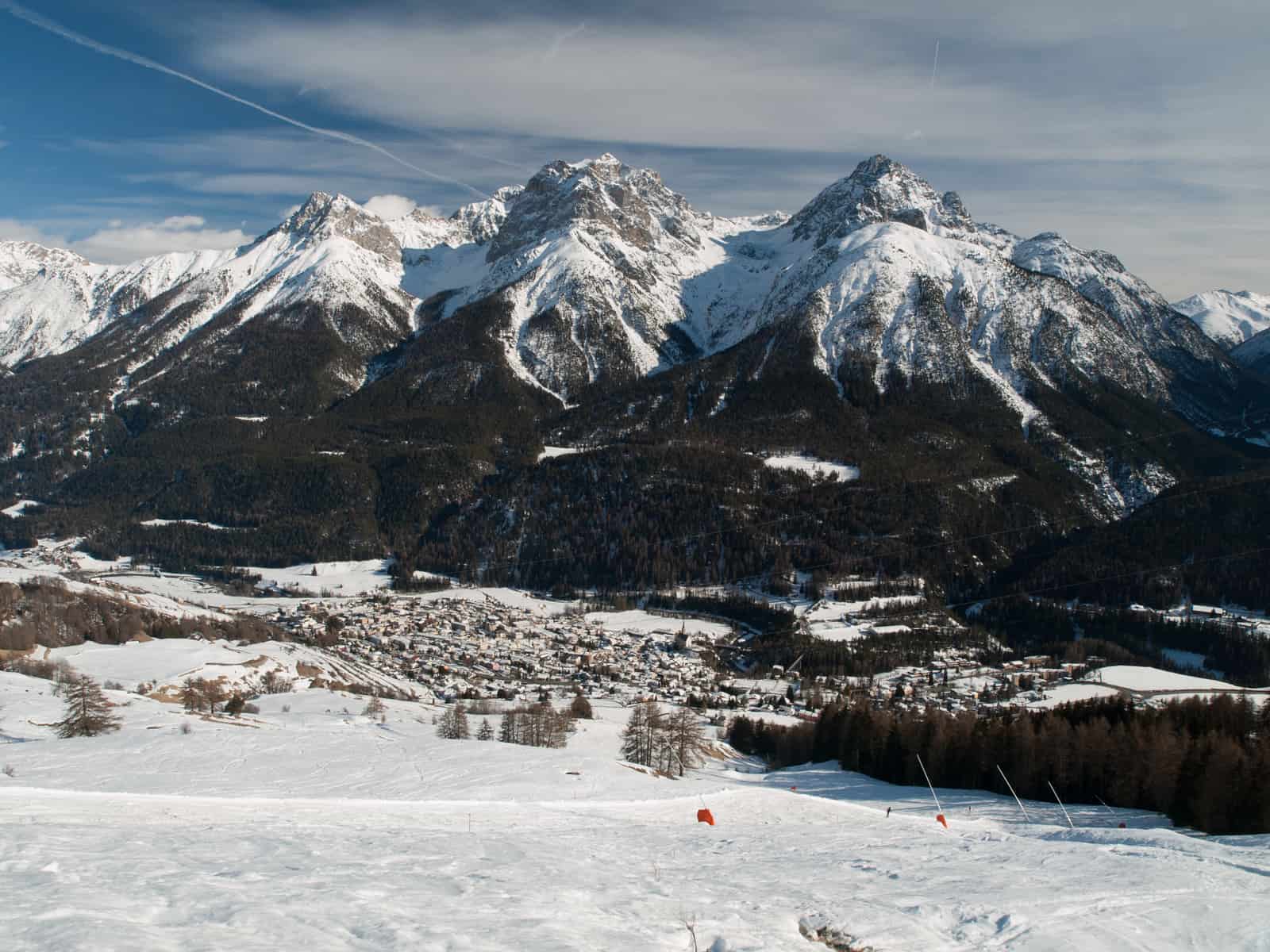 What to See in Switzerland
The last 5 months we have been hiding in a tiny village called Scuol in the middle of the Swiss alps, surrounded by forest and high mountains.
We made our decision to come here, just like we normally do – by a photo we saw online. You know one of those photos where you go "WOW, let's pack our bags NOW".
When we arrived in Scuol, we didn't know how long we would manage to survive in Switzerland.
With no job waiting for us, no knowledge of the language (German) whatsoever, and only 800 euro in our pockets, it might have looked like a really stupid idea to come and live in one of the most expensive countries in the world.
Well, I guess now that I think about it afterwards, it probably was…. But we figured that since everything always works out for the better, that whatever happens was meant to happen, and the fact that we're still here 5 months later says it all.
It's funny, the places we've enjoyed the most in our travels are the ones we barely even knew anything about before we arrived there. A year ago we had never heard about this place, and a few months later we ended up living there.
It's an amazing place, one of those places where you can easily get stuck and not realize it until 10 years later, that you forgot to leave. In fact, that's what has happened to many people here. Many of them are born and raised here and have barely ever been outside the country, but everyone else moved here – years ago.
What to Do When Visiting Switzerland
Switzerland is a small country in Europe with a population of only 8.5 million people. It is one of the richest countries in the world, with a GDP per capita of $79,000.
The Swiss Alps cover about 60% of Switzerland's land area and are home to some of the most stunning mountain scenery in Europe. There are many places to visit in Switzerland from small towns to big cities like Zurich and Geneva.
In conclusion, Switzerland is a beautiful country with much to offer tourists. There are many things to do in Switzerland, from hiking and skiing in Alps, to exploring to exploring medieval villages as well as the cities and towns. The country is also home to some of the best chocolate in the world. So if you're looking for an amazing vacation destination, be sure to add Switzerland to your list.