Best Time to Visit Seattle – As one of the most-visited cities in the Pacific Northwest, Seattle is the perfect way to soak up this lush, green, and mountainous section of America. Seattle is a bustling metropolitan area with plenty to offer travelers looking for urban lifestyle or outdoor adventures. In this guide, we give you everything you need to know to plan your ultimate Seattle vacation.
When To Visit Seattle
As the largest city in Washington State, and directly across the border from British Columbia, tourists come to Seattle year-round. However, the area has distinct high and low seasons, and the best time to visit Seattle will depend what you are looking for:
Best Time to Visit Seattle
Tourist season in Seattle in consistent with most American cities – during summer time. This is when most North Americans take their vacation, and when the weather is warmest in Seattle. Of course, due to this popularity, it's also when you'll find the busiest and most expensive accommodations throughout Seattle.
This is why we suggest that the best time to visit Seattle is during the shoulder seasons, when the weather is still nice, but the city is less crowded (and expensive). Spring and fall in Seattle sport pleasant weather, with less precipitation than during the winter.
Temperatures drop in the winter, and rainfall rises significantly. For this reason, tourism in Seattle drops significantly during the winter months, which are characterized by cloudy, dreary days. This being said, the city still sees tourist traffic during winter, partly due to its proximity to world-class downhill skiing.
Seattle Weather
Seattle has a temperate climate, which is characterized by warm, dry summers and cool, rainy winters. Rainy season in Seattle lasts from mid-October to mid-March, and drops significantly in between these months.
Summer highs in Seattle sit around 69-73F, with lows around 52-55F. During the shoulder seasons, highs reach around 59-65F, with lows around 45-50F. Winter highs are around 47-50F, with lows around 35-40F.
Perhaps what will have a bigger influence on your travels will be rainfall. Seattle's rainfall has become one of the cities cliches, but it's actually only significant during winter. Winter months see about 5 inches of rain per month, while summer months only see about 0-2 inches per month.
As you can see, the climate in Seattle differs quite a bit depending where you go, and you'll have to plan your vacation depending on how much these factors will influence your enjoyment of the city.
What to Do in Seattle
Planning a trip to Seattle is about more than nailing the timing. You'll also want to know what to do while there! In this section, we'll give you a guide to the top things to see and do in Seattle. Let's start with a mini-guide to getting around Seattle:
Getting Around in Seattle
As a tourist to Seattle, your options for getting around are plentiful. Additionally, the urban core isn't overly large, making the city very walkable. Here are your options for transit within and around Seattle:
Rental Car: If you're planning to see more than just the city-center, including the lush parks and mountains surrounding the city, then your best bet is to rent a car. Seattle is a haven for hiking, skiing, and exploring nature, and a car is easily the most accessible method of doing so.
Public Transit: Seattle has numerous public transit options for getting around the city. These include bus, streetcar, light rail, and ferry.
Monorail: The Monorail is equal parts transportation and a great way for tourists to get an excellent view of the city from above. We recommend new tourists take a lap around the Monorail to get oriented and see what this city has to offer.
Taxi or App: You'll see yellow taxis all throughout Seattle that are easy to hail. And, of course, there's always Uber (or any other ride-sharing app).
Bike: You'll see plenty of bike rental spots around Seattle. There's also the popular bike-sharing app Lime which has pick-up-and-use rental bikes all around the city. Seattle is a very bike-friendly city with bike lanes and paths, and it's a great way to cruise around the city to explore.
Where to Go
There's a lot to see and do in Seattle. In this section, we'll cover a few of our favorites:
Best Time to Visit Pike Place Market
Pike Place Market might be the most popular tourist attraction in the Seattle. But even with all that tourist hype, it's well worth a visit on its own right. Located right by the water in downtown Seattle, Pike Place Market is a lively marketplace that features lots of local produce from the Seattle area (meats, veggies, fruit, fish, you name it). It's since expanded to feature many vendors of artisan goods, artwork, and more.
The surrounding Pike Place neighborhood is also full of fun restaurants, bars, shops, and more. It's a cultured area, and is worth a visit even if you normally avoid crowds. Tourists might also appreciate that Pike Place is home to the first Starbucks location.
Best Time to Visit Kerry Park
Kerry Park is a small park in on the south side of Queen Hill that might not look like much on a map, but it's actually home to one of the most stunning views of the Seattle skyline. You'll see the downtown core fronting onto Elliott Bay, highlighted by the Space needle. On clear days, you can catch a glimpse of Mount Rainier in the distance. This is a popular spot day or night, as nighttime sees the city light up.
Even though it's such a small attraction, we've put it near the top of our list because it's a great spot to visit toward the start of your Seattle vacation to get yourself oriented with the city.
Best Time to Visit Space Needle
The Space Needle is most definitely a touristy choice, but as one of Seattle's iconic landmarks, it's still worth a visit. The Space Needle recently received a large renovation that offers much more to tourists and visitors. Additions include a rotating glass floor, so there's nothing impeding your view of the entirety of Seattle (from all angles). There's also an open-air deck with glass walls.
If possible, try to go up the Space Needle on a clear day, so you'll have a good view of the surrounding area. In fact, we wouldn't recommend going up if it's not a clear day, as admission alone is about $35 (depending on your age).
Best Time to Visit Museum of Pop Culture
If you're a regular museum-goer on your travels, then we'd highly recommend the Museum of Pop Culture. Plus, it's right next to the Space Needle, so you can knock off two tourist attractions in one afternoon.
The Museum of Pop Culture celebrates all sorts of pop culture from now and into the past. The building itself is a sight to behold, designed by master-architect Frank Gehry. There are exhibits dedicated to some of Seattle's legendary bands including Nirvana and Pearl Jam, among many other exhibits dedicated to topics such as film, television, sci-fi, art, and much more. It's a fun twist on a classic museum, focusing more on the present than the past.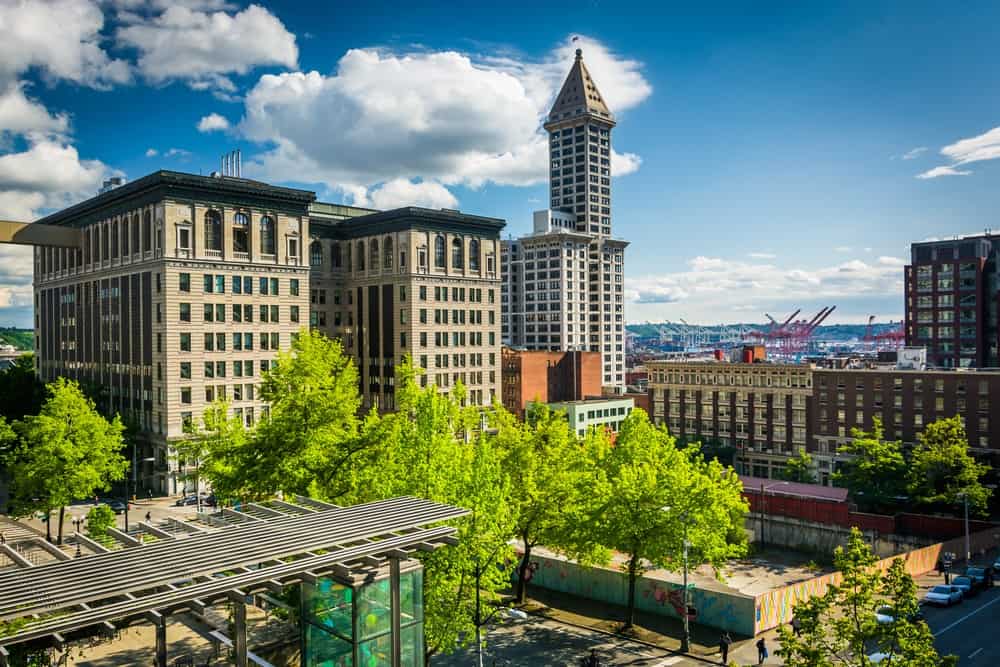 Pioneer Square is a must-see for those interested in Seattle's history. This downtown Seattle neighborhood (built around the square itself) was where the first settlers to Seattle built their homes. This means it's full of historic architecture, including houses, buildings, museums, and more. The cobblestone streets lead you to plenty of shops, restaurants, café, bars and more. It's not a large area, and is best experienced on foot.
This area is also the home to one of Seattle's most popular tours, which we'll cover next:
Best Time to Visit Seattle's Underground Tour
Departing from Pioneer Square, an Underground Tour (there are quite a few of them available) remains one of Seattle's most popular experiences. These tours take you through Seattle's abandoned passageways which run underneath Pioneer Square. These passages actually used to be above-ground roads in Seattle. After the Great Seattle Fire, elevated roads were needed to prevent frequent flooding, but these underground passageways are still accessible.
It's fascinating to check out this preserved, underground network of (now) tunnels that connect houses and businesses within Pioneer Square.
Best Time to Visit Bainbridge Island
Bainbridge Island is a large island off the western shore of Seattle, and is accessible via ferry. The ferry takes you into the main town of Winslow, which is a quaint town full of shops and places to eat. The island itself is quiet, with an almost rural feel. There are plenty of hikes or trails for biking, and it makes an excellent day-trip for escaping the bustle of the city itself. It's a big island, so don't expect to see it all in one day.
Best Time to Visit Washington Park Arboretum
The Washington Park Arboretum is located on the shores of Lake Washington, and features 230 acres of natural space, with over 4,000 species of plants and botanical life. The Arboretum is a result of expert landscaping, and contains "themed" areas to showcase plant life from all across the world. It's a great way to soak up all kinds of plant history, or just enjoy the sights. There's even a curated Winter Garden for those visiting the Arboretum during the colder months.
Best Time to Visit Discovery Park
On the subject of Seattle natural attractions, there's Discovery Park, one of Seattle's largest parks at a size of 534 acres. It's located on the west side of Seattle, on the shore of Puget Sound and connected to Seattle's Magnolia and Lawton Park neighborhoods.
Discovery Park is full of walking & hiking trails which pass through meadows and forests. The outskirts of the park are defined by wonderful views of Puget Sound, including a few beaches.
Best Time to Visit Mt. Rainier Park Tour
Seattle is close to so many natural areas and geography that we could dedicate an entire guide just to the sights and sounds surrounding the city. One of the best ways to get a taste of this geography is with a day-trip to Mt. Rainier Park. Located about 2 hours South of Seattle, this will be a full day tour.
It's a varied natural area with a lot to see and do. From glaciers, to wooded areas, to alpine meadows. Of course, there's Mount Rainier itself, which is actually an active volcano. Since time will be scarce if you day-trip from Seattle, we do recommend booking a guided tour. If you plan to spend more time in Seattle's natural areas, we'd recommend renting a car and booking closer accommodations.
Best Time to Visit Fremont
One of Seattle's hippest neighborhoods is Fremont, located North of the downtown core, toward the center of the city. Fremont is located right on the Fremont Cut, which is a section of the ship canal separating Seattle's North and South.
The neighborhood is packed with trendy shops, restaurants, bars, and cafes. It's a really fun area to stroll around and get lost, and definitely one of Seattle's continually up-and-coming neighborhoods. It's a particularly active area for vinyl collecting, with plenty of record and music shops, and an appreciation for Seattle's rich musical history.
Best Festivals in Seattle
Seattle is a cultural city, and is home to many celebrations, festivals, and events throughout the year. We've picked a few of our favorite events scattered throughout the year, but there are many more. Here are some of the top events to check out in Seattle:
Seattle Restaurant Week: Seattle Restaurant Week is a bi-yearly celebration of the best food Seattle has to offer. Despite being called "Restaurant Week", it usually lasts closer to two weeks, with two celebrations in the fall and spring (specific dates change each year).
Many Seattle restaurants partake in restaurant week, offering special menus of pre-set lunches and dinners, typically at much more affordable prices than normal. It's a great way to sample a great mix of Seattle cuisine, and the website makes it easy to see which restaurants are taking part (and to book).
Fremont Oktoberfest: Fremont Oktoberfest is also Seattle's largest beer festival, so it's a must-attend if you want to check out the beer scene in Seattle. Fremont Oktoberfest is a yearly street-festival in the Fremont neighborhood of Seattle. Counterintuitively, it usually takes place in mid-September (because the weather's nicer). You'll find the streets lined with beer vendors, food vendors, and more. A great opportunity to walk around and sample some brews while catching some live music and enjoying the lively atmosphere.
You need to purchase tickets ahead of time, which come with a certain number of tasting tokens. You can purchase more tokens if you run out.
Argosy Christmas Ships Festival: The Christmas Ships Festival has been a Seattle tradition since 1949. The official boat, the Spirit of Seattle is decorated with Christmas lights and sails the shores of Puget Sound. You can book tickets on the boat itself, or watch from the shores. Boats also follow the Spirit of Seattle, sometimes turning this into a "boat parade" of sorts. The cruise runs nightly from late-November to late-December, and a Christmas choir performs onboard each night.
Best Time to Visit the Emerald City Seattle
Thanks so much for reading our guide to Seattle a.k.a. the Emerald City. We hope we've sold the appeal of visiting this popular city in the Pacific Northwest. Whether you're exploring Seattle's city-centre, or exploring the lush, varied greenery surrounding the city, there's so much to see and do in Seattle. Use our guide to plan your ultimate Seattle vacation.
FAQs
When Can You Find Snow in Seattle?
Although Seattle is located further North than much of America, its specific location means that it rarely snows in the city itself, even during winter. That being said, there is plenty of snow surrounding Seattle when you travel into higher elevation, specifically in one of the area's major ski resorts.
When is the Rainy Season in Seattle?
Rainy season in Seattle runs during the Winter months – from mid-October to mid-March. In fact, although Seattle is known for its rain, it barely rains outside of these months. Summers in Seattle (and parts of the shoulder seasons) are actually quite dry and pleasant.
Alaska Cruise ~ Guide to Princess Cruise to Alaska
Best Time to Visit Seattle
Alaska Shore Excursions Guide for Deciding What to Do While in Port
Best Hikes in North Cascades National Park
11 Things To Do In North Cascades National Park