Alaska Cruise ~ I came back from an Alaskan cruise with Princess Cruises. After having one of the best vacations ever, I wanted to share what we learned about booking, what is free and included and what do you have to pay for, choosing a room, the food and excursions, offer tips for packing, and answer some questions we had before we went.
Even if you aren't planning a trip for this year, read on to learn about recommendations to save money and to make the most out of the trip.
We went on the Ruby Princess Cruise to Alaska from Seattle. It was seven nights. I knew my family would love being on the ship — who wouldn't?! There is so much to do, even once the novelty of being on a cruise ship wears off. What's not to love?
I also knew the food choices would be incredible. The food on the Ruby Princess way surpassed my high hopes and expectations.
In addition, the perhaps once-in-a-lifetime chance to go to Alaska is incredible. I knew we would enjoy seeing the scenery and having fun spotting marine life off the ship. It would be fun to explore the Alaskan ports. Check out my Alaska Shore Excursions Guide to see what we did.
Ruby Princess Cruise to Alaska Princess Cruise
We had a lot of questions when we booked our Alaska cruise. Then after we booked it, we had even more. What to do, what to pack for an Alaskan cruise, what time can we board the ship, and what will we do on the ship?
I also wondered if there was anything we would need to pay for once on the ship. What is free and included when you go on a Princess cruise to Alaska? When is the first meal on the ship?
We also wondered about what excursions to take and if there were other things to do in the towns. Would we have to book an excursion (aka spend money) in every port in order to have fun?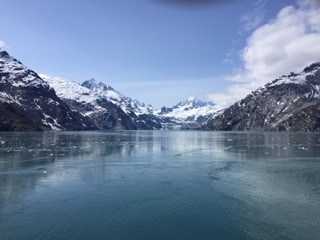 When to go on an Alaskan cruise
If you've been researching cruises to Alaska, you will have learned there is a short cruising season: mid April – September. We were bringing our kids so we needed to work around the school calendar. We booked our trip for the last week in May; it ended June 1st. The advantage for us is there weren't a lot of kids on the cruise. The disadvantage was that we were in Juneau on Memorial Day and the capitol was closed. Remember this also if you will be cruising on July 4th.
Just before the season begins, there is also the option to take the ship one way as it goes up, as an example, to Vancouver, Canada, and then at the end of the season when it goes back to California. This isn't an Alaskan cruise.
While it's probably not the best plan, we booked our cruise with 32 days out. We went online through Costco Travel to research cruise lines, dates, ports, and prices. We chose the last week in May on Princess Cruises. My kids got out of school on Thursday, and we left Saturday. It was an ideal way to kick off the summer.
I wouldn't recommend this either, but we flew from Phoenix to Seattle the morning of our cruise. My mother went with us, and she flew from O'Hare Airport in Chicago that morning as well. We met up in the Seattle Airport within a half hour of each other. We were lucky to not have any delays. From the airport, we took a Lyft to the ferry terminal. It all really worked out well.
Is weather a factor?
We worried less about chasing ideal weather and more about the price and the week that worked best for us (right after my kids got out of school before their camps and sports started).
We knew the weather in Alaska might not be the warmest; however, we all know enough about weather to know that anything is possible. So we took planning around the weather out of the equation completely. It rained the first day we arrived on the ship, but it wasn't a heavy rain. My family was so interested in the ship that it didn't ruin our day at all.
When we went the last week in May, it was perfect. Back years ago (in the 1990's), when I went on a Celebrity Cruise to Alaska, I flew home on July 4th. That last week in June and into July was unseasonably warm to the point that it was hot.
Typically, when you are out on the deck looking at the glaciers, you will want to dress warm. Otherwise, the days are usually sunny and nice. You'll want to bring sunscreen for your face at least.
Different months you can see different wildlife
Also, depending on when you go, you will see different marine life and wildlife. We also took this factor out of our decision. We would be happy with whatever wildlife we would be able to see.
But if it's important to you to be able to see humpback whales, seals, or salmon, then you should research to see which is the best time to increase your chances of seeing them. However, like the weather, there is no guarantee you will, so it may not be worth it to plan your trip around it.
When you arrive on the cruise, check the cruise activities calendar. There will be lots to do. Usually, the cruise will have a nature expert of some type or someone from the National Park Service to give a presentation. They may discuss the marine life you can see. Also, there was one day — early in the morning as we were viewing the glaciers — that there was an announcer from the Park Service talking and spotting whales.
We were lucky enough to see seals and whales. They were all from a considerable distance, however. If you have binoculars, definitely bring them. Also, if you have a good camera, better than an iPhone, bring it as well. Bring an extra memory card and remember to bring extra batteries or a charger. When the whales and seals are visible above the waterline, you will want to take lots of photos.
What cruise line is best for Seattle to Alaska?
We hadn't done any real research before booking. I was going off of the positive reputation Princess Cruises had. Once we decided on Princess Cruises, we didn't know enough about the different ships to pick one over the other. Princess Cruise lines has many ships that go to Alaska.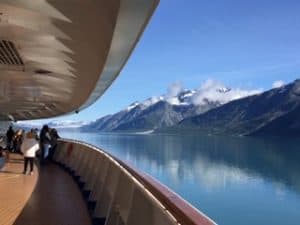 It didn't matter to us which ship we took because we believed they would all be relatively the same. They are all supremely dedicated to the passengers, providing amazing service, entertainment opportunities, and exceptional food.
When we booked, it also seemed the prices were very similar. It seemed to have to do with the date, how far out or how soon you book.
Once we started comparing the dates and the ships, we learned seeing Glacier Bay National Park was an option. Being not many cruise lines and ships have authority to cruise there, we chose the Ruby Princess cruise which did.
What to consider when booking a Princess cruise to Alaska
So ultimately, we chose our Princess cruise based on:
Port it was leaving from: We wanted to leave from Seattle.
Price
Date
We wanted to see Glacier Bay National Park.
But even if we didn't see Glacier Bay National Park (GBNP), it still would have been wonderful. If I had to do it again, I wouldn't have used that as criteria.
And again, as far as which Princess ship to go on, it didn't matter to us. I was hoping there would be a swimming pool and basketball court but we didn't research that until after we booked on the Ruby Princess. We were happy to learn the ship had both.
The courts weren't crowded though a few times my kids wanted to play basketball they had pickleball set up. There was also a track area and a small golfing area. As far as swimming goes, my husband took my kids to swim once when my mother and I remained in Skagway walking around the town. They enjoyed it but didn't care if they did it again.
What type of room to choose when booking a cruise?
On Princess Cruises, you will have four types of cabins to choose from. For most people, it likely comes down to price. We chose the Ocean View which is the second least expensive room type.
When you book the cruise, you will be able to see a layout of the rooms on the ship. Looking at this diagram of the ship's cabins didn't tell us anything or help us in any way because we didn't have a reference point. Now that we've been on the ship, we will have a better understanding for future cruises.
Given the chance, you want to be toward the center of the ship. In this way, there will be less rocking and movement. However, we were near the front of the ship and only on one night did we experience any type of turbulence.
Not knowing what we were doing, and booking last minute, still worked out perfectly fine for us. We were happy with our rooms and where they were located.
There were five of us: Grandma, mom, dad, two children. Grandma, mom and one child shared a room with twin beds. Dad and another child shared a queen bed in the second room. We chose two Ocean View Staterooms.
Inside Stateroom
This will be the most inexpensive room. You won't have a window. Given I worried about being seasick without being able to see the horizon, I didn't want to choose this room but it probably would have been fine.
Ocean View Stateroom on the Ruby Princess
We were on the Emerald Deck which is Deck 8. We were very happy with our cabins. They were six rooms apart which made it fun and still convenient to go back and forth.
These rooms exceeded my expectations in every way. I expected them to be much smaller and more basic. Even with an obstructed view for one of the rooms, we still could see the ocean and had privacy.
After booking, we saw online there were options to choose how to configure our cabins. In the cabin with three of us, we opted for a 'family cabin', which we configure with twin beds and it came with two bunks that folded down. We could have chosen to have a queen bed in this cabin but the twin beds worked great with the bunks as well.
They set the room with four twin beds; two on top, and two on the regular ground level. In the cabin with my husband and other son, we chose a queen bed. We also used this cabin for our overflow storage of suite cases, clothes and gear.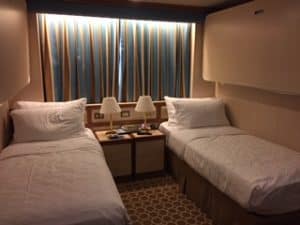 We didn't hear noise from anyone in the corridor or next to us or above us. This was a big surprise. We just had the gentle rocking of the ship to fall asleep to.
Balcony Stateroom
I've been convincing my in-laws to go on an Alaskan cruise and am encouraging them to get a cabin with a balcony. I'm sure they will love sitting out on their own private balcony.
If you have the extra money to enjoy a balcony, do it. It can really open up the space and gives the feeling of more space.
Suite Stateroom
I can only dream of how wonderful suites must be! It was NOT in our budget! And quite frankly, given our experience, I'd be concerned we (or the kids) would want to hang out more in the cabin than take advantaged of everything the cruise ship has to offer…which is A GREAT DEAL!
We used our cabins strictly for sleeping, showering, and changing for dinner.
Booking a Princess Cruise
I was really happy with booking the cruise through Costco. Once we decided on which cruise we wanted to take, we called the agent to book it. It was easy.
Then we were given access to a portal and trip itinerary that we managed directly. This is where we needed to give them our names, birth dates, and other information. We paid for the fees — listed clearly so we knew what to expect.
We also paid the gratuity fee. I highly recommend to do prior to your trip. My husband was a little reluctant to do this prior to the cruise (he was reluctant to go on ANY cruise), but was very happy he did.
Husband said, "What I like about the cruise is that everything is done, taken care of, including the tips. There is no need to manage our choices or budget, it's all done and I can just relax."
What do you pay for in advance?
While cruises overall may seem expensive, you have to remember you are paying for everything upfront. On traditional vacations, you tend to pay as you go. Oftentimes, you don't realize how much you pay. We paid for the cruise, government fees, and gratuity in advance.
What's included in the cruise price?
With the cruise price, you will enjoy plenty of food, lodging, transportation on the ship to the ports, and recreation and entertainment on the ship. Our trip was in May, and my husband stated more than once "Don't ask me if I'm hungry until July".
For the majority of the cruise, the free drinks we had on the ship were on the Lido Deck, which is the 15th floor. They include:
Free self-serve drinks:
Water
Coffee with sugar, milk, cream
Tea — hot water; tea bags
Iced tea
Table service in the cafe; server pours drinks:
Orange juice – saw for breakfast
Lemonade – saw for lunch and dinner
If you choose to prepay for a drink package, you will have access to soda, specialty coffees, and alcohol. Otherwise, you can order a drink and give them your cabin number. You can pay at once at the end of the cruise. We didn't do this and happily drank the free water, coffee, and tea. One night we ordered wine.
I do wish I brought my own coffee tumbler so that I would have been able to fill a larger size than the cups and so it would have been easier to transport on the ship. It was all fine but that would have been helpful. (Updated: With Covid, I'm not sure they would allow you to bring your own mug / tumbler but check because if you want to drink the free coffee or tea, it will be much more convenient.)
Kids can also get a drink package which includes soft drinks and lemonade. Our kids drank water and didn't do this. They had enough sugar with the desserts and soft-serve ice cream.
Government fees per person
There is an add-on fee as well. This will be stated clearly before you book. This is a fee which covers government fees, taxes and port expenses. This is a per person fee. Even if you get a good last-minute deal on the cruise price, this price won't change.
Gratuities
It may seem like a lot that you are paying a certain amount per day, per person, for gratuities. However, the wonderful thing is that like with the food, you have already paid, so you don't have to worry about it.
Once you are on board the ship for a couple of days and see all the service staff helping you, you will realize this was a small price to pay.
The service we had on the Ruby Princess was amazing. There were always employees around trying to ensure you have what you need. The staff was everywhere… in the halls going room-to-room cleaning, on the deck putting out blankets on the loungers for movie night… serving food in the many restaurants and food stations… and so many more helpful staff.
The gratuity fee is based on your room. As an example, our room with the Ocean View Stateroom, it was $15 per day, per person. It's less for the Inside Stateroom (no window) and more for the Balcony Stateroom and Suite Stateroom.
It's just a few dollars more per person in gratuity fees for the "better" rooms.
Note if there are extras you pay for, such as the spa, you will need to tip. But you will have an account, similar to a hotel, that you can charge purchases and tips that at the end of the cruise will be charged to your credit card on file. There is no need to bring a lot cash.
Getting to the ship and back home again
You will have to get from your home to the ship. You will also need to find a way to get from the ship back to your home. We drove to the airport from our home and left our car in the airport parking lot.
Once in Seattle, there are options. You can take a $29 per person shuttle from the Seattle Tacoma International Airport to the cruise ship.
Because there were five of us, it made more sense for us to take a Lyft ($73 with tip) from the airport.
If you are staying at a hotel in Seattle, make sure to book one that has a shuttle to the port to save money and hassle.
When our cruise (sadly) was over, we ordered another Lyft to get back to the airport. We did hear someone advertising rides for $15 per person but we had already called for a car.
Optional things to pay for on the cruise
Know that once you've booked your cruise, paid for the cruise price, the government fees, and the gratuity charges, everything else becomes flexible. After that, there isn't anything you HAVE to pay for once you are on the cruise to Alaska. It will be your choice to spend money elsewhere.
Specialty restaurants and menu items
Once on the ship, it's your choice to pay additionally for food in one of the specialty restaurant or from the main menu in one of the free restaurants.
We were thrilled with all of the "free food" on the ship and couldn't imagine what more we could possibly want to eat that would be worth paying for.
In addition to the specialty restaurants, there is a small section on the menu in the "included" DaVinci and Michelangelo dining rooms that you could pay additional for. Really, we had so many choices that were free/included and wonderful, we didn't even read those options. We certainly didn't miss them.
Cruise drink packages and drinks
See above where we discuss the drinks that are "free" on the cruise. While Princes Cruises, and all cruises, offer different drink packages, if you don't purchase one, you can still order specialty coffees, coffees, and alcoholic beverages and charge them to your cabin.
I wanted to get my calories from all the food and didn't miss specialty coffees or alcohol. However, I can see it would be worth it for people who would use it, i.e. drink enough to make it worth it.
Spa
They have a spa on the Ruby Princess. We didn't inquire about services or prices but saw it. It looked really nice.
Casino, bingo, etc.
They have a casino on the ship. There were also some Bingo and other games of chance on the schedule activities.
Art gallery
They had a silent auction with paintings. You can enjoy walking through the galleries to see the beautiful pieces (for free).
Other purchases on the ship
They have a little shop on the ship. There is also a jewelry store which ran a lot of promotions and events. We did quite fine not making purchases on the ship with the exception of buying the Princess Cookbook. In addition, one evening we had wine.
All of the extra spending will be your choice. We didn't do any of it other than walk through the art gallery a few times, so I can't really comment or provide insight on the value of doing so.
Spending money in the Alaskan ports
Yes, you may want to pay for excursions in advance or in the Alaskan ports. You may want to buy souvenirs or go out to eat somewhere other than on your cruise ship. But all of these are extras and not mandatory. While the excursions are very fun and a great way to experience the Alaskan city, you will have lots to explore either way.
We spent a lot more on excursions than on the cruise itself. I am not sure if this is the case on all cruises to other parts of the world, but to Alaska it is to be expected. However, you do not have to do this. There is plenty to do on the ship. Also, if you get out at the Alaskan ports, it is fun to walk around and see the area and the shops. They are set up for tourists. You will enjoy walking around seeing the water, etc.
You can choose to eat in town (you have to pay) but we never did this. We ate before we left the ship and went to the ports.
After years of finally convincing my husband to go on a cruise, his one stipulation was he wanted to do at least one memorable excursion with his sons. The three of them took a helicopter to the top of a glacier and went dog sledding. Due to the cost, only the three of them went.
Back when I went on the Celebrity Cruise years prior, I had taken a helicopter ride; it was a glacier tour to Mendenhall Glacier. It was one of the best things I ever did. But the helicopter rides are expensive and if it is not in your budget, you will have an amazing time regardless.
After booking Alaskan cruise ~ what to do
Remember to think of the cruise as you would an all-inclusive resort. You pay upfront instead of as you go. It's nice to not always have to be paying for a meal and transportation like travelers often do with other types of vacations.
It is also really amazing to not have to worry or argue about where to eat, because there is truly something for everyone. Even if you are dairy free, gluten free, or have other dietary restrictions.
We were excited for our round-trip cruise to Alaska from Seattle. It was 7 nights. We were going to be cruising on the Ruby Princess Alaskan cruise.
That evening, we looked for and booked flights to Seattle.
Flying in the day before the cruise
Most cruise experts will say to fly in the day before. This makes perfect sense due to the unpredictability with flights and weather.
However, we didn't do that. We were trying to save money and the hassle of getting a hotel room the night before. We also were going with my mother who was flying in from another state.
So, while we got lucky it worked out, it probably better to fly in the day before, get a hotel, and then make your way to the ship later that morning.
Instead, we flew from Tucson to Seattle on an early flight before 7am. My mother flew in from Chicago on an early flight a well. We met up easily at the baggage claim area in the Sea-Tac Airport and made our way to the cruise terminal.
It worked out really well for us but note we took a big chance doing this. As you can see, I'm nervous about travel issues that come up. But my husband is clearly not. He planned, managed and took care of everything to get us to the ship and then back home…on the ship was me.
He is always great and awesome about this. He sets a goal and doesn't get sidetracked or upset about issues that do happen. He's very organized and just keeps us moving and as unaffected as possible. He shoulders it all.
Boarding Princess Cruises the first day
We did our check-in process online at home. This made it easy to get through the cruise terminal as all we had to do was show our paperwork and identification (husband had it all organized for each of us).
Be sure to do this at home before your cruise.
Once we made it to the cruise terminal, we waited outside in line. We arrived around 11am. It was a little cold and rainy. We were able to take out our waterproof jackets and hats to stay warm.
The line went quickly and soon we were inside the terminal. Again, mu husband having everything organized and copies of all our paperwork, Id's, passport, etc. in packets for each of us really made this a breeze and uneventful.
The staff in the cruise terminal were very positive and pleasant, making it an easy process to get through. They really helped to start our trip positively.
They will take your luggage from you and have it waiting for you outside your cabin. We were able to take out a few items we didn't want to leave in our suitcases.
We were on the ship within 45 – 55 minutes from getting out of our Lyft.
Eating lunch the first day on the cruise
It was a great surprise that once boarding the cruise, we able to eat lunch. We went up to the Lido Deck on 15 to enjoy a buffet lunch.
There was so much to choose from, including carving stations, fruit, vegetables, salads, fish, rolls, desserts, and more. There is something for everyone, and you get to enjoy the beautiful views of downtown Seattle, including the Space Needle.
Our rooms were ready around 1pm, and all of our luggage was outside the door. We rested a bit before going to the Safety presentation.
The entire process was seamless. A bonus was we were able to enjoy more time on the ship that first day of what turned out to be a wonderful cruise vacation.
What to pack for an Alaskan cruise
The five of us all brought a carry-on suitcase and a backpack or duffel bag. Because we didn't want to pay to check bags meant we had to pack smart.
Packing for an Alaskan cruise is different than packing for a Caribbean cruise and more predictable climates.
Cold weather clothing takes up more room. Also, for a warmer climate, women's clothing is more versatile. You can wear a sundress during the day and dress it up for dinner.
I was also worried about what to pack a formal night on the Alaskan cruise.
Packing layers for Alaskan cruise
Layers. That's all I heard when I researched packing for an Alaskan cruise. I was sick of seeing that word. What does that mean in Alaska? How do I maximize my wardrobe with layers for the ship, including days at sea and for dinner? I was tired of hearing about bringing layers. I wanted to know what it mean in the context of this trip.
With a few key items — these three below — I'm thrilled to say I accomplished dressing in layers AND packing light:
Rain jacket with hood
I bought a Columbia waterproof jacket with adjustable hood. I bought an unlined one because I live in a hot climate and wanted to be able to get more wear out of it.
This jacket protected me from the wind. I could cinch the hood when it was windy. On the first day as we waited in line to get through the process to get on the ship, it was raining and cold. This jacket served it's purpose right off.
It was easy to fit my puffy vest underneath. I wore a long sleeve shirt under it. These pieces made it easy to shed layers as it got warmer throughout the day.
Then at night, it was easy to start putting them back on.
Puffy vest
I already owned a packable zippered vest. I made sure the long sleeve shirts I brought matched the vest. It was versatile to wear with my jeans, leggings, athletic pants and even my black skirt. I had a scarf that also made it more versatile and warmer.
It had a zippered detachable hood but I didn't bring it.
Good walking shoes
Something about wearing gym shoes with my jeans and black stretch pants/leggings makes me feel like a slob. I found amazingly comfortable black Sketchers without laces. I wore them for the entire trip.
They went with everything except for formal night. I wore them on the plane and packed my heels for the special dinners.
I was so happy with how comfortable they were and how I was able to wear them around Alaska, including hiking, and all around the ship. They looked nice with jeans as well for dinner.
They were versatile enough to slip on when I went between our two cabins. I was able to wear them for hours walking around Alaska — we walked a lot in Juneau, Skagway and Ketchikan — and was equally comfortable walking around on the cruise ship, on the track, to play basketball with my kids, etc.
In Alaska during the day, we all wore pants. At each port, I walked around in jeans, black stretch pants or yoga pants and a short sleeve shirt under a long sleeve shirt and my rain jacket.
I took off my rain jacket as the days were warm. Actually, I was fine in my short sleeve shirt most of the time. It was handy to put the unneeded layers in my backpack.
Sunglasses
Having polarized sunglasses isn't necessary but it made everything sharper and clearer.
Good camera
Unless you have an updated cell phone that takes wonderful pictures, bring a decent camera. Bring extra batteries, a charger, an additional memory card… whatever you might need so you don't feel yourself holding back from taking pictures.
Beanie ski hat
At times it will be windy and cold. You don't want to have to hold down your baseball cap and worry about it blowing away. Bring a ski hat which will keep your ears warm. You can easily put it in your pocket as the day warms up.
Small purse
I saw a lot of people walking around with their room key in a lanyard around their necks. We didn't do that.
I carried a small black purse for dinner and around the ship to hold my phone, room key, ID, and camera. This also fit easily in my backpack when I was in Juneau, Skagway, Ketchikan and Victoria.
Binoculars
We only had one pair at home, and I'm glad my husband thought to bring them. I wish we had at least one more pair.
When we were in Glacier Bay National Park (a day at sea) we spent hours looking out at the scenery and looking for marine life. Often times we shared the binoculars and missed seeing some activity.
It would have been great to have each had a pair.
You will want these to better see the humpback whales, seals, sea otters, orca whales, and other wildlife in the distance.
Scarf
I got a lot of wear out of my thin scarf. It worked as a fashion piece with my long sleeve tee shirts, and changed up the look when I was wearing my puffy vest. It also kept me warm on our first day when it rained in Seattle.
Kindle or book
If you are a fast reader or plan to read and relax once on the ship, you will want to download more than one book. For us, we read on the plane and for only about 30 minutes on the ship.
We sure wish we had more time to relax but there was so much to do, plus we went with our kids and spent a lot of time exploring and playing cards, etc. with them.
Alarm clock
I am thrilled I brought my alarm clock. It's very easy to get hooked on using a cell phone for an alarm and to know the time.
However, I didn't want to worry about my phone on the trip — especially because we gained an hour at the beginning of the cruise and then moved the clock back again toward the end. Would my phone reset? I didn't want to worry figuring out what time it was.
My alarm clock was perfect. It's small and easy to pack. It's battery operated. To see the time in the dark, I press a button. I like that it remains dark.
Small thermos
I saw a few people with slim Thermos-type bottles. There were signs in the beverage area to not refill you water bottle from the water spouts.
I did see people refill their small leak-proof coffee/tea holder — most of the people I saw do this used it for tea. I didn't miss having this; however, my mother would have enjoyed the convenience of being able to carry around tea or coffee.
Reusable bag
Bring a nylon reusable bag that doesn't take a lot of room. We used ours a lot on the ship. It's easy to tuck into a backpack, jacket pocket, or purse. I used it a lot for carrying games and my kids sweatshirts around the ship.
Small backpack
I carried a backpack to all of the Alaskan ports and to Victoria, Canada.
It was a convenient way to bring water bottles, sweatshirts, etc. It came in handy every time, especially as it got warmer throughout the day. I also packed the reusable bag in the backpack and used at when we shed more of our layers.
Sunscreen stick
We didn't bring a face sunscreen stick but would have used it if we did. The days we were in Juneau, Skagway, and Ketchikan were sunny and warm.
Dramamine
I bought Dramamine before we went on the cruise. Our rooms were toward the front of the ship — known to be more rocky than being in the middle. Be sure to buy non-drowsy Dramamine.
My husband and I were a little seasick walking around the ship the first afternoon. However, a lot of that probably had to do with being very tired. After we arrived on board, ate lunch, walked around a bit, we tried resting in our cabins for an hour and felt much better afterwards.
We needed lip balm while we were in Skagway and found a great IGA store. They do have a store on-board where you can get necessary items as well. We didn't see it until the middle of the week.
Gloves
I brought stretchy gloves for all of us but we didn't wear them. These were small to pack, and I'm glad I brought them and would again just in case.
Phone chargers
While I didn't want to use my phone on the trip, I did carry it with me to communicate with my teen and husband. We didn't buy the internet package. For free, we were able to use the messaging / texting to reach each other.
What to wear on formal night on Princess cruise to Alaska
The Ruby Princess has two formal nights on the 7 night cruise. The dress code is probably the same for all the Princess Cruises to Alaska. We attended the two formal nights.
Our ship left on a Saturday and returned the following Saturday. The formal nights on our cruise were Monday night and Thursday night.
After seeing what everyone wore to these dress up nights:
It seemed like you were meant to make an effort.
What's great about this is that it can be different for everyone. It may depend on what you already have at home. A big factor for us was space in the suitcase. Do you have room for formal attire? Will you pack a garment bag with a suit or formal gown?
Anything "nicer" goes on formal night. Just making an effort will make you feel a part of the excitement.
Women dressing for formal night on Alaskan cruise
Because we were only bringing carry-on bags, we went more simple. I packed heels and a sleeveless sheath dress with a dressier necklace — not expensive/real jewelry.
For the second night, I had a fancier top with the same necklace and a simple black skirt. I wore the sames heels both nights.
Women were in a variety of outfits. Some were in gowns, some in nice dresses, and other women paired blouses and sweaters with nice pants or a skirt.
Men dressing for formal night on Alaskan cruise
My husband decided not to pack dress clothing and wasn't going to attend formal night.
At that time, we thought there was just one formal night on the cruise. We didn't know there were two formal nights.
So, had he known there were two — and that he would have gotten two "wears" out of his nicer shirt, pants, and shoes, he may have brought them.
Several men were in suits, many were in collared, button-down shirts with ties, and others had nicer shirts. Again, it seemed everyone "made an effort" in some way.
Kids dressing for formal night on the cruise
My sons wore nice pants — dark twill pants — and polo shirts. They wore their tennis shoes.
They were perfectly fine and looked handsome.
Going to formal night on Princess Cruises
You really don't want to miss formal night. The wait staff dresses up; the food is (even more) extra special; and there is a featured dessert in addition to the other wonderful choices.
For our first formal night we enjoyed duck. On the second, we enjoyed lobster tail. As with all the evening meals in the Michelangelo and Da Vinci Dining Rooms, there is a lot to choose from on the menu.
For both of the formal nights, we arrived earlier, around 5 – 5:30pm. It was less crowded.
On the second formal night, one of the waitstaff recognized my husband wasn't there and asked about him. I said how he didn't bring clothing for formal night. He said how he should have come anyway, that it would have been fine… everyone wears anything. It was nice of him to take the time to note my husband wasn't there and seemed to feel badly my husband missed out.
My husband was fine but would have loved going to the formal nights and definitely will should we have this opportunity again. Instead, he enjoyed eating somewhere else, reading and relaxing until met up afterward.
How many formal nights on Ruby Princess?
Our 7-night cruise had two formal nights. Go to both of them. You will be thrilled with the evening.
While the dinners in the DaVinci Dining Room and Michelangelo Dining Room are incredible any day, on formal night, the foods are even a step above. The waitstaff will be even more dressed up. You can expect the same professional, attentive and polite service as the other evenings.
The second formal night on the Ruby Princess involves the waitstaff in a really fun way. We loved it!
Will there be a lot of kids on the Alaskan cruise?
We went on our Alaskan cruise from Saturday, May 25th to Saturday, June 1st. Our kids got out of school on the Wednesday before Memorial Day, and we left that Saturday.
We hardly saw any children the entire cruise. Throughout the cruise, we saw a few toddlers. There were a few tweens and teens in the Kids Club. However, around the ship, we could go an entire day and see just one or two children.
Know that the earlier the season you go on an Alaskan cruise, the less kids you will see. Schools are still in session in April and throughout most of May. Many don't get out until June.
In addition, going toward the end of August and all through September will mean less kids as well. In the United States, most schools are back in session right after Labor Day at the latest. So if you go after Labor Day, you will most likely see less children on the cruise
Is it crowded on the cruise ship?
The only day that seemed a bit crowded was the first day. People were all arriving and using the elevators for lunch as soon as they boarded. There was a little bit of a wait for the elevator.
However, after that first afternoon, once everyone's rooms were ready and people could go to their cabins, it wasn't crowded at all.
With the exception of seeing the service staff, we didn't we see the same people over and over. Only once do I remember seeing the same person twice!
Most people will get off the ship to visit the ports, making the ship even emptier-feeling.
Alaska ports
Our ship stopped in Juneau, Skagway, Ketchikan, Glacier Bay National Park, and Victoria, Canada. The Glacier Bay National Park was a day at sea; we didn't get off the ship. We were able to go 65 miles in to see the famous glacier, enjoying the scenery there and back.
We weren't far enough north to see the Northern Lights; however, everything we saw was stellar and magnificent.
Days at sea on Ruby Princess
We loved our days at sea. Before booking our trip, we looked at different itineraries online. Some had more days at sea than others. While I wanted to see what we could in Alaska, I was especially excited to spend as many days at sea as possible.
Princess cruise ships are fun! There is so much to do on a cruise it's a vacation itself on the ship — plus all of the gorgeous scenery and extensive eating. I know my kids and family would be enthralled with all of it.
And while I went in with high hopes and expectations, the Ruby Princess was even better than I imagined.
We thoroughly enjoyed what Princess Cruises had to offer. We took advantage of so many things: swimming pools, hot tubs, huge theater, basketball court, putt putt mini golf, spontaneous entertainment and planned entertainment, and so much more on the ship.
We sat in different areas and played cards. There was even a Library on the Ruby Princess. You can check out books and games.
Time flies when you are having fun so be sure to think about what you want to do and be sure to fit it in. We wish we had another week to continue the cruise ship fun.
We would have loved more time to relax on the lounge chairs to read, eat, and enjoy the scenery.
Lots of scheduled activities on board Princess Cruises
Each day there is a calendar of events. Each evening, when we returned from our evening of fun dinner, walking around, playing cards, taking in a show, etc. we would come back to our cabin. On the bed is a list of scheduled activities for the next day.
You can also access this from the Princess Cruises app. You can choose to take part in something or not. Many times were there overlapping things we wanted to do.
Demonstrations
We happened to be walking by a Fruit Carving Demonstration in the Piazza and stayed to watch. Later in the week, we saw there was an Ice Carving Demonstration on the Lido Deck which we enjoyed.
In addition, we went to a Culinary Demonstration in the Princess Theater followed by a walk-through of the kitchen.
Basketball shootout competition
My kids enjoyed the basketball shootout competition.
We hung out at night with a dance crowd to watch the balloon drop.
Ping pong tournament
Another time, we walked past a ping pong tournament against some of the cruise ship staff. Once we walked past passengers gathered around for a game show.
You just show up! If you go, enjoy! If you don't and choose something else, that's fine too.
Family night
There was also a Family Night at the Youth Center and Teen Lounge. The entire family is invited to hang out and play skee ball, air hockey, board games, video games, etc. It was a fun way to acquaint ourselves and our kids with the rooms.
Shows in the Princess Theater
While we wish we had time to see more the performances in the Princess Theater, we were glad we saw Libby Riddles present. She was the first woman to win the Iditarod.
In addition, we attended the talk from the National Park Service while we were in Glacier Bay National Park.
We attended a culinary show with a cooking demonstration followed by a kitchen tour.
Later that day, we attended the 50-minute finale of a singing competition which had been going on throughout the week with the passengers. It was tons of fun. My kids loved being able to vote for the winner. It was really well done.
Fitness and recreation on the Star Deck
On the 19th floor — the top floor — there is a sports deck. There is a lot to enjoy. My family went up there many times.
Princess Links mini golf
There is a mini golf course with four holes. You can use the putters and golf balls and return them when you are finished.
Basketball and pickle ball court
There is a net above the sports court to keep the balls from going overboard. At times it was windy and chilly. We always brought our hats just in case.
There is a basketball court with two nets. There were four balls there to use. In addition, the court doubles as a pickle ball court. There was a net, paddles and balls there to use.
Is the sports court crowded? No.
There was one time we went up to play basketball but adults were playing pickleball. We played miniature golf instead. Another time, we were playing basketball, and adults came hoping to play pickleball. They went to play putt putt until we finished.
A few times we shared the basketball court and the putt putt course but everyone was respectful.
Check the schedule because sometimes Princess Cruises has a planned activity on the court you might want to do. My kids did the basketball shootout. Sometimes we saw pickle ball on the schedule.
Track
On floor 19, there is also a small track. If you walk 16 times around, you will have walked one mile. You will be lapping the putt putt area and enjoying looking out at the water.
It's also fun to walk on decks 7 and 8 (Promenade and Emerald decks) to enjoy the views. You can walk around the ship 2.5 times, and you will have walked a mile.
Fitness center
After we got home, my husband mentioned something about a fitness center on the cruise. There was so much to do and see, I didn't even know there was one.
Swimming pools on Princess Cruises to Alaska
We wondered if the swimming pools were inside or outside on Alaskan cruises. The swimming pools are outside on a Princess cruise. If you luck out with the weather like we did, you will enjoy swimming in the sunshine, and you might forget you are in Alaska! It was beautiful.
There are several swimming pools and hot tubs on the ship. There are beach towels nearby so you don't have to worry about packing them.
I didn't pack my swimsuit due to space in my luggage and because we have a pool. However, my husband and kids enjoyed time in the pool one day when we got back from a port. The sun was shining and because the ship was docked, it was that much warmer.
We saw people enjoying the swimming pools and hot tubs throughout the week. There was the day we were at sea when we were in Glacier Bay National Park, and it was so warm and sunny. There were a lot of people enjoying the lounge chairs, hot tubs and swimming pools. But even then, it wasn't crowded, and I saw just three children.
Opportunities to be active on the Ruby Princess
Whether you enjoy swimming, exercising, walking, or being active on the sports court on the Sky Deck, you will be able to get exercise if you want to. At times, my kids and I took the stairs instead of the elevator to get more steps in.
Nightlife on Ruby Princess
There are a lot of restaurants and lounges on the Ruby Princess ship. You can enjoy bands, singers, dancing, special gatherings, and more.
While we did partake in the balloon drop — which turned out to be a fun night with an announcer, band, and singer, we spent most of the other evenings in the lounges, playing cards and hanging out.
You could order a drink or not. Oftentimes, they brought us water. There wasn't any pressure whatsoever to order to do anything yet the staff was attentive if you wanted something.
There is a casino and the Princess Theater for additional entertainment.
Keep in mind, you can do whatever you feel like doing. You can go to one of the top decks and sit on a lounge chair with coffee. You can go get more to eat. Go dancing if you want. It's your vacation, and you can spend your days and evenings as you wish.
Outdoor movies on the cruise
Enjoy a movie on the lounge chair watching a movie on the big screen.
We didn't have time to take advantage of this. We saw the staff putting cushions and pillows on the lounge chairs for a cozy evening movie experience. They even had blankets you could use.
The next time we go — if we can be so lucky as to go again — we will definitely be watching a movie!
Looking for wildlife on Alaskan Cruise
The Ruby Princess cruise we took had a day at sea while we had the chance to see Glacier Bay National Park. We spent a lot of time watching for marine life which was very fun.
Bring binoculars and a decent camera so you can get some good shots.
Again, we went Memorial Day week in May. During our cruise, we were lucky enjoy to see humpback whales, orca whales, sea otters, and seals. One seal came right up to the ship. It all happens fast though so you need to be watching.
At times, there was an announcer who was spotting the marine life making it really helpful for passengers who were interested in spotting them.
The binoculars make it even better.
Waking up early when in Glacier Bay National Park
Do be sure to wake up early some mornings. It's important to wake up as early as you can the day your cruise ship is in Glacier Bay National Park.
While a lot of the time on the water may be the same — we loved it! — the time you spend in Glacier Bay National Park or any area with the glaciers such as Hubbard Glacier on other Princess Cruises to Alaska — will be unique.
At times you will see ice floating in the water. We saw a lot of wildlife, including birds. You can enjoy the views and may have a better chance to see marine life. We saw a lot of whales, sea otters and seals.
Take advantage of your time spent in these glacier areas. It's a magical time.
Ruby Princess cruise review
Amazing food
We didn't need to spend any money once we were on the ship to eat well. The food was outstanding. We ordered so many different foods, including duck, salmon, surf & turf, crab legs, mussels, scallops, prawns, and shrimp cocktail. If you don't eat seafood, you will have so many other wonderful choices.
We really loved we could eat so many different foods. And even as we enjoyed a fabulous meal in the Michelangelo Dining Room for dinner, we knew there were fantastic foods in the Horizon Cafe on Deck 15, and in the International Cafe on Deck 5, as well as many other options. It just went on and on.
Service
The service was outstanding. When we were eating dinner in the Michelangelo Dining Room, I would easily see five waitstaff at any time.
The waitstaff was attentive, professional and polite. They made it an exceptional dining experience each time we were there.
The Head Waiter, was absolutely fantastic. He handled our son's food allergies so well.
It's always stressful when we eat out and this man went ABOVE and BEYOND making it safe and special for my son. If you have a child with food issues, you know how much it means to have them included in — rather than left out of — meals.
Relaxing vacation
So many times on vacation, we are worrying about where to eat and driving here and there. We have to check into hotels and leave again to see something else. With a cruise, you show up and it's done! You can actually enjoy your vacation in a safe and carefree way.
Get to do something in your down time
On other vacations, we usually spend the days sightseeing and the evenings in our hotel room. There is nothing to do but watch television.
On a cruise, it's completely different. You can spend the day exploring one of the Alaskan ports and then come back to enjoy dinner and continue on with an entire evening of fun.
Eating dinner on the cruise
We chose Anytime dining. On the Ruby Princess, this meant we could eat in the Michelangelo Dining Room anytime after 4:30pm.
When we booked our cruise, we were told anytime after 5:30pm so we didn't know we could have gone earlier until midway through our cruise.
We liked going earlier — even 5:30pm was good — because it enabled us to have more time with our incredible Head Waiter, who helped us immensely with our son's food allergies.
Traditional dining
On the Ruby Princess, this meant you choose a dining time and have the same table, same waitstaff and same table mates (people you then dine with throughout the cruise) in the Da Vinci Dining Room on the 5th floor.
If you want to dine alone, you can. Be sure to state this when you book your cruise.
While the Da Vinci Dining Room is for passengers who selected Traditional Dining, after 7:30pm, anyone can eat there.
Food allergies on Princess Cruises
When we booked our cruise through Costco, the agent asked us about food allergies. We told them about my son. His is an uncommon intolerance which makes it difficult for him to have desserts as well as foods with vegetable oil.
On our first night at dinner in the Michelangelo Dining Room, we asked to speak with the Head Waiter. I gave him a list of all the ingredients my son couldn't have. Most of them would be in breadings, French fries, and desserts.
The Head Waiter was exceptional. He took the time to learn about it and the ways he could work around the allergies so my son could still try new foods and have desserts. Though the intolerance/allergy is uncommon, he took the time to investigate on his own and was proactive about speaking with the chefs, reading ingredients, etc.
He gave my son the menu each night for the next day. My son pre-ordered his food. This was a lot of work because our Head Waiter had to work with the kitchen staff and chefs to sure everything was safe for him.
In addition to that, he went out of his way to bring raw vegetables as an appetizer for him. After that, he worked with the chefs to come up with desserts he could have. This was amazing as they had to make these special for him.
Throughout the cruise, the Head Waiter made my son feel very special. He was professional, knowledgeable and took pride in his work. He is a huge asset to Princess Cruises and my family will be forever grateful for the way he cared for our son. We had one of the best vacations ever not having to worry about food. My son tried new foods, had tremendous desserts, and didn't get sick at all.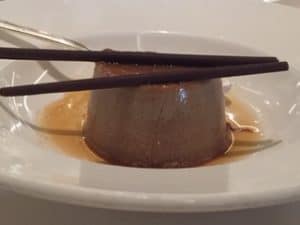 I'm sure the Head Waiter had a long list of special food accommodations for other passengers. We always saw him working with staff and guests, and despite his workload, always seemed calm and professional.
Yet, despite the amount of responsibilities he had, he worked so hard for us, he made us feel like we were the only ones.
Princess Cruises staff on Ruby Princess cruise to Alaska
From our experience on the Ruby Princess, all of the employees work very hard to give you every opportunity to enjoy yourself in a carefree manner.
The staff was service-focused, not just service-oriented. (There's a difference!)
Every single employee we encountered was professional, polite, and (amazingly) always seemed happy to be doing their jobs. The service employees were always doing something. They were always working hard while putting the customer first.
None of us wanted our vacation to end. We would love to go back.
We loved our vacation. While the weather was perfect, even if it wasn't, there's so much to do on the ship, you will have a great time. It's a true vacation — without all the planning, figuring out food, driving and dealing with transportation, worrying about where you are and whether it's safe, etc.
Whether you take an Alaska cruise from Seattle or from a port in Canada or Alaska, it's a unique vacation in so many ways.
We were thrilled our choice of taking an Alaskan cruise. We didn't "choose" the Ruby Princess — it's the ship that worked best with our dates and price. However, we loved it and will recommend it again and again.
Know you won't have enough time to enjoy all the ship has to offer. Once you're back after exploring the ports, you can do as much or as little as you want.
So many times on vacations, we are stressed out and have to do so much planning, driving, and worrying. On a cruise, all you have to do is do the preliminary work to get on the ship and then enjoy. It's truly a vacation.
You don't have to worry about getting from Point A to Point B. It's a very safe way to travel. It's truly a stress-free, "real" vacation.
And the food! Typically on vacations, there's always discussion about where to go, when to eat, etc. You don't have any of that with a Princess Cruise.
We can only hope to cruise to Alaska again or cruise to a different destination. I would go as often as possible and stay as long as possible. It's such an easy vacation to go on with kids. We weren't glued to our phones we were in the moment, exploring, enjoying, etc.
There's something for everyone on the Ruby Princess. That's the great thing about it. Options. There are plenty of options for whatever you want to do, whether it comes to eating, recreation, entertainment, relaxing, exercise, scenery/wildlife, learning, etc.
We have many more pictures and lots of videos we will be adding to this post, so check back. Have you traveled on a cruise to Alaska? What are your tips? Please leave your Comments below.
Alaska Shore Excursions Guide for Deciding What to Do While in Port
Glacier National Park Camping
Best Time to Visit Glacier National Park