European cruise ~ The open fjords, the lava caves, European beaches and the breathtaking and continental cities of Europe make it a top destination for cruises. Europe's collection of countries differ greatly, not just in terms of language, but landscape too.
If you're on a European cruise, there are some must-see destinations, which demonstrate the diversity of this small continent. Relics from ancient civilizations make for sites of interest both visually and archaeologically. To look at some of the best European cruises, head over to Cruise Club and hunt for the best itinerary, including at least one of these gems.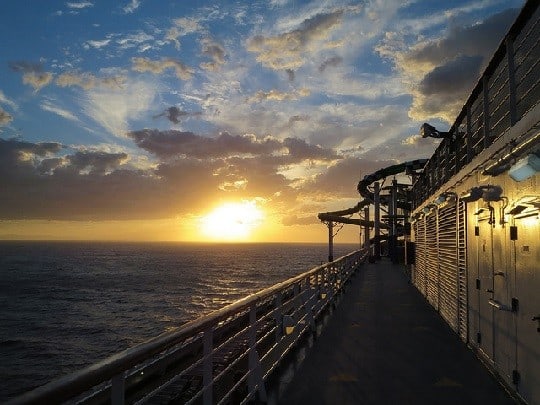 Barcelona
With some of the most impressive architecture, stunning miles of beaches and a vibrant food market in its center, Barcelona is a European city that has it all, including a port, which enables it to be easily accessed on the cruise circuit.
Soak up the sun and the quirky entertainment as you stroll down Las Ramblas or visit Gaudi's Parc Guell, with its impressive views of the city and cascading bougainvillea. Getting lost in the backstreets of Barcelona and uncovering some of its quirky restaurants, bars and galleries are all part of the fun.
Like a living gallery, everything in Barcelona is covered in fantastic street art, and the beaches often boat impressive sandcastle structures. Barcelona vs Real Madrid
Rome
Sprawling and cosmopolitan these days, Rome is home to the impressive ruins of the Colosseum and speaks of its history in almost everything you see. Whilst it is vast, there is a lot of Rome you can see on foot and its impressive history lives through its monuments.
Offering some of the most incredible experiences, Rome is a must-not-miss place that frequently crops up on European tours. From shopping to culture and history to contemporary, Rome has a slice of something for everyone, and of course pizza!
Norwegian Fjords
A million miles away from the cosmopolitan cities and resplendent architecture of the other two destinations, a European cruise with a difference takes in all of the incredible Viking history and dazzling archipelago that make up parts of Norway.
Slowly moving through these deep crevices in the landscape and imaging our Norse forefathers' fleet maneuvering through them is nothing short of majestic, and is the kind of once in a lifetime experience that a cruise should be. Offering unrivaled scenery, Norway cruises are a unique way to connect with history.
Helsinki
Arguably Scandinavia's most naturally picturesque capital, Helsinki is an energetic seaside city compromised of beautiful islands and vast green parks.
Any one of the 300 islands that compromise its archipelago are worth a visit and none get too crowded although Pihlajasaari is only a short ferry ride from the heart of Helsinki and has all the forest and wildflowers you'll need to enjoy an authentic Finish experience.
The design scene in Helsinki is also widely regarded as one of the most advanced in the world today, with the boutiques, workshops and galleries that make up its design district contributing to its 2012 status as the World Design Capital.
Dubrovnik
If you are interested in visiting southern Europe on your cruise, Dubrovnik is a good choice. Located in the extreme south of Croatia, Dubrovnik is a stunningly beautiful city with a rich history as well as great modern cultural significance. Otherwise known as 'the pearl of the Adriatic', Dubrovnik became a Unesco World Heritage Site in 1979, largely because of its majestic Old Town.
Although severely damaged by an earthquake in 1667 much of the city's Gothic, Renaissance and Baroque churches, palaces and statues remain and provide the perfect architectural base for King's Landing in HBO's epic fantasy series Game of Thrones.
Filming tours now take place in the old town and offer fans of the show a unique chance to see the buildings that inspired the television version of the Red Keep, Blackwater Bay, Great Sept of Baelor.
Athens
Often regarded as the birthplace of Western civilization, Athens was a cultural hot spot for tourists before many modern-day countries even came into existence. Today, Greece's capital is a perfect mix of ancient and contemporary with two thousand five-hundred-year-old buildings standing side by side with state-of-the-art tower blocks.
Home to well over 3 million Greeks, construction for the 2004 Olympics did much to help alleviate the pollution and overpopulation that had become heavily associated with Athens during the twentieth century. New Metro lines and improved roads helped alleviate traffic congestion and a series of newly constructed pedestrian-only streets help network the city's most revered and historical sites
Istanbul
The city where East meets West, Istanbul is the point at which Europe and Asia touch. One of the few places on earth, you'll see almost as many as holy Christian landmarks as you will holy Islamic landmarks, Istanbul has an embarrassment of historical sights of interest.
Everywhere you visit in the city, you'll find museums, palaces, grand mosques and churches that attest to the city's magnificent history as the capital of the Roman, Byzantine and Ottoman Empires.
No trip to Istanbul is complete without visiting the vibrant and busy Grand Bazaar, located at the heart if Istanbul's Old City for centuries. Starting as a small vaulted warehouse, built in 1461, it grew to cover a vast area of neighboring shops and is now the countries' largest covered market.
Lisbon
Portugal's busy capital city offers a perfect combination of history, culture, modern architecture and natural beauty. Its hilly landscape will have you wandering from quiet courtyards overlooking gothic quarters to modern terraces offering magnificent views across the whole city.
Saint George's Castle is the landmark most commonly associated with the city and can be seen from anywhere inside Lisbon's perimeter.
The Lisbon locals are renowned for their nightlife so why not join them for sunset shots of traditional ginjinha or ginja (Portuguese cherry liqueur) in their unrivaled cultural hot spot, Bairro Alto, where revelers hit the street to chat, drink and dance before heading to the city's riverside mega club Lux.
Kaunos
On your cruise from Marmaris to Fethiye, one of the historical highlights is the ancient city of Kaunos. According to ancient myth, Kaunos was named after King Kaunos who was the son of the Carian King Miletus and Kyane and the grandson of Apollo.
His twin sister, Byblis, developed a deep love for him, and when she told him of her feelings, he fled elsewhere to settle down with some of his followers. Byblis, crushed with sadness, tried to commit suicide. The myth claims that the Calbys river is a product of her tears.
Later Kaunos developed into a major port between Lycia and Caria. Guests can take a river boat trip to see the ancient Lycian tombs, the resting places of Kaunos kings, built high in the rock face.
Overlooking the sea and the delta area, the key things to see include the Acropolis surrounded by city walls, four temples, an agora, a theater, the baths, churches and a cistern.
Even if you are not a history buff and there is much more to this part of the trip than archaeology and old ruins. Take the trek up to the top and soak in magnificent views of the surrounding scenery.
Dalyan Mud Baths and Turtle Beach
On to Dalyan to take a mud bath and/or relax on Turtle Beach, a protected beach for endangered sea turtles. Caretta Turtles (logger head turtles) still lay their eggs there. Dalyan is a city with a lot to offer in and of itself, but one of the most unique and exciting attractions is the famous mud baths and sulfur hot springs.
The mud baths in Dalyan are famous for their medicinal benefit to your skin due to the rich nutrient content of the mud. It feels very much like the Dead Sea in Jordan as the bath is so densely concentrated with salt that you just float effortlessly on top of the water.
Let the mud dry and enjoy the feeling of toxins being extracted from your skin. After you've had your fill of caking it on, take a quick dip in the lake to wash it off and enjoy your freshly detoxed skin!
Added bonus: If you suffer from Rheumatic diseases, arthritis, eczema or any other similar conditions, the mud is said to relieve symptoms!
Having cleaned yourself up, it's time to move on to a smelly sulfur bath. Likewise, the sulfur bath is known to relieve rheumatism, hypertension, gout, liver disease, and a host of other ailments.
As the natural spring is loaded with sodium, chloride, sulfur and calcium and sits at a piping 39°C (102°F), try to relax into the healing element and not think too much about the smell of spoiled eggs filtering through your nose. Extremely fragrant, but a really cool, different experience!
Cleopatra Bay
A favorite spot for many of the guests on the cruise is Hamam Bay where you can swim among the ruins of a Roman bath called the Cleopatra Bath.
In this special cove, the volcanic structure of the natural hillside supports theories of the previous existence of a crater lake, which provided warm water to the bath in ancient times.
Cleopatra is said to have ordered shiploads of white sand to be brought here from Egypt to create her own secret paradise. It's rumored that Cleopatra herself came here to bathe in the bay and came with Marc Antony especially for their honeymoon.
Another main attraction is the monastery ruins, most of which are located underwater. Unlike many other sites, Hamam Bay is yet to be protected so it's possible to totally immerse yourself in the sites and surroundings while snorkeling over the ruins.
The shoreline is lined with a stunning display of pine trees. If you hike up Yavansu Hill, you will discover the remains of Lydae Ancient City which includes the ruins of a mausoleum, cisterns, temple walls, Corinthian columns and inscribed tablets from the Roman and Byzantine periods.
As this area cannot be reached by land or road, and daily boat tours and river cruises don't visit this site, Cleopatra Bath was very exclusive to the Marmaris Blue Cruises.
Red Island
Of the group of 12 Islands, one of the most stunning experiences to be has is on Kizil Ada (Red Island). Here you can enjoy swimming in the crystal turquoise waters, and discover the rocks for some diving fun. There are small and large rocks alike for the ultimate diving experience. This is one of the best areas on the cruise for diving. The Red Island is covered in small red pebbles hence its name.
There are many small private coves that you can seek out to enjoy some quiet, personal time. This is the ideal place to be at sunset as the sun lights up the red pebbles on the beach. The glowing effect is reflected all over the stones and into the surrounding water creating a breathtaking effect.
Once you have had your fill of swimming and diving in the beautiful waters, head on shore to the lone lighthouse that is the outstanding structure overlooking the beach.
At the top is a restaurant where you can indulge in a gorgeous seafood dinner as you overlook the sunset and glowing stones and sand on the beach while sipping on some wine or raki. Red Island is known to host some spectacular weddings and it's hard to imagine that you can have a more romantic cruise than this.
Greenland & Iceland
Although not your most common holiday destination, a cruise around Greenland and Iceland is one of the most adventurous destinations in Europe. Experience the Northern Lights, soak into hot natural pools in surroundings that are well below freezing temperature, and explore the small villages and local traditions.
The nature in Iceland is among the most beautiful in the world – and not everyone can say they've been to Greenland – not everyone does tours to these places has several options for these types of cruises. Taking a cruise will ensure you are going during the best time to visit Iceland.
United Kingdom
While the Brits have known of the country's beauty for centuries, others are now discovering just how spectacular the UK is, with a great mixture of cosmopolitan cities and rural natural beauty. From the pub culture in Dublin to the Beatles nostalgia in Liverpool, and the many things to do in Scotland, there is plenty for every taste.
The Baltic Sea
The beautiful Baltic is emerging as a popular cruise destination, and understandably so as many of the best places can only be reached by boat. To see the Baltic gems Stockholm, Helsinki, Tallinn and Riga for example, it's much easier and faster to do the trip on a cruise – there are also some fantastic small places to stop over by, such as the holiday island Gotland and Klaipeda in Lithuania.
Mediterranean
Cruising in the Mediterranean remains the favorite among Brits, and it simply has it all; great weather, delicious food, plenty of culture, stunning Mediterranean beaches, and spectacular old cities.
Greece and Croatia offers gorgeous beaches and small seaside villages, Italy with its historical cities and the glamorous French Riviera are just a few stops you can choose from when cruising in the Mediterranean.
Canary Islands European cruise
With its year-round mild climate and sunny weather, the Canary Islands have long been a favorite destination among European holiday makers.
Each island has its own charm, and on a cruise you won't have to choose just one, but can explore the black volcanic beaches and places in Lanzarote, the deserts of Gran Canaria, and the lush nature of Tenerife, which also has the largest penguin population outside of the Arctic.
Hopefully this will give you a good indication of what to expect from these different cruises in Europe, and help you decide which one to choose! Whether you want to experience Lanzarote, the Northern Lights or the best food in Italy, European cruises make it easy to see the top sights in the area very easily.
Best Time to Visit Italy
Best Time to Visit Bergamo Italy
Bergamo – The City Milan Doesn't Want You To Visit!
How Do I Use My Cell Phone While Traveling to Europe
Best Time to Visit Greece
Greek Nightlife – Autumn And Summer Destinations
(photo credit: 1)