Among the Canary Islands, Lanzarote is an exciting choice and a popular destination. With a moderate climate, tourists enjoy this sunny island year round. If your travel schedule is flexible, visiting Lanzarote in spring or autumn will be less crowded. Whenever you holiday in Lanzarote, you will be able to enjoy diverse island adventures. It's a geological wonderland.
Here is what to know, where to stay and all the things to do on this beautiful island. Here are the places in Lanzarote to see.
How to get to Lanzarote
As if you need another reason to want to visit Spain, there's Lanzarote. You can fly to the Cesar Manrique-Lanzarote Airport (ACE) from several locations. ACE is the main gateway for domestic and international flights to the island. The major part of Lanzarote Airport traffic is from the European Union.
From the United States, it's common to reach Lanzarote via England. Both London Luton Airport (LTN) and the Manchester Airport (MAN) have flights into Lanzarote. If you are visiting Spain, you can take a flight — about two and a half hours — from Madrid. It is also common to fly out of Germany which represents a significant portion of international traffic to Lanzarote.
It's approximately 5 km to the southwest of the port town of Arrecife, the capital. Some hotels offer private airport transfers. Check to see if your hotel offers this service. If it doesn't you can pre-book your shuttle bus or taxi and save yourself time.
Another way to get to Lanzarote is on a cruise ship. Some European cruises make a stop in Lanzarote and the Canary Islands.
Currency in Lanzarote
In the Canary Islands, use Euros as your main currency. When you arrive on Lanzarote, there are numerous banks from which you will be able to exchange dollars or British pounds.
Where to Stay in Lanzarote
When deciding on where to stay, in addition to costs, definitely take into consideration you want to do while you are visiting Lanzarote. If you are looking for children's and adult activities, staying in the south and east coast areas will be more convenient for you. There is lots to do, including entertainment, children's activities, and gorgeous beaches to enjoy.
North Lanzarote has wonderful landscaping and a lot of foliage and palm trees, but it is quieter than other parts of the region and has no large resorts. The west side of the island, while beautiful, has consistent winds throughout the year. If you are visiting Lanzarote to surf, it is the preferred location for surfers.
Some places to stay on the island include:
Playa Blanca – "White Beach" in southernmost area in Lanzarote and the newest resort
Haria – North, located in the "valley of 1,000 palm trees" which grow natively there
Costa Teguise – East Lanzarote and close to the airport and the capital
Caleta de Famara – Northwest coast in a fishing village
Lanzarote landscape
Some of the most intriguing aspects of Lanzarote are its geography and topography. The island is a UNESCO biosphere reserve with an extraordinary landscape that has a otherworldly appearance thanks to more than 300 volcanic cones. These are punctuated by furrowed black lava fields, that are somewhat surreal, and pastoral valleys filled with palms.
Its nicknames are the "Volcanic Island" and "Island of the 1,000 Volcanoes." Thanks to a government-led island-wide initiative, there are lots of marked trails to walk to see the best of the geographical sights, including Timanfaya National Park and the lava caves of Cueva de los Verdes.
Timanfaya National Park is devoid of vegetation with rugged terrain. Parque Nacional de Timanfaya is the result of volcanic eruptions between 1720 – 1736 and in 1824.
Cueva de los Verdes is a lava tube of the Haria municipality on the island of Lanzarote in the Canary Islands. The cave lies within the Monumento Natural del Malpaís de La Corona.
Lanzarote beaches
The beaches of Lanzarote are another interesting feature of the island's landscape. Among them are black volcanic sand beaches as well as swathes of golden sand. There are also miles of rocky shore, so it's important to consider what you want to do. There's a beach for every type of holidaymaker.
Papagavo
A sheltered and beautiful place, often called the most beautiful beach in Lanzarote, Papagayo is a crescent of fine, white sand sheltered by cliffs in a nature reserve. It's ideal for a day of sunbathing.
Famura
Lovers of water sports will enjoy Famura. Backed by pink cliffs, it is popular with surfers, wind surfers, kite boarders, and hang gliders.
Playa Quemada
Located in the southeast coast, at the of the mountains Monumento Natural de Los Ajaches, the village of Playa Quemada is situated between Puerto Calero and the Punta de Papagayo on the coast. The name Playa Quemada means "burned beach" and it comes from an event that took place in 1829 when an eruption from El Hierro volcano caused a lava flow to reach this area.
It is a beautiful, white sand beach with a wide expanse of sea and has plenty of facilities for tourists. The beach has several bars, restaurants and hotels that are nestled in between the rocks and cliffs. The water here is shallow but there are plenty of places to swim in deeper water as well.
If you have young children in your holiday party, Playa Quemada, with its safe swimming, won't disappoint. It's sheltered from the wind and abuts a quaint fishing village. If you travel about this area, you will likely see lots of goats. There is a laid back vibe.
Playa Blanca
The resorts on the island are all built around beaches, including some Blue Flag beaches like Playa Blanca. There are places to snorkel and dive as well as enjoy banana boat rides, jet skis, sailing, and pedalos. Blue Flag beaches are certified by the Foundation for Environmental Education. Others in Lanzarote include Matagorda, Del Reducto and Los Pocillos.
Things to see and do on Lanzarote
Cesar Manrique House Museum & Volcano House
Cesar Manrique was an architect and artist who left an amazing impact on the island. Essentially, he shaped modern day Lanzarote, managing to achieve a pleasing balance between ecology and development. Today his former studio is a museum dedicated to his life and works.
Jardin de Cactus
The Jardin de Cactus in Lanzarote, Spain is one of the most popular attractions on the island. This botanical garden was opened to the public in 1974 and it contains species of cacti from all over the world. Especially beautiful in August and September when many plants are in bloom, the Cactus Garden in Guatiza is home to 1,000 cacti.
One of the attractions created by Manrique, the cacti from all over the world are planted in grey volcanic ash in an amphitheatre-shaped quarry, overlooked by a restored windmill.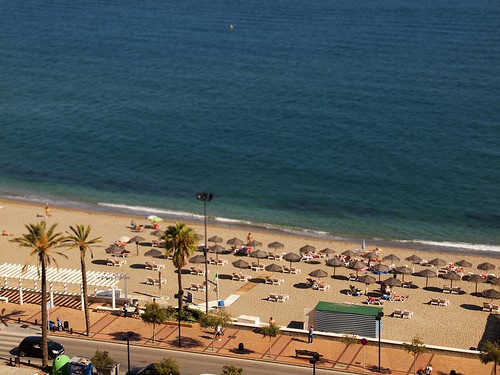 Timanfaya National Park
Visiting Timanfaya National Park is a unique experience and one that you should not miss. It is a protected natural park and considered as one of the world's largest volcanic fields. It has been preserved to show what life was like after an eruption. You can explore different volcanic structures, such as lava tubes and craters.
In addition to driving your own car, there are many ways to explore Timanfaya National Park. These options require a fee but are a great way to experience and learn more about this area.
Walking tour
There is are guided walking tours — which also includes driving in a 4-wheel drive vehicle. In this tour you will get to see the world's largest volcanic bomb, a rock blown from the volcano. You will learn about and see three volcanoes:
La Rilla
Montana Colorada
Volcan del Cuervo
Bus tour
You can choose the bus tour which is ideal for families and those who may be able to walk distances. You'll see geothermal demonstrations and a volcanic barbecue.
Island tour
This is a full-day tour in which you will explore Lanzarote. The tour includes time at the Timanfaya National Park. You will see the northern and southern parts of the island, including Green Lake. Tour guides will also take you to the area of the Islet of Hilario.
Southern Lanzarote day trip
Whether you book the half day or full day, you will experience a lot on this tour, both in the national park and doing things surrounding the area. In the park, your guide will direct you to the volcanoes.
Along the way, you'll appreciate the sculptures formed naturally by molten lava. You'll be able to see demonstrations of geothermic wonders. Other activities include time in La Geria winemaking region and an optional camel ride.
Rancho Texas Lanzarote Park
Lanzarote has a lot of attractions and activities to offer. Another interesting Lanzarote holiday activity is the zoo. Rancho Texas Lanzarote Park is one of the best things you can do here, especially if you have children with you. This park offers a lot of outdoor activities for all ages, from toddlers to teenagers and adults.
Take a walk in the park. There are many different paths that you can take. You can see different types of plants and animals as well as enjoy the beautiful scenery. Kids and adults will delight in seeing the reptiles, mammals, and birds. Rancho Texas Animal Park has bird and sea lion shows, a dolphinarium, cowboy lasso displays, a Gold Mine, pony rides, canoe rides, a splash zone with pools for everyone in the family, and themed Western nights.
Bodegas El Grifo
The volcanic land is excellent for growing grapes. Bodegas El Grifo has been producing wine since 1775 and offers winery tours and tastings. It's the oldest winery in the area. Bodegas El Grifo is a small family business. The family has been running the bodega for over one hundred years, and they have been operating it as a grocery store for the past thirty years.
Bodegas El Grifo is located in the center of town of Arrecife, on Calle Arrecife.
Make time to stop at the Wine Bar. The staff is multi-lingual, speaking Spanish, German, English, French, and Italian. The Museo del Vino — wine museum — is also something to explore.
Arrecife
Arrecife is a wonderful place to stay in Lanzarote for history. A small city, but there's plenty to see and do for a day or more in Arrecife. It's quite charming to take a stroll along the front at El Charco de San Gines. It's known as the 'Venice of the Atlantic' – an old part of Arrecife Marina, a lagoon lined by fishermen's cottages, bars and restaurants.
There's the Castillo de San Jose which used to guard the harbour from pirates and now houses the island's Museum of Contemporary Art. The Old Town is typically Spanish, especially the 7th-century San Ginés Church, which has a bell tower and a Mudéjar-style ceiling.
Visiting Lanzarote
Lanzarote is an island in the Canary Islands, Spain. Of the islands, is the located northeast and is the most visited of the eight islands. The island has a rich cultural heritage and beautiful landscapes that make it a great destination for tourists. Lanzarote has a population of about 150,000. The coastline has some sand and beach spots but the majority is almost entirely surrounded by a rugged, rocky shoreline. Great place to visit for diving enthusiasts!
There are many things to do on Lanzarote, from visiting the popular tourist attractions to exploring the natural beauty of this island. One can visit places like Cueva de los Verdes, Cueva de los Idolos, La Pared or even El Golfo for some spectacular views.
Islands make for easy, relaxing vacations. Consider visiting Lanzarote by taking European cruise. Royal Carribbean has cruises that travel there.
With its unique position, you will find much to do on Lanzarote. The geological features will astound you as you soak up the sunny days and amazing views. Be sure to plan a trip whether you are visiting Spain or making the Canary Islands a destination all on its own.