Last Updated on March 16, 2022 by Aswetravel
Everglades National Park Camping – One of the largest national parks in America is Everglades National Park. This park is unique and sits on over 1.5 million acres of land. It is known for being a habitat to a fantastic ecological community. The Everglades are located in Southern Florida and preserves a biodiverse topography like mangrove forests, tidal estuaries, freshwater sloughs, pine forests, marine estuaries, and more.
To really experience this incredible environment, visit the park for a couple of nights and camp under the stars. The park has interesting alternatives for your next camping trip. Everglades National Park has three developed campgrounds: nearby RV sites, backcountry 'chickee' sites, and beach campsites.
No matter the kind of camping trip you'd like to have in the park, there are wonderful alternatives for you. For more details, keep your eyes glued to this post to get an insight into what to expect when Everglades National Park camping.
What Should You Carry When Everglades National Park Camping?
During your preparations to visit the Everglades National Park camping grounds in Florida, you should decide which site suits your needs. Then make sure you pack all the necessary items you'll need to ensure a smoother trip and a better experience.
Carry primary items like sleeping bags, camp chairs, and a good quality tent. The following is a list of things specific for an Everglades National Park camping trip:
Everglades Guidebook: A guidebook provides information and insight to help you plan a great visit to the Everglades. You'll also be able to brainstorm the best itineraries for your trip.
A map of Everglades National Park: A map is essential; you must carry an elaborate map to guide you throughout the entire trip.
Portable water can: Carry a sizable water container to save yourself from going back and forth to the water spigot.
Pop-up canopy: There's always scorching sun in south Florida. Even though shelter can be found at the Campground at Lone Pine Key, you have to carry a pop-up canopy when visiting the Flamingo campground.
Cooler: This is essential due to the hot temperatures in Florida. Carry a yeti.
Camping Stove: This is a must-have when going to Everglades.
Camping in Everglades National Park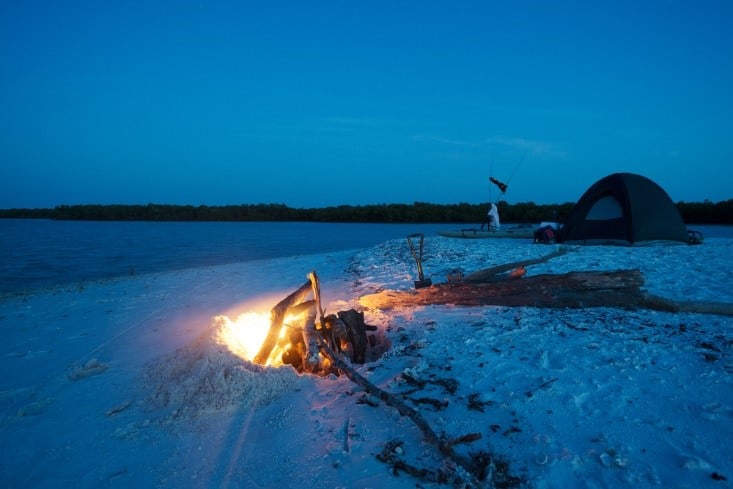 1. Burns Lake Campground
There are 10 RV (boondocking) spots on Burns Lake and five tent sites in different campgrounds on the lake's opposite sides. The sites can be accessed from 15th August to 15th April, although the day-use space is available throughout the year with access to the backcountry.
Ensure you pack the items you'll need during your visit because there is no water and no utility hookups. The closest dump station is seven miles away in Ochopee at Dona Drive.
Even though the campground lacks shade, it has several separations from site to site, providing some privacy. There's minimal usage of generators in the RV wing, so campers can enjoy some silent relaxation. Silent hours are officially from 10 PM until 6 AM.
The campsite is away from the highway; therefore there's no traffic noise. Most people use off-road vehicles when going to the camp.
There is a 50% discounted fee for annual national park permit holders, but everyone else pays 24 dollars per night for RVs and tents.
2. Midway Campground
Being the most evolved Big Cypress campsite, the Midway Campground has electric hookups, restrooms, a dump station, and accessible drinking water.
Every RV section has its own hibachi-design grill and a picnic table. There are covered picnic sites around the lake for use during the day.
The ten tent sites go for 24 dollars a night, and the 26 RV campsites with electricity are 30 dollars per night. Those who have yearly national park permits get a discount of 50%.
This campsite is close to the Miccosukee Cultural, Oasis Visitor Center at Big Cypress Preserve, Clyde Butcher's Art Gallery at Big Cypress, and Everglades National Park's Shark Valley.
3. Monument Lake Campground
Monument Lake Campground is a dazzling gem located on the Tamiami Trail 8 miles East of Burns Lake.
You'll be boondocking just like Burns Lake. So, there is no dump station and no hookups. However, this campground does have flushing toilets and a central tap for drinking water.
A few RV campsites are available on the lake, while the rest are situated a small distance across the campsite access route with Cypress Forest as the background. There are picnic tables and fire rings with grills on every site.
The experience at the campground is unforgettable. Unlike Burn Lake, most people use generators in Monument Lake Campground.
The RV and tent sites are on different sides of the lake. The tent site is near the water spigot and restrooms. The only RVs nearby are the hosts (volunteers) of the campground, and they have hookups.
4. Long Pine Key Campground
Long Pine Key Campground is the smallest and most basic of the two campsites in Everglades National Park. Long Pine Campsite is the first one you'll reach when you enter the park from the Homestead entrance.
The campsite is open perennially from November until early May. Long Pine Key Campsite is situated close to the Long Pine Key trail; therefore, it is an excellent place to spend the night before you go trail hiking.
There are 108 individual camping grounds in the park that can house a maximum of six individuals each and one group site that can accommodate a maximum of fifteen people.
You can reserve RV sites at the campsite; however, the tent sites are allocated based on arrival. There is no electricity or water for the RV sites, but a dump station is located in the campsite.
The campsite also has other features such as cold showers, a picnic table, a grill stand, and a fire pit. There is a small lake near the campsite where fishing is allowed. However, you should not swim in this area as alligators are common.
5. Flamingo Campground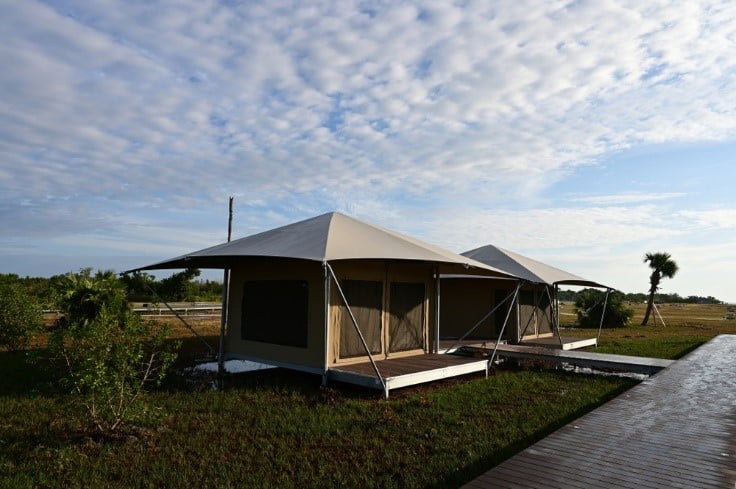 The largest and most popular camping site in the park is Flamingo Campground. The campsite is situated on the southern side of Everglades National Park. It has tent sites, walk-in tent sites, and RV sites.
The campsite is close to the Coastal Prairie Trail and Christian Point, so it is ideal for spending the night before you traverse the area.
The campsite also has 'eco-tents,' compact "safari-style" tents made from canvas. These tents have fans, a small deck, and electricity. You can reserve an eco-tent with or without a bed.
You should book your RV site early and ahead of peak season as the Flamingo Campsite is popular. There are RV sites with electricity, while others don't offer this amenity. Portable water is also available, as well as a dump station.
In addition to the walk-in tents along Florida Bay, there are also drive-in tents. You will have to park your car before accessing the walk-in campground.
All the camping sites have a grill stand, picnic table, and a fire ring.
6. Camping in the Backcountry
There are many delegated areas, beaches, and raised campgrounds that can be accessed in the park. Most of these sites are situated in the Ten Thousand Islands region and around the islands' rivers. These areas can only be accessed by boat from Everglades City or Flamingo.
The best season to visit this campground is during the winter. Summers in this area are typically miserable, hot, insect-infested, and muggy. Mosquitoes usually lie low during the winter compared to the summer. However, you still have to come adequately prepared.
For wilderness camping, you'll need a backcountry camping permit. Reservations are not allowed.
From April until mid-November, these wilderness permits are usually free. However, the permits typically cost $15 plus $2 per individual every night from mid-November to April.
You have to get the backcountry camping permits in person a day before the trip at the visitor center on the Gulf Coast or Flamingo.
7. Campgrounds Along Tamiami
The Tamiami track is the first road dug through swampland to join Florida's west and east coasts via the Everglades, ultimately connecting Tampa and Miami.
Along the Tamiami track, there are five park service campsites available. These park services are managed by the Big Cypress Preserve. There is a dump station for RVs and midway electrical hookups available. The second dump station is situated at Dona Drive.
There are recreational activities offered at all campsites in Big Cypress. The recreational activities include fishing, photography, hunting, off-road vehicles tracks, biking, and hunting.
Mitchell's Landing and Pinecrest campsites on Loop Road offer a breathtaking view deep into the Everglades. These campsites are primitive and are given out on arrival.
8. Camping Near Everglades National Park
Everglades National Park is a popular destination for many, so finding a campsite within the park can be challenging. However, this does not mean you should throw in the towel; there are plenty of grounds located just outside the park.
Most of the adjacent campgrounds are located within Big Cypress National Park, just north of Everglades National Park. Big Cypress sits on over 700,000 acres of land, and it has over eight developed campsites to pick from.
Enjoy Your Camping Trip to Everglades National Park
Hopefully, you've found this guide helpful, with all the information you were seeking about Everglades National Park. Please leave a comment if you have any questions or would love to share an experience you had after visiting any of the campsites.
Family Fun Ideas in Northern Arizona and New Mexico
Stunning USA Self-Drive Tours and Adventures
Top 5 Family Friendly Destinations in the United States South
Saguaro National Park Tucson Arizona
Historic Kentucky Adventure
Things to Do in Hot Springs Arkansas
Best Time to Visit Shenandoah National Park
Green Mountain National Forest
Niagara Falls at Night
Best Time to Visit Acadia National Park
Best Hikes in Acadia National Park