Learn about some of the most beautiful camping spots around the world. The first time Nathan and I traveled around the world was in 2008. We barely had enough money to survive for a few months. Many people have asked us how we managed to keep our travel costs to such a bare minimum, especially when traveling through countries like New Zealand.
One of our "secrets" was camping – we're not big campers; nor do we go hiking much. In fact, neither of us had ever gone camping before, and had no idea what we had signed up for. Our camping adventure was a pretty crazy story in itself, but we'll save that for another time.
During our travels, we wanted to save money and also experience some nature. We camped in many places. Here are three pretty camping spots we enjoyed. We thought we would share some amazing campsites around the world, both for those on a budget as well as those who like to splurge. Glamping, anyone?
Remember to protect against mosquitoes with mosquito netting. (You'll use it more than you ever dreamed.)
Beautiful Camping Spots Around the World
The best thing about camping, however, was not the money we saved, but the beautiful camp spots we found. If you want to stay only meters from the beach and wake up watching the sunrise from your bed, you can stay either in exclusive five star hotels – or at a great campsite.
Corcovado National Park – Costa Rica
According to National Geographic, there are many in Central America and South America, and this remote national park is "the most biologically intense place on Earth." In other words, it is home to a huge variety of wildlife.
Among the animals here are four monkey species, tiger herons, sloths, scarlet macaws, and pumas – the list is long.
There are camping sites at each of its entrances on the Osa Peninsula, which makes for an awesome base to explore the lagoons, waterfalls, empty beaches and of course the largest tropical primary lowland rain forest in the world.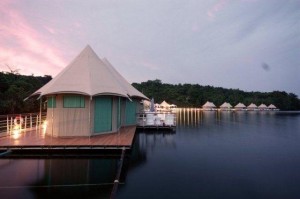 4 Rivers Floating Lodge – Cambodia
Located on the Tatai River in Cambodia, this tent resort is probably as far away as you can get from the normal camping holiday. You couldn't be any closer to the waterfront, in fact, your hut is actually floating on the water.
These days being away from everything does not need to mean disconnecting from everything. You can be one with nature when you're out jungle trekking, kayaking and rafting. Then return to your floating tent and relax or browse the internet if you so choose.
Lido Vacanze – Italy
We all know that staying in Venice can be very expensive. You will be surrounded by water but you wouldn't want to take a refreshing dip in it.
The Camping Union Lido Vacanze is a great alternative to get a bit of both. It's close to Venice and has its very own private beach that's more than a kilometer long.
Being one of the largest campsites in Europe, it also has nine bars and seven restaurant within the complex, if you just want to have a "night in". Just view the Zoover holiday reviews and you will be convinced.
Golden Bay – New Zealand
Golden Bay – New Zealand
Golden Bay was one of our favorite campsites in New Zealand. It's definitely one of the most beautiful places in the country.
The sand really is golden, a beautiful contrast to the turquoise waters and native forest surrounding you. It's a popular area to go hiking in. You can choose everything from a one-day hike to two full weeks exploring the bays, hidden beaches and unique forest. Or do the whole route in a kayak, if you want.
Camp for free!
Camp for free!
Another budget tip, if you really want to keep your costs low, is to check if there are any free camp sites in the country you'll be visiting.
In Sweden, Norway and Finland you can camp pretty much anywhere for free. In Netherlands, there are certain places where you can camp for 72 hours for free.
You can find camp sites in the Netherlands on Zoover. There are also maps on Google where you'll find the free ones.
Camping In Europe Where to Go!
Now we are well into the twenty-first century, it seems that the ordinary all-inclusive, package holiday style break has somewhat had its day. It now seems that people are looking to do something different and unique on their treasured time off.
It seems that camping seems to offer the most diversity when it comes to providing a unique feeling to your holiday camping gear list.
Camping in Europe
Here are some examples of what camping breaks have to offer.
Camping the European Coast
Camping on the coast provides a genuinely unique experience. If you find the right campsite, in the right place, camping by the coast is worth it for one thing. The feeling of waking up to the unique sounds of the coast – the birds and the waves crashing in.
Then you get the completely unique feeling of unzipping your tent, feeling the sea breeze on your face and waking up to stunning views of the sea.
The best example of this is Treen Farm Campsite in Cornwall which was recently voted the second best coastal campsite in the UK by the Telegraph – situated three miles from Lands End it really gives a sense of being pitched at the end of the world.

Camping in Europe Cities
Believe it or not, it is possible to find campsites in the middle of the most urban areas. For example, Crystal Palace Caravan Club Site is right in the heart of London situated south of the river near Brixton.
It welcomes tents which provides a really unique angle to both camping and a city break. Inner city campsites are not just available in London but further afield from New Zealand to the US.
Europe Hiking Holidays
It seems like an obvious relation – camping and hiking. But it really is something that you must try if you haven't before. This style holiday is often suffixed by "I don't think it's my kind of thing". But there is nothing like setting camp surrounded by the hills you are ready to tackle the following day.
Camping at Europe Festivals
Often a forgotten aspect of the music festival experience is camping. Whilst festival camping quite rightly has the reputation of a crowded, Glastonbury style mud-fest, the new family aspect to music festivals has meant there has been improvements.
It is now clearly marked on maps and signs where is best to camp for you that will provide beautiful camping spots.
The Leeds Festival offers a color coded system so you can find which color suits the type of Festival experience you fit with most. There is also a specific area for families which offer improved facilities.
Glamping
Glamping is a new sensation and is defined by the hybrid of "Glamorous" and "Camping". It offers all the facilities of a hotel in a camping style environment.
It is a worldwide sensation that has brought camping to a totally new market. Glamping sites, or Glampsites are springing up all over Europe.
Camping in Europe
The standard Brit may only think camping on the continent doesn't extend as far as the South of France – but Beautiful Camping Spots Europe really offers a different type of experience compared to camping in the UK.
For example, there are not many other places where you can camp at over 2,000 meters above sea level. This is available at the summit of Rochers-de-Naye in Switzerland where you can camp or stay in a yurt whilst taking in the stunning views.