Hot Springs National Park Camping – Its historical relevance and sparkling natural beauty make Hot Springs National Park the place to be in Arkansas. This gem is among the oldest parks in the National Park System, and its history stretches back more than a thousand years.
Today, people visit the sacred indigenous site for its extensive hiking trails, multiple recreational activities, and grandiose bathhouses near the Hot Spring.
If you're looking for a glamping experience or a memorable camping weekend in Arkansas, this is the place.
In this guide, we walk you through camping options in and around Hot Spring National Park and cover a few things you should take with you to ensure a great camping trip.
A Brief History of the Hot Springs National Park
Cultural and social groups that share common ancestral ties have used and enjoyed this area for centuries; however, Hot Springs only got on the government's radar after President Jefferson directed an exploration party to survey the fauna and flora in the region.
The exploration party discovered Native American tribes such as the Cherokee, Caddo, and Choctaw living harmoniously while sharing the reported healing properties of the thermal water in these seemingly magic springs.
As time went by, the spring received visitors whose work was to improve the crude tent-like structures around the springs. In no time, huts and cabins were transformed into huge buildings with troughs that collected hot water from the springs sheltered waterways into the bathhouses.
Eventually, Arkansas made this area into a massive town developed around the hot springs, and locals realized the significance of securing and conserving this valuable commodity.
By 1832, Congress declared the hot spring reservation a federally protected area.
What to Expect When Camping at Hot Springs National Park
Hot Springs National Park is a remarkable natural area with multiple species of mammals to observe, including white-tailed deer, bats, coyotes, and black bears.
There's a low possibility that you'll run into bears around the campground, but to be on the safe side, secure your foodstuffs in a bear canister or car. Also, beware of summertime mosquitos – carry bug spray.
Note that the Hot Spring National Park allows pets on the trails and campground, but they should be on a leash at all times. Similarly, the camp provides grills, and ground fires are only permitted in designated campground sections.
Hot Springs National Park has multiple unique and satisfying campgrounds for travel trailers and motorhomes and several options for tent campers, too.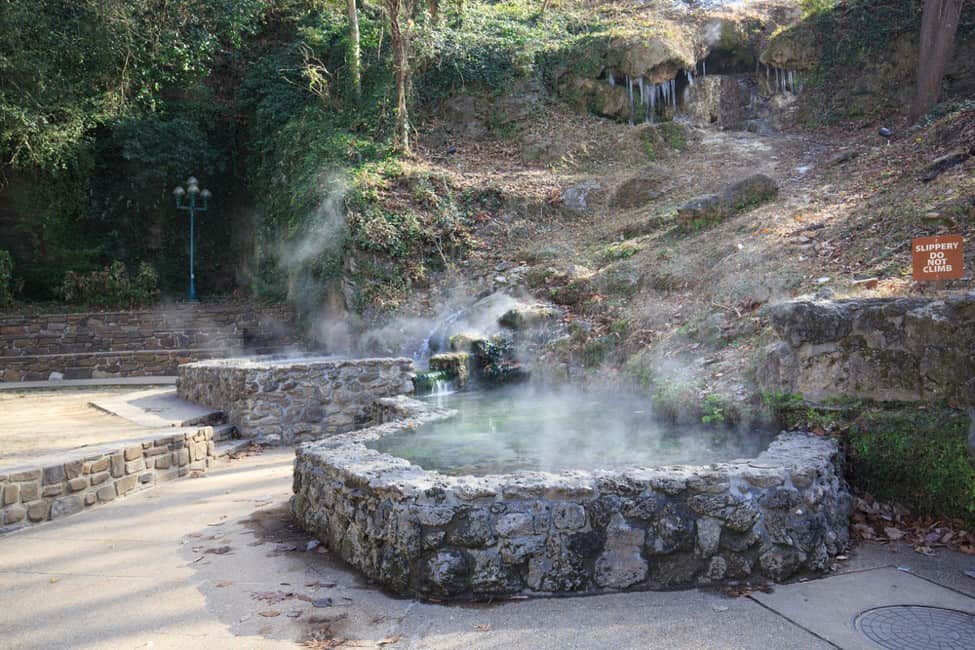 Gulpha Gorge Campground
At Gulpha Gorge Campground, all camp sections are issued on a first-come, first-serve basis. The campground accepts debit or credit cards for payment, and you are only allowed to set up camp after registration.
Amenities at Gulpha Gorge Campground
Gulpha Gorge amenities are unique in that this modern developed campground offers 40 electric hookups sites as well as the following amenities:
Flush toilets
Potable water
Showers available at the adjacent KOA
Sites for RVs or tents
Reliable Cell phone reception and coverage areas
Ranger programs on the campground
Easy access to hiking trails leading directly to BathHouse Row
Are There Reservations at Gulpha Gorge?
No. Gulpha Gorge Campground doesn't accept reservations, and its limited 40 campsites fill rapidly.
Gulpha Gorge is always packed compared to various National Park Service Campgrounds, but some sections provide a secluded experience. Get yourself an external loop site near Gulpha Creek for a fantastic experience. Note that Gorge Road has day and night traffic. If this will affect your experience, choose a campsite away from the road.
Campsite regulations also allow you to stay for 14 successive days only and not more than 30 days in a year. Payment is easy – just take your credit or debit card to the center of the campground and use the payment kiosk.
Where to Hike Around the Campground
Hot Springs National Park hiking trails were set up in the 1920s and enhanced in 1933 by the Civilian Conservation Corps. Gulpha Gorge was connected to the park's trail network at that time.
Sunset Trail is the longest and most extensive Hot Springs National Park trail.
Gulpha Gorge Trail is a 6-mile climb that connects to Hot Springs Loop Road and the North Mountain Trails
Oertel Trail is 4 miles of rolling and flat hills behind the park's Bathhouse Row and Visitor Center.
When to Visit Hot Springs National Park
Hot Springs National Park has mild temperatures so you can visit comfortably year-round. Everyone has different preferences, though, so here are some highlights to help you decide.
Winter
Winter in Arkansas is mild, creating a fantastic experience for visitors this time of the year. Cooler temperatures allow you to enjoy the warmth of the bathhouse, and beautiful downtown Hot Springs is lovely during winter.
Spring
Hot Springs National Park has milder temperatures in the spring. A visit to the park between February and April brings comfortable weather and a wonderful experience.
Summer
Summer is the busiest time of year at the park as it is the most popular time of the year for vacations. Even though it's a beautiful time to go to the park, the weather is humid and the crowds are bigger than at other times of the year.
Fall
Fall (August to October) is an excellent time to visit the Hot Springs National Park as trees begin to change color. The temperature is mild, and the scenery is something to behold.
What to Carry During Hot Springs National Park Camping
Camping at Hot Springs National Park is a little more complicated than just selecting the best campground. You need the right camping gear and equipment to ensure you have a safe and wonderful trip.
If you already have camping essentials, such as sleeping bags, a great tent, and camping chairs, then you're off to a great start. Here are some other things you should consider bringing with you:
Coleman Camping Stove: The Coleman stove is perfect for cooking meals by your tent before heading out for the day and to warm up your belly before turning in for the night.
Portable Water Container: The portable water container lets you keep more water on your site instead of having to keep going back and forth to the main water tap.
Cooler: The temperatures at Hot Springs National Park are moderate in the winter, so no matter when you visit, take a cooler along to make sure your perishables stay fresh.
Plan to Visit Hot Springs National Park
If you're looking for other things to do in the area, check out the Mid America Science Museum, Garvan Woodland Gardens, and the Buckstaff Bathhouse, then grab a drink at the Superior Bathhouse Brewery in downtown Hot Springs. There are other parks in the region to explore, too, including Lake Ouachita State Park.
Whether you want a comfortable and modern RV camping experience or prefer to rough it, visit Hot Springs National Park for an exciting and relaxing adventure in the Arkansas wilderness. We hope this guide helped you prepare for your next adventure.
Green Mountain National Forest
Niagara Falls at Night
Best Time to Visit Acadia National Park
Best Hikes in Acadia National Park
National Parks in the USA That Should Be On Your Travel List
Things to Do in Hot Springs Arkansas
Best Hikes In Shenandoah National Park
Family Fun Ideas in Northern Arizona and New Mexico
Stunning USA Self-Drive Tours and Adventures
Saguaro National Park Tucson Arizona
Things To Do In Kentucky