Lucky you if the only choice you're grappling with for a summer vacation is whether you'd rather hit the beaches on the shores of the Caribbean or the coast of the Pacific…Costa Rica is the Place
Would you be surprised to know that you can enjoy them both in Costa Rica?
Situated in the lower portion of Central America between Nicaragua and Panama, with the Caribbean on the east and Pacific on the west, Costa Rica is rich in in natural beauty, unique wildlife and ancient culture to explore.
Whether your heart's desire is a serious binge of eco-tourism or a relaxing sand-and-sea experience by day and plenty of fun by night, you'll find it here.
As you're considering a trip to Costa Rica, here are some helpful things to know: Wildlife Tours in South America
Costa Rica Geography
Costa Rica is mid-size among the nations of Central America, with a chain of volcanoes that run the entire length of the country.
It's divided into seven provinces, three of which – Guancaste, Limon and Puntarenas – have beaches to die for:
Guanacaste
The northwest "Gold Coast" of the Pacific, is home to near-perfect Costa Rica beaches and the most luxurious resorts in the country.
Alajuela and Heredia
Inland from Guanacaste and are the primary location of Costa Rica's pristine mountaintop cloud forest, one of the most unique environments on the globe.
The area boasts lush coffee plantations as well as a number of volcanic hot springs.
San José and Cartago
Comprise Costa Rica's central valley, where most of the population lives and works, many on farms and ranches that dot the rolling hills.
Limon
Stretches along the country's 125-mile Caribbean coast.
The northern portion is rich in prehistoric rain forest, while the southern portion of Limon is known for its white sand beaches and vibrant Afro-Caribbean culture.
Despite its wild tropical beauty, Limon is one of the least touristy areas of the country.
Puntarenas
The southernmost province, divided into two parts reaching along the Pacific coast to Panama.
North Puntarenas is famed for the strong and consistent breaks that draw surfers from around the world.
South Puntarenas offers another kind of experience, with its Osa Peninsula home to virginal rainforest and one of the most biodiverse habitats on the globe.
Costa Rica Accommodations
There is a wide variety of choices for places to stay in Costa Rica, ranging from resort hotels on the beach to eco-lodges in the jungle.
You can also go eco-camping or glamping or stay on a coffee plantation, a working farm or even in a rainforest treehouse.
The Things to Do in Costa Rica
It's the incredible natural setting and unique and array of wildlife that draws most visitors to Costa Rica.
With over 500,000 plant and animal species, it's one of the world's most biologically diverse countries, and its conservation policies are designed to keep it that way. Sea Turle Tracker
An extensive number of national parks and preserves are yours for exploring on your own or on guided tours that are available throughout the year.
In addition, Costa Rica offers all the active warm weather sports there are, both on land and on the water.
There's horseback riding, ziplining, hiking, climbing, cycling, golf and hot air ballooning as well as fishing, diving, surfing, whitewater rafting, kite sailing, kayaking and stand-up paddle boarding in locations that will leave you breathless.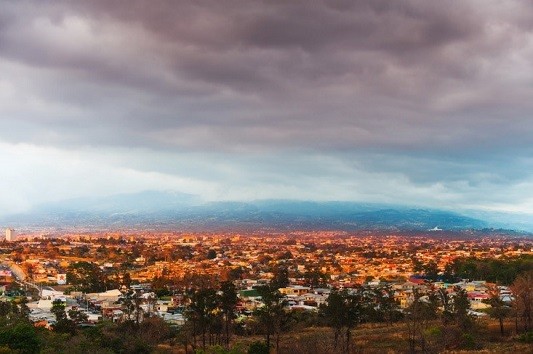 Costa Rican Cities
San José, in the province of San José, is the capital and largest city.
Chepe, as the locals call it, has numerous restaurants, treasure-filled museums, art galleries, theaters and a jumping night life.
It's also a good place to start your vacation because Juan Santamaria International Airport (SJO) in neighboring Alajuela is a hub for flights throughout Costa Rica.
Escazú, the upscale suburb of San José, is noted for having cosmopolitan amenities without the big city hassle of other places you might have visited.
It's where you'll find some of Costa Rica's fine cafés, restaurants, boutiques and shops.
The capitals of the other provinces all have their own charms, with dynamic street life, farmer's markets, festivals and proximity to the country's many natural attractions.
A Few More Facts
Costa Rica has enjoyed uninterrupted democracy since 1949 and is one of the most stable, peaceful and progressive nations in Latin America.
It's the only country in the world to meet all of the United Nations' criteria for environmental sustainability and is among the greenest countries in the world.
It generates over 98 percent of its electricity from green sources and plans to be carbon-neutral by 2021.
Goodbye Central America – Adventure In Costa Rica and Peru
Central America Adventure
Hello everybody from our Central America Adventure!
Costa Rica's been a huge highlight.
First we made our way to the remote nature-lover's paradise of Tortuguero.
The Caribbean sea on one side, and national park freshwater canals on the other.
A great place for spotting blue herons, Jesus lizards (we saw one run on water), baby crocs.
And of course, motoring through on high powered launch to get there, take that nature!!
Though the best was seeing baby turtles hatching on the beach, and flip flopping their way to the ocean.
One went past us at night while we enjoying a beer, and we had our own personal turtle.
Hope you make it, little guy!
Then on to Chirripo, the tallest mountain in the land. First day was a 14 km stroll up to the lodge (2 km ascent – no problems*).
Then a lovely* 2 am start to make it to the summit for sunrise.
And then all the way back down the mountain.
We didn't regret walking 25 km in one day at all*.
(Things marked with an * may be a slight fabrication)
Near the end of the trail, a gigantic bull was on the narrow track, and for some reason he didn't want us to go past.
After several headbutting experiences I was considering climbing through the barbed wire fence to a thistle-packed cliff edge.
Thankfully our bull friend got a case of the munchies and we sprinted past him.
We then chilled, drinking fresh orange juice, going to the hot springs, eating home baked brownies, and playing guitar.
I developed an obsession with seeing a Quetzal, Central Americas famous, yet elusive, beautiful bird.
This included 6 am starts and long waits in birding areas… no luck.
However, our wonderful hosts let us know of an area famous for Quetzals.
We forked out the ridiculous $90 US a night for a budget place in the area… and… nah the place wasn't any good at all.
Only 8 Quetzals, a turkey and a chipmunk in the same tree!!
Absolutely magnificent birds, and the last thing I wanted to achieve in Central America checked off the list.
Claire got a particularly good photo.
Then time to say good bye, and off to Peru!
First things first.
In Lima I ate fried, salted, Lima beans.
Guess that's all there is to it.
Oh, we also had a kickass day in the central city, checking out the square lined with police with riot shield, china town and the museum of the Spanish Inquisition, complete with a rack!
We then checked out the modern suburb of Miraflores, with a stunning clifftop shopping center.
Down below I surfed in the stony beaches with pounding waves, a little intimidating with my limited experience, but I did catch one awesome wave.
Culture-wise, the national drink is made with Pisco brandy.
We liked them so much, we headed to Ica, a desert town where there are over 60 bodegas (wineries) that produce the famous drink.
Free samples? Yes please!
Oasis of Huacachino
We stayed in the Oasis of Huacachino, famous for sand boarding.
After an insane ride in a bona-fide Dune Buggy, we began to slide down the dunes lying down, face first (this is the regulation technique, surprisingly).
The final dune was about 60 degrees steep, and a couple of hundred meters high.
I left Claire at the top, because that was the only way to get her to the bottom.
Eventually she came down too, and loved it*.
So much adrenaline, my pituitary gland needs a refill, please.
Speaking of which, I slotted in a quick flight over the Nazca lines, figures made in the desert hundreds of years ago.
We're now psyching ourselves up for a hike down the Colca canyon tomorrow, which is twice as deep as the grand canyon.
Peru's been a land of adventure so far!
North & Central America Trip – Oaxaca, San Cristobal, Palenque & Playa del Carmen
Hola otra vez (that's "hi once again") and welcome to installment two of our travels through Mexico.
Our last installment left us in Oaxaca, where on our last day we did a`cultural tour'.
Sounds trite, but we visited a boutique Mezcal factory, which is a traditionally produced tequila made only in Oaxaca.
We tried all of their 20 varieties.
We also went to see petrified waterfalls, where 50-meter high waterfalls had slowly turned to carbon.
We have some freaking amazing photos, but we don`t have a card reader with us so can`t upload them… yet-
I just drank some of the Mezcal and feel GREAT!
Claire is forcing me to tell you all about the delicious `soup`I had in Oaxaca.
I ordered tortilla soup.
They brought up my napkin, a basket of bread, and then a soup bowl filled with red stuff. I started chowing down on it, thinking `this is quite spicy and not that tasty'.
Then my soup arrived.
I'd been eating the hot sauce.
Mexican food is awesome!
We left scenic, colonial Oaxaca, en route to scenic, colonial San Cristobal to learn Spanish.
It was an intense week, with both of us doing homework until ten at night.
We hadn't worked so hard since… work!
And was it effective?
The overall experience certainly was.
We did a home stay with an (upper?) middle class Mexican family, who had live-in home help, and an amazing host mother who runs cooking and salsa dancing lessons at the language school.
We ate eggs for breakfast, but a different type each day.
Eggs in salsa with fried tortillas is my favorite.
Staying with a family for a week gave us a bit more insight into the Mexican way of life.
The whole family works together both early in the morning and late at night.
In the middle of the day, everyone gets together for a big meal.
Claire was fascinated by the order the food came, it was the males first, then the guests, then other females, and finally the hostess.
Wouldn't be the first time.
Our host Mum chatted with us each morning (after establishing at length that even though we weren't married, that one bedroom would be fine for us).
I think this helped our Spanish the most.
The school was pretty good, but spent too much time on useless grammar (despite us telling them not to).
We did find time to go to a local restaurant / bar called El Gato Gordo (the fat cat) which was excellent.
The first night we went for a late lunch, and one of the waiters was trying to play 'wish you were here' by Pink Floyd on the guitar.
We got chatting, and four hours later we were singing, drinking, and being offered dope.
We politely declined, but did stick around to hear a local singer kick our some Buene Vista Social Club, and a soulful song to Chiapas, the local region.
We returned again a week later after we finished our study to listen to a six piece Latin jazz / blues band, who were amazing!
They covered Jimi Hendrix to Miles Davis and took ten minute solos better than most you'd hear in Wellington.
Chiapas is the poorest state in Mexico.
The indigenous population is second class here.
There are five-year-old boys/girls hopping around restaurants at 11 pm trying to sell you candy, or shine your shoes.
The two girls (14 and 17) who work in our host family are also indigenous, and have no interest in going to school.
They are, however, riveted to the Mexican soaps, which are like 'days of our lives' on steroids.
After our second visit to El Gato Gordo, I was feeling a bit worse for wear.
Was it the 1-liter bottles of beer, or the genuine Cuban cigar?
But the last thing I felt like was a 5 1/2 hour legendarily windy bus trip into Palenque.
Claire was fine, and tried to look sympathetic, while finding it all quite funny.
`You should bring a bag' she told me, 'as even people with good stomachs throw up on this trip'.
Somehow I survived, but were not sure if everybody did.
While passing through a small indigenous village, the bus driver ran over a dog.
I thought he was going to stop, but then we heard a sharp 'yelp!' from below.
Brutal. Our hostel smelled like pee.
Contrary to the website, there was no free breakfast.
However we were there to do one thing only — go to the ruins.
They were as awesome as Palanque is crappy.
Completely encased in jungle, the pyramids and town square the serviced 70,000 people are still in great order.
We scrambled over them in 99% humidity 35 degree heat.
I tried some rock climbing up one wall but got grief from the security guards.
We saw meter long lizards!
I also saw my first tropical fish in their natural environment, swimming in the rapids above a Craig Potton-style waterfall.
I think I want to get a waterfall when I finally buy a house, so much better than a 50L fish tank.
And now we've rocked into Playa del Carmen, which is a baby Cancun resort town, but nicer.
We spent yesterday and today lazing in armchairs in front of the beach.
The water here is so warm and clear.
Loving it! I snorkeled a bit, and saw a school of 70 cm fish.
Tomorrow we're off to a beach where you can snorkel with turtles for free!
We're getting in before it appears in the lonely planet and they put up high rises… So excited.
North and Central America Trip – Experiencing Real Guatemala Culture
Hi everybody, It's been another action packed couple of weeks, and we're glad to be alive and well in the backpacker mecca of San Pedro, on lake Atitlan.
We arrived here 15 days ago via United Airlines, we found a great deal on tickets.
We're loving having a soft bed and hot shower, after the last week.
We've discovered the 'real' Guatamala.
We had our heart set on going to Todos Santos, a remote mountain village.
We wanted to take the direct route, which we're told is impossible and off-limits to foreigners.
Well, seven buses later, through steep dirt 'roads' sheer drop offs, and markets we arrived!
Was it worth it?
Yes, because we got a taste of what Guatemalan life is really like.
We did a home stay with one of the wealthier families in the village, they even had a functioning wood stove and running water!
We were also lucky enough to have pasta in cold chicken broth for breakfast. Delicious!
Todos Santos has a strong culture, including traditional clothes that over 80% of the people wear.
Claire is glad she was not born indigenous Guatemalan, because it took her two whole backbreaking days to weave a headband that she would sell in a market for less than NZ $1.
I reckon it looks pretty cool though.
Despite the conditions, the people love it in Todos Santos.
I studied a bit more Spanish, and I've been able to ask people about their lives, and the history of the region.
Whenever I asked someone 'where is your favorite place in Guatemala?
' they all reply 'here!!'.
This includes people who have lived and worked in the United States.
Remittances from illegals in the US is the number one income source for the rural highlands.
However my Spanish isn't always reliable.
I thought we were ordering French Toast and we ended up with some stale French bread.
Nearly as good as the chicken broth pasta!
Beforehand, we visited Samuk Champey, which is a series of freshwater pools.
We took another crazy bus into the area, filled with sick-inducing bends.
Literally.
A child next to me vomited on himself, and the bus driver just sped up. (Sorry, no photos of this).
As it's low season, we haven't seen many tourists, so we expected the middle of nowhere to be completely dead.
However our riverside hostel had about 50 gringos staying there, enjoying the water, caves, and tubing down the river just like us.
We got a great little hut nestled right by the stream.
We'd already had out fill of caves, as we went to the Actun Tunichil Muknal caves in Belize.
Everyone just calls them the ATM caves, probably because they cost an unbelievable US $75 to visit!
However it was worth it to check out the pots and humans sacrificed to the gods, and get the full commentary.
Claire particularity liked the five minute walk without lamps in pitch darkness through freezing water.
However it was a great trip for her because she got to see a cocoa plant in the wild!
We've also gone to Tikal, which are a bunch of Maya temples within the jungle.
The temples were pretty cool, but what really made it great was the wildlife.
We saw howler monkeys fighting for territory, and their roar is straight out of a horror movie.
We also had cheeky spider monkeys throw seeds at us (we counted ourselves lucky they didn't defecate on our heads, as they're known to do).
We also saw a bird which was 100% blood red and a leaf cutter ant colony.
4cm ants patrol the colony, a guide was so keen to show me how tough they are, he picked one up.
It proceed to bite his finger and blood poured out of him. Ants are cool!!
North and Central America Trip – We Survived Honduras
You´ll be pleased to hear made it out of Honduras alive – just!
We nearly got trapped there – not from protests, nor closed borders,
but because it´s an amazing country where it would be easy to laze around for months.
Before leaving Guatemala, we did some rather 'special' markets (see photo) and tried the local fast food, Pollo Campero, which is like KFC but cold and old.
Both experiences seem like a metaphor for the country as a whole.
North and Central America Trip – We JUST Survived Honduras!
Yes, we'd had our fill of Guatemala by the time we hopped on a 4 am minivan to Honduras.
The van played Reggaton at full volume, making sleeping impossible.
Just what you want at 4 am.
The tourism industry is big in Central America, but sometimes they don't really get it.
We arrived in Copan Ruinas, which is a small town next to the Mayan ruins.
The ruins have the best carvings and inscriptions, and were deserted thanks to the convenient coup.
The highlight was the crimson macaws, giant red parrots who squark and fly freely through the trees.
We also saw turquoise crowned motmots, squirrels, monkeys, and crazy rodents: rats the size of cats.
Copan Ruinas
The next day we went to a bird park which adopts ex-pets and freed black market animals.
We 'played' with a toucan (pretty much they just chomp down on your fingers) and practiced Spanish with parrots.
After all that we needed a holiday, so we headed up to the Bay Islands in the Caribbean.
Here the coup was in full flight.
We saw a large crowd of people covered in blood… at the all-you-can-drink Halloween party!
We stayed in a sweet pad with hammocks overlooking the water, where you can snorkel straight off the pier.
STOP. Hammock time!
I wanted to try diving, but my nasty cold and chest infection prevented it. Instead we went out on a free snorkeling tour… bonus!
The real draw here are the whale sharks, but unfortunately a storm two weeks previously scared them all away…
We rounded out our time in Honduras by visiting a microbrewery on the shores of lake Yojoa.
The mainstream beer in Honduras is ALL made by
SAB, who also owns Miller.
So getting a real pint was refreshing!
After an extended drinking / singing / guitarist session with the owner, we got up at 6 am the following day to 'go birding'.
A local guide rowed us onto the lake, where we saw egrets, kingfishers, green herons and more.
This was one of the cleanest, most beautiful places in Central America, and mercifully low in rubbish.
Many locals here just dump their trash on the side of the road, or into the local river…
Then we had a 2-day mad dash in local buses down to colonial Granada in Nicaragua.
As well as getting assaulted by the usual salesmen on the buses selling snacks, we saw a new breed of salesperson.
The guy who stands up and informed you about tapeworms, enthusiastically pointing at pictures of parasites before trying to sell you the medication.
They're pretty convincing as they sell a lot of it, who would know all of southern Honduras has tapeworms?
Now if Zelaya had promised free worming for everyone, there would never have been a coup at all!
The mixture of development and chaos here really does you head in.
If you want to catch a local bus, they work really efficiently.
Whereas when Claire bought face wash in a fancy pharmacy yesterday, she had to deal with one girl who served her, another girl to take her money, and yet another to 'package her purchase', all at different counters within the same shop… which had no other customers.
Result? 15 minutes to buy face wash.
Great customer experience!
However last night there was a free concert of porno-jazz in the square.
Totally makes up for it.
Best Costa Rica Vacation Packages to Enjoy
Ideal vacations can easily turn into nightmares sometimes and can get frustrating for the tourist who may not find suitable accommodation or has no idea about accessibility to travel attractions.
This article provides you information about some things to expect from Costa Rica vacation packages that will allow you to enjoy your trip without hassle, inconvenience or worry. Central America Adventure
There is so much to see, do, learn, and enjoy in Costa Rica, not the least of which is its internationally-renowned coffee, 850 or so bird species, surfing, turtle nesting tour, and natural hot springs that even adventurous and seasoned travelers will welcome Costa Rica vacation packages for the sheer convenience.
Considered to be South America's most diverse vacation spot, Costa Rica offers the tourist a wide variety of attractions that are easily accessible.
The country's vast and abundant natural resources alone – volcanoes, Costa Rica rainforests, mountains, waterfalls, and beaches.
Are perfect for vacationing families, honeymooning couples, nature lovers, and adventure seekers alike will welcome Costa Rica vacation packages as well.
Why a Costa Rica Vacation Packages is Convenient
When you opt for a Costa Rica vacation package, you don't have to deal with airfare bookings, hotel accommodations, and car rentals, among other details that are mandatory for a trip.
A vacation package will save you time and effort to eliminate the hassle of confirming every detail.
Vacation packages take care of even the minutest element that is important for your enjoyment.
Most providers of vacation packages offer all-in options, from bookings for airfare and hotels, tour guides, car rentals, transport service to and from the airport, and several amenities such as discounts, freebies, and the like.
Research on vacation packages way ahead of your planned trip to make an informed decision on choices such as guided tours or customizing your own travel itinerary.
The Most Memorable Costa Rica Attractions
Some Advantages of the All-In Vacation Package
Most Costa Rica vacation packages offer the all-in option.
This allows you to obtain all the services and food consumption of hotels besides the standard inclusions of laundry service, tours, accommodation, and travel guide and save money which you can spend on other things such as souvenirs or a artisan-made product like coffee from Costa Rica family-owned farms.
Another advantage of vacation packages is the discounts that are usually given to tour groups and families.
Some providers offer the option of pairing your family with another family as part of their travel advisory service.
This is a chance for you, and your kids, to make new friends while on vacation or it could be a business opportunity as well.
What You Can Expect to See and Do From Vacation Packages
To give you an idea of how extensive a vacation package can provide you with attractions, consider inquiring about the following from your vacation package provider before you take that trip:
Canopy Tours
These tours were popular in the last years but they continue to be in demand among tourists.
Whether your choice is a gondola ride, an educational trip through treetops or a thrilling zip-line ride, canopy tours have much to offer every man, woman, and child.
And because there are almost 50 locations in Costa Rica for this activity, you will never run of out choices.
Bird Watching
La Selva Biological Station has a superb trail system that weaves through various natural habitats to introduce you to one of Costa Rica's finest locations for bird watching.
Or you can size up those beautifully colored and exquisitely-feathered species at the Caño Negro National Wildlife Refuge, where you can watch massive birds of the aquatic species gather or nest.
Whitewater Rafting
Of course whitewater rafting is ubiquitous in this country covered in lush rain forests, with some that rise from the ocean at 12,000 feet and then drop abruptly to sea level.
Ask if your chosen vacation package provider has whitewater rafting activities included in the itineraries and, if they don't, discuss any possibility of including one that will cater to your ability level.
Surfing and Beaches
Legend has it that Christopher Columbus coined the Spanish words "costa rica" or "rich coast" to describe the plethora of beaches that, even then, peppered this Latin American country.
Although Costa Rica's ocean waves are highly praised by surfers the world over, you can also enjoy sailing, snorkeling, scuba-diving, swimming, and sunning in the country's numerous beaches.
Costa Rica Surfing: 9 Reasons You Should Spend Weekend
Coffee Tour
What would be a Costa Rica vacation without a coffee tour in the vacation package?
Coffee was the catalyst which begun Costa Rica's steadily rising economy.
You not only satisfy your craving and curiosity for your favorite morning upper but you also learn a few things about the history and culture of Costa Rica's original inhabitants, the indigenous tribe known as Tico.
Costa Rica Arenal Volcano
Volcano Watching
Visit Costa Rica's premier locations for volcanoes: Arenal, Irazú, and Poás with their fire belching, lava flows, and smoking boulders.
These volcanoes are exciting even for those who have seen volcanoes before but for those who have no idea how volcanoes do what they do, these are the places to ask you vacation package provider to include.
Nature Cruise
Your vacation package just has to include a nature cruise that covers the Caño Negro wetlands, the mangroves found at the estuary of Damas, and the Tortuguero canals.
This slow boat ride beats the gondola variety of Venice where the water has become polluted.
In Costa Rica, a boat ride is a refreshing way to spotting wildlife and birds surrounded by a clean, clear, and fresh scent of water.
Costa Rica Hot Springs
Another attraction that should be in all Costa Rica vacation packages is one of the country's pride and joy:
The hot springs which is as plentiful as the volcanoes in this Latin American country.
Perhaps as a result of the abundance of volcanoes, hot springs in Costa Rica are nearly everywhere.
Hit these natural pools of water to relax tired muscles and spend a restful night afterwards.
Enjoy Your Vacation in Total Comfort
Have a vacation that's free from inconvenience, hassle, and worry by taking a vacation package which can pre-determine your itinerary even before your airplane lands at the airport.
The coverage of your sightseeing experience can only be matched by the excellent service from the hotel and car rental or transport service which your Costa Rica vacation packages has included for you.
With vacation packages, your hotel accommodation concerns for safety and security are addressed, you are able to access and explore many different parts of the country which may be otherwise difficult to reach on your own.
Best of all, Costa Rica vacation packages give you the chance to you experience different sights and sounds of another, albeit very interesting, culture.
Costa Rica Surfing: 9 Reasons You Should Spend Weekend
Costa Rica Surfing – Finally, its weekend!
It may be that millions of hang out places are running in your mind.
But have you finalized the decision on where you should head to?
If no, then choose Costa Rica vacation as one of the most exhilarating places to enjoy the day off with friends.
Are you wondering what's so special about this Costa Rica surfing?
Lucky you if the only choice you're grappling with for a summer vacation is whether you'd rather hit the beaches on the shores of the Caribbean or the coast of the Pacific.
Would you be surprised to know that you can enjoy them both in Costa Rica?
Situated in the lower portion of Central America between Nicaragua and Panama, with the Caribbean on the east and Pacific on the west, Costa Rica beaches abounds in natural beauty, unique wildlife, and ancient culture to explore.
Whether you're up for a serious binge of eco-tourism or down for a relaxing sand and sea experience by day and just plain fun by night, you'll find it there.
Also check out our Costa Rica's Peaceful Lifestyle, Sand, Surf and Rain Forests
Find this out by reading more below:
Costa Rica Surfing
9 Reason Why Costa Rica Surfing
Costa Rican Surfing Is Actually Healthy
What is better than enjoying an activity that also improves your health?
Costa Rican surfing does not only helps you get rid of the routine-based mental stress, it is also said to be a great hobby to enhance your cardiovascular fitness.
You Will Welcome A New Language: Spanish!
Everybody speaks Spanish here in Costa Rica.
And yes, you will have to learn it too!
Don't you think it is a great opportunity to add one more language to your adventure lists?
Not a Problem for You If You Are Coming from the US
Surfing at Costa Rica can best be enjoyed when you have ample time to spend with your friends.
So, if you are a US resident already, Costa Rica will be more accessible to you, thus saving a lot of traveling time.
Mouth-Watering Cuisines
Undoubtedly, the cuisines of Costa Rica add charm to those thrilling surfing adventures.
This is something worth trying if you plan to this exotic place.
Fruits and Vegetables
No matter how much fun you are having while experiencing Costa Rican surfing, one thing is quite natural, i.e. tiredness after the full-fledged surfing adventure.
The best way to get your energy back is to eat fruits and vegetables grown in the healthier and greener environment of this nature-oriented place.
No Age Worries
It is always better to keep in mind what Costa Rican surfing requires from all those surfers out there.
Age does not have to do anything with surfing as long as you are able to maintain proper balance.
So, if your body has the required balance, it means that you are on the go!
However, if you are a beginner, then you can take some guidance before surfing.
So Natural
If you love nature, then you MUST explore the beauty of Costa Rica.
Take pictures of your friends while they surf, and enjoy the moment.
It is much greener there.
And don't forget those animals living on the greens!
The Strong Essence of Coffee Is Worth Experiencing In Costa Rica
Are you thinking if there is any connection between coffee drinkers and Costa Rica?
It is surprising to know that Costa Rica has something very special to offer to its tourists, i.e. high-quality coffee!
You Simply Cannot Ignore the Amazing Weather
Love rains? Or you simply want to experience some dry weather?
Whichever option you choose, one thing is confirmed:
Costa Rican surfing serves you with both.
Since the weather remains pleasant most of the time, Costa Rica surfing seems to be an ideal way to cherish all the fun together with friends.
Memorable Costa Rica Attractions Favorite Destinations
Costa Rica attractions is by far my favorite vacation destination.
The beaches in Santa Rosa National Park are second-to-none for beauty and seclusion.
I spent a memorable day there just savoring the sounds of nature and soaking up the glorious rays of the sun.
When it got warm, I simply took a dip in the crystalline waters.
Costa Rica has many vacation options and is one of the best for active travelers, which is another reason why I love it.
Costa Rica Attractions
The Monteverde Cloud Forest Biological Reserve is another Costa Rica attractions that gave me a fascinating background on the ecological system in the jungle, and being able to ramble freely for several hours was definitely a treat.
For something a little more strenuous, I opted to rent a mountain bike so I could explore Costa Rica's many unpaved roads and trails.
Not surprisingly, that wasn't enough for me.
Eventually, I signed up for a multi-day tour that had me riding a bike, whitewater rafting and trekking through the jungle.
That was definitely an amazing adventure.
Of course, Costa Rica isn't all about adrenaline.
The breathtaking Rincon de la Vieja National Park, with its geysers and hot springs, was also one of my favorite Costa Rica attractions experiences.
I can't wait to get back there someday!
Guide to Exploring Volcanic Costa Rica
Costa Rica is renowned for its incredible beaches, lush rain forests and spectacular wildlife, but there's also a more menacing side to this place of paradise, for the country lies above where two tectonic plates – the Cocos and Caribbean – collide.
This underground activity, as well as creating the potential for a few earth tremors, gave rise many thousands of years ago to a number of volcanoes that run down the spine of Costa Rica.
From Orosi in the far north-west near the border with Nicaragua all the way down to Turrialba in the heart of the country.
But well as posing a lingering danger to residents, these spectacular volcanoes present an opportunity for travelers to experience something that is alien to them back home.
Not only do they provide some spectacular picture opportunities, they also give intrepid visitors a chance to hike to high altitudes, conduct crater walks and see geological processes in action.
Hot Springs
Perhaps the most famous of Costa Rica's volcanoes, largely thanks to a period of activity from the late 90s until a few years ago when visitors could witness lava flowing down the side of the cone.
Arenal is one of the most popular tourist attractions in all of the country.
While the daily rumblings may have ceased, visitors still flock here to take in the beauty of the surroundings and enjoy a luxurious soak in the thermal springs at the foot of the mountain.
A number of resorts have made use of these natural resources to create whole thermal complexes featuring bathing pools of temperatures ranging from 30 to 40 degrees set among tropical gardens.
2 Ocean View
Despite its imposing presence, Arenal is comparatively diminutive at 1,670m high compared to Costa Rica's tallest volcano, Irazu.
At 3,432m – over 11,000ft – the oxygen available at the summit is only a third of that at sea level, so you need to be aware of altitude sickness as you climb Irazu.
However, the strenuous hike is well worth it for the view, as on a clear day you can see both the Pacific and Atlantic Oceans from the same spot.
You can also return home and impress those who've only climbed mountains in the UK.
Crater Swim
Unlike Arenal and Irazu, other volcanoes such as Chato are dormant.
This makes them particularly visitor-friendly of course.
Those who do make the steep and humid climb to its safe summit are rewarded by the sight of a large turquoise lake filling the crater.
Descend the path to the water's edge and go for a dip.
How many times will you get a chance to swim on top of a volcano in your lifetime?!
Chato is also less crowded than some of the other peaks in Costa Rica, so it's a great place to get away from it all and be at one with nature.
You can then head off the mountain down to the La Fortuna waterfall, which features an impressive 75m cascade of water falling into a pool, where you can also swim – provided you've remembered your bathers!
Costa Rica's Peaceful Lifestyle of Sand, Surf and Rain Forests
Costa Rica's Peaceful Lifestyle – Costa Rica's has been a top travel destination for many years.
Peaceful lifestyle, friendly culture, magnificent beaches and extraordinary natural beauty make it a top choice to get away.
This tiny country is well known for it's delicious coffee, environmental consciousness, "pura vida" lifestyle and world class surf spots.
Once you visit Costa Rica, you'll find yourself going back again and again.
Many fall in love with it's relaxed lifestyle and tropical climate.
Here's some great spots you just can't miss if you're visiting for the first time:
Costa Rica's Manuel Antonio National Park
Manuel Antonio was listed as one of the world's 12 most beautiful National Parks in the world.
It is also one of the few where the rain forest reaches right into the ocean, creating steep cliffs, secluded world class beaches and great kayaking and snorkeling spots.
Just a short drive away from the popular surf town of Jacó Beach, Manuel Antonio National Park has some of the most impressive landscapes in the world.
Here you can enjoy wildlife such as white face monkeys, three-toed sloths, howler monkeys, iguanas, toucans and even dolphins and whales during migrating season.
Arenal Volcano
The drive to Arenal Volcano from the city will take you on a wonderful scenic 4 hour drive.
This volcano is one of the few conical shaped active volcano's in the world and also the youngest in Costa Rica.
With majestic views from all angles and lush countryside, this volcano offers frequent lava flows at night and amazing hot water springs.
This area offers high class hotel accommodations with luxurious spas and hot water springs as well as hiking, kayaking, whitewater rafting, canyoneering or just nice relaxed tours around the volcano.
Río Celeste
You've probably seen photos of Río Celeste before as it's one of the most spectacular rivers in the world.
Located in the northern part of Costa Rica, Río Celeste is well-known for it's bright turquoise color.
This color is the result of a chemical mixture of sulfur and carbonate from the Tenorio Volcano.
There's a one-hour hike through the rain forest to get to the river, but certainly well worth it.
You can visit visit several hot springs and enjoy the waterfall with a little picnic while exploring the banks of the river.
Santa Teresa Beach
Santa Teresa Beach is located down in the Nicoya Peninsula in Costa Rica.
A booming surf town with world-class white sand beaches. Costa Rica Surfing
If you're not into dipping in the ocean, the jungle will provide nice little hideaways on the beach to relax and spend the day.
Just a short drive away, you can find the town of Mal Pais which is one of the most beautiful beaches in Costa Rica and the world.
Either of these destinations will provide you with great activities such as fishing, canopy tours, snorkeling, SUP, horseback riding and even yoga and hiking in a nature reserve.
Monteverde Cloud Forest
Monteverde is considered the top ecotourism destination in Costa Rica and is home to the Monteverde Cloud Forest Reserve.
Declared by Newsweek as "the World's #14th place to remember before it disappears", Monteverde provides miles of cloud forests, coffee plantations, monkeys, misty afternoons, hikes, canopy tours and even a cheese factory.
The Monteverde Cloud Forest spans six distinct ecological zones and is home to thousands of exotic birds, butterflies, mammals, insects and species of plants.
With 2.5% of the World's biodiversity, Monteverde is a dream destination if you're into unique landscapes and virgin rain forests.
Best Ways to Learn Spanish Before Traveling to South America
There's so much more to Costa Rica vacation, with more than 300 different beaches both on the Atlantic and the Pacific Coast as well as 7 active volcanoes… you'll find yourself quickly making plans to go back!
Best Time to Visit Machu Picchu