Best Places to Visit in the Philippines – We all heard stories of what Thailand used to be like 20 years ago, before it was spoiled by the hordes of drunk tourists flocking its islands. Just 3 hours flight away, there is still a place who maintains that exotic, virgin charm – the Philippines.
To add to that, the beaches and scenery are even more beautiful, and everything is cheaper. The fact most potential tourists of Southeast Asia tend to overlook the Philippines while planning their tropical getaway does come with a price though. The country isn't a tourist mecca like Thailand is, so getting around and finding out what to do can be a little more difficult. However, if you do your planning you will find that the Philippines is full of incredible places to visit.
If possible, plan to make the Philippines your destination rather than somewhere you include on a long list of countries to visit. You'll want to spend as much time as possible in this diverse island country.
Best Places to Visit in the Philippines
Here are our top picks for the best places to visit in the Philippines:
Palawan
Considered one of the best islands in the world, Palawan is the number one place to visit in the Philippines. Palawan offers a great mix of popular, crowded beaches and private island resorts such as Pamalican and Minoloc.
The island is one of the best value for money destinations in the world since even the high end resorts are still relatively cheap. Those who wish to venture off the beaten track should head out to Coron.
This less developed area hosts some of the best beaches in the Philippines, and is considered a world class diving site. Accommodation is more basic, but in exchange you get to enjoy the feeling of being on a truly exotic island. In any case, make sure you spend at least one night in the Provincial capital Puerto Princesa, so you could visit the famous underground river national park.
Coron Island
Coron is actually located within the Palawan province, but it's such a cool location we'll give it its own section. Coron is an island off the north tip of Palawan, and is home to nearly 70,000 residents.
Coron is one of the "adventure capitals" of the Philippines. Its island location, combined with its abundance of scenic features (both on land and off the coast) make it a fantastic choice for all sort of adventurous activities. You can explore on your own, or book on of many guided tours.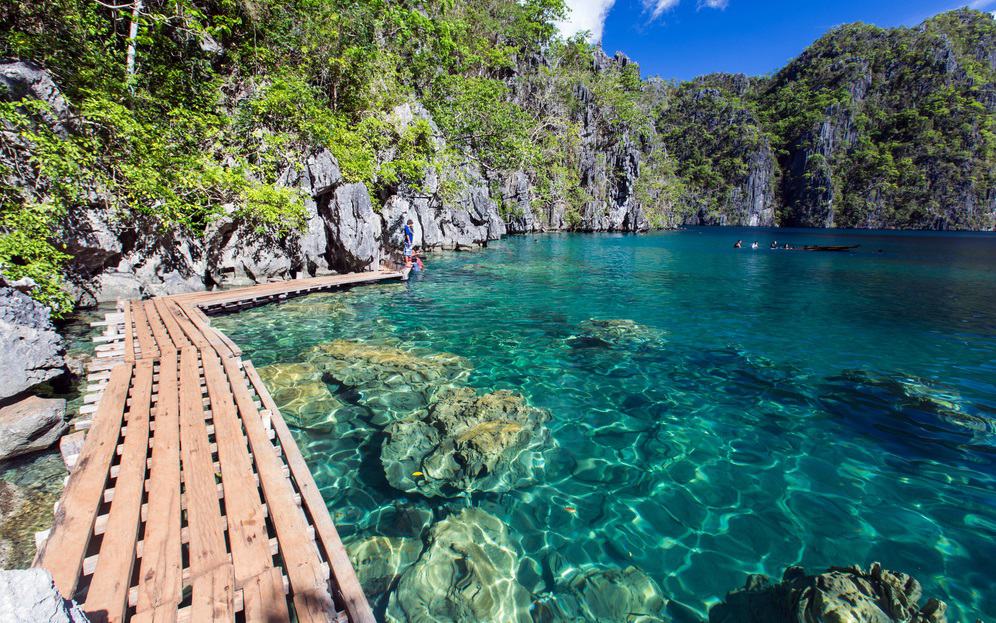 Coron offers something for every type of adventurer. There are mountainous hikes, crystal clear bays and lagoons, underwater sights, pristine beaches, and much more. Tours are on foot, on horseback, by kayak, or by bike. You can even explore Japanese shipwrecks on one of the many scuba tours on offer.
If you're looking to experience the natural side of the Philippines, Coron is a great choice. Much of the island is geared to tourists, so you won't feel like you're in over your head.
Boracay
Boracay island, and especially the white sand beach area, is the most popular tourist spot in the country. Boracay is a very small island, so it can easily get crowded there especially in the high season.
The island is the Filipino version of Thailand's wild party islands such as Samui and Phangan. The 4km long beach area is packed with bars, nightclubs and restaurants so you can always find something to do.
During the day, the best thing to do is just lay back and relax at one of Boracay's stunning beaches. White beach has been voted best beach in the world for a reason – the azure water and white sandy beach are simply breathtaking.
For that reason, the island is also a beautiful place for swimming and snorkeling.
Bohol
If Boracay is paradise for singles and party lovers, then Bohol is the best place for couples and families with small children. It doesn't mean there is no nightlife there – Panglao's Alona beach is actually considered one of the best party spots in the Philippines, second only to Boracay.
Bohol, however, offers much more than just parties to its visitors. Dozens of secluded beaches and islands are scattered everywhere and the amount of attractions is just endless. No description of Bohol could be complete without mentioning the famous Chocolate hills, a truly one of a kind geological formation.
The hills are by far the most popular attraction in Bohol, but by no means the only one. Diving with dolphins and taking a cruise down the tropical Loboc River are also highly recommended.
The island is really one of the best places to experience the country's diverse wildlife and nature. The greatest thing about Bohol is how close it is to so many other beautiful destinations, including Boracay.
It will be really easy for you to include in your travel plan, and it's definitely worth it spend a few days there and see everything the place has to offer. A mix of beautiful relaxing beaches with exciting adventure is the essence of a vacation in the Philippines, and Bohol catches that essence perfectly.
Sagada rice terraces
Sagada is a great alternative to the more traditional island destinations mentioned above. Don't expect luxury resorts or exciting nightlife, because Sagada is mostly about tradition and nature. The Cordillera mountain province is home to Igorot tribe, the native people of the Philippines who keep the old traditions alive.
Combine that with the scenic mountain view, and you'll understand why Sagada is a great place to visit. One of these traditions, dating back over 2000 years, is the use of the man made rice terraces of Banaue.
Banaue is just a short ride from Sagada, and we recommend staying at Sagada because it is much more tourist friendly and welcoming, and closer to many other local attractions. It has a population of just over 11,000 people.
The Cordillera rice terraces are many, but the most beautiful ones are located near the village of Batad. The Batad rice terraces have been declared an UNESCO world heritage site, so definitely a place you can't afford to visit. Getting to Sagada or Banaue can be a bit tricky, since there are no commercial flights available. The only possible way to get there is to take a bus from Manila, or hire a private van.
It is really better to consult with a local travel agency while planning a trip to Sagada, because it will help you save a lot of precious time and avoid making any mistakes.
Manila
Many tourists overlook this amazing city and just pass through it on their way to the islands. Don't be one of those, and make sure you enjoy everything Manila has to offer.
What makes Manila a great place is the truly special mixture of cultures and the stark contrast between old and new. With anything from old forts and churches to some of the world's largest and busiest shopping malls, it really has something to offer everyone.
Especially recommended is the old city Intramuros. The area was originally a fort founded by the Spaniards upon their arrival, and now serves as the old city and is full of stunning buildings and interesting museums.
Nearby, north of the Pasig river, lies the world's oldest Chinatown. Named Binondo, this Chinatown is especially fascinating because of the unique blend between Filipino-Hispanic culture and the Chinese one. This mixture is best witnessed by visiting the district's remarkable pagoda bell tower. Manila is also surrounded by many magnificent locations, some of which are among the country's most beautiful.
A mere few hours by bus you can find anything your heart desires – beautiful secluded beaches or tropical volcanoes perfect for hiking or camping outdoors. Puerto Galera is the obvious choice for a beautiful beach getaway near Manila, but if you are looking to get away from the tourists you should consider the Batangas beaches instead. Laiya beach is especially recommended.
El Nido
Formerly known as Bacuit, El Nido is a coastal municipality in the island province of Palawan. It is located in an area situated on the north-end of Palawan Island. El Nido is known for pristine conditions, and many consider it the most beautiful location in the Philippines. It features gorgeous white beaches, coral reefs, limestone cliffs, and more. In fact, El Nido ranks #4 in Conde Nast's "most beautiful beaches in the world".
El Nido is a protected, resource-managed area, so you can expect to see its sights in all their unspoiled glory. It's not quite as tourist-y as many other areas, but it's definitely getting more popular with each passing year.
Another top destination for adventure seekers and nature-lovers. You'll find plenty of guided tours, or you can choose to explore the region on your own. Scuba diving is a popular activity here in one of the region's many lagoons, or along some fascinating coral reefs.
Cebu City
Located on the Eastern side of Cebu Island, officially in the Province of Cebu, Cebu City is one of the most interesting metro-areas to visit in the Philippines. Cebu City is the second largest city in the Philippines, and is home to nearly one million people.
Cebu City is quieter than Manila, and a bit less tourist-focused, which might be exactly what draws people to this part of the Philippines. But make no mistake, Cebu City is still a popular location among tourists, thanks to its historical significance, bars and restaurants, hotels, and scenic sites just outside the city.
Cebu City is surrounded by mountains, creating a magnificent backdrop to city life. The city itself features an impressive amount of colonial architecture.
Cebu City has a very active culinary scene. You'll find some of the best cuisine the Philippines has to offer, including everything from traditional Filipino food, to Asian Fusion, to European and American cuisine. Check out one of the city's many rooftop bars for a great view of the city.
The weather is great, consistent with most Philippines weather. It's hot all year round, with average daily highs reaching 27-29C. Being a tropical climate, you can expect rain most days (except during the dry season which lasts from Feb-May).
Cebu City is the true gateway to Cebu Island, an area that is renowned for fantastic sites, beautiful hiking, great scuba diving, and much more.
Adventure in the Philippines
If you are looking for more active pursuits and things to do in the Philippines, consider this list:
Swimming at Boracay Island – These clear, warm waters are located in Aklan Province. Famous for its White Beach, it is an ideal location for family swimming, snorkeling and scuba diving. Best of all? The sand won't burn your feet because it doesn't get hot.
ATVing at the Chocolate Hills of Bohol – You can't climb the Chocolate Hills but you can rent an ATV or climb to the viewing deck / observation deck. Whatever you do, you will enjoy magnificent views.
Diving in Puerto Galera – Located in the province of Oriental Mindoro, it is worth visiting Puerto Galera for its world-class diving spots. See coral and reef species galore. It is appropriate for all levels of scuba diving experience, from beginner to advanced divers.
Hiking up Mount Pinatubo – The terrain on this hike to this stratovolcano is not difficult.
Food in the Philippines
The food in the Philippines is a unique blend of Asian, Spanish, and American influences. The cuisine is mostly based on rice, which is served with a variety of meat or fish dishes. There are also plenty of vegetarian dishes available for those who are not eating meat.
In the Philippines there are many street foods that you can find at various stalls around the country. Some popular ones include siopao, chicken barbecue skewers, and crispy pata. The Philippines also has plenty of dishes that have been influenced by Spanish colonialism such as arroz caldo (a type of rice porridge), adobo (chicken or pork stewed in vinegar), and ensaymada (a type of bread).
Where to Visit in Philippines
The Philippines is a country in Southeast Asia with over 7,000 islands and an archipelago for around 50 million years. It has a diverse range of landscapes and cultures, and it is one of the most visited countries in Southeast Asia. There are over 100 languages spoken in the Philippines and more than 300 dialects. The country is home to many natural wonders like the Underground River which has been declared by UNESCO as a World Heritage Site. The capital of the Philippines is Manila.
The beaches in the Philippines are some of the most popular tourist destinations in the world. The beaches are lined with white sand and turquoise water that stretches as far as the eye can see. Some of these beaches include Boracay, Boracay, El Nido, and Puerto Galera.
If you're looking for something more cultural then there are plenty of historical sites to visit too. The country's capital, Manila, is also a very popular tourist destination in the Philippines because it is home to many historical sites like Intramuros — an old fortress which was built by the Spanish in 1590 — and Rizal Park which was named after Jose Rizal who was also a national hero of the country.
The country also has some beautiful parks that are worth visiting, like Mount Mayon Volcano National Park and Mount Pinatubo National Park. Both are stratovolcanos in the Philippines. Mount Mayon Volanco is considered to be highly active.
Regarding Philippines weather and climate, the Philippines has a tropical climate with monsoons coming from December to March and dry weather from April to November.
Best Places to Visit in Philippines FAQ's
What is the number 1 tourist spot in the Philippines?
One of the most popular places to visit in the Philippines is Cebu.
What is the most beautiful place on Philippines?
There is beautiful nature and scenery in the Philippines. Some natural features include El Nido, Boracay, Banaue Rice Terraces, Tubbataha Reefs, and Coron.
What is the most beautiful view in the Philippines?
While certainly subjective, we think one of the most beautiful views in the Philippines is Bantayan Island in Cebu. However, it is a question that will always be debated. Some people might say that the most beautiful view in the Philippines is Makiling, while others might say it is Batangas Bay.
What is the Philippines famous for?
As far as tourism goes, the Philippines are famous for their beaches, active volcanoes and their rich culture and heritage.
How long do you need to explore the Philippines?
A person can explore the Philippines in around two weeks but it really depends on how much time you want to spend exploring each individual island or region of the country.
Planning a Trip to the Philippines
There are many places in the Philippines that you can explore. The best thing about the Philippines is that it is filled with natural beauty and friendly people.
The Philippines has a lot of beautiful beaches and islands. Palawan is a great place to visit if you want to experience some of the most beautiful beaches in the world. There are also a lot of waterfalls, caves and mountains for hiking. In terms of cities, Manila is a great place to visit because it has an amazing culture and history. It also has some of the most delicious food in Asia!
Conclusion
Thanks for reading our guide to the Philippines. Where to visit in Philippines and best places to visit in the Philippines is such a diverse island nation that it is difficult to narrow down our list to only 8 locations. There are many beautiful spots to visit in the Philippines and these are just some of them.
There are many other fantastic areas of the Philippines which easily could have made our list. That being said — from the historic and quaint city of Manila, to the white-sand beaches of Boracay, to the lush jungles of Palawan — it's hard to go wrong just about anywhere in this beautiful island nation.
We expect the Philippines to become more and more popular as a tourist destination, so there's no better time to book your Philippines holiday! Check out the best cities for shopping in Asia.