Best Camper Vans – Van life is what society calls the increasingly normal decision to outfit a van into a kind of mini RV and then live in it full time. Very different kinds of people join this movement for myriad reasons. It can be kind of grungy at times, but there are many people who will tell you there is no other way to live.
Many people who decide to live like Shaggy and Scooby will tell you that they chose the van life because modern technology empowers them to live free. Californians make up the largest slice of the van pie in America, but not all of these van lifers are bohemian victims of the housing crisis — although many are.
For 21% of van lifers who had their van professionally designed, it cost over $40,000.
Speaking of Shaggy and Scoob, more than 40% of van lifers travel with pets, so if you are making this decision and have qualms about abandoning your cat child, breathe easy.
The van life is one of the many children of the YouTube DIY revolution. This way of living can't be called an opulent life choice, but depending on the DIY savvy and/or spending capacity of the guy dipping his toes into the life, it can be either a cramped prison sentence for the sake of saving for a house, or a tiny freewheeling palace for camping.
Some people might think that living in a van is not so glamorous. But for those who have done it, they will tell you that it's the best decision they ever made. This is because living in a van can be more comfortable than you think. You don't have to worry about rent, utilities and other expensive bills. It also gives you the opportunity to experience life on the road and explore different parts of the world all year round.
Living in a Van By Choice
Living in a van is not for everyone. This lifestyle is not for the faint of heart, but for those who are willing to take a chance and live life on the edge. Some people choose to do this because it is cheaper than living in a house or apartment. They don't have to pay rent, bills or utilities and they can do what they want with their time (traveling). Others choose this lifestyle because they love the freedom it gives them.
Advantages to the Van Life
There are many reasons why living in a van can be appealing. One of the top reasons is that you can save a lot of money on rent and other bills. You won't be spending as much time doing household chores, upkeep, and outdoor maintenance as you would when living in a larger space.
Another reason people live this lifestyle is because they want to be closer to nature, or they want to travel as much as possible without having to worry about where they will sleep at night. Many people work remotely so as long as they have good internet or access to it at a cafe, they can live and travel extensively this way and still earn a living.
Disadvantages to the Van Life
The downsides are that you don't have a lot of space or privacy. It is not necessarily suitable for families, especially long-term. It can be hard to find places with good internet service. Another downside of living out of a vehicle is there are many safety risks involved with living on the road. In addition to your personal safety, there is the weather to contend with, and there is the vehicle upkeep.
It is important to keep up with the van maintenance to avoid issues such as engine failure, transmission problems, exhaust malfunctions, and more. Anything can happen on the road. Luckily, technology can help once again. For present or future van lifers, be prepared with an emergency roadside kit. You want to be sure your moveable home doesn't stall.
Best Camper Vans
Everything comes with its pros and cons. Do your research before embarking on this journey. There is a lot more involved than just finding parking spots or how to get free WIFI at McDonalds. Keep reading to learn about some of the best camper vans around.
Wingamm City-Suite
The cost of Wingamm camper starts around $71,766
These mini camper vans are made by a European family-owned motorhome manufacturer. It measures about 6 meters by 2 meters (19 ft by 7 ft). It is made using the same chassis as the popular Fiat Ducato.
These babies are made for living. It has a lounge area in the front as well as rotating chairs. The middle of the van has a small kitchenette with a dual-burn cooker, a sink, and a 96 liter fridge. The bathroom sits across from the side entrance. This bathroom even has a shower!
The "garage space" for suave van lifers is part of the ground that receives shelter from the van's open trunk — assuming the door opens up rather than out. The Wingamm City-Suite can be raised or lowered to provide even more "garage space."
Westfalia Kepler 60
Starting around $59,595
This van is a throwback to the VW campers of the 60s. This is the right move for anyone who really wants to live in the Mystery Machine. The color design is immediately eye-catching, both exterior and interior.
It comes it dual-tones, and the interior kitchenette — also featuring swivel chairs, will make you nostalgic for the heyday of MASH. The kitchen has a hidden fridge inside one of the cupboards. The bench seats for the kitchenette, slide together to form a bed. Groovy. It should be noted that this vehicle lacks bathroom amenities.
Nomad Vanz Yabba Dabba Doo
Custom builds start at $120,000
Nomad Vanz is a Canadian company that specializes in renovating vans for van lifers. Opening the sliding door, the first thing you will see is an ultra efficient use of space. This is a very tall van that uses its dimensional advantage cleverly.
There is room for up to four people in the kitchenette. The kitchen features a sink, a single induction burner, and a freezer. The sleeping arrangements are Murphy bed style, giving you a lot of living room. This van was designed for outdoor living. It can carry surfboards, two mountain bikes, and all the longboards you can fathom.
Tonke Van
Starting between $43,000 and $59,000
Tonke offers two models, the Van and the Van XL. Both are suitable for van life, but one starts to cross the threshold into RV living—I'll let you guess which. Both are cleverly designed to optimize space.
Among these amenities is a kind of mega sun roof that pops up while still providing rain and sun cover as well as sliding bench seats to accommodate more people or resources. The kitchen has a removable compressor fridge. The whole kitchen can be slid out of the vehicle to provide temporary extra space. This van features more space than almost any on this list. It is certainly the most customizable. These vans, unfortunately, are only available in Europe.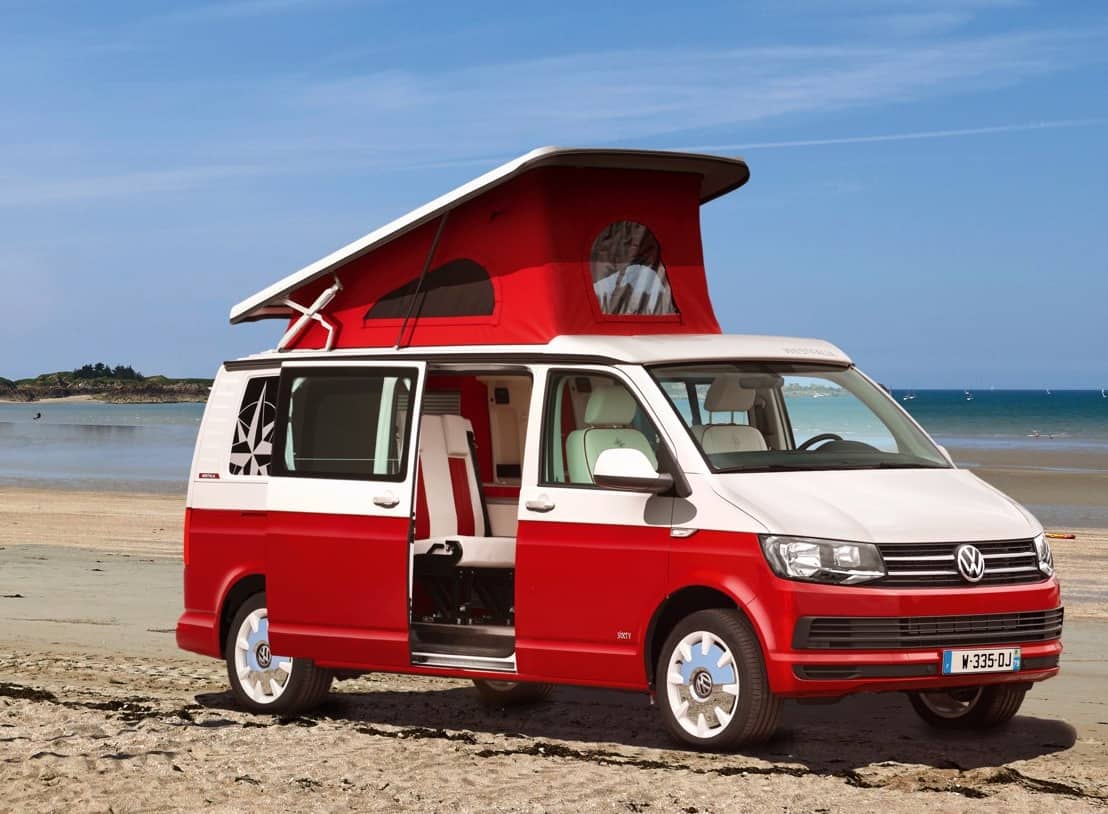 Are Camper Vans Worth It?
Due to their size, camper vans are generally easy to take on adventures. They fit well in smaller campsites and are easy to drive around town.
You can take campervans on road trips and enjoy the extra space even if you aren't planning on using them for camping.
Camper vans give you the freedom to enjoy vacations without the expense of hotels. You can use a camper van for camping while enjoying indoor comforts.
Compared to an RV or caravan, camper vans are considered more stylish as well.
Best Vans for Van Life FAQ's
What is the best van for van life?
Whether you want to live on the road full time or part time or use a van for a really big trip, you have lots of options when it comes to choosing a van. Much will come down to your budget. Some models to consider are Westfalia Kepler 60, Ford Transit Sprinter Van, Nissan NV Cargo, and the Wingamm camper called Wingamm City-Suite.
Is van life a good investment?
Living in a van and experiencing van life can be a good investment, especially if you are considering doing so short-term. Perhaps you are selling a home at the top of the market and are waiting for prices to come down before buying a home. Or maybe you sell and need a place to live while you are deciding where in the country to move to. In the meantime, you can travel and check out other areas to live before committing and settling down. The big considerations are if you are fully ready to downsize. You won't want to be spending money on storage units and storage for any length of time. The payoff will also come should you choose to sell the van.
What is the best type of van to convert into a camper?
Converting a van to a camper may be more cost effective, especially given the rising prices. According to RVblogger, some good choices of the best type of van to convert into a camper are RAM Podmaster, Ford E Series vans, Ford Transit, and compact cargo vans.
Which is the best van life vehicles in the world?
The best van life vehicle in the world is likely the iconic VW van. Known for decades as the ultimate and best vans for van life. Will it necessarily have all the bells and whistles of newer models, no. However, the VW van is a classic for a reason.
Best Camper Vans for Living the Van Life
Van life is more than just living in a van. The van is a symbol for a nomadic lifestyle. It's about going wherever you want and doing whatever you want. It is the ultimate symbol of freedom and adventure.
Living in a camper van is not for everyone. But for those who do, it offers an opportunity to live with less and simplify their lives. Van dwellers are often minimalists, so they don't have much stuff to store and take care of. Van living can be cheaper than living in a house or apartment, but it does require more work on the part of the person who lives in the van.
People choose van dwelling for different reasons. Some want to save money on housing; others want more freedom from their surroundings.
The van life is yet another way that society is evolving with the help of technology. People who choose the van life obviously receive a huge benefit, but the life comes with risks too.