New Zealand vs Australia – Nathan, who is from New Zealand, can't count how many times people have asked him if New Zealand and Australia are the same country. Some ask if there is a bridge between the two. Yes, people have asked if you can drive between the two countries, and even if they're joined together.
The list goes on, but one thing is clear – many people don't realize just how different Australia and New Zealand are from each other. The only thing they have in common is that they're far away from the rest of the world, and that the people are very easy-going, laid back and friendly. So when you've gone all the way down for holidays in Australia, you should definitely consider visiting New Zealand as well.
New Zealand vs Australia ~ What to see
Australia
Australia is world famous for its beaches, surfing, outback and cosmopolitan cities like Sydney. There are so many things to see and do here that you will find it incredibly hard to get bored.
Here are some things that Australia offers…
Great Barrier Reef & Beach Life
A large part of Australia has a tropical climate and some of the most beautiful beaches and clear waters in the world. The lifestyle on by the coast is all about beach-life, and the warm clear waters are perfect for surfing & diving.
You also have the Great Barrier Reef, a huge coral reef unlike any other in the world, where you can dive and snorkel among exotic fish, corals, sharks and more. You won't find anything like this in the cold waters of New Zealand.
What Is the Australian Outback?
Marta from (A Travel Around The World) shares her experience this week from the Australian Outback and posts some amazing pictures.
The Outback
Making a generalization, Australia is a desert country, while New Zealand is a garden – completely different, but equally fascinating.
Australia's outback is an adventure like no other, with termite mounds tall as houses, cooling gorges, canyons, national parks, and of course the impressive Ayers Rock and Alice Springs.
The sunsets you'll experience in the red deserts of Australia are breathtaking, and looking out over a huge wide open space of "nothing ness" with a horizon stretching way out in the distance, is a big contrast from the usual "ocean sunsets".
Play with Dangerous Animals
When it comes to wildlife, Australia and New Zealand are as different as they can be. Australia has many dangerous animals, while New Zealand doesn't have any dangerous animals at all.
In Australia, you can dive with sharks, go on crocodile safaris, and visit numerous places showcasing the creepy spiders and snakes you can find in the bush.
On the flip side, it also has cute koala bears and other cuddly animals. The emu and the red kangaroo are Australia's national animals. The emu is the largest native bird in Australia. Red kanagroos are the largest terrestrial indigenous mammal and common throughout the country.
Have you heard of the kiwi bird? Not only does it not fly, the beloved kiwi is New Zealand's national bird and national animal.
Pink Hillier Lake in Australia
Hillier's extraordinary bright pink color makes for stunning photos found all over social media platforms. It's no Photoshop job, it's one of the world's few pink lakes and is caused by organisms and bacteria in the salt crusts. Needless to say, the bubble gum pink is unmistakable and incredibly beautiful.
Pink Hillier Lake in Australia
Australia or New Zealand travel
Many wonder if it's better to visit Australia or New Zealand. While both are surrounded by water, they aren't both considered islands. In addition, there are many topographical differences between Australia and New Zealand.
Australia has sandy beaches and desert areas. New Zealand is more recognized for its mountains, lakes and lush terrain and forests. It encompasses two main islands with several smaller ones.
English is the prevailing language in both countries. Both countries are former British colonies. New Zealand and Australia each have their own currency or dollar.
Is Australia more expensive than New Zealand?
When planning a vacation, many wonder: Is Australia or New Zealand cheaper? Overall, Australia is known to be more expensive than New Zealand. In addition, because it's also a more popular tourist destination, in the peak season, prices can also escalate.
As an example, we used a cost of living comparison between Australia's capital city of Canberra and New Zealand's capital city of Wellington. Grocery prices in Wellington are approximately 7% lower than in Canberra and rent prices in Wellington are 4% lower than in Canberra.
Australia or New Zealand which is better?
Think about what you would enjoy seeing and doing on your vacation. What type climate are you seeking? What activities would you enjoy? Do you want to explore mountains or spend more time at the beach?
If you are traveling from a part of the world where summer is June to September, you will also want to know the seasons are different in New Zealand and Australia.
If you are considering traveling to Australia or New Zealand in July, know that is the coldest time.
New Zealand weather
New Zealand is much more lush and green than Australia. While there are some tropical regions in Australia, such as Northern Queensland, the majority of Australia is dry.
The weather in New Zealand is wetter and more temperate. New Zeland has a maritime climate; it's also called an oceanic climate. This means it has cool summers and cool — but not cold — winters.
In New Zealand, spring is September to November with an average temperature during the day of 16 – 19 degrees C. (61-63 degrees F)
The warmest months in New Zealand are December, January, and February. New Zeland summers are from December to February. During the summer, the average daytime temperature is 20 – 25 degrees C (68 – 77 degrees F).
New Zeland's autumn season is March to May. They enjoy mild average daytime temperatures of 19 degrees C and 66.2 degrees F.
Mild winters in New Zeland make visiting there convenient. Winter is in June to August with average temperatures of 14 degrees C during the day (57 degrees F).
There are fjords, glaciers, and mountain ranges to explore in New Zealand.
Australia weather
Like in New Zealand, Australia's warmest weather is in their summer months of December, January, and February. The coldest months in Australia are in June, July, and August. Northern Australia experiences more of a tropical climate than the rest of the country with dry winters and warm and humid summers.
Australia has a continental climate. Precipitation tends to occur more often in the warmer months.
Must-See Sights in Australia: Uluru Views Like No Place Else
Go to Paris, you have to see the Eiffel Tower – go to India, you have to see the Taj Mahal – go to San Francisco, you have to see the Golden Gate Bridge – go to Egypt, you have to see the Pyramids.
Australia is such a vast country that being able to see all the "must visits" is difficult even for those living in the country, but when planning your trip to Australia, try to include at least a few of these places.
Uluru (often called Ayers Rock) and Kata Tjuta (also known as the Olgas) are located deep in the outback in central Australia.
Visitors can reach the area by 200 km car trip after flying into Alice Springs. Another option is to connect through Darwin or Adelaide with flights found. The area includes many breathtaking natural wonders and reveals some of the mystical heritage and culture of the Aboriginal people.
Spots to visit on your next trip to Australia
Located in the Red Centre, Uluru has to be one the most iconic sights in Australia.
Here you can learn more about the cultural significance of the area, you can do a base walk and meet some of the local wildlife (get ready for the ever-persistent Australian face fly), and you can take more photos than you thought possible – accommodation ranges from budget to luxury, or there is even camping – if you're brave!
Uluru is considered a sacred site by the Aborigines. The massive monolith extends 348 meters above the plane and over 2 kilometers below ground.
Uluru offers visitors a spectacular site as it changes colors throughout the day with the variations of light refraction. Uluru is composed of a sandstone and feldspar mixture called arkose.
Arkose is grey and white in color, but a thin layer of iron oxide coating over the mineral gives it a rust colored appearance.
As the sun changes position in the sky, the distance the light travels through the atmosphere also changes. Near sunset, the blue light waves of the spectrum are bent away, leaving high intensity red light waves to reflect off the rock providing spectators an incredible view of the magnificent red colored behemoth."
5 Interesting Facts About Uluru, Australia
It is one of the most widely recognized natural structures in Australia, and has become an iconic symbol of the nation throughout the world – however there is still so much that many people simply don't know about this incredible landmark.
If you're thinking of making the journey to witness the incredible red rock in person, here are 5 interesting facts about Uluru that you should know before you leave.
Size and Location of Uluru
Uluru is located west of the Simpson Desert and is 335kms southwest of Alice Springs as the crow flies, and the trip by road is actually 463kms. While some people believe it to be the largest monolith in the world, this title is actually held by Mount Augustus in Western Australia.
Uluru is 1.9kms wide, 3.6kms long and has a circumference of 9.4kms. The sides of the structure are very steep, while the summit is actually quite flat.
Uluru Appearance and Color
Uluru is known to undergo a series of color changes, from subtle differences when it rains to amazing transformations when caught by the spectacular sunset rays.
The rich red hue that it is famous for is due to surface oxidization of the iron content within the rock, without which the structure would actually be grey. The surface of Uluru is full of unusual corrugations, caves and holes due to millions of years of erosion.
Spiritual Significance of Uluru
It is thought that Uluru is some 600 million years old, with the Indigenous peoples of the area involved with the rock for the last 10,000 years. While now proudly sitting 348m above the ground, it used to be located on the bottom of a sea.
The bulk of Uluru's mass is actually beneath the surface, with estimates putting the depth at over 2kms underground.
Uluru is an incredibly sacred site to the Indigenous people of the area, and climbing of the rock is discouraged.
There is an amazing array of traditional rock art sites around Uluru, and to understand more about the sacred nature of the site, a tour with an Indigenous guide is highly recommended.
Uluru and the Olgas
The landmark of Kata Tjuta, often known as the Olgas, is a neighbor to Uluru and has an interesting link to the monolith. The 36 domes of Kata Tjuta and the structure of Uluru are thought to be originally part of the same land form.
This would have made Uluru an even more impressive monolith of monumental proportions, and would have dominated the landscape
If you're planning a trip to Uluru and want to ensure that you get the most out of your experience, consider booking a guided tour.
There's nothing like hearing about this amazing natural structure from one of the knowledgeable local guides, so check out the great range of quality Lost In Australia Uluru tours on offer. With such a rich history and deep spiritual significance, a tour of Uluru is truly the experience of a lifetime.
Kata Tjuta
This is a set of domes consisting of 36 formations. At its highest elevation, Mount Olga rises 546 meters.
Kata Tjuta are thought to have been at one time a single rock formation and the domes were created by weathering. Trails throughout the areas offer spectacular views designated sunset viewing areas are marked for visitors.
Both Uluru and Kata Tjuta are exceptional viewing areas for wilderness scenery with emus and kangaroos native to the region. Learn about driving in Australia before you go.
Window to an Incredible Culture
Because Uluru is the site of sacred ceremonies for the Aboriginal People; visitors are restricted from some areas. Visitors can become better acquainted with Aboriginal culture by visiting Pulari, a site where women came to give birth.
Other areas that men used for initiations may be passed along trails, but they are not to be entered because they are considered sacred.
Along the base of the rock many drawings appear that tell stories of "dreamtime" experienced by the Aborigines. Uluru and Kata Tjuta provide visitors with one of the most incredible experiences in Australia. The spectacular beauty of the location and the legends of the people create a one of a kind adventure.
Fraser Island
Want to meet a dingo? While it's not recommended that you get too close, there are dingoes a-plenty on Fraser Island. As the world's largest sand island, Fraser Island is perfect for 4×4 nuts and nature lovers alike.
Swim in the amazingly blue freshwater lakes, go fishing, explore the Maheno Wreck, climb sand dunes and go wildlife spotting. Camp out on the beach, or stay in a luxury resort – the choice is yours!
Sydney's Sights
With the Sydney Harbor Bridge and the Opera House, it's hard to beat the stunning Sydney skyline. Sydney is packed with things to do, from museums and art galleries, to Taronga Zoo, Luna Park, and the Sea Life Sydney Aquarium.
You can shop in designer stores or find a bargain at the markets. Picnic in the Botanic Gardens or sip cocktails 37 stories up. You can stay in an expensive suite, a unique hotel, or a cheap and cheerful hostel. Sydney hotels offer endless choices.
Great Barrier Reef
If you're heading up the East Coast as far as Cairns, then a visit to the Great Barrier Reef is a must. A true natural wonder, this Australian icon can even be seen from space!
Swim, snorkel or scuba dive the coral reefs to discover an array of sea life, including sea turtles, dolphins, and more than 1500 species of tropical fish. You can stay in a camper van beside the beach, or go all out in a resort, you could even take a cruise and sleep in your very own yacht.
Creative Tips for Saving and Earning Money for Travel
5 Reasons To Visit Cairns Australia
Sydney Australia City Guide
Australia By Train – Two Amazing Routes
Long have rail journeys inspired our cultural consciousness with their allure.
Since the brothers Lumiere took inspiration and captured one of the first, and most potent pieces of film in 1895 – The Arrival of a Train at La Ciotat Station, rail travel has embodied the principles of invention, curiosity and discovery which drove the industrial revolution nearly 200 years ago.
Australia By Train
Inexorable as their motion, trains as a mode of transport continue to captivate.
What could be more thrilling than to explore the Australian wilderness ensconced in a streaking bullet lined with comfort, pausing only for the culture and excitement of its various stops along the way on one of many rail tours now available to the public?
Ghan Railway
Racing through the heart of a vast and incredible continent, traveling on the Ghan railway unlocks scenes which elude the motor vehicle, and shrink in significance thousands of feet below aircraft.
The Ghan Railway
An abbreviated version of its former title, 'The Afghan Express', The Ghan is so named in honor of the Afghan cameleers who once traced a route across some of Australia's most inhospitable territories.
Slicing through diverse panoramas of earthy, russet plains, soaring mountain ranges and traversing both dry, arid landscapes and verdant tropical climates, the Ghan enables anyone to power past scenes of diverse and thrilling natural beauty, bisecting the continent on its trip from Adelaide to Alice Springs.
Sunlander Journey
The Sunlander is Australia's most popular rail journey, flying from Cairns to Brisbane, achieving 1681 kilometres in less than three short days.
Once a steam-hauled locomotive, it was converted into a more comfortable, air conditioned vehicle in the 1950s.
The Sunlander Journey
The stops on offer vary from tour to tour, although popular destinations include Sydney, Adelaide, Cairns, Alice Springs, Port Douglas and Barossa Valley.
The Telegraph Station Cultural Reserve in Alice Springs tells the story of how the painstaking process of the overland telegraph line was first put down across the continent –anyone on a rail trip will already have an interest in such things!
Barossa Valley is one of the world's greatest wine regions, bursting with green, sun-drenched vineyards and hosting annual Wine Shows.
The National Aboriginal Cultural Institute in Adelaide exhibits authentic artwork, as well as hosting didgeridoo and dance performances for its captivated guests.
Then, for more rail-related education, The National Railway Museum in Port Adelaide has giant steam locomotives to clamber inside, huge models of the switches used to change tracks and maps spread to show the principal routes across the country.
Best of all, it has a giant model railway, which shows in miniature the journeys traced across Australia by its formidable rail network.
Darwin
Find out more about Darwin's military history at the Defence of Darwin Experience, the East Point Military Museum, and the Australian Aviation Heritage Museum. Get up close and personal with some crocodiles at Crocosaurus Cove and Crocodylus Park, or feed the fish at Aquascene.
Wander round Darwin Botanic Gardens or Holmes Jungle Nature Park, take a dip in Douglas Hot Springs, or look back in time at Fannie Bay Gaol.
Canberra
Find all the "National" attractions in Canberra! Visit the National Gallery of Australia, the National Portrait Gallery, the National Museum of Australia, the National Zoo and Aquarium, and the Australian National Botanic Gardens.
Discover more about Australian politics in Australia's capital, at Parliament House, the High Court of Australia, and the Museum of Australian Democracy.
Hobart
See the famous Tasmanian devils at Bonorong Wildlife Sanctuary, take a trip up the iconic Mount Wellington, or stroll through the Royal Tasmanian Botanical Gardens.
Marvel at the natural wonders of South Bruny National Park or the World Heritage listed Hartz Mountains National Park.
Take a tour of the Cascade Brewery or the Tasmanian Museum and Art Gallery, or sample some fresh local produce at the famous Salamanca markets.
New Zealand
Despite its small size, on holidays to New Zealand you will find stunning diverse nature with everything from active volcanoes to steep fiords.
It is completely opposite from Australia when it comes to wildlife as well, where many birds naturally evolved into wingless birds because of the absence of predators.
WWOOFing in New Zealand ~ (Travel Interview)
New Zealand Hot Springs, Volcanoes & Geysers
Bathe in the healing waters of natural hot springs, watch geysers exploding several meters in the air in Rotorua, or dig your own hot water Jacuzzi in the sand at Hot Water Beach in Coromandel.
There are many ways to enjoy the hot springs in New Zealand, but whatever you choose you're up for a fun, unique experience.
While Australia has some hot springs, they're not famous for them, perhaps because it's too hot there to enjoy them anyway!
The country also has many dormant and active volcanoes and a volcanic island (White Island), with a beautiful green crater lake.
Ngaruhoe is the volcano featured as Mt. Doom in the Lord Of The Ring Movies.
Glaciers and the Southern Alps
While Australia does have some skiing, it simply can't compare to the Southern Alps in New Zealand.
Many people are surprised that skiing is even possible in these countries, but the truth is that New Zealand has some amazing glaciers and over a dozen ski fields for you to enjoy.
With much colder water temperatures, New Zealand is not always the best place for water activities, but there are two that truly stand out in all their glory;
the incredible fiords in the South Island, and the opportunity to go whale watching.
Exploring the New Zealand Night Sky
We spent just over 60 hours in total on buses for 3 months in New Zealand.
Spending so many hours on buses probably sounds horrific to you, but thanks to the bus drivers it was honestly enjoyable.
The bus rides with these New Zealand bus drivers felt more like long guide tours with travel guides who loved hearing the sound of their own voice than simply drive from point A to point B.
Every bus driver we traveled with had so many stories lined up for the whole ride, that they just simply wouldn't shut up.
Not that we wanted them to, they would tell both funny and interesting history of the landscape that was passing by the windows as we toured around the South Island.
It just amazed me how someone can talk uninterruptedly for five+ hours straight without caring whether anyone listened or caring whether people wanted to hear him.
These men just talked and talked and talked, and without having to say a word they shared their own biography along with the history of New Zealand.
Our brains overwhelmed with so much information it was hard to remember it all, but one thing we got straight:
Everything is World Famous in New Zealand
New Zealand must have the most 'world famous things' in the world!
Every single village, including those so small you had passed it before the bus driver had even finished mentioning it, was world famous for something:
World famous for the biggest loaf of bread, world famous for the biggest cookie, world biggest L&P bottle (as if L&P was sold anywhere else?), you name it.
It wouldn't surprise me one bit if someone one day said that New Zealand was world famous for having the most world famous things.
However, I'm not sure where they came up with saying everything is world famous, maybe the well known L&P slogan:
*World Famous in New Zealand Since Ages Ago…* says it all!
Movie Locations in New Zealand
New Zealand has been a popular destination for making films since the 1970's.
Using New Zealand as a location for filming has spiked in popularity in the last fifteen or so years.
Best of all, it's easy to visit many of these spectacular movie locations in New Zealand.
Begin your journey through cinematic history, start by looking at what car rental New Zealand has to offer, pick your vehicle and get ready to roll.
The Last Samurai
Watching Tom Cruise's the Last Samurai, it would be difficult to tell that the filming took place in New Zealand and not in Japan.
This movie was released in 2003 and centers around the traumatised American Captain Nathan Algren who, in 1876, agrees to train conscripts for the new Japanese Meiji government.
Algren is captured in battle and begins to embrace the culture of the Samurai he was initially hired to destroy.
During the filming, Mount Taranaki made a nice stand-in for Mount Fiji in Japan.
According to Maori legend, the mount once lived with other volcanoes on North Island, but fell in love with a hill called Pihanga.
The hill was the wife of another volcano, Tongariro and, after a fiery battle, Taranaki was exiled from the central region.
His tears were responsible for creating the Whenganui River as he fled to his current location.
This is also a great place to learn and interact with native Maori tribes.
There are eight tribes that still live in the region, and many experiences combine adventure with traditional Maori practices, such as going for a waka ride and following it up with a quad bike ride through native bush.
Chronicles of Narnia
While much of the adaptation of this famous and beloved book, the first in a series, was filmed on a stage, several locations around New Zealand were used for outdoor scenes.
The movie tells the story of two children who are magically transported into the fantasy land of Aotearoa and become embroiled in a battle between the brave lion Aslan and the frosty White Witch.
Locations such as Woodhill Forest, which was used for the White Witch's camp, were used in the movie.
Flock Hill
Just 90 minutes from Christchurch, this area was used for the Great Battle
Purakaunui Bay
South of Dunedin, the castle of Cair Paravel was superimposed on the cliff tops of this beautiful coast.
Elephant Rocks
This ancient outcropping of rocks became Aslan's Camp in 2004.
The town of Oamaru nearby makes a great base for exploring the area.
Lord of the Rings Trilogy
Perhaps the most well-known movie filmed in the area is the Lord of the Rings trilogy.
The tales of the hobbit and the Fellowship of the Ring against the vile forces of Sauron and the machinations of the One Ring are well-known to movie and fantasy buffs everywhere.
There were many locations used to film the movie.
New Zealand Movie Location highlights
Matamata, Waikato
Used as the hobbit village, Hobbiton, you can still peek into the hobbit holes that remain.
Kawaru River
This was the location of the iconic Pillars of the Kings on the Anduin River, though the pillars were computer generated.
Kepler Mire
Remember the creepy swamp with the floating dead? That was in fact the Kepler Mire wetlands of Te Anau.
Southern Alps
The treacherous Misty Mountains of Middle Earth the Fellowship tried to pass through in the Fellowship of the Rings were actually the Southern Alps.
The Shotover River at Skippers Canyon
This is where the elf Arwen defeated the ringwraiths.
Tongariro National Park
You might know this World Heritage site better as Mordor.
Fortunately, one can simply walk into Tongariro.
Mount Ngauruhoe
This active volcano is gorgeous.
It was also the body double for Mount Doom.
With so many great films having made such extensive use of New Zealand's beautiful natural resources, movie fans will love being able to visit the shooting locations of their favorite flicks.
Such a visit is sure to create memories that will last a lifetime.
On our way down to Queenstown we stopped over for a night in Tekapo.
It's a small village with only 300 inhabitants, set 750 meters above sea level.
It's the closest village to Mt Cook, the highest mountain in South Pacific, and the night sky in this place is out of this world!
At a place this high up and no city lights to lighten the sky, you could see so many stars that there is almost no space between them.
I woke up to go out for a pee in the middle of the night, and as I looked up I thought I was still dreaming.
First I just stood there for a few minutes looking up, thinking it was my sleepy eyes that was duplicating everything.
Then after I rubbed them and it wouldn't go away I realized that what I saw was real.
Exploring the New Zealand Night Sky
For some reason I thought it would disappear from me any minute, so I threw myself back into the tent shaking Nathan ferociously, almost in panic, to wake him up and come out to see it.
I have never experienced something so amazing since, and any pictures you see really can't do it justice!
What made Tekapo such a beautiful place was the lake.
It had the most amazing color of turquoise.
Milky, thick and bright.
It looked very tempting, but turned out (after I had a dip) that it was only 8 degrees COLD!!!
More about this next week – have a wonderful weekend & see you here again on Monday!
24 Hours in Christchurch New Zealand
Christchurch, also known as the garden city, is one of the oldest cities in New Zealand.
It's a small city with a lot to offer and a great balance between outdoor life, culture and shopping.
Power-Start New Zealand Breakfast
Start the day with a power-start breakfast at the Lotus-Heart Cafe, a cafe which has a focus on healthy eating and strives to create a global cuisine naturally.
You will find it in Cathedral Square, on Colombo Street, where you can also get a close up view of the wonderful Christchurch Cathedral.
The best way to understand why Christchurch has its nickname as the garden city is to simply go to the Christchurch Botanic Gardens – which is FREE.
It's a beautiful park to walk around, smell the gigantic flowers and admire the massive trees.
The best part for me was the rose garden, which included a wide variety of flowers.
You will find many chances to practice your nature photography.
The Canterbury Museum
After a nice walk in the gardens, make sure you stop by the front gate and have a look inside the Canterbury Museum.
Where once inside you will have a chance to learn the history of the local area and it's Maori culture.
The Arts Center

Visit the arts center, where you will find a maze of over 40 specialty shops, workshops and galleries.
Also every Friday there is a farmers market and on Saturdays it's the weekend market where the square is packed with over 80 stalls selling all from hand made bags to food from all corners of the world.
New Zealand Shopping

Walking around central Christchurch, will give you a chance to do some window shopping.
Take a look into the Cosmic Corner shop where they sell legal drugs.
Which are natural, legal and claim to give you a similar feeling to real drugs… interesting!
New Zealand Lunch
A great lunch option is sushi. It's around almost every street corner, and there are so many varieties to choose between, all from chicken to vegetarian sushi.
The quality of the sushi in New Zealand is in general really good as well.
Beach Walking At Brighton Beach

Spend the afternoon at the beach, relaxing in the afternoon sun (which is the best time to be out at the beach in NZ, without getting too burnt), walk along the beach and enjoy the waves.
'Two Fat Indians'
Have some curry at the Two Fat Indians Restaurant, which serves up great food for an amazing price.
This is some real Indian food, so don't ask for spicy, Nathan made this mistake and it was HOT! – but great!
They have great lunch offers as well, so if you like to eat early you can get a great deal before 3 pm.
New Zealand Tequila or Coffee To End The Day?
Check out the SOL square (the hub of South of Lichfield), an alley full of bars and cafes, decorated with some cool street art.
In this part of town you will find a little something for everyone.
What to do in Christchurch New Zealand
If you have a spare day in Christchurch, I recommend checking out the Port Hills.
It's a beautiful place with the best view over the city, the ocean and all the way over to the Southern Alps.
It's a perfect place for a picnic, go for a walk or enjoy some mountain biking.
This is where you can find many locals hanging out in the weekends. Hope you have a great time exploring Christchurch New Zealand!
Weird Light in Limestone Cave, Punakaiki, New Zealand
This photo was taken while we were exploring limestone caves in Punakaiki on the West Coast of New Zealand's South Island.
I think its amazing what nature itself can create and share with us in the most random of moments.

Camping in New Zealand
We were more than eager to leave Sweden for our road trip, so as soon as we thought we had enough money to survive for a while we packed our bags and left.
We didn't really know what to expect, but figured that time would tell. And pretty soon, it did.
If I would have known before we left what lay before us I'm not sure I would have left so soon.
The trip was amazing, but the thought of traveling for 3 months in a broken tent doesn't sound very appealing.
Well, I'm glad I didn't know, because it was a crazy experience that I learned a lot from and I wouldn't have changed one bit of it – although I may not have felt that way back then.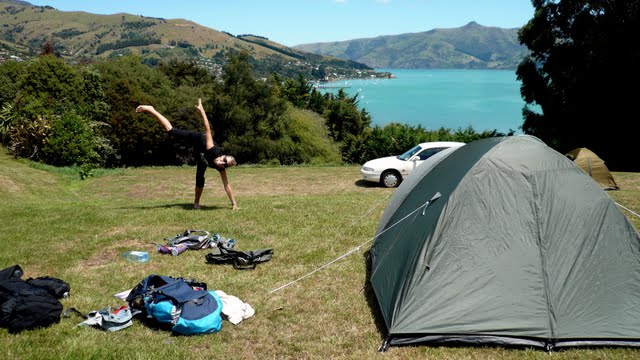 We realized how 6,000 US dollars each to last us around the world for 8 months wasn't quite as much as we initially thought, and New Zealand also turned out to be a bit more expensive than we were expecting.
We refused to have come all this way escaping a slavery job in Sweden, only to continue to the next in New Zealand.
We swore we would make this work no matter what.
So we were dedicated to find the cheapest way to travel around New Zealand, which for us turned out to be by bus and a 2-man tent.
I had never gone camping in my life, and neither of us knew anything about tents or the camp life. Since our minds were just installed on finding the best deal, we found a tent called 'Frank'.
The name and the price tag made it an easy decision, Frank would be our home for the next few months.
When we went to buy the tent, the salesman first looked very puzzled, and then he broke out in a laugh.
He said that this tent was so bad they usually gave it away for free when buying another tent and was used for the kids as a playhouse.
He also said that the staff crew had made a deal; if anyone managed to SELL the tent, he would have to buy everyone in the staff a beer – that's how lousy the tent was.
And that's – obviously, how good our judgement was…
The best thing traveling around a country with a tent is that it's cheap, you won't have to bother about hostel manners, and you're always assured to get a 'private'.
What was not so fun was to pack up and down our house every single day.
Not to mention carrying 7 kilos of metal bars and fabric around everywhere, to wake up shaking in the cold, and to evacuate from it whenever it over flooded in the rain.
Backpacking around with a tent showed us a whole new side of New Zealand.
We were able to stay in places we wouldn't have been able to do before, and we were forced to spend most of our days outside.
But what was the most important lesson was learning how to live so close to your partner 24/7.
We had to create some alone-time from each other while sharing a space of 2 x 2 x 1,5 m.
The most important things we did to be able to survive without killing each other and tearing down the already broken tent, was to look at it all from a perspective.
Laughing at yourself is the best cure to everything.
Laughing at your situation, and finding every little positive thing about what you're doing.
Look at the possibilities and ignore the bad sides, even if it might be difficult sometimes.
Best New Zealand Road Trip Music!
There we were, in my old car from -84, driving in the afternoon sun with the windows turned down.
Everything was just about as perfect as a road trip could be (except we didn't have surfboards on the rooftop, but that didn't matter much).
There was however something missing, something VERY important.
Where was Phantom Planet and Janis Joplin?!
Our road trip had suddenly turned into a dull trip-with-the-car.
You can't go on a roadtrip with Jay Z and Katie Melua as your only music, road trip music MAKES the trip, singing along to good old songs about cars and travels, with your feet sticking out the window.
A road trip without proper road trip-music is like a fish'n chips without the chips!
New Zealand Trip and Dolphin Watching in Akaroa
During our New Zealand Trip, the weather had been unsteady during the week, but when I woke up that morning the weather was incredible, blue skies and sunny. 'Let's go NOW!' I said as I eagerly shook Nathan to wake up – we were off to Akaroa.
20 minutes later the bus tickets were booked and we were on our way.
Dolphin Watching In Akaroa
Akaroa is a French village, close to Christchurch in New Zealand and they had really kept their french culture.
All the street names, shops and people had French names and the French flag was proudly flying above every house.
France tried to make New Zealand a French colony, but came slightly too late – they then tried to make the South Island a french colony, but when they finally arrived they were too late for that as well.
They were only 10 days behind the British, but since they came too late – they were only given the small town of Akaroa to settle in (still under the British rule) and since that day it has kept its French 'origins' – Nathan is from New Zealand, and I can't even imagine if he had come from a French background instead! :p
Dolphin Watching in Akaroa, New Zealand
We took a ferry around Akaroa Harbor, and we saw over 20 Hector dolphins, they are the smallest, rarest dolphin in the world, and usually you can only catch a glimpse of 4-10 of them – if you're lucky.
I guess we were very lucky to see so many, we also saw one tiny baby dolphin swimming with its mother, it was only a week old!
surfing new zealand
We managed to catch a glimpse of the world's smallest penguins, they were so small and looked kind of lost in the big sea, you just want to swim out and hug them.
Make sure you watch the video below, and see if you can spot the baby Dolphin!
Surfing in New Zealand & Australia
We got stuck in the 'poor-man-mindset' for a while, and were discussing while in New Zealand & Australia last year, whether we would buy ourselves a full body board set (rash top, fins, board, board bag) or not.
We really wanted to, but it was a lot of money and what would we do with everything once we left a few months later?
Luckily, we got over ourselves, bought the boards and fins (plus a mega huge board bag..!) and had the time of our lives.
Honestly, I was completely freaked out by the whole surfing thing at the start, and once Nathan showed me some 'real' waves my first thought was "Is this guy crazy?"
I couldn't understand how he could really think that I would willingly, let alone happily, throw myself out in THAT?
Only a person without any fear or brains would do that! With my legs shaking and my heart jumping I paddled out. And got wiped out.
Paddled again.
Wiped out.
"It gets easier once you get past the waves!" Nathan yelled out.
After having swallowed half the ocean, I finally learned how to get passed the waves, and pretty soon I was even starting to enjoy it.
Nathan was like a fish in the water on his board. From him I learned that surfing was more than just a sport – it's a state of mind.
The peace you experience in the early morning hours out there in the water is a feeling you can't describe other than that you feel like a free spirit.
You feel the connection with nature, you realize what life is really all about – you feel that freedom of life.
But before getting *out the back* – as they say… you have to get passed all the crashing waves.
It's just as much of a mental challenge as a physical one, and if you don't stay focused you'll give up.
Giving myself another month and I had fallen deeply in love with this *sport* – thanks to Nathan and the beautiful waves we experienced together.
Have you fallen in love with a sport on your travels?
Tell us about it! Here is a video of Nathan – well see if you can SPOT Nathan somewhere in all the big waves – a bit too scary for me!
Hot Water Beach, New Zealand
I'm sure you have heard of sand on the beach getting so hot from the sun that it's hard to walk on – but have you heard of sand becoming SO hot that is makes the salt water boil?
The thought of digging your own pool on the beach, with hot water appearing from the ground as you dig would be something of a fantasy – only this is real… this is in New Zealand.
We sat there in the early hours of the morning in our own hand-made spa here at Hot Water Beach which is located in the north island of New Zealand – such a crazy but completely amazing experience.
You can only build these pools during low tide, so you can only do this twice a day.
The evenings are normally packed with people, so try and do what we did and get up early.
We had the whole beach to ourselves!
At some places the sand and water was so hot your feet burned when standing there.
You can see where to dig as the steam rises from the ground.
how does this all work?
Hot Water Beach, New Zealand
This photo was taken while we were exploring Hot Water Beach in New Zealand.
There was such amazing light on that morning as the sun came up.
The reddish color from the sun, brought out by the volcanic rock – added so much more effect to that danger sign.
Hanmer Springs, New Zealand
First time we tried out our newly purchased tent
(check out: How We Survived Camping In A Broken Tent For 3 Months In New Zealand )
was a 6 days trip to Hanmer Springs and Kaikoura in the South Island of New Zealand.
We returned to Nathan's parents' home after 6 days, so happy to have survived for SUCH a long time.
If only we knew we were about to spend another 3 months in that tent… but that is another story.
There wasn't much to see in this little village, as Hanmer Springs is located on basically only one street, but it has something pretty cool – natural hot springs.
When I heard about this I was amazed, but we were soon to discover (over the next 3 months) that hot springs are pretty much everywhere in New Zealand. "Not another f**kin one!" we would scream!
But this blog is about the happy days before we knew that, and at this magical place in Hamner Springs, these hot springs were the best thing in the world!
Don't ask me how it works but they have designed a series of natural-looking rock pools and rivers which are fueled by this natural hot water coming out of the ground.
Lying in these pools was one of the most relaxing and amazing feelings in the world.
Perhaps you usually don't enjoy swimming in the rain or snow, but when you have a dozen of small 40 degree outside pools to soak your tent-beaten body in – then it's perfect – even if it did have a rather odd smell of rotten eggs.
Things To Do In Queenstown, New Zealand
Location: South West of New Zealand's South Island
Currency: NZD, New Zealand Dollars
Language: English
Short History: Before the Europeans settled in Queenstown, the Maori used to visit seasonally to hunt Moa (an extinct bird) and gather green stone.
When gold was discovered in the Arrow River in 1860, people came from across the world just to dig for gold.
Today it's known as the adventure capital of the world and draw thousands of tourists every year.
Queenstown Travel Guide
There is no better place where you can get the combination of adventure, nature and beauty than in Queenstown.
What used to be a small village has now turned into the bustling hub for nature-loving adventures.
Beautiful nature surrounds the town and you will find many adventure attractions:
Skydiving, skiing, mountain climbing, bungy jumping, mountain biking – you name they have it – but don't worry Queenstown isn't just about the fun, crazy adventures, there are also many beautiful things to see and fun things to do without added adrenaline.
Most activities here include some type of outdoor adventure, and for the fearless this is pure paradise.
Queenstown itself is a very small town, and many of the things to see and do are within the wider Queenstown area, so be aware that you'll have to get yourself outside the actual city center to enjoy many of the activities and history.
Queenstown Hill:
Queenstown hill is a great place to spend a day.
Take the gondola or hike up the Queenstown hill (it takes about 2 hours to walk the whole way up – yup we tested this!), enjoy the amazing scenery and take a few rides on the Luge.
If you dare you can also try bungy jumping over the trees, or paragliding from the hill.
Sheep Farm:
Take the 98 year old steam ship (coal-fired) TSS Ernslaw over Lake Wakatipu to visit Walter Peak High Country Farm.
At the farm you get an insight in what farmer life is like in New Zealand.
You get a tour around the farm, have 'afternoon tea' and watch a sheep shearing show.
Arrowtown:
Only 20 minutes away from Queenstown is Arrowtown, an old gold mining town.
Try your luck with gold panning, take a tour around historic buildings and the Chinese Miners Settlement where some houses are still intact.
This is a great place to buy gold jewelry and learn more about New Zealand gold mining history.
Adventure Sports:
Queenstown is the perfect location for adventure with its lake, rivers and mountains.
Jet boating
Bungy jumping
Mountain biking
Rafting
River surfing
Skiing
Kayaking
4wd Rally Driving
Paragliding
Getting There & Around Queenstown, New Zealand
You can get to Queenstown by car, bus and they also have an international airport.
Queenstown, New Zealand By Bus
Most major NZ bus companies operate routes to and from Queenstown.
Intercity, Naked Bus, Magic Bus are a few examples.
Queenstown By Air
The airport is only 10 minutes away from town, and you can fly here with Qantas and Air New Zealand.
Domestically, there are several connections each day from main New Zealand centres.
Air New Zealand flies direct from Sydney and Melbourne year round with Qantas offering a winter services out of Sydney and Brisbane.
An airport to town center bus operates daily between 6:30am and 11pm.
Service to and from all major Hotels & Motels, Airport, Sunshine Bay, Fernhill, Frankton, Remarkables Park Shopping Centre & downtown Queenstown.
Bus shuttles cost 10 dollars (discounts when you're more than one person) and a bus 6 dollars.
Getting Around Queenstown
The city center is small enough to walk around, but if you want to really make the most out of the whole Queenstown district the best way is by having a car.
However, if you've booked a tour package for adventure activities the transport is usually included in the price.
Queenstown also has a small local bus operating system called connectabus, which runs in 3 routes.
The price depends on how many zones you travel through.
Where To Eat Queenstown
The cheapest option would be to buy food from the supermarket and cook it at the hostel, but if you want to eat out I really recommend Sombrero's Mexican Restaurant.
Cozy environment and great food that fills you up!
You can find the restaurant on the main street among many other pubs, restaurants and eateries.
Where To Stay Queenstown
A popular hostel with a young atmosphere is Nomads Queenstown Backpackers.
It's nice and clean, has a lounge area with a fire place, free breakfast and even a sauna!
It also has a really good location in town, which is always a big plus.
New Zealand Road Trip!
Let's Start The New Zealand Road Trip!: Originally, I was offered a Toyota Previa 2.4L auto 'people mover' for the road trip.
These are great vehicles, but with a 2.4L engine and automatic transmission (and all the weight from the extra seats etc), this vehicle was going to be just a little too thirsty!
Then, I could buy a '94 Nissan Sentra 1.6L auto from my Dad's work for $1000, and if it still worked when I was finished with it, they would buy it back off me for $1000.
Great deal! Except the night before the vehicle was going to be delivered, it was crashed and written off by the owner's daughter…Plan C: I'm now able to borrow Penny's (my Dad's partner and soon to be wife! '92 Nissan station wagon 1.6L manual (yay! )
Today I spent some time preparing the vehicle. I changed the air filter and spark plugs, re-filled the wiper fluid, filled the spare tire, and adjusted the pressure in the other 4 tires.
I'll load it up with a tent, mattress, gas cooker, water bottle, spare fuel canister, my belongings and myself, and begin the road trip tomorrow morning.
I can't quite remember how, but somehow we ended up at the most random camping ground in the middle of nowhere in the north island of New Zealand.
We had heard the beaches were nice for surfing, but it turned out that the only way to reach the beach was by car.
Luckily we got to borrow an old truck from a farmer living nearby.
This is one of those times where you really love how open, and friendly the New Zealand people are.
The fact that someone lets a couple of strangers take his truck and use it as much as they like whenever they like (using his petrol) wanting nothing in return – is amazing!
When people trust each other and believes the best of others it gives me hope.
Besides, how could you possibly have the heart to let down someone who shows that trust in you?
That is why I took great care of that ol' truck, and treated it like fragile glass.
Yes, that's the reason I drove 15 km/hour along the road, not because I was shit scared to be driving on the 'wrong' side of the road… :p (After 5 minutes on the road we had a whole following of 6 cars driving behind us trying to get past)
New Zealand Road Trip – Eltham – Mt. Damper Falls – Whakapapa – Taupo: 388km
Right now I'm sitting in the car at the top of Whakapapa ski field, where the winds are gusting well over 100km/h.
The car is shaking pretty violently but hasn't been blown away just yet!
Having said that, a huge gust just rocked the car so I'm heading down the mountain to keep writing this entry.
A bit further down the mountain now on the sheltered side, The weather has been rough today, with high winds and grey skies, making for some rather dreary tourist pics.
Earlier this week, over 15,000 lightning strikes were recorded over a 24 hour period in the North Island, which gives you an idea of the less-than-ideal Summer weather in this part of the country right now!
I don't mind the stormy conditions here though – in fact, I like this sort of wild and raw mountain weather (clouds have now enveloped the car and giant rain drops are pounding away at one side of the car in a good ol' horizontal deluge).
Mountain weather can change in an instant, especially with these winds, so I'm going to hole up here in the car for a while until the worst of the storm blows over. (At least the car is getting a decent wash after the dirt roads through 'The forgotten highway' today! : ).
I've traveled down off the mountain now and am holed up on the shore of lake Taupo.
There are torrential downpours and the visibility is more or less zero.
A bridge further east of here was washed out, cutting of a small community, and well, it looks like this weather will be settling in for a while.
I managed to get a few pics and short panoramic videos recorded earlier on today though, before the weather took a turn for the worse.
NZ Road Trip Auckland – Raglan – Eltham: 576km
Leaving Auckland early this morning, I got stuck in the infamous Auckland rush hour and thought to myself "I am sooo grateful I don't have to do this every morning!"
There are plenty of sights in Auckland, and again, I'll attempt to take in a few on the way back north at the end of the trip.
From Auckland I stopped off at Bombay for a break and to make some phone calls, and then headed south to Ngaruawahia where I saw a sign for Raglan – a local surf beach, and took the road out to the west coast.
Raglan is a place I'd never been before, which is not surprising as it is a little off the beaten track.
However the trip out to the west coast was worth it, and the weather here today was very hot, sunny, and humid.
I planned to take a road around the coast from Raglan, but that had been closed.
So I doubled back and took a smaller road through some farmland – the road ended up turning into gravel, and then more or less a 4×4 track, so I doubled back in favor of a more major inland road, eventually hitting the coast again before arriving in Eltham, where I met up with Jack Lauderdale, my trumpet teacher and mentor.
I'll be staying here in Eltham and catching up with Jack until the end of the week.
I'll resume the blog entries (starting at Day 4) once I'm back on the road again.
NZ Road Trip Taupo – Huka Falls – Taupo – Vinegar Hill: 225kms
I left Taupo early this morning and headed south.
After about 10 kilometers I realized I probably wouldn't be travelling north through this road on the way back up the country, and did a U-turn (after a breakfast and exercise stop) to head for the Huka falls, just a few kilometers north of Taupo.
After taking a few pics I headed south back through Taupo, and up onto the Desert road.
On a clear day, you'd be able to see the tops of the volcanoes, but as the weather has been rough, all that could be seen was a lot of cloud.
Mid afternoon I planned to head east to Dannevirke (settled by the Danes), but stopped off at a rest area near Vinegar Hill.
The sun has finally come out, and so has the humidity.
The water level on the river here is high and the color of the water is muddy brown – sediment washed into the river by the torrential downpour last night no doubt.
Some of the major inland roads are also closed today due to slips and flooding – better avoid those ones for now.
So, I'll be sleeping here tonight, before heading on to Dannevirke and then south again to Wellington, where I may stay a couple of days.
NZ Road Trip Vinegar Hill – Dannevirke – around Wellington: 359kms
This morning I packed up at the Vinegar Hill campsite and headed for Dannevirke – a town founded by the Danes.
On the way to Dannevirke there was a spot of good weather, and I managed to get some pics at place overlooking some farmland.
Finally, the top of Mt. Ruapehu was in sight (2797 meters), and still with a little snow left as well.
On the radio I heard a short broadcast about the Christchurch tourist board.
They'd had some interesting questions in recently, such as "Can you drive to the top of Mt. Cook?" (A peak nearly 4000 meters high in the middle of the Southern Alps) and "What currency do they use in the North Island?"
I drove through 3 gorges today, the last of which was the Rimutaka ranges.
The road at the top was enshrouded in a thick layer of grey cloud, so no pics there sorry!
On the way down I stopped off at a park for a break.
The weather on this side of the ranges was great, so I went for a short walk down to the river (used in Fellowship of The Ring).
Then I saw a sign for Rivendell…without realizing it, I'd stumbled across a section of forest used as the set for Rivendell in The Lord of The Rings films hehe.
After Rivendell, it was a short drive into the capital, Wellington. More about Wellington tomorrow…
Farmland with Mt. Ruapehu in the distance
NZ Road Trip Wellington – Kapiti Coast – Eltham: 320kms
The song goes, "You can't beat Wellington on a good day", and today is definitely a good day!
The weather is perfect for a day in the capital – sunny and warm with excellent visibility.
After staying the night in Johnsonville, I drove into town and headed straight for Kelburn to see some of my old flats.
Driving around the Wellington suburbs is amazing.
The first time I was here in 2001 I had a map – but paper maps are only in 2 dimensions, and this is definitely a 3 dimensional city!
So, due to the hills, there are roads and walkways in all directions, including up and down, and 2-D maps can only give you a rough idea of where things are.
The many tunnels and over bridges combined with narrow streets here make driving a challenge, but also a lot of fun.
Somehow, a mental map of Wellington came back into my mind here as soon as I arrived and I could navigate the labyrinth without any problems – a little different to my first few weeks here in 2001!
After seeing the flats, it was off up the Brooklyn hill, where Nathan and I had biked up one morning, before collapsing at the top haha From there, a steep climb (2nd gear almost all the way) up into Brooklyn itself, then up again to the wind turbine, where Nathan and I used to practice long notes early in the morning (there was no hail storm today though! )
Then back down the hill again and around the Wellington coastline.
This is an amazing drive with few places to stop, but again, I wasn't going to try to film it whilst driving hehe Lunch today was good ol' Lyall Bay takeaways – fish 'n' chips – first time for nearly 7 years!
My plan to travel around the South Island is going to have to wait until next time.
It's been a pretty hectic road trip so far, and it would be better being able to spend a bit more time in each place.
From what I've already seen of the South Island, and from what I hear, it is a lot more scenic than the north, which means I'd probably want to spend a minimum of 2 weeks there to take it all in.
As I need to be in Kerikeri again in the last week of February with rehearsals in Auckland before that, as well as lectures to prepare for early March, a full South Island road trip isn't possible this time around.
Parking in Kelburn (great for practicing parallel parking )
Kapiti Island New Zealand – from Pukerua Bay
NZ Road Trip Eltham – Paeroa: 380kms
Today was a 6 hour drive in hot and humid conditions through mostly farmland on the way from Eltham to Paeroa.
I've avoided the geothermal tourist trap that is Rotorua on this trip, but there are plenty of other areas with volcanic activity around the place. Te Aroha is one I stumbled across today.
Mt. Messenger New Zealand
Te Aroha Geyser Paeroa – World Famous In New Zealand ;)
NZ Road Trip – LAST DAY! Day 10 Auckland – Kerikeri: 244kms
Today marked the official final leg of the North Island road trip: 3819 trouble-free kms travelled in total.
It's been an amazing trip, although far too brief!
The time here in NZ has gone all too quickly, with only 2 weeks left…Next time I'll definitely allow for a couple of months extra!
As mentioned in the previous entry, work has been flowing in recently, and I'm now back in Kerikei and busy with final preparations.
I'll be heading back to Auckland on the weekend, with a workshop/lecture at Auckland University on the 1st of March, then conducting stints on the 2nd and 4th, and a final workshop/lecture and brass masterclass at Waikato University on the 5th of March, before heading back up to Kerikeri to drop the car off and board the first of my 4 flights back to Sweden on the 8th. More pics of this final leg of the road trip to come…
Things to do in Wellington
Often basking in the shadow cast by popularly celebrated Kiwi retreats such as Auckland and Queenstown, it is rather easy to forget that New Zealand's capital city Wellington also boasts wonders of her own with many things to do in Wellington.
New Zealand is best traveled by car so you can take in that world class panoramic views on isolated highways and for those embarking on self-drive tours of New Zealand's North Island; Wellington is approximately just over a seven hour ride away from Auckland with a total distance of 395.3 miles.
Sitting at the base of the North Island and ringed by mountains – notably Mount Victoria – the city exists in idyllic surroundings given her location on the Cook Strait where a splendid harbour and boutique eateries are never a million miles away from rural backwoods and hiking pursuits.
Top 3 things to do in Wellington
Scale Mount Victoria
Already mentioned in our introduction, Mount Victoria is the perfect lookout spot over central Wellington and her surrounds.
Rising to 740 ft, the peak allows travelers to complete a 360 degree turn at the top, witnessing Wellington Airport and the high rise CBD in the foreground while rolling mountains collide with typically rainy, yet marvelous looking clouds and the waters of Wellington Harbor and further afield, the Cook Strait.
This is definitely one for those fascinated by geography.
Wellington Cable Car
Things to do in Wellington
One of Wellington's most cherished treasures; you'll be fascinated to hear that the Wellington Cable Car has been running for as long as over 100 years with the attraction celebrating 110 years of service in 2012.
Running from Lambton Quay based in the city center to the Kelburn Lookout – another great panoramic spot – the attraction is much more than a ride alone and at the latter terminus, the Carter Observatory and Cable Car Museum mean you can lose yourself for the best part of the day while marveling at two of the original cable cars that took to Wellington's hilly slopes way back when in yesteryear.
Te Papa Tongarewa
Wellington is home to New Zealand's national museum, or in Maori – Te Papa Tongarewa.
Situated right down by Oriental Bay on Cable Street, the museum reinforces and places emphasis on the importance of Kiwi culture and being.
Boasting six floors of exhibitions – with some carrying a small fee – general admission to the facility is free; meaning a great interactive, fun and intriguing day out can be had for next to nothing.
4 Best Festivals In Australia
Best Festivals In Australia: Attending local festivals when traveling is one of the best ways to get an insight into the people and the culture of the place you're visiting – you get to try the local traditional food, listen to their music, watch performances and mix with local people who are all there to enjoy themselves.
Becoming emerged in the culture and traditions of festivals, I've often found myself dealing with culture shock after culture shock, but having fun doing it.
If you have the chance of staying in Australia for a longer period, you might be able to fit one of these festivals into your itinerary, because attending a festival gives you that opportunity to really find out what the country is all about…
Melbourne Food & Wine Festival
Food – not only from East Asia, but from all over the world – is obviously the focus of the Melbourne Food and Wine Festival – it's a definite highlight for all gourmet travelers interested in the art of cooking and quality cuisine from every continent.
Whet your appetite, and regale your taste buds with regional victuals, international recipes, and the creations of global stars in the kitchen.
From Indonesian ikan panggang (grilled fish in banana leaf) over French-inspired méli mélo of veggies, herbs, and flowers to tropical coconut risotto with nori seaweed – there's literally something for every taste!
National Folk Festival
If you need to get rid of all those superfluous calories, perhaps you should arrange a visit to the National Folk Festival in the Australian Capital Territory.
As the name implies, it features plenty of musical acts with various ethnic roots and inspirations:
Aboriginal performers, Klezmer ensembles, Celtic fiddlers, Cajun musicians, brass marching bands…
Moreover, the folklore festival will get you moving, too.
It's also famous for its numerous dance performances, venues, and workshops.
If you have ever wanted to take part in an Irish Ceili, unleash your passion in a sensuous Argentinean tango, or try historical "bush dancing" at an Australian Colonial ball, this is your chance.
Twilight Parade
In 2012, the spectacular Twilight Parade with its projections, lanterns, and illuminated floats attracted over 100,000 enthusiastic onlookers, and Sydney aims to make next year better than ever.
If is important to book your hotel in Sydney since they will ensure that you get the best price regardless of what festivities are going on.
On the following days, you can cheer on local teams in the Dragon Boat Races, shop for Chinese gifts and crafts among numerous market stalls, or taste authentic dishes from Sichuan.
This Chinese province is renowned for its joie de vivre and spicy food, like hot pot, Mapo tofu, or Dan Dan noodles – yum!
National Multicultural Festival
The National Multicultural Festival in Canberra has grown from a smallish event organized by the local Ethnics Communities council into a three-day celebration of multiculturalism in Australia.
In February 2013, the representatives of other a dozen African nations, of South Asian associations, of Greek and Turkish immigrants, of various Latin American performance groups, several EU member states, and the indigenous population will come together to showcase their respective heritage in Australian society.
The Greek Glendi with its food market and the famous live acts at the opening concert are particular favorites.
All over Australia, East and Southeast Asian communities are going to welcome the Lunar New Year, which ushers in the Year of the Snake.
Among these many celebrations, the Chinese New Year in Sydney is probably the best-known.
Have you been to any of these festivals?
There are many other differences between these two countries, but these are the first that come to mind.
What differences do you think of when comparing New Zealand vs Australia?
Best Time to Visit Australia
Best Water Parks in Australia
New Zealand vs Australia
Cairns Australia
Sydney Australia City Guide