Which are the top 10 best luxury safari camps in Africa? This is of course debatable as it's not always the most expensive which are the best. What makes one better than the other all depends on what exactly you want from your safari.
Nevertheless here is a list of Africa's top 10 most famous and unique luxury camps, well worth a safari holiday.
Best Luxury Safari Camps
Cottar's 1920s Camp, Maasai Mara, Kenya
This camp is furnished fully with antique campaign furniture and boasts some of the most romantic and spoiling tents in all of Africa. Run by the Cottars, whose tales of ancestors explorations in Kenya are second to none, this family run friendly camp oozes class and glamour.
Famously used in numerous fashion shoots over the years, this camp is also based on a private concession with abundant game. You'll never be bothered by the so-called crowds of the Maasai Mara.
Sand Rivers Selous, Selous, Southern Tanzania
This lodge is world famous, and it's hard to explain why. The magic of its location is very hard to put into words. Set in a remote corner of the Selous with magnificent views of the Rufiji River complete with hippos, crocs and other game species, this lodge is ultra luxurious and offers a relaxing and homely atmosphere.
You feel like part of a gang. The guides here are sensational and their tracking is second to none. The light here is almost ethereal which we think must be why the place seems so magical.
Zarafa, Okavango Delta, Botswana
Zarafa has just four tents, although it's hard to describe them as tents. They come complete with roll top copper baths, sitting rooms and four poster beds.
The views of the lagoon mean that game viewing can take place from your veranda. Set in the vast Selinda Reserve once again you are guaranteed not to see another soul when game viewing from this exclusive camp.
Chada Katavi, Katavi, Western Tanzania
This camp may not be the most luxurious compared to the others listed here but it's location is one of the most sensational in all of Africa. Katavi National Park represents Africa 50 years ago, vast spaces without camps or tourists and with abundant game.
Here you will still see huge herds of elephant and buffalo, and predators around every corner. Chada offers fly camping, walking and game drives so you can really explore the bush, and feel as if you're the first person to see it all.
Tswalu Kalahari, South Africa
This luxury lodge has been leading the way when it comes to desert camps for years. The Kalahari forms such a major part of Africa and its black maned lions, vast red sand vistas and habituated meerkat families cannot disappoint.
Tswalu is modern and chic and the desert lifestyle here is romantic and incredibly rewarding.
San Camp, Makgadikgadi Pans, Botswana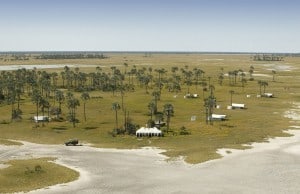 Onto another desert camp – San Camp is all Moroccan tents and white flowing fabrics, furnished with Persian rugs and antique campaign furniture. Set on the Makgadikgadi Pans this camp must feel as it feels to be on the moon.
This area is magical with doum palms springing from nowhere, the San bushmen as guides, quad bikes, horses, star gazing and meerkats to name but a few of the life changing experiences you'll have whilst staying here.
Saruni Samburu, Samburu, Northern Kenya
A large part of the charm of this luxury lodge is the charismatic local Samburu who run it. They have the best sense of humor and look elegant and beautiful in their brightly colored shuka and beads.
The views from the lodge are breathtaking and you can often see elephants and other game below. In fact the rock where Saruni is built is a favorite place for leopard. The lodge itself is very spoiling and fits beautifully into its surroundings, the rooms are enormous with private verandas on which to while away the hours.
Wolwedans, Namibia
Wolwedans in Namibia is a vast private reserve, which has several accommodation options, each more luxurious than the first. Here the emphasis is on desert life and the vast mountains range from purple to bright red. Star gazing here is also second to none and one has never felt so remote as you feel here.
Londolozi Granite Suites, Sabi Sands, South Africa
The Granite Suites on Londolozi ooze exclusivity and boast some of the best wildlife viewing in the world. Take all of them for a party, or just one for a private safari which is unrivaled in luxury or glamour.
Cape Town South Africa, Rwanda safari holiday and Traveling In East Africa Will Change Your Perspective
Chinzombo, South Luangwa, Zambia
Chinzombo is the latest offering from professional safari operator Norman Carr and it does not disappoint. This lodge is modern and very luxurious with stunning views of the South Luangwa, famous for being one of the best spots in Africa to see wild dog and leopard.
Scheduling the Best African Safari
The best time to go on an African safari is during the dry season, which is from November to April. During this time it will be easier for you to spot animals. In addition, there will be less chance of rain ruining your trip.
If you want to go on safari, it is important to arrange your travel well in advance. These tours are popular and sell out quickly. You don't want to limit your options because something is sold out.
Going on an African safari is a once-in-a-lifetime opportunity to experience the African wilderness. Getting up close and seeing native animals in their natural habitat is something most people don't get to do.