Rwanda Safari Holiday – A safari in Rwanda is all about inspiration journeys ranging from the beautiful culture, wildlife, mountain gorillas, the rolling hills, the green vegetation, the happy faces, the genocide memorial sites, mount volcanoes offering a life changing adventure for visitors.
Today ranking as one of African's great tourists spots, Rwanda has come a long away from the dark genocide of 1994 and has made an extra ordinary recovery with her dedication to conservation and eco tourism.
Below are the best places to visit while touring Rwanda
Rwanda Safari Holiday
Volcanoes national Park
Rwanda's volcanoes national park is the most outstanding tourist hub home to the critically endangered mountain gorillas.
It's not just the gorillas that make Rwanda's volcanoes national park special, but also a variety of beautiful attractions including golden monkey tracking, Mount Bisoke and Karisimbi volcanoes, authentic culture at the gorilla guardian village and musanze caves making Rwanda safaris a worthwhile and a must do while in Eastern Africa
Volcanoes national park offers unbeatable gorilla tours and is remarkable for her great conservation efforts.
Home to 10 habituated gorilla families, Volcanoes national park offers a shorter driving distance from the arrival airport with just 2 hours driving to the forest to track gorillas in the jungle.
Of recent the Rwanda government doubled the price of a Rwanda gorilla permit from previous $750 Per person to $1500 per person as a conservation strategy to reduce the number of tourists booking gorilla permits so as to protect the gorilla habitat which Dian fossey died protecting.
Akagera national park
At present, Akagera national park is run by African parks who have taken over management of this once dying national parks in bid to protect the wildlife still surviving in the park as well as add more wildlife to foster tourism and community involvement in general.
Akagera national park is the country's largest wildlife Savannah park composed of mainly a wetland lake which hosts diversity of wildlife which can be spotted in the park like Impalas, elephants, buffalo, antelopes, giraffe and zebras, lions can also be seen and leopards.
The park also offers the beautiful charm f the green rolling hills that characterizes the Land of a thousand Hills.
Why we love Akagera national park
With the good management of African Parks, Akagera national park as seen the comeback of black Rhinos, with 18 Eastern black Rhinos reintroduced in the park from south Africa in 2017.
Higher chances of viewing lions in Akagera national park, with 7 lions reintroduced in Akagera national park in 2015, today the lion population has grown with eleven cubs born in just 2016.
You will enjoy a Boat ride along lake Ihema on three pre-scheduled boat rides in the morning to view early risers, at midday and late evening on a sunset ride to view hippos, birds like the shoe bill stork hippo friends.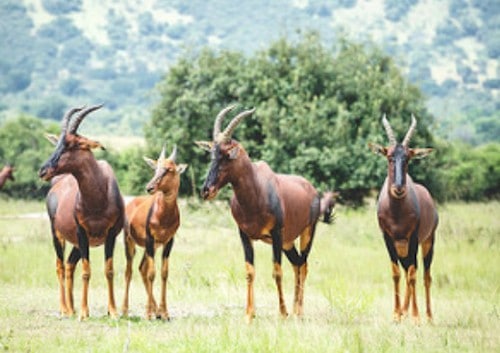 Lake Kivu
A beautiful chance to relax at Lake Kivu after a safari in Rwanda refreshes you!
Situated in Gisenyi about 3 hours drive from Kigali at the border of Rwanda and Democratic Republic of Congo, connecting towns of Gisenyi and Goma where tourists cross into Congo for tourism.
Lake Kivu is Rwanda's largest fresh water lake which flows into the Ruzizi River.
The main activities on Lake Kivu is fishing for the local community and tourism with guided boat rides along the lake taking visitors to tour the different islands and hot springs on the lake, Hiking and biking tours as part of the adventurous Congo Nile trail.
Lake Kivu offers you and easy way to visit the coffee Island of Nyamirundi where you have a good opportunity to learn about the coffee making process and taste the end result of the coffee.
The genocide memorial Site
When one mentions the genocide, just one country comes in mind – Rwanda.
Genocide memorial sites are a strong part of the beautiful Land of a thousand Hills, with a number of genocide sites spread across the country.
The Gisozi memorial site of Kigali is the most popularly visited site built in the Kigali city center with easy access for all tourists looking at learning the history of this small country.
While at the genocide sites, you will have a chance to learn firsthand about the genocide events.
Its reach sad information you learn.