Here are some great things to do in Copenhagen Denmark. It's a great city to spend a long weekend or even a week. Denmark as a whole is actually a really nice country, which was why a few weeks ago I wrote a post about things to do in Denmark without having to visit Copenhagen – but no matter how beautiful Denmark is, Copenhagen is still a place you can't miss!
Things To Do In Copenhagen Denmark
Get Your Adrenaline Rush At Copenhagen Tivoi (Theme Park)
The Copenhagen Tivoli opened in 1843 and is the second oldest amusement park in the world. It's a nice place to visit, even if you're not interested in any of the rides.
It's a very typical Tivoli with a strong smell of pop corn, cotton candy, traditional rides and cozy lights everywhere. The romantic atmosphere makes it a great place to spend an evening.
Visit Christiania
Christiania is a pretty special commune in Copenhagen – most famous for its relaxed approach and views on cannabis. Dealing cannabis was accepted by the authorities and they've been trying to regulate it.
Christiania is an interesting place to see, especially for its history and strange circumstances (a self-declared independent state with their own flag and laws), but also because the area looks very different from the rest of Copenhagen. They welcome you to go there and visit, but remember to be careful when taking pictures!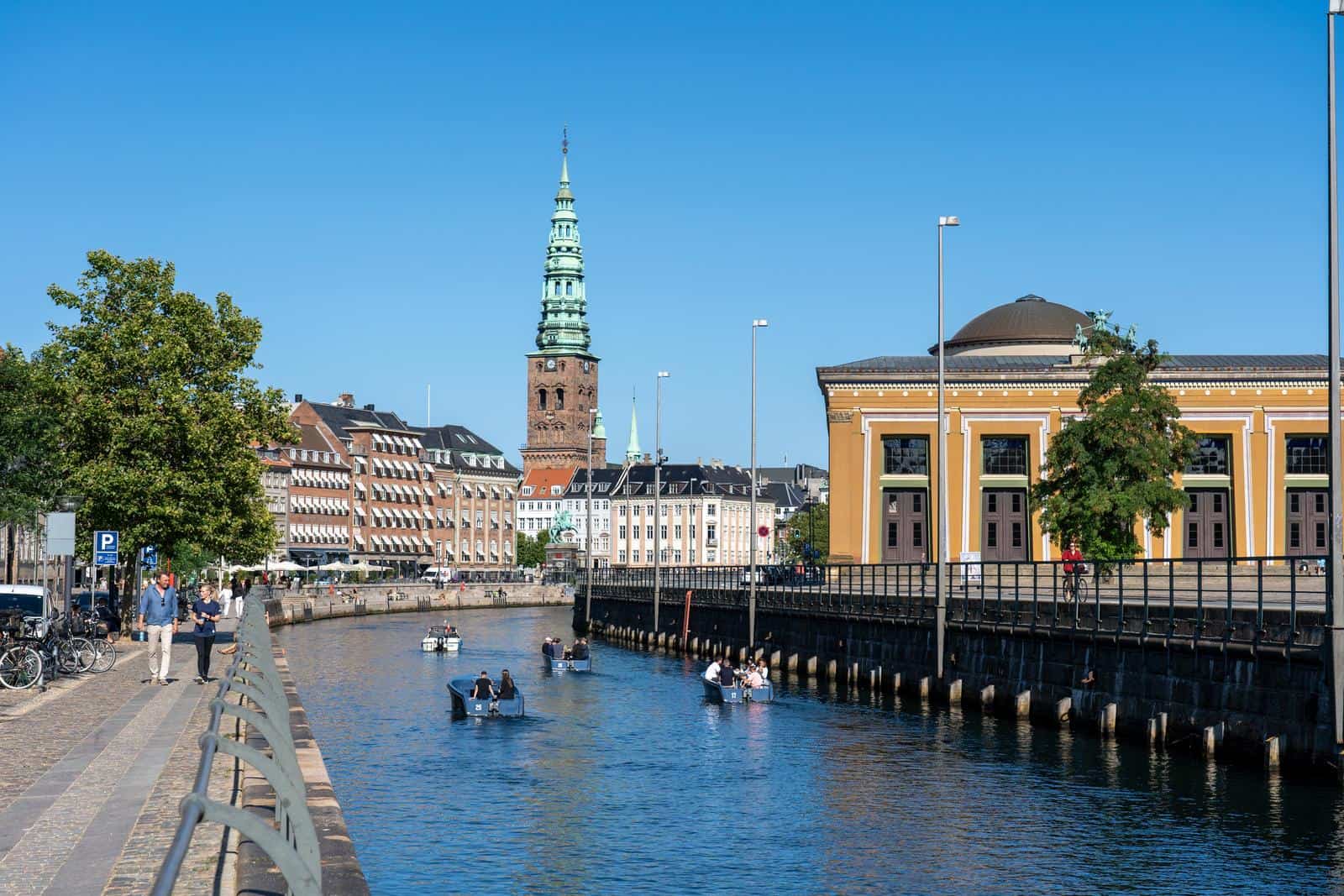 Walk Around the City
Just like Amsterdam, the cyclists rule the streets in Copenhagen. To escape the busy street, and to have a picnic in peace, go to the botanic garden. Here you can walk around and enjoy the flowers and quiet atmosphere, before heading back into the crowds.
The Little Mermaid
Known as Den Lille Havfrue, The Little Mermaid is a bronze statue with sad features sculptured by Edvard Erichsen in 1913 based on a folk theme. Thousands of visitors throng to see the beauty of the sculpture as well as to experience the nostalgia of the folklore theme.
The beautiful art form is placed on a rock sadly gazing over the sea emoting eternal memory of love. Visitors will definitely get motivated by the theme and the perfection of the artwork.
Strøget
A car-free shopping area with heaps of boutiques and cafes. It's in the middle of Copenhagen and a really nice place to go shopping. Just the smell of the waffles sold on the street is good enough reason to visit.
Explore the Side-Streets
The best streets of Copenhagen are in my eyes just off the center. Copenhagen is full of funny and odd boutiques as well as cozy little cafes. The locals enjoy these streets as well, so much so that they actually have a street festival every year. The festival "Distortion", is a 5 day long street festival, where every day the festival takes place on a new street.
People meet up to party, dance and have a great time. Even in the downtown area (area around Ströget), there are heaps of fun side streets to get lost in.
Gråbrødretorv, for example, is a nice little quarter with cobblestoned streets, quaint houses and squares (also known as the Latin Quarters).
Nyhavn
There is no better place for a beer than at one of the pubs along the quay in Nyhavn, you will find a beautiful place to sit down and rest after a long day of exploring.
Bakken
Also known as Dyrehavsbakken, the Bakken is one of the finest attractions in Copenhagen. Bakken is one of the most popular recreation centers, and is the oldest entertainment and amusement park in the world, dating back to 1583.
Bakken displays more than 100 varieties of attractions such as roller-coasters, gambling, anything and everything that is fun and entertaining. The charm of the Bakken will remain etched in the memories of its visitors for a very long time.
Tivoli Gardens
Tivoli is an amusement park full of fun and entertaining activities. This park is situated at the center of Copenhagen and close to the Central Railway station. Part of the park was built during 1843.
Daily music concerts and symphony enhances the excitement already in the air. The park is illuminated and has daily fireworks during the night. The park is full of restaurants and rides (yes it has a roller coaster!). In fact it has so much to offer, the list just would not end, with over 400,000 different types of flowers, crafts and artworks, it is indeed a must see spot.
Amalienborg Palace
The palace is a cluster of four magnificent Rococo structures situated within in a lush green courtyard. The palace is very famous for its change of guard ceremony. The botanical garden in the proximity adds to the charm.
Glyptoteket
An incredibly enchanting museum full of ancient architectural marvels, Glyptoteket will leave you in awe. Most of the antiques are sourced from Egypt, France and other European countries.
It is indeed a pleasure to view all these rarest of the rare painting and sculptures under one roof. There is an excellent auditorium to amplify its glory where classical items are performed as part of education and entertainment. Go down memory lane, feel history and be amazed!
With wonderful infrastructure in place, one can have hassle free travel to the city and enjoy the warmth offered by its friendly people.
What/Where To Eat in Copenhagen
Chili-mili
This is Nathan's TOP-PICK for fresh and healthy food while in Copenhagen. The portions are big, the food is healthy and definitely fills you up, I especially recommend their salads and wraps.
Where to find it: H. C. Andersens Boulevard 12, 1553 Vesterbro
Royal Café
Royal Café describes itself as being "Funky Baroque – design confusion, humorous and chic", which is a pretty accurate description. It's just as confusing as their description, with their own modernized versions of Danish classic foods (like the "Smushi"), Danish modern design and a factory outlet. A cool lunch hang out place or a coffee.
Where to find it: Amagertorv 6, Inner City.
Copenhagen Nightlife
A-Bar
A fun place with relaxed atmosphere is the A – Bar/The Australian Bar, which later in the evening turns into a crowded nightclub. Good music, good people, cheap drinks.
Open hours: The club is open thu – sat 11 pm- 5 am, and the bar is open from 6 pm to 2 am on Sun – Wed, and 6 pm to 5 am on Thu – Sat.
Where to find it: Vestergade 10, Copenhagen.
Discotek In
What's pretty cool about this place is that after the entry fee (between 100-150 DKK depending on when you go) you get free drinks all night!! Beer, wine, champagne – all free. Apart from shots which cost, although they are very cheap, 20 DKK for 2cl.
The club has 3 dance floors playing different music; on the first floor you can dance to music from the 90's and pop, second floor dance and trance, third floor you can shake it to House and Electro.
Open hours: 11 pm – 8 am on Friday's, and on Saturday's it's open from 11 pm until late.
Where to find it: Nørregade 1, Copenhagen
Things To Do In Copenhagen Denmark
What to Do In Copenhagen, Denmark
During the summer Copenhagen really feels like a melting pot of activity – there is always something happening, always something to do, and it has the same atmosphere as in Amsterdam – chilled & unpretentious.
As we step off the train in Copenhagen, the station is packed with young 20-something people in muddy gumboots lying around, passed out or still drunk hammering on guitar strings – it's the day after Roskilde festival – known as one of the biggest festivals in Europe.
Copenhagen is the first foreign place I remember visiting as a child. The first impressions were so strong that I still associate them with the city. The smell of freshly made waffles on Ströget, the night lights on the Tivoli theme park and the excitement of something different.
And there is something that makes Denmark different from the rest of Scandinavia, something that makes it seem more relaxed.
Perhaps it's the fact that they have a small part of Copenhagen which has its own laws, flags and rules – Christiania.
Or maybe it was because of the many festivals they have there – while we were there the Copenhagen Jazz Festival was on.
Old and young mixed together sat on the stone-cobbled streets and stairs in front of stages tapping their feet and swinging to the sides to the funky Jazz rhythms and brass tunes.
During the summer Copenhagen really feels like a melting pot of activity – there is always something happening, always something to do, and it has the same atmosphere as in Amsterdam – chilled & unpretentious.
For some reason it seems as though Jazz just brings out the best in people – what other music is enjoyed by so many people from such a wide age-group as jazz?
In Scandinavia it's not very common that people mix over the age groups.
75 year olds don't usually go to the same places as 20 year olds, but the Jazz festival really brought people in all ages together, all sitting down on the cobble stoned ground or stone stairs, tapping their feet and swinging from side to side with the rhythm.
We felt like people in general were quite upbeat and relaxed, which is funny because Denmark has been voted over and over again for having the "happiest people" in the world.
They smoke more than any other Scandinavians, they exercise less and they don't eat very healthy – yet they're still happiest of us all, and during our stay there it actually seemed that way.
Was that really true? Were we just "lucky" because of the festival vibe, or are the people there actually happier?
We decided to simply ask the Danes themselves, and the answer was quite interesting. One guy made an interesting point: "I think a better word would be 'content'.
We accept our situation and our outlook on things is often 'it's not as bad as it could be'. We're not happier, we just don't have very high expectations".
But there is something different about Copenhagen, it reminds me a little of Amsterdam. Copenhagen has many sides, and just like in Amsterdam it's up to you how you choose to enjoy your time there.
Visiting Copenhagen
Copenhagen is a city that is rich in culture and history. The Danish capital has been an important trade centre for centuries. Today, it is one of the most popular tourist destinations in Europe. A walk through Copenhagen's old town will take you to amazing squares, churches and other architectural gems from the medieval era. You can also take a ferry ride across the harbour and enjoy the view of the city from its opposite bank. Biking or skating around Copenhagen's many parks is another great way to see this beautiful city from a different perspective.