International travel packing list – Traveling is all about fun and discovering new destinations.
However, this can be stressful for many of us to pack bags before a new journey.
Whether you leave for a short vacation or for a long-term journey, there's always going to be an oversight.
You'll inevitably leave toothbrush or your second pair of sneakers.
Of course, you can always pick up menial things that you left at home.
But it's better to bring the essentials with you.
International travel packing list
Take a look at the following checklist of packing essentials.
We hope it will come in handy to you while planning for your next trip.

Crossbody Purse
When you leave for a trip, you need to keep your ID and money always close.
It's uncomfortable to carry such essentials in a large bag.
Additionally, while searching for everything in your luggage you risk to lose something important.
In order to avoid this, you'd better put your personal ID, driver's license, money, credit cards, and other essentials into a crossbody purse.
It's very comfortable, lightweight, and keeps all your essentials always handy during your vacation.

International SIM Card
No matter what destination you are heading, it's essential to never lose connection with your family, friends, colleagues, etc. Roaming charges are too expensive.
Your balance can run low all of a sudden and leave you helpless in a foreign country.
Using free WiFi hotspots in the airport or hotels can be insecure and set your device at the risk of being hacked.
In order to keep your data protected and never go offline on a trip, it's recommended to take care of connectivity in advance and install a Global SIM card in your smartphone or tablet.
With its help, you'll be provided with high-speed 4G connectivity in 120+ countries worldwide, delivered by 200+ local carriers.
ASWETRAVEL KEEPGO offer: 10% off when you use the coupon code ASWETRAVEL for every AsWeTravel.com customer. Internet in 100+ countries. Multiple operators per country. Data SIM card, WiFi Hotspot, Smartwatch SIM. Keepgo
Travel WiFi
If you do not travel alone and need to share Internet access with your family and friends, then you need to carry a portable WiFi hotspot with you.
With its help, you can easily create a secure WiFi network of your own and connect up to 16 devices to it.
A portable WiFi hotspot delivers fully protected connectivity without any unexpected roaming charges or hidden fees.
It provides you with global coverage in 110 most traveled countries, delivering flexible refill and auto-refill options.
ASWETRAVEL KEEPGO offer: 10% off when you use the coupon code ASWETRAVEL for every AsWeTravel.com customer. Internet in 100+ countries. Multiple operators per country. Data SIM card, WiFi Hotspot, Smartwatch SIM. Keepgo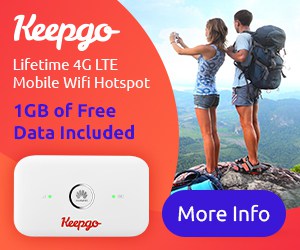 How Do I Get Internet While Traveling?
Using My Cell Phone While Traveling to Europe
Best Mobile Hotspot for Traveling to Europe and Overseas
Power Bank
While you are on a trip, you are likely to be using your smartphone more often than while staying at home.
When you are on vacation, you access the Internet from your handheld device to look up directions to popular destinations, pull up boarding passes, talk to your family and friends, etc.
All this taken together leads to more battery power consumption.
Plus, when you are abroad, the unlimited access to power outlets is not guaranteed.
In order to keep your smartphone battery full, make sure that you carry a charged power bank with you.
On a single charge, it can charge your phone several times while you are on the go.

Waterproof Phone Cases
We never go outside without a smartphone.
So, it often becomes susceptible to rain, splashes by the pool, water gun fights, and a range of other situations.
No matter what happens, you need to keep your smartphone dry and protected from water and dust.
This can be achieved by means of waterproof phone cases that travelers need to include in their checklists.

Universal Power Adapters for international travel
Save on space in your bag while using a universal adapter that can keep you covered in a number of popular destinations worldwide.
Instead of carrying different travel adapters for different countries, a universal travel adapter features extra USB ports that let you charge phones, cameras, and laptops from the same plug.

Phone Tripod
It's a common thing for travelers to take a number of shots using their smartphones instead of digital cameras.
If you also enjoy taking photos with your smartphone, then a convenient phone tripod will help you get your ideal shots.
There is no need to keep it in your hands to make a perfect still shot.
Thanks to the Bluetooth connection, it allows you to take pictures remotely when you are in the middle of nowhere.

Rain Cover for Your Pack
A rain cover is an essential travel accessory that will help you keep all your belongings dry even when you are climbing a mountain path.
Sometimes bags are placed atop buses while traveling around the world.
Rain covers are made of waterproof materials that fit around your pack to keep it always dry and clean.

Neck Pillow
It's important to have enough sleep when you are on a long bus, train or plane journey.
Using a neck pillow can reduce back pain when you sleep in a bus chair.
A neck pillow provides extra comfort to your travels.
It keeps your neck in the right position, preventing you from suffering from neck, shoulder, and back injuries when you wake up.
In most airplanes and trains you cannot even recline your seat for sleep.
By means of a neck pillow, you can hold your head in the upright position, thus providing the necessary support for your head.
Plus, a neck pillow is a better alternative than simply sleeping on a wrapped sweater or your back.

Luggage and Travel Locks is a must for any international travel packing list
When you are on a trip, you want to make certain that all your belongings are safe.
One of the best ways to protect your luggage is to use travel locks.
However, your bags aren't the only reason to carry a few locks with you when you are on a vacation.
There are plenty of occasions when you need to lock your bags when you are on a vacation.
There are special accommodations around the world that provide lockers to keep your luggage safe.
However, it's better not to rely on your fortune and carry your own locks with you.
Not all hotel rooms feature safes for your documents and other valuables.
So, keeping them protected with a lock in one of your bags will lessen the risk of a robbery in your hotel room.

International travel packing list must include a Luggage Scale
It's essential to carry a luggage scale with you on a trip.
With the help of this little item, you can adjust your luggage accordingly to comply with the airline weight limits.
There are plenty of other ways to us luggage scale when you are on your vacation.
It will help you estimate laundry cost for those places where you are charged for kilos.


Jetty Sun Hat from Tenth Street Hats
It's rare to come across a hat that is as functional as it is stylish, but the Jetty Hat from Tenth Street Hats ticks off all of the boxes.
This hat is from their Sun Protection Hats collection and is made out of sturdy nylon and has a generous brim that will keep your head safe from the elements and also keep the sun out of your eyes.
Even though it provides excellent coverage, it still allows you to be able to see without any kind of hindrance.
It also comes with a CoolMax sweatband that keeps you cool and fresh throughout the entire day.
The functional aspects of this hat can't be overstated.
It is light enough to travel with and packs well in just about any bag or suitcase.
That makes it the ideal companion for a day out on the water, or an afternoon spent picnicking with the family.
This hat comes in several different neutral colors so it pairs very well with anything in your closet.
Some hats come in garish colors that clash with all of your clothes, but this one can be worn every day.
This was a huge plus for me because it saved me from having to buy multiple hats and kept me looking totally stylish.
Tenth Street Hats have taken fashionable headwear to the next level.
They offer a plethora of hats for men, women, and children using stylish materials, innovative patterns and functional designs that help you look classic and classy with minimal effort.
Their hats are made in the United States and come with a thirty-day money back guarantee that gives you the flexibility of trying out your hat before committing to it.
The second that I put the Jetty Hat on my head, I was hooked and there was no way that I was returning it.
International Travel Checklist
We all have some travel essentials that we always need to be packed in our luggage.
Instead of purchasing essentials abroad, it's better to create a checklist of the must-carry items ahead of time.
Of course, there are plenty of other items that you need to carry with you on your vacation.
Use this list as a foundation for your own and travel the world safely!
Related articles:
Cell Phone While Traveling To Asia
How Do I Use My Cell Phone While Traveling to Europe?
Why Working Remotely is Harder than You Think
Best Apps for Traveling