After having experienced the pain and hassle of traveling with a 65L backpack, I've become really into light weight traveling. At first I laughed out loud at the idea of traveling with a pack the same size as a schoolbag, but now I don't want anything other than that. Affordable Luggage You Should Travel With
In 2008 Nathan gave away his 90L backpack and bought a 20L pack instead, and my backpack hasn't been filled up completely for a long time now.
I also love turning up at an airport, and having the ability to walk straight through customs with our calling cards and onto the plane with all my stuff still on my back. I know where it is and once we arrive at our next destination there is no waiting at baggage claim to make sure our stuff made it to the same place as us – traveling made easy!
Our Travel Guide Step-By-Step Travel Round The World Travel Guide
To me, the advantages of lightweight travel and using free phone cards outweigh the 'normal' way of traveling, but there are some problems that come with it, and here is how I solved them:
How to Fit Everything in Just a Backpack
You will need to bring less to fit it all in, obviously, and your packing itinerary needs to be more thought through. When you have a big backpack you tend to pack it until it's full, and then ending up with a lot of things you're not sure why you even brought (the answer for me was: because I could).
When you have a smaller backpack there is less space for 'mistakes', and you can't bring a bunch of things just because you think they look nice.
Try to make as many items have a multi-purpose.
Bring light weight clothing and clothes that take up less space.
By rolling your clothes you will also be able to fit more in, they take up less space that way.
How to Pack Liquids
Shower gel, shampoo, conditioner, make up, perfumes – the list goes on. All this liquid stuff you want and need to bring with you. I never understood how you could possibly bring a carry- on with all that when you're only allowed 100ml (3.4 ounces)?
I recently realized that you actually can find all of these things in solid forms – a solid shampoo bar the size of a yo-yo and weighs close to nothing lasts you 3 months, as long as 3 normal sized shampoo bottles!
Many women might get suspicious when I mention using solid soap for face and body, but forget about that cheap dehydrating stuff – there are some great choices out there now, so natural you can almost eat them!
Ethique is a company which has great soaps, perfumes, conditioners and shampoos in solid form, and I love them. By avoiding liquid stuff you won't only be able to bring it in your carry-on pack but also won't have to worry about breaking the bottles or having them leaking in your bag. Believe me, with liquid stuff it's bound to happen.
How to Get Good Support on Your Back
There are more and more smaller backpacks that offer really good support – so this isn't really a problem but many cheaper models don't. They count on you not making it very heavy since you can't stuff much in it, but wearing a backpack for a long time will still make your back hurt even if it's not too heavy.
Pack your backpack the same way you would with a large backpack. Keep the heavy items close to your back in the hip area, putting the weight on your hips and easing the weight on the shoulders.
Organizing a Backpack
A problem I've found with smaller backpacks is that there weren't many compartments, but you sort of had to stuff it all into one main compartment. This made it difficult to have some organization in your bag.
I solved it by putting it all into smaller 'bags'. It could be everything from bags I sew myself to professional pack bags, but something to separate the camera cords from dirty socks. These great luggage sets are ideal for traveling the world.
Why Carry-On Luggage is Better than Checked Luggage
Have you always struggled to "pack light"? Not sure if carry-on only is the best way to travel? Here are a few reasons why carry-on is best.
Save money on checked baggage fees with No Check-In Luggage.
Save time at check-in by avoiding the bag drop line
No waiting around for your luggage when you arrive
Zero chance of your bags getting lost
Easier to get around with in your new destination
You are forced to pack lighter which means less wear and tear on your body toting it around
Roller wheels make it easy to maneuver
Still want to haul that clunky old suitcase on your next trip? We didn't think so.
CabinZero Luggage: The Carry-On You Need to Have
Are you debating between carry-on or checked luggage? And have you (like us) lost track of the airlines' ever-changing baggage requirements and fees?
If your goal is to travel light and save money, CabinZero luggage could be the answer for you. Here's our review of CabinZero and how their products can make your upcoming journey easier.
CabinZero's motto is "Cabin Sized – Zero Hassles." That tagline alone is a powerful sales pitch. We've all experienced the frustration of checking in for our flight, only to realize our luggage exceeds the airline's policy. Worse still, some companies purposely misrepresent the size of their luggage.
One recent study found that a shocking nine in eleven "carry-on size" bags were larger than the advertised (and allowable) dimensions. With CabinZero products, you don't have to worry about last-minute surprises.
Designed for travelers, by travelers, all their bags qualify as carry-on size for all major airlines. This includes many of the budget airlines that have very strict baggage policies. The idea for the backpacks came from the company's owner and seasoned traveler, Neil Varden.
Tired of the hassle and expense of checking in his luggage, he wanted to create a lightweight product travelers could use with zero hassles.
Another reason to love this company is that it's eco-friendly. Created in an ethical manner, each of their backpacks must pass all European regulatory tests. The company also encourages sustainable tourism and donates to charities in developing nations.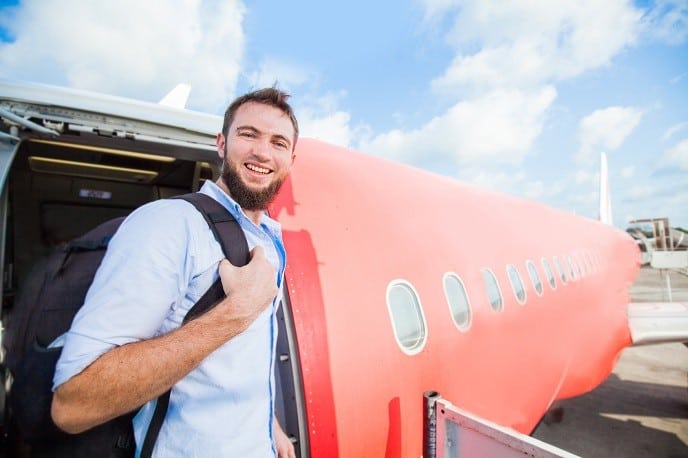 What We Love About CabinZero Luggage
Here are six reasons to try CabinZero's hassle-free No Check-In Luggage.
It's the Perfect Size
Packing for any trip – especially an extended trip – is a daunting task. While it's tempting to pack everything you may possibly need, the best packing advice involves packing smarter, not heavier.
CabinZero's perfectly sized luggage helps take the anxiety out of packing. The backpacks are large enough to fit all your belongings but small enough to conform to most airlines' carry-on policies.
Because travel costs are a concern for the majority of us, budget airlines are becoming more popular. These airlines' restrictions on the baggage size and weight can be major sources of stress and irritation.
With CabinZero's products, you'll never have to worry about size. At 55 x 40 x 20cm, their popular 44L backpack will fit nearly all carry-on size restrictions.
Another bonus? Since it's styled like a rucksack, the bag is incredibly lightweight. Traditional suitcases can take up a precious portion of your weight allowance. In contrast, CabinZero's bags weigh in at a feather-light 0.76 kilograms.
Whether you're planning a weekend getaway or a long backpacking trip, this product will make your travel days much smoother.
It's Stylish
CabinZero's bags may be the right size, but how do they look? Whether you like muted colors or funky camouflage, there's a bag to suit your style. Choices range from hot pink and galactic green to jungle camo and traditional black. Are you traveling somewhere wet? No worries. CabinZero's bags are all made from waterproof polyester, ensuring the contents stay dry.
It's Trackable
Each of CabinZero's bags come equipped with an Okoban tracking device. If your bag gets lost or stolen, this gives you a better chance of getting it back. When you first receive your backpack, simply log onto Okoban's website and add your bag's unique identification code. You'll also provide your name and contact details for their records.
Okoban's system integrates with WorldTracer, the lost and found system used by all major airlines. If someone finds your bag, they can easily report it online. Okoban will notify you immediately so you and your bag can reunite.
It Has Great Design Features
Another reason we love CabinZero's backpacks is all the clever design features. If your shoulders tend to hurt after carrying around a backpack all day, you'll love CabinZero's thick padded shoulder straps.
They provide the ultimate comfort no matter how many hours you're traveling. The bags also feature an easy-access front pocket for items you commonly use. An interior mesh pocket is perfect for small, loose items, and your laptop will remain secure in the interior laptop sleeve.
Tired of hauling your bag around on your back? No problem. Simply use the top and side handles and carry it as a duffel bag instead of a backpack.
Photographers will appreciate the side compression straps to easily carry their tripods. For the security-conscious, the zippers are also designed for use with a small padlock.
It Comes with a 25-Year Warranty
Forget the standard one-year warranty. CabinZero's products come with an amazing 25-year warranty. How do you access this warranty? Simply "like" their page on Facebook. That's it – the warranty is yours!
Optional Packing Cubes
To help you pack like a pro, you can also order a set of CabinZero's high-quality packing cubes. Custom designed to fit into their backpacks, these sturdy nylon packing cubes come with their own carrying handles. Each one is also equipped with its own Okoban tracker, making it easy to track if you misplace it.
No Check-In Luggage
There are a lot of reasons to love CabinZero's luggage. Their bags are durable, stylish, and affordable. They come with a lot of extra features that frequent travelers will appreciate. And because they're the perfect carry-on size, they're guaranteed to help you travel light and save money.
Looking for more expert travel tips? Be sure to check out our latest travel gear and technology posts for more recommendations. Another carry-on option is a rucksack. Learn about choosing the best rucksack backpack.