Gujarat India is a charmingly whimsical land which majestically showcases a colorful mosaic of age old religion, vibrant culture and glorious heritage.
Being the westernmost point in India Gujarat is one every travel buff's bucket list.
From being home to the holy all India char Dham Yatra temple of Dwarkadheesh to one of the largest gleaming white salt desert in the world of the Great Rann of Kutch Gujarat is a treasure trove for every visitor.
Apart from these highly proclaimed sights, Gujarat India is also the only abode for Asiatic lions at the Gir Forest National park whose wildlife and biodiversity is incomparable.
Tourist Attractions in Gujarat
If you are planning to travel to Gujarat then your trip will remain incomplete without visiting these sites of interest: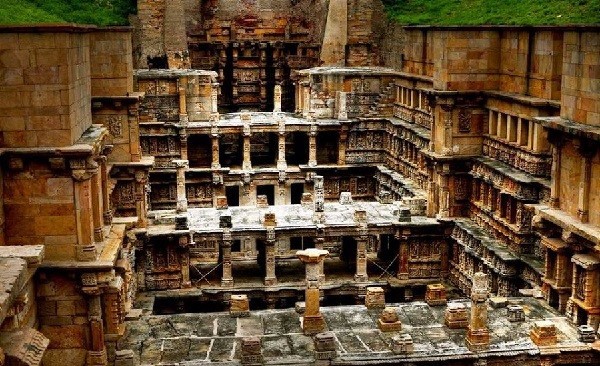 Rani ki Vav (Patan)
Sitting majestically on the banks of River Saraswati Rani ki Vav or the Queen's Stepwell, is an 11th century creation.
Initially built during the 3rd millennium BC this step well has been continuously renovated and rebuilt over a vast period of time until it was finally included in the UNESCO world heritage site.
This structure is the perfect representation of the unique and distinct craftsmanship along with some complex design and architectural styles complete with over 500 carved sculptures of gods and goddesses.
There is no empty space on the walls or pillars of the step well every inch is adorned with intricately detailed work of traditional artistry.
Rani ki Vav, Patan Travel Tip
During the months of December and January, Rani ki Vav festival takes place where visitors have the option of enjoying a cultural program complete with traditional cuisines and street shopping.
Rani ki Vav, Patan Hours of Operation: 8 am to 6 pm
Best Time to Visit Rani ki Vav, Patan: October – March
Gir Forest National Park (Junagadh)
Located in the Junagadh district of Gujarat, this national park is the only home for Asiatic lions in the world.
The dry deciduous covered forest also serves as the home for numerous fauna species and more than 300 avian species.
A contrasting dash of color from the silk tress brings some vibrancy to the area.
A jeep safari to Gir national park will take you on a trail across a brown green dotted forest which is studded with numerous glimmering water reservoirs which works as a watering hole for the resident animals.
This is a highly protected national park where hunting is illegal providing a safe haven for the flora and fauna here.
Gir Forest National Park Travel Tip
Be sure to strictly follow the National park rules in order to witness the most amounts of animals and not disturb them in their natural habitat.
Gir Forest National Park Hours of Operation: 6 am to 5 pm
Best Time to Visit Gir Forest National Park: November – January (remains closed between the dates of 16th June to 15th October)
Dwarkadheesh Mandir (Dwarka)
This is one of the four temples associated with the holy all India char dham yatra and it needs no introduction.
Rebuilt and enlarged during the 15th and 16th century, as per archaeological findings the temple is said to be dated back to 2,200 – 2,000 years.
As far as the traditional story goes, it is believed that the original temple was built by Lord Krishna's grandson, Vajranabha, on top of what is regarded as the Lord's residence place.
This temple stands at a massive height of 5 storey's and upon 72 strong and beautifully adorned 72 pillars.
Pilgrims, devotees and visitors will be able to witness some of the most tastefully created unique sculptures of dancers, musicians, elephants and other celestial beings.
Dwarkadhish Mandir Dwarka Temple Gujarat Travel Tip
Dwarkadheesh Mandir is easily accessible from various modes of transportation (local bus, private taxi) and is located at a distance of just 1.6 km from the main town of Dwarka.
Dwarkadhish Mandir Temple Gujarat Hours of Operation: 6 am to 1 pm / 5 pm to 9:30 pm
Best Time to Visit Dwarkadhish Mandir Temple Gujarat: October – March
The Great Rann of Kutch (Thar Desert, Kutch)
Known for being one of the largest salt marsh in the world, this surreal gleaming white land is one of the prime destinations for travelers.
Panning along the western fringe of the state of Gujarat this land looks resembles a dream-like white wonderland.
Upon your visit to this whimsical place you will also be taken on a camel ride and visit to several nearby traditional villages like, Hodko, Mandvi and Nirona.
For three months in a year Kutch is also the destination for the famous Rann Utsav which showcases the rich culture and heritage of Gujarat in full vibrancy and vigor.
Great Rann of Kutch Travel Tip
Plan your trip coinciding with the famous Rann Utsav which is guaranteed to be a once in a lifetime experience.
Best Time to Visit Great Rann of Kutch: November – February
Somnath Mandir Temple (Prabhas Patan near Veraval)
Located along the western coast of the Gujarati state, this temple is believed to be the very first among the sacred group of 12 Jyotirlingas of Lord Shiva in India.
The Shiv Linga present within the temple is believed to be a 'Swayambhu' (self-born).
This temple is not only a prime pilgrimage destination but is also a must visit tourist spot for people on a tour of Gujarat or on a weekend getaway.
What better way to enlighten your soul and liven up your spirit than to visit this remarkable work of temple architecture.
You have the option to be a part of one of the costliest Aartis in India which takes place in the temple.
Somnath Mandir Temple Travel Tip
The road to this temple is well connected with a network of railway and roadways from all the main cities of Gujarat.
Somnath Mandir Temple Hours of Operation: 6 am to 9 pm (Aarti timings – 7 am; 12 noon; 7 pm)
Best Time to Visit Somnath Mandir Temple: October – March
Sun Temple (Modhera)
Built during 1026 – 27 CE and dedicated to the solar deity Surya this holy temple is located on the banks of River Pushpavati.
No puja rituals or worship takes place currently within the temple building and the entire complex is protected as well as maintained by Archeological survey of India.
This Chalukya styled temple premise has three main components including, the main shrine, the outer assembly hall and a sacred reservoir all of which is decorated in intricate sculptures and beautiful idols.
One can witness the grand Modhera dance festival procession take place in the premises of this temple where the entire temple premise is adorned with colorful decorations.
Sun Temple Modhera Travel Tip
Make sure to plan your trip during the pleasant months in order to have the best experience of the temple.
Sun Temple Modhera Hours of Operation: 6 am to 6 pm
Best Time to Visit Sun Temple Modhera: October – March
Dholavira (Kutch)
This archeological site is one of the five largest Harappan sites and also contains the ruins of the ancient Indus valley civilization.
This site is believed to be one of the grandest cities of its time and age which falls between 2900 BC and 1500 BC.
Excavations of 1989 threw light on this excavation site and unearthed some valuable seals, gold, silver, animal bones, terracotta items, and pottery and bronze vessels.
One of the most vital sites for history enthusiasts and travelers looking for an exciting trip to Gujarat, Dholavira is among one of the most visited sites where you can visit the ancient reservoirs, step well, sun dried buildings and so much more.
Dholavira Kutch Travel Tip
Located at a distance of 6 km from Ahmedabad which can be reached via road.
There is limited accommodation available in Dholavira so it is advised to stay in Ahmedabad or head on towards Bhuj for Great Rann of Kutch.
Best Time to Visit Dholavira Kutch: November – March
Palitana Temples (Bhavnagar)
Located atop the Shatrunjaya Hills this place is also dubbed as the 'city of temples' since it is home to almost 2,700 wonderfully carved temples.
As per tradition, the first Jain Tirthankara, Adinath had paid a visit to this hill and one of his chief disciples Pundarika had attained his enlightenment here.
Upon your visit here you will be awe struck with the sheer magnificence of the place which consists of 108 large temples and 872 small ones.
In order to reach this 900 years old temple complex you are required to climb 3,800 steps leading up to the main temple entrance.
From a top you will also be able to witness the panoramic view of the Gulf of Cambay.
Palitana Temples Bhavnagar Travel tip
Be sure to start your journey upwards towards the temple premises early in the morning so that you get the most out of your visit without hurrying.
Palitana Temples Bhavnagar Hours of Operation: 6 am to 6 pm
Best time to visit Palitana Temples Bhavnagar: October to February
Akshardham Temple (Gandhinagar)
Successfully established in the year 1992, and dedicated to Lord Swaminarayan of the Vaishnava tradition, this temple is one of the prime and the best example of magnificently striking temple architecture and design.
Panning over a massive area of 23 acres, the entire complex is not only meant for temple worship but also house numerous educational and entertainment facilities for the visitors and pilgrims.
The main shrine consists of a massive 7 feet tall idol of the presiding deity, Lord Swaminarayan along with the idols and images of his successors.
The entire temple is intricately adorned and decorated with designer carvings and sculptures which makes it one of the prime landmarks of the state.
Akshardham Temple Travel tip
Be sure to attend the sound and light show of the temple along with fun rides and games.
Akshardham Temple Hours of Operation: 9:30 am to 7:30 pm (remains closed every Monday)
Best time to visit Akshardham Temple: October – March
Velavadar Blackbuck National Park (Bhavnagar)
If you want a taste of the Savannah wildlife then a visit to this national park will fulfill your dreams.
This place is situated in the Bhal region of India and is also the roosting ground for Blackbuck.
Along with being home to the famous blackbucks, wolves and lesser florican, it is also home for witnessing a wonderful range of colorful birds of every shape, size and colors.
A jeep safari of Velavadar blackbuck national park will definitely quench your wanderlust successfully.
The grassland ecosystem is a great place for a thriving wildlife and biodiversity.
Velavadar Blackbuck National Park Travel Tip
Be sure to follow all the rules of the national park during your jeep safari, like remaining quiet during the entire journey.
Velavadar Blackbuck National Park Hours of Operation: 10 am to 7 pm / 10 am to 4 pm (Saturday)
Best Time to Visit Velavadar Blackbuck National Park: December – March (remains closed during monsoon)
Best Flights for Getting from Pune to Bangalore