Vienna is one of the great European cities and enchants its visitors with an endless list of attractions and iconic sights. Visiting the city's major sights and landmarks is a great introduction to Vienna, best done at the start of your long weekend in Vienna when you've got plenty of energy. Sightseeing tours are an easy and affordable way to cram in as many activities as possible in a short space of time.
On the surface Vienna is elegant, traditional, and slow moving – however, dig a little deeper and you'll find that it's also bohemian, trendy, and a place to party all night long.
Vienna's elegance and tradition are centrally located in the Inner City, or more formally, the First District. In its 3.01 kilometer of space you'll find stunning architecture made up of palaces, museums, theaters, and churches.
Most tourists stay in this small area of Vienna to see the major sights, then head out thinking that's all there is. Pity, those people missed out on seeing what Vienna is really about.
To do that, you have to get out of the Inner City and head over to the districts that surround it.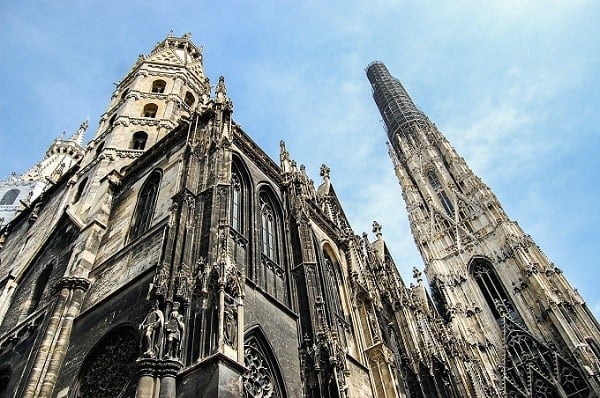 Austria is one of the most beautiful countries in Europe, with its magnificent Alpine landscape and beautiful villages scattered over the country, not to mention the beautiful cities Salzburg and Vienna.
Here are some tips on how to make the most of your time in Austria…
Hang out in the Coffee Houses
With its historical buildings, castles, opera houses and theaters, Vienna is a very special city, art and classical music fans especially enjoy it.
But the best way to really get to know the culture is to sit down at one of the many coffee houses with a cup of coffee and one of the famous Viennese cakes like Sacher Torte.
Vienna has one of the oldest cafe cultures in Europe, and the coffee houses are one of the most important places for the locals to meet, relax and hang out.
Take a hike
The nature in Austria is absolutely stunning, and in the Alps there are plenty of opportunities for enjoying the nature to the fullest.
Summer, late spring and early autumn is perfect for hiking, while you can enjoy some of the best skiing in Europe during winter.
With countless hiking trails, you have a lot to choose from. Some hikes can last for several weeks, while others a day or just an hour.
It's up to you and what you want to do.
If you just want to take a nice and easy walk and explore the nature, there are many opportunities to do that too.
Stay At The Sound of Music Hotel
Salzburg with its musical festival is a big draw for visitors.
It is also the location where most scenes in the classical movie "The Sound of Music" was staged, and today you can even stay in the very same house that used to belong to the Von Trapp family which the movie is based on!
St Stephen's Cathedral

If you're going to see one church in Vienna it ought to be this one. It's a beautiful Romanesque Gothic cathedral with colored tile roof and nice details.
If you get up in the tower you can get a neat view of Vienna.
Schönbrunn Schloss
This big palace that today is a UNESCO world cultural heritage site, used to be a summer house for the monarchs in the old days.
The history of this place dates back all the way to the 17th century. It has a huge sculpted garden with a maze and botanic flowers.
Coming here you get a sneak peek into what the rich people's lives were like in the old days. This is a big tourist attraction so either book a tour in advance or count for a long time in line to get in.
Hofburg Palace
The Hofburg Palace was once the imperial palace and the seat of the Habsburgs until the end of the World War.
It was built in the 13th century. Get a glimpse into the life of the Habsburg dynasty by visiting the museums the majestic building now gives home to.
They were the incredibly powerful family that ruled the Austro-Hungarian empire.
You will get to see the Imperial Apartments, the Imperial Silver Collection, and the Sisi Museum.
You will also learn about the history and traditions of the imperial court.
The quickest way to the palace is by taxi but you can also use public transport.
The Stephansdom Crypt
Located in the heart of the Austrian capital, the majestic St. Stephen's Cathedral attracts tourists from all over the world that come to admire its dark, grand architecture.
But below its stone floors lies something far darker and more striking: an underground tomb that gives home to the skeletal remains of more than 11,000 people, as well as the hearts and intestines of emperors, queens and princes.
The place is certainly not for the faint of heart, but those looking for more unusual experiences will certainly want to see the Stephansdom Crypt.
The entrance to the crypt is through as stairway on the left side of the main floor, but the crypt can be accessed by guided tour only.
Prater
Whether you're looking for some light-hearted entertainment after visiting the spooky crypt or you want your adrenaline levels to jump even higher, you absolutely have to visit Prater.
With ghost trains, roller coasters, carousels, and Ferris wheels, as well as a planetarium and relaxing park areas, Prater is sure to give you a great time no matter your mood or preferences.
What to see in Vienna Brunnenmarkt Market
The Brunnenmarkt
Located in Vienna's 16th district and boasting over 170 stalls, the Brunnenmarkt is the longest street market in Europe. Every Saturday, numerous traders come here to delight the locals with their produce.
You can find quite a few of them during weekdays as well. The market is rich in fresh food. There's an excellent array of fruit stalls, lovely flowers, delicacies and seafood, and arts and crafts.
Brunnenmarkt is a gem. It's not very well known by tourists. You may have to change multiple public transport means to get there but it will be worth it.
To ensure you don't get lost along the way, ask for exact directions or get a cab to drop you off right there.
Art History Museum
One of the very best art museums in the world, the Art History Museum in Vienna is quite close to the Louvre in terms of the grandness and amount of works is hosts.
The building itself is absolutely marvelous. The collection of European and Egyptian works here is a must-see.
They have also honored famous artists like Rembrandt, Rubens and Bruegel. While the museum is open to the public most days of the weeks, it's best to visit on a Thursday. This will grant you get the opportunity to enjoy a fine dinner on the cupola rotunda.
To get a better grasp of the Austrian capital's unique culture and explore other important cultural attractions close to the Museum, you might one to embark on one of the organized art tours offered by local operators.
Take a Bike
Exploring Vienna by Bike: At the turn of the 20th century, cycling was building momentum across European cities.
As automobiles became the dominant means of transportation, bicycles started to lose their ground, only to re-emerge victorious in the 21st century, hovering across the paved streets of the eco-metropolises of the world.
Go Green Go Cycling like is Amsterdam, with its iconic half a million bicycles roaming its 400 kilometres of bike paths, provided by nearly 150 bicycle shops and owned by 75% of residents, has become an inspiration for London, Paris, Rome and Barcelona.
Vienna, Austria's capital and largest city, is following suit and taking great pride in its bicycle-friendly practices. Vienna is also one of our 10 Best Countries for Vegetarian or Vegan Travel.
If you'd rather avoid the hustle and bustle of the city, Exploring Vienna outskirts have tremendous appeal to bikers, most of whom are flocking from all over the world to see what all the fuss is about.
Mödling and Wienerwald
Of itself, Vienna doesn't offer much of a bicycle infrastructure, but when you picture it with its neighboring towns, which have started to merge with it over the years to create suburbs, an entirely new world of possibilities emerges.
Mödling is south of Vienna, nestled within the Wienerwald, or 'Vienna Woods', in a forest called 'Föhren' ('Pine' in German), which is composed almost exclusively of umbrella black pines.
This forest has become a natural reserve and has been dubbed 'Naturpark Föhrenberger', a name which has acquired some notoriety among peddlers. But not just any kind of peddler.
This is a haven for those ambitious wheelers with mountain biking skills, because its many windy bike tracks are quite challenging.
Whenever you're tired, you can stop by one of the mountain huts scattered across the domain, to catch your breath. For those with an inclination toward less demanding exercise, there are various other activities.
Among its many meadows, the reserve is happy to offer tourists the wonderful Perchtoldsdorfer Heide, a delightful oasis of grassland where you can stop for a picnic and rendezvous with the delightful and mischievous ground squirrels over a backdrop of tall pines.
If you'd like to delve into a bit of Austrian history and you don't mind the 'walk', look for tracks toward Lichtenstein Castle and the Husaren Temple.
If you're of a more sociable disposition, you can mingle with Viennese residents vacationing at Kaltenleutgeben, a small town in the district of Mödling. Mark Twain once lived here, and the town was a popular destination for hydrotherapy enthusiasts in the 1800's.
To reach Mödling, simply take a train from Südbahnhof station.
National Park Donau-Auen and Lobau
The National Park is a well-established cycling route in the environs of Vienna. It stretches between Vienna and Bratislava and it preserves Central Europe's last wetlands. As its name suggests, the park straddles the Danube.
If you'd rather walk than hike, or cycle instead of mounting, then you'll probably appreciate visiting the former hunting lodge and mountain resort of Charles and Zita, Austria's very last imperial couple.
At Eckartsau Castle, you can take a cyclist guided tour, roam around the marked walking paths lacing the castle grounds, take in the grandeur of the vast Schlosspark with a panoramic view at the observational hut, or follow 'Kaiserweg', the 'Emperor's Path', to get a feel for imperial life.
To start your journey at Lobau, take the U1 underground to Kaisermühlen, and from then on, either cycle or take the bus. From Lobau onwards, it should be plain sailing, especially as you have the guided tours in Donau-Auen.

Tulln to Klosterneuburg
Start the day with a train ride from Vienna to Tulln and do a bit of sightseeing before you head on cycling along the River Danube.
Tulln an der Donau is such a fresh and green town, literally brimming with parks, that it has been dubbed 'The City of Flowers', or Blumenstadt.
Admire the Bibelungen-Brunnen fountain, erected in celebration of Attila the Hun's proposal to Gudrun. Visit the Egon Schiele Museum and the Minoritenkloster convent, and then start your cycling tour along the Danube. As the town is surrounded by flatland, this is a brilliant location for a leisurely stroll on your bike.
Nobody would think any lesser of you if you returned to Exploring Vienna by train, but if you're up for another 5 kilometres on the bike, you should find it a smooth ride back.
Wachau
The biker's Shangri-La, Wachau is a 35-kilometre stretch of valley along the River Danube, between Pöchlarn and Krems. You can take your entire family to Wachau, as the elderly and children alike find this trip to be quite gentle.
B&Bs will be scattered across the track, and since it should take a few days to leisurely cycle through the Wachau area, it may be best to stop, recharge your batteries and take advantage of their amenities.
Most accommodations will offer locker boxes and repair facilities.

Walk Around Vienna Streets
Just walking around Vienna and looking at impressive buildings is half the fun of being there, the buildings give such a romantic touch and it feels like you're stepping back in time a few centuries.
I really recommend you to put on some comfortable shoes, bring a map and start walking. In the central area there are heaps of nice buildings to see:
The Parliaments building
Vienna Rathaus
Hofburg
Volktheater
Opera
Natural History Museum
The Stadt park (with over-the-top looking statues)
Burgtheater
Pretty much every shop is closed on Sundays, so these days are perfect for some museum touring and simply walking the streets.
Go Off the Beaten Path
Get off the tourist track to start hanging out where the locals are. Right outside of the Inner City is the Naschmarkt. Put up with the crowds and walk at a slow pace to see all the exotic edibles on display.
Buy only nibble sized quantities as prices can be high. To satisfy your hunger go behind the stalls to the diverse restaurants and dine with the Viennese.
Some of the places can be a good value like Tewa, which is stand 672. On Saturdays the Naschmarkt expands to include Europe's largest flea market.
It's fun to poke through all the dusty knick knacks but the items are overpriced. Note that the Naschmarkt is closed on Sundays and holidays.
From Naschmarkt walk to the bordering bohemian 7th district which is called Neubau. Within a few blocks is Vienna's biggest shopping street, Mariahilferstraße.
The usual suspects like H&M and Zara are present, but the department store Peek & Cloppenburg has a flagship location which offers the best shopping opportunities.
If you want something original, check out young designers on Zollergasse. Then head east to hit the MuseumsQuartier to grab some culture, coffee, and just hang out.
Experiences & Events
Vienna is a great town to explore on foot. The Vienna Sight Running tour is a unique experience if you're a jogger or just need to burn off the Austrian sausage, beer, and tortes.
If the thought of jogging makes you woozy, dance away the night during Ball Season. Vienna hosts over 450 balls each year and is one of the most authentic experiences a tourist can participate in.
They are a great way to get into sections of buildings that are normally closed to see dazzling displays of imperial interior design.
Despite the formal setting and a very strict dress code (men must be in tuxedos and women must wear floor-length gowns) balls are anything but stuffy. Prepare for a long night of dancing, live music, and fun.
Vienna Austria
Vienna Nightlife
Nightlife in Vienna isn't obvious even though the party week starts Wednesdays and on weekends goes all night long.
25 hours has a laid back bar with a DJ, good vibe, and cheap drinks. There is nothing special about lutz except for the fact that it somehow manages to be a cool bar, but skip the club scene.
Sofitel is a very sophisticated bar that offers the absolute best view of Vienna. To go dancing Volksgarten-Pavillon and Albertina Passage are the places to be.
On Fridays and Saturdays don't show up earlier than midnight.
Things To Eat and Drink in Vienna
There are some great local delicacies to try in Vienna the Capital of Austria, and you can probably spend a whole weekend going between cafes.
Here are a few of the must-tries:
Viennese Cakes
Vienna is famous for its delicious cakes. The Sacher Torte is heavenly, and you can try these little dreams in Aida Café Konditorei.
It's a cafe pastry chain which serves the most delicious cakes, and the environment couldn't be better – pink, sweet and fluffy decor all around!
Viennese Coffee
Vienna is world famous for their coffee, and you simply won't get enough of it. Try their coffee in the typical old fashioned cafe Hawelka or Kaffe Alt Wien.
Here you'll experience more of the authentic Viennese style cafe with smokey dark wood, and they have kept the old Viennese coffee customs.
Another old cafe in traditional style is Kleine Kafe. Just remember to order the coffee in Viennese style: "Ein kleiner brauner" (Viennese coffee with milk) or "Ein kleiner schwartzer" (back Viennese coffee).
Viennese Wine
Vienna is the world's only big city with a significant wine industry, with over 700 hectares of vineyards.
You can try the Viennese wine in many bars and restaurants in town.
Viennese Cheese
Austria and cheese go hand in hand, and the cheese is simply amazing. There are quite a few local tiny markets around, but the Naschtmarket is a bigger and the most famous one.
There you can try heaps of different samples before you choose your favorite cheese – trust me you will find it…
Exploring Vienna by Bike
If you'd like to give central Vienna a try, you may find the city's approach to cycling to be quite appealing. Recent projects have set out to link the city's residential areas together by cycle track.
Traffic lights give priority to cyclists and warn them of incoming vehicles. The second largest shopping street is being turned into a car-free area, with shared pedestrian and cyclist access.
For city breaks to Vienna fans, cycling tourism could be a valid alternative to taking a bus tour.
Not only are most streets currently too narrow for the traffic flow and permanently jammed with vehicles, but urban planners are expecting the situation to worsen.
Policy-makers are starting to grow weary of the 'one person, one car' attitude of modern-day living, and their plans for the fastest-growing city in all of German-speaking Europe are taking a different direction.
In reality, it would be a shame to visit this lovely city by bus tour. Driving past Beethoven, Albert Einstein, Gustav Klimt and Schindler's house, the United Nations headquarters, the Danube Tower and other historical landmarks without being able to stop for a decent photograph that you can show off to friends and family kind of defies the whole reason for a city trip.
Many of Vienna's top sights offer bicycle access, so you can wonder around Vienna's maze of streets at your own pace, knowing that wherever your bicycle takes you, you'll be able to park it and get on with your day.
Why not take your bicycle to Schönbrunn Palace and stroll across the gravel paths of the enchanting and vast Schönbrunn park?
Visit the Sisi Museum, the Hofburg Imperial Palace, the Schönbrunn Zoo, or Vienna's 5.3-kilometer long Ringstrasse with monuments and landmarks scattered throughout. Leave your bike in a safe parking area and take the fiakers, the Viennese two-horse carriages, on a short ride through the city centre.
If you're lucky enough to have your loved one by your side, try the romantic 'porcelain ride', the steady coach journey used in days of yore to transport porcelain.
Return to your bikes feeling refreshed and pampered and carry on with your journey across the city.
Whichever way you like to travel, know that the 'City of Music and Dreams' is anxiously waiting to show you why it was first awarded the title of 'World's most liveable city'.
There are few sights in this world that are as enchanting as the skyline of Donaustadt at dusk. You don't have to attend a Viennese ball to get a feel for what life in Vienna is like.
Just hop on your bicycle and ride to the Hundertwasserhaus to see how quirky and creative the Viennese truly are.
More about our time in Vienna Video